Pages 112-118
An Inventory of the Historical Monuments in the County of Cambridgeshire, Volume 1, West Cambridgshire. Originally published by Her Majesty's Stationery Office, London, 1968.
This free content was digitised by double rekeying and sponsored by English Heritage. All rights reserved.
18 GRANTCHESTER
(O.S. 6 ins. aTL 45 N.W., bTL 45 S.W.)
Grantchester is on the W. bank of the river Cam or Granta, 2 m. S.S.W. of Cambridge. It has long enjoyed a reputation for great antiquity, perhaps deriving from mediaeval historians like Nicholas Cantalupe (Cantelow). John Layer (C.A.S. 8vo. Publs. LIII (1935), 103) believed Grantchester to be 'the anncient Shire town of this shire; but sure I am that it is but a little towne nowe'.
The choice of location has been ascribed to a ford over the river (approximately at N.G. TL 436557) which served a pre-Roman trackway running E. and W. to the N. of the Bourn Brook. Fox (Arch Camb. Reg., 169) endorses the view that the original course of the Via Devana was directed to the ford in order to link up with this trackway, the route through Cambridge being a later realignment. A Roman building was found near N.G. TL 432550 (C.A.S. Procs. XXII (1921) 124), but there is no evidence of a camp; the termination '-chester' does not occur here before the 14th century (Reaney, 'Place-names of Cambs.', 75).
The village extends for about ¾ m. along the W. bank of the river N. of the confluence with the Bourn Brook and is about 700 yds. E. to W. at the N. end. Here a wide E. and W. street, formerly a green, lies on the line of the trackway. To the S.E. is a second street whose zig-zag course to the bridge is a survival of a system of paths and lanes between old rectangular closes; other elements of this gridiron lay-out, e.g. 'Mill Way', can still be traced. Skinner's map of 1666 (King's College muniments) shows the lay-out in an earlier stage of disintegration. On a low bluff above the Brook at N.G. TL 43115487 was Tarter's Well (perhaps a corruption of 'St. Etheldreda's Well') now ploughed out but originally connected to the village by a causeway (S. P. Widnall, A History of Grantchester (1875), 27–8 and 144–5); the causeway can still be traced on air photographs.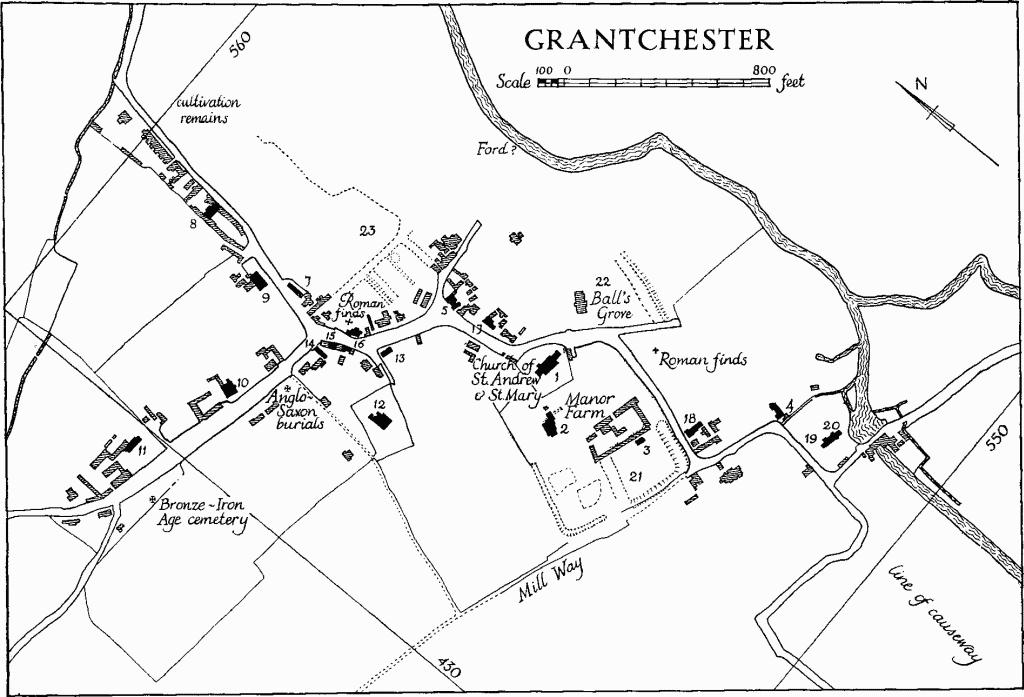 Grantchester now contains 1392 acres. In 1850 it was nearly 200 acres larger and included the old Whiteditch Field and Newnham Crofts (see Monument (24)), ceded to Cambridge in 1911. The principal feature is a low watershed between the Bourn Brook and the river. The land is chalk marl, gault, gravel and alluvium, and nowhere reaches 100 ft. above O.D. The boundary mostly follows the river and the brook on the E. and S.; elsewhere it takes account of pre-existing fields, except in the N. where it is less indented.
Corpus Christi College have been patrons of the living since their foundation, but the village also has a close connection with King's College who in 1452 bought a large estate here from the executors of Henry Somer, late Chancellor of the Exchequer (John Saltmarsh 'A College Home-Farm in the 15th century', Economic History III, 11 (Feb. 1936), 155–72). The manor house (Monument (2)) may have been built by Somer.
In addition to the college connections Grantchester has been for many years a place of recreation and retirement for the students and scholars of the university in general. Some of the smaller buildings put up between 1715 and 1850 are not without academic overtones, the effect of which is enhanced by a pleasant diversity of materials, including brick, studwork and clay bat. General enclosure, by act of 1799, does not seem to have had much effect.
Ecclesiastical
a(1) Parish Church of St. Andrew and St. Mary stands on a slight rise to the S.W. of the village street in an enclave of the manor house site; the curved wall of the churchyard on the N. and E., of field stones, with four pilaster buttresses, a seep hole and copings of dressed stone, is of mediaeval origin; on the W. an old brick wall is that of the garden of Manor Farm (Monument (2)), part of which is now an extension of the churchyard. The church consists of a Chancel, Nave with S. aisle and N. porch, and a West Tower. The walls are for the most part plastered externally save for the S. aisle of 1877, and for the chancel which is faced with clunch ashlar. The roofs are tiled.

Dressings of several windows of c. 1100 have been built into the fabric and are evidence for a SaxoNorman aisleless nave: the sill of the external door to the tower vice probably came from the W. window when the old W. wall was destroyed c. 1400; remains of two or more smaller windows (Plate 4), presumably from the old S. wall destroyed in 1876–7, and some other fragments, are built into the S. aisle walls (see Miscellaneous below). Parts of the N. wall are survivals of this early nave. Two models of the church prior to restoration, said to have been made by S. P. Widnall, survive (Plate 81); one of them is preserved in the vestry. Judging by its style the chancel seems to have been rebuilt c. 1360; an archiepiscopal direction of 1384 to the master and scholars of Corpus Christi College for repair and rebuilding is probably a general injunction. Also in the 14th or 15th century a small transeptal chapel, since demolished, was built on the N. side immediately W. of the chancel arch. The nave was extended W. and the present tower added during the episcopacy of Bishop Fordham (1388–1426). The tower arch was under-built in brick, with a lower arch, in 1635. There were restorations in 1860, 1876–7 (as above), 1889 and 1900.
Architectural Description—The Chancel (32½ ft. by 17 ft.) is divided into three bays by two-stage weathered buttresses with similar buttresses diagonally placed at the E. corners; an external string below the window sills is returned around them. The E. window (Plate 69) is of five lights, the middle cinque-foiled, the others trefoiled, with flowing tracery and external and internal labels; inside it is flanked by a pair of niches each with a cinque-foiled and sub-cusped nodding ogee canopy rising to a foliated finial. Each side wall (Plate 71) has three windows of three lights with geometrical and flowing tracery (Plate 10) of two types. Between them are double cinquefoil-headed niches each with a nodding ogee canopy rising to a foliated finial. There is no priest's doorway. An internal moulded string is largely modern, otherwise restoration has been comparatively light. The late 14th- or 15th-century chancel arch is of two chamfered orders, the outer continuous, the inner carried on attached part-octagonal shafts with moulded caps and chamfered bases.
The Nave (60 ft. by 20 ft.) has a N. wall of c. 1100 except for about 15 ft. at the W. end which was probably added with the tower c. 1400. Adjoining the N. respond of the chancel arch are the upper and lower doors, the second converted to a window, of a lost rood stair of the 14th or 15th century. Immediately to the W. a 14th-century opening, now blocked, with straight jambs and moulded depressed head, frames a reset three-light window with vertical tracery in the four-centred head; beyond are three similar but somewhat larger windows; all are 15th-century. Beneath the middle of these, visible internally, are the lower jamb stones of an 11th-century door. W. of and above the last window are the upper and W. jamb and part of the head of an earlier window which it has replaced. At the end of the wall is a restored doorway of c. 1400 with stop-moulded jambs, two-centred inner and square outer head, sunk spandrels and a label with animal head stops. The S. arcade is of 1876–7, but the old S. wall is known from the models to have been thinner 15 ft. from the W. end, as is the N. wall.
The Tower (12½ ft. by 12 ft.) is of c. 1400, of three stages with an embattled parapet. The restored W. doorway, with moulded jambs and two-centred inner and square outer head, has shields of the see of Ely and of Bishop John Fordham in the spandrels; it has been converted into a two-light vestry window. Above it the restored W. window is of three cinque-foiled lights with vertical tracery in a two-centred head with a label. The bell chamber has in each face a window of two cinque-foiled lights in a four-centred head. The original lofty tower arch has been under-built in red brick with a lower and narrower round-headed arch; the moulded soffit of the original arch is partially exposed on the W. face where a part of the filling has come away. The E. face of the later brick arch is in two rectangular orders and retains some original pargetting with the date 1635 at the apex. The vice is in the S.W. corner; it has original two-centred doorways, continuously chamfered, at the foot and into the ringing chamber, but the first of these is now blind, a later entry having been effected from the churchyard.
The timber-built N. porch is of the early 16th century. Its side walls have been cased and rendered with cement plaster inside and out. The entrance arch, framed into the end tie beam, has moulded jambs and four-centred head. In the N. face the frame above the tie is filled with brick nogging.
The Roofs of the nave and its aisle are modern; that of the chancel is boarded. The tower has a short slated spire; its timbers and those of the roof of the porch are ancient.
Fittings—Bells: 1st inscribed 'God save thy Church 1610'; 2nd by John Darbie, 1677; 3rd uninscribed, old. Bell frame: old. Brass: in vestry, detached fragment inscribed on both sides, mediaeval. Brass indents: In chancel—(1) and (2) of inscription plates; (3) of priest, with inscription plate; in nave (4) of woman, with inscription plate; all 15th- or 16th-century; see also Monument (3). Communion table: four turned legs and top rail reused as two prayer desks; 17th-century. Doors: (1) to porch entrance, in two leaves, of ridged planks with applied vertical battens, old furniture; mediaeval, cut down and reset; (2) to tower vice from churchyard, of uncertain date, reset. Font: large tapering circular limestone bowl with chamfered under edge on a modern base; 13th-century. Gallery: At the W. end of the nave, in Gothic idiom of c. 1840 with panelled front supported on an arcade of seven bays, the wider middle bay forming the entry from a lobby into the nave; the S. return and possibly other alterations are of 1876–7. Glass: In chancel—in tracery of last window on the N. side (1) foliage in yellow stain and ruby roundels in situ; in tracery of first window on S. side; (2) vine leaf foliage in yellow stain and ruby roundels, in situ, together with some fragments of fleur-de-lis border in yellow stain, reset; all 14th-century. In nave—in tracery of N. windows various fragments in situ and reset, 14th- and 15th-century. Monuments and Floor slabs. Monuments: In chancel—in N. wall (1) recess with moulded jambs, depressed ogee arch and label, 14th-century. In nave— on N. wall (2) of Dorothy Spilsbury, 1837, and her sister Elizabeth Hollingworth (Spilsbury), 1820, signed 'Tomson and Son Camb.'. In S. aisle—in E. wall (3) altar tomb with front of quatrefoil panels enclosing paterae and blank shields, in a recess with moulded jambs, four-centred inner and square outer head with traceried spandrels enclosing blank shields; the limestone marble top of the tomb chest has brass indents for a man, wife with butterfly head-dress, and child below, with scrolls and prayer picture over and shields at the front corners; 15th-century reset and restored; on S. wall (4) of George Sheppard, fellow of Clare, 1690, framed inscription tablet, segmental pediment crowned with an urn, and carved apron, all of clunch; on W. wall (5) of [Katherine widow of Thomas Byng, 1627], identified from Cole's transcript, the second part of the inscription being now quite defaced. In churchyard—on E. wall of chancel (6) of Francis William Edwards, 1805; (7) of Mrs. Sarah Page, 1827; (8) of William Mandel, 1822; (9) of Basil Anthony Keck, 1815; on S. wall of chancel (10) of Sarah, relict of Mr. John Braysher, 1833; N. of tower (11) of Andrew Haslop, 1692, and his daughter Jane, 16[?9]6, headstone, damaged. In the churchyard which is planted with yew and ilex are divers 19th-century headstones and monuments. Floor slabs: In chancel—(1) of Anne daughter of James Robson, 1731, with achievement of arms; (2) of John Ekins, senior fellow of Trinity, 1706, with achievement of arms; (3) of Francis William Edwards, 1805; (4) of Henry Headby, 1741; (5) of Mary daughter of James Robson, 1721, with achievement of arms; (6) of (?) Gifford, 1749. In S. aisle—(7) of Dorothy Spilsbury, 1837, and Mary Anne Elizabeth wife of John Letch Martin, 1842; (8) of Rebecca wife of James Brade, 1831, and Mary Frances daughter of William Brade, 1834. Piscina: in chancel, with cinque-foiled ogee head and sex foil drain; 14th-century. Plate: includes a cup and paten, London 1648; a paten, London 1723, given by J. L. Martin, 1833; a pewter paten found with a cup, in the churchyard in 1870, mediaeval; a pewter flagon, 18th-century; and three pewter or plated alms dishes, 19th-century. Pulpit: with original carved desk, square, in two heights, with geometrical panelling below and enriched arcading above; applied to one of the upper panels is a carved achievement of arms of Jegon; early 17th-century. Sedile: in chancel—recess of first window on S. side carried down to form seat; 14th-century. Tables of Decalogue: at W. end of S. aisle, two wooden panels with four-centred heads painted with inscriptions of the Ten Commandments, quotations from the epistles and sacred emblems now faded; c. 1800. Weather vane: Cock, of copper gilt, 18th-century. Miscellaneous: Incorporated in S. aisle walls fragments of interlace jambs, monolithic enriched head and sills of two or more windows of c. 1100 (Plate 4); some cheveron ornament and part of a nook shaft, 12th-century; portions of one or more coffin lids 12th- or 13th-century; and two corbels, mediaeval.
Secular
a(2) Manor Farm, two storeys and cellar, framed and plastered, with alterations and additions in brick and tiled roofs, is the house of the combined manors of Jakes and Burwash purchased by King's College from the executors of Henry Somer in 1452 (John Saltmarsh, 'A College Home-Farm in the 15th century', Economic History III, 11 (Feb. 1936) 155–72). Somer, who had been Chancellor of the Exchequer, as well as a member of the poet Hoccleve's 'Court de bone conpaignie', may have built the house before the sale of the property to the college; in Cole's day there was heraldic glass in the nearby church and in the manor house, including the arms of Somer and some others, all 'false heraldry', but these have since disappeared. The 'sort of pulpit or gallery' described by Cole (B.M. Add. MS. 5805, 137–42) is reflected in the surviving fabric which has however been extensively altered both before and since his day. The hall has had a first floor inserted at an unknown date, and there are a number of additions to the E. and N.E. In the plans and sections illustrated, identifiable later work has been omitted.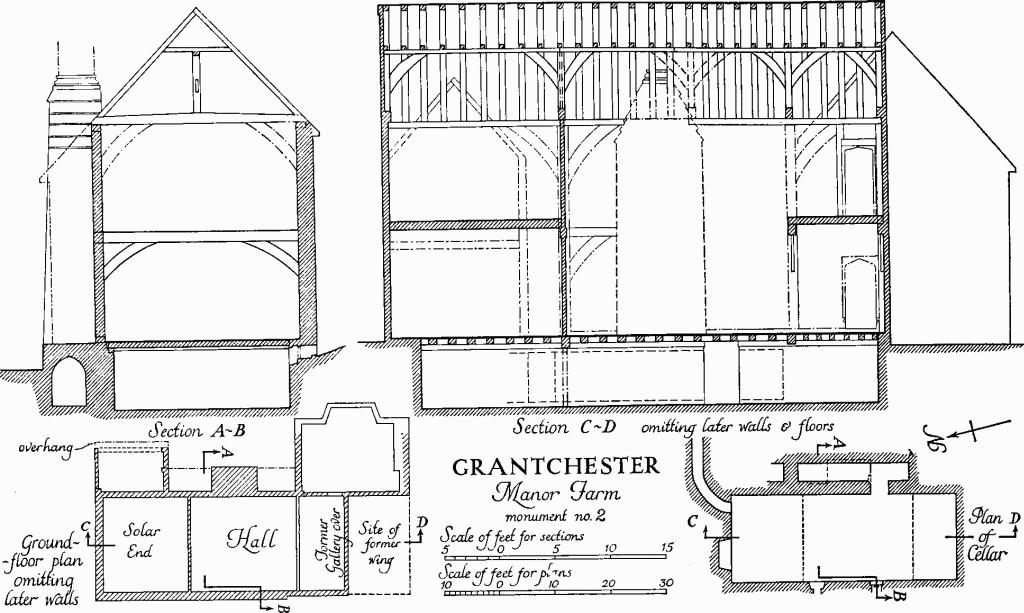 The plan of the house conforms to the traditional hall and cross wings arrangement but this has been interpreted with freedom. The hall and solar form a continuous range on a N. and S. axis under a single roof of four unequal bays. The two wings are subsidiary and abut the eastern side of this range at its two ends. The S. wing overlapped the hall and was apparently returned against its end as a lean-to. Between the wings, also against the E. side, is the original clunch-built chimney of the hall which was probably placed between two garderobes. Beneath the hall and solar is an original basement with a clunch-built sewer, now ruinous, along its eastern side passing underneath the base of the chimney.
The elevations are irregular and reflect almost entirely the 17th-century and later changes. The house faces E. with a front door flanked to the S. by a tall 17th-century chimney with three separate diagonal flues. At the S. extremity of this front is the gable end of the 15th-century cross wing; it retains a cusped barge-board with sunk spandrels and the upper portion of a part-octagonal oriel. There is a similar barge-board over the N. (solar) gable of the main range. All three features are original.
Inside the house the main range below eaves level has been much altered but it retains its original roof of plain timbers almost intact. This has braced tie beams, crown posts, collar purlin, and a collar to each pair of rafters. The N. end bay, over the solar, some 16 ft. in length, is the longest and the S. end bay of 8 ft., over the screens, is the shortest. There are indications that the two intermediate bays over the hall proper were to have been equal at somewhat over 10 ft. each, but the dividing truss now missing was apparently refixed during construction about 1½ ft. to the S. so as to clear the chimney. The roof timbers retain traces of reddish pigment except in the northernmost bay. The floor of the solar has been raised but a cased beam in the partition between it and the hall indicates the old level. At the S. end of the hall space a corresponding braced tie beam survives. It carried the gallery over the screens described by Cole. At the extreme S. end of the E. wall are the remains of two doors, one at ground, the other at gallery level. Part of the roll-moulded jambs with base stops of the lower door are exposed. The top of the upper door is visible from the roof space: it has hollow-moulded jambs and four-centred head with sunk spandrels. The hall chimney is masked by the later work to the E. It is rectangular on plan with stepped weatherings at the shoulder and moulded base to the shaft which has been rebuilt in brick. S. of it is a 19th-century geometrical stair with square balusters and mahogany rail.
The N. wing, which projected some 8 ft. E. of the main range, has been merged in the later extensions; but traces of the first-floor jetty to the E. and the westernmost pair of rafters of its roof survive. An intermediate post on the S. side presumably reflects a narrow aisle accommodating the chimney and garderobes on the E. side of the hall.
The S. wing, in addition to the oriel already described, retains a little of its original roof at the junction with the main range. It was of tie-beam and crown-post type. In the ground-floor room of this wing is a 17th-century overmantel panelled in two heights and enriched with arcading and guilloche; flanking pilasters are carved with arabesque and have Ionic caps.
The cellars extend beneath the entire main range and have a ceiling, largely original, which reflects the divisions on the ground floor already described. The cross beam below the N. end of the hall is morticed in the soffit for a partition. The sewer along the E. side, of clunch with pointed barrel vault, has partly collapsed and is encumbered with debris; there are signs that it had been modified and extended. A second drain lined with brick, probably of the 17th century, leaves the cellar at the E. end of the N. wall curving away to the E. and extended underground for more than 50 ft.
a(3) Pigeon House, converted to two dwellings, oblong on plan, of plastered framing on a tall brick plinth, with the usual hipped and tile-covered roof rising to gablets at the apex. No structural timber is visible. It is conceivable that this is the 'Great Duffhouse' mentioned in a lease of 1467 (copy in King's College Ledger Book) but the building (Plate 25) looks like a later, possibly 18th-century, replacement.
a(4) House, former vicarage, two-storeyed with attics, part brick, part framed, with tiled roofs, was built c. 1683; an ecclesiastical visitation of 1685 refers to a 'good new built Vicaridge House' (S.P. Widnall, History of Grantchester(1875), 111).It seems to have been a three-cell house of mixed construction with one internal and one end chimney, but the whole has been much modernised and the S. end, entirely remodelled, is now roofed as a cross wing. A number of chamfered beams are exposed internally and three original brick fireplaces have survived with chamfered jambs and elliptical heads; two are covered with plaster enriched with moulded ribbing.
a(5) The Green Man, inn, two-storeyed, framed and plastered, with tiled roof, probably originated as a Class-H house built in the late 16th or 17th century.
a(6) House (Class I), now enlarged and converted into two dwellings, framed and plastered, with tiled roof gabled at the ends. The rebuilt shafted stack suggests a late 17th-century date.
a(7) Almshouses, terrace of four, single-storeyed, of mixed construction with one internal and two end chimneys; 18th-century.
a(8) Barn, framed and boarded, with thatched roof, half-hipped at the E. end to the Cambridge road; of five bays with S. door in third bay. The original structure, which has been lengthened to the W. and fitted with an aisle on the N., is 16th- or 17th-century.
a(9) House (Class T), two-storeyed with attic, of yellow brick and tiled mansard roof, has a symmetrical 3-bay elevation E. to the street with first-floor platband and dentilled eaves cornice; late 18th-century, extended and altered. Incorporated in the N. wall of the garden are some fragments of mediaeval stonework.
a(10) Cedar House, two-storeyed, of white brick and some studwork with tiled roofs in a late Georgian idiom, includes some earlier, perhaps mid 17th-century, work on the S. side next the street. The house may be that advertised in the Cambridge Chronicle of 12th December 1840 as 'recently rebuilt'.
a(11) Lacies Farm, consisting of a two-storeyed main range with tiled mansard roof and lower extension at the E. end, has a nearly symmetrical main elevation in orange brick S. to the street of c. 1790. An earlier, perhaps 17th-century, framed house has been incorporated.
a(12) Vicarage (Class U), two-storeyed, in white brick with slated roof, was built by the incumbent, the Rev. William Martin, in 1850–1.
a(13) School and School House. The School, a single room with walls of studwork, now clad in asbestos, and hipped thatched roof, is probably that described by Gardner (Directory, 292) as 'The National School . . . erected in 1830 at a cost of £80 in the centre of the village'. The School house (Class L), two-storeyed, of clay bat with brick dressings and tiled roofs with gable ends fitted with cusped barge boards, is somewhat later.
a(14–20) Houses, all Class-J, generally of framing with thatched or tiled roofs, and mostly altered. Some may have been built after 1715. Nos.(15) and (16) are in Wright's Row; (19) and (20) now form one dwelling.
Earthworks
a(21) Moated site (Class A 3; N.G. TL 433553, partly on O.S.), on ground sloping gently S.E. to the river; the E. part is on gault and the W. part is on chalk marl. The site is associated with the 15th-century manor house (Monument (2)) and is probably that of its predecessor. The nucleus is a moat 210 ft. square, shown complete on the O.S. map of 1836, the N. side of which has since been obliterated by farm buildings. The other sides now vary from 30 ft. to 60 ft. wide and 1½ ft. to 8 ft. deep ; has been re-cut and is V-shaped.
W. of the moat the S. side is prolonged for 240 ft. and then turns N. for 287 ft. This extension, 28 ft. to 30 ft. wide and 4½ ft. deep with 9 ins. of water, is probably 17th-century gardening. Two sub-rectangular ponds in the area so defined have been displaced by farm buildings. N. of this secondary moat is the manor house.
a(22) Bank (N.G. TL 435554), in Ball's Grove on gault clay at the foot of an E. slope, running N. and S. for 420 ft., 30 ft. wide, 5½ ft. high with a flat top 6 ft. wide. On the W. is a ditch, 40 ft. wide and 5 ft. deep, boggy and converted into a modern water garden at the N. end.
a(23) Village Remains (around N.G. TL 433557; hollowways only on O.S.), on flat chalk marl under pasture N. of the present village and overlooking the river Granta on the E. In spite of some Roman finds the existing remains are certainly mediaeval or later. They consist of two hollow-ways (a) and (b) bounding a block of three closes, (c), (d) and (e), on the N. and E.
(a) hollow-way, running E. and W. and continuing the line of the road from Coton, traceable for 342 ft.; it is 40 ft. wide, 3 ft. deep, and 25 ft. across the bottom; a depression along the S. side is probably a modern drain.
(b) hollow-way, at right angles to (a) and continuing the line of a lane at the side of The Red Lion public house, 164 ft. long, 35 ft. wide, 2½ ft. to 3 ft. deep and 23 ft. across the bottom.
(c) close, to the W. of (b), rectangular, 155 ft. N. to S. by 75 ft.; in the N.W. angle is a circular hollow 33 ft. across and 2½ ft. deep.
(d) close, 155 ft. N. to S. by 95 ft., separated from (c) by a rounded bank 15 ft. wide and 1 ft. high.
(e) close, separated from (d) on the E. by a bank 12 ft. wide and 1 ft. high, and with a W. ditch 14 ft. wide and 9 ins. deep: trapezoidal, 75 ft. N. to S. by 100 ft., but probably extended further W.
a(24) Cultivation Remains (not on O.S.). Ridge and furrow is preserved in only a few places around the village and is all in former old enclosures. The remains have straight ridges 70 yds. to 270 yds. long, 5 yds. to 15 yds. wide, and 9 ins. to 1½ ft. high with headlands 5 yds. to 11 yds. wide. To the N. of the village remains (Monument (23)), the ridge and furrow around N.G. TL 434560 is arranged in several blocks all running N. and S. except those nearest the river on the E. which run E. and W. down the slope; the headlands between the blocks are 9 yds. to 11 yds. wide. An access way 20 ft. wide with an E. scarp 1 ft. to 2 ft. high on the W. side runs N. and S. through the area for 230 yds. The N. and S. ridge and furrow around N.G. TL 432554 is cut by a later E. and W. trackway 20 ft. to 25 ft. wide and 6 ins. to 9 ins. deep.
Modern ploughing has destroyed nearly every sign of openfield ridge and furrow. The few traces of ridge and furrow visible on air photographs, notably around N.G. TL 423565 in the N.W. of the parish, are of curving open-field strips. Old maps show the strips and baulks more or less completely and give the furlong names of the open fields. There were three primary fields, called 'Fulbrook', 'Ridgeway' and 'Stulpe' and three additional outlying fields, 'Whiteditch' (now part of Cambridge), 'Crowcroft' and 'Clint'.
(Ref: John Saltmarsh, The Fields of Grantchester, unpublished, n.d.; map 1666 (C.U.L.); map by Skinner 1666 in King's College muniments; pre-enclosure and enclosure maps 1795– 1802 (C.R.O.); air photographs: 106G/UK/1490/3044–8, 4034–8, 106G/UK/1718/4139; St. Joseph, PK3–5.)