Pages 85-90
An Inventory of the Historical Monuments in the County of Cambridgeshire, Volume 2, North-East Cambridgeshire. Originally published by Her Majesty's Stationery Office, London, 1972.
This free content was digitised by double rekeying and sponsored by English Heritage. All rights reserved.
6 REACH
(O.S. 6 ins. TL 56 N.E.)
(Fig. 78; Frontispiece)
The civil parish of Reach was created in 1953 out of parts of Burwell and Swaffham Prior parishes. It covers about 1200 acres and includes within its boundaries the greater part of a low rounded promontory of chalk extending N.W. into the fens. This promontory, at its highest point about 50 ft. above O.D., appears from the W. and N.W. as a considerable ridge above the adjacent fenland. There is evidence that this higher ground was occupied in later prehistoric and Roman times (see (27–30)).
The village of Reach lies at the edge of the promontory, at the point where the Devil's Dyke meets Reach Lode, an artificial watercourse extending across the fens to the River Cam. The village is an amalgamation of two separate secondary settlements, one in Burwell and the other in Swaffham Prior, which stood on either side of the Devil's Dyke, and were known in medieval documents as East and West Reach respectively. The subsequent growth of these two settlements was due to their position at the end of the Lode where a port or interchange point for water- and land-borne trade developed, probably in the early medieval period. At this time neither Burwell nor Swaffham Prior had direct access to the Cam by water; Swaffham Prior remains isolated.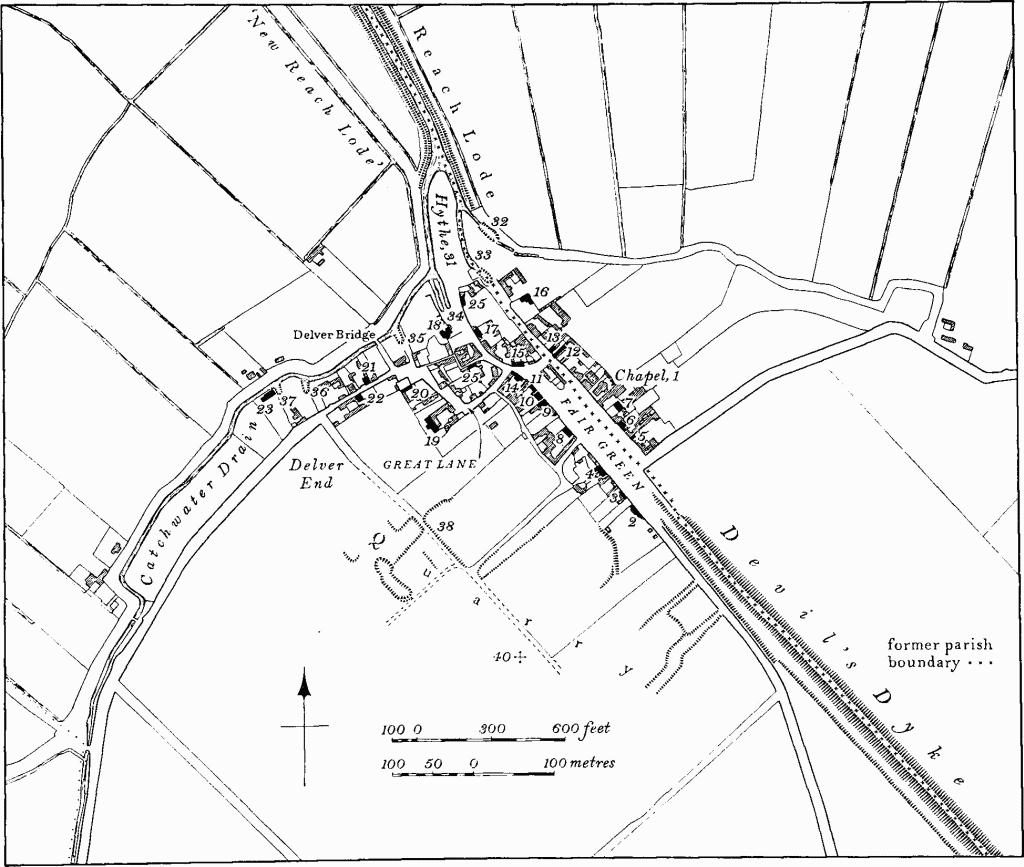 By 1201 both villages had a joint fair, for in that year it was confirmed to the burgesses of Cambridge. Their control may be associated with Henry I's grant to them of a monopoly of water-borne trade and tolls in 1131. The fair held on Fair Green is still opened by the mayor of Cambridge (V.C.H., Cambs. III, 6). The Green was created by flattening the end of the Devil's Dyke which separated the two settlements. The small port at the end of the Lode, of which some traces still remain (31–37), had developed a more than local importance by the 14th century. Although the recorded details are scanty, local agricultural products as well as timber and iron were being shipped at this time (Ely Sacrist Rolls, II passim). A major export was clunch, quarried not only at Reach, but probably at Burwell, Swaffham Prior and elsewhere; clunch from Reach was used at Cambridge Castle in 1295, and at Ely Cathedral and in a number of the Cambridge Colleges (V.C.H., Cambs. II, 366). The export of clunch lasted well into the 19th century, although other trade probably declined somewhat earlier. By the mid 18th century Cole described Reach as 'a little market town . . . but trade thereof is lost' (B.M. Add. MS. 5804, 120). However, coal and probably other goods were being brought to the port during the 19th century but on a decreasing scale (C.R.O., Swaffham and Bottisham Drainage Commissioners' Records, passim). The opening of the Cambridge-Mildenhall railway in 1884 brought an end to Reach as a port.
The morphology of the two settlements differed. East Reach probably consisted of a single line of dwellings along the E. side of the Devil's Dyke; later, on the flattening of the Dyke, these houses formed the boundary of Fair Green. West Reach was larger and apparently more complex, having houses on the W. side of the Dyke and along the present Delver End. At the junction of these two lines of houses was a small square green, part of which still survives S.E. of (18). The S. part of this green has been encroached upon by later buildings but its original boundary is preserved by modern footpaths; on the S. the existing Great Lane, now the main roadway, seems to have been a back lane. The Fair Green originally extended as far as the Hythe (31), but later encroachment at its N.W. end in the form of 'islands', one large and one small, has considerably reduced its size.
Each settlement was presumably served by one of the two recorded chapels. Fragments of one, perhaps dedicated to St. John and dating from the 13th century (1), survive in the former settlement of East Reach in Burwell parish. The other, of which there are no remains, was perhaps dedicated to St. Etheldreda; it was in existence by 1447 (C.U.L., Bishops' Registers, G. 1/4 and 5) and may have been in West Reach.
(1) Chapel, the ruins of which stand on the E. side of Fair Green, has walls of clunch. It may possibly be identified with the chapel of St. John to which bequests were made in the early 16th century (PCC 41 Holgrave (1505); Cambs. and Hunts. Arch. Soc. Trans. I (1904), 386); a chapel at Reach, dedicated to St. Etheldreda and referred to in the mid 15th century, may have been elsewhere (C.U.L., Bishops' Registers, G.1/4 and 5). In 1743 Cole recorded the ruins of a church of which the chancel and the N. and S. transepts alone remained (Fig. 79); his drawing shows an E. window with tracery and, in each side wall of the chancel, two three-light windows with segmental rear-arches. In 1768 he remarked that in the meantime the greater part had been pulled down (B.M. Add. MS. 5804,117).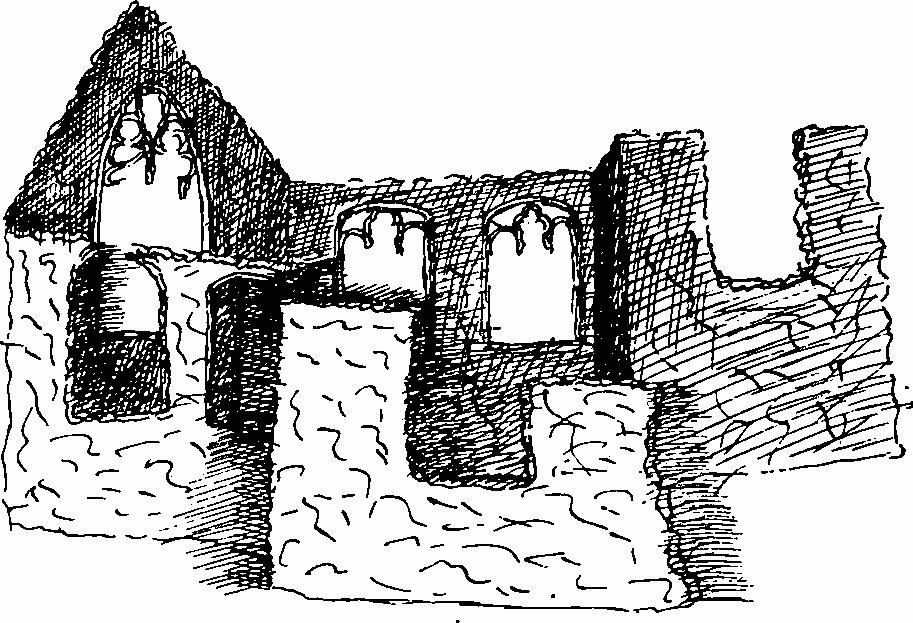 The lower part of the walls is built in small stones and may be 13th-century, but the upper part in larger squared blocks, incorporating fragments of earlier shaped stones, is perhaps 15th-century. The remains consist of the E. gable wall of the chancel and short lengths of the return walls on the N. and S. Former diagonal buttresses have fallen from the N.E. and S.E. angles. In the E. wall is a 15th-century window-opening with two-centred head and moulded jambs, externally with casement mouldings and internally with hollow chamfers. The E. side of the S. window survives with casement-moulded external jamb and part of a label.
(2) House, Class J, of two storeys with clunch walls faced in red brick except on the back, has gabled pantiled roof. Originally a single-storey building of the early 18th century, its walls were raised at the beginning of the 19th century, retaining the earlier ridge-level. The ground-floor openings have flat rubbed brick arches, above which are short lengths of platband associated with the heightening. Inside, the axial beams are chamfered.
(3) House, Class G, of one storey and attics, with side and back walls of clunch, front wall and dressings of brick, has gabled roof with modern covering. In the centre of the front wall is a clunch panel inscribed 'erected 1831'. Inside, the axial beams are narrow and set on edge.
(4) House, Class T, of two storeys, white brick, and pantiled gabled roof, is early 19th-century.
(5) House, Class S, of two storeys, red brick with dentilled cornice, pantiled gabled roof, is early 19th-century.
(6) House, of two storeys, has white brick walls and pantiled gabled roof. The present exterior is early 19th-century but an earlier house with a Class-G plan may be incorporated; at one end is a later addition. (Access refused)
(7) House, Class T, of two storeys, white brick, slated gabled roof, is early 19th-century.
(8) House, of two storeys, attics and cellar, with brick plinth, clunch side and back walls and white brick front wall, has tiled gabled roofs. It has been refaced and heightened at various times, but it originated as a Class-I structure in timber-framing of the 17th century. The house is in two parts: the higher on the S. has sash windows in two symmetrical bays and a gable chimney stack; the lower on the N., refaced in modern brick, has a doorway, with roundels on the architrave, opposite the internal stack. In its present form the house has an 18th-century character. Inside, the S. room has ovolo-moulded panelling in two heights with dado rail and cornice; adjacent to the central stack is an 18th-century cupboard with round-headed door and architrave enriched with a key-block carved with a rose.
(9) Former White Horse Inn, Class I, of two storeys, brick walls and tiled roof with gable parapets and kneelers, is at the end of a row of buildings; it is 18th-century (Plate 104). A brick platband rises over the windows and perhaps formerly returned down the sides of the central door. The chimney stack has a splayed base probably once masked by thatch.
(10) Houses, a pair, Class S (Plate 104), of two storeys, brick walls with some clunch at the rear, tiled gabled roofs, have party end-walls with adjacent buildings. The brickwork is 18th-century but the large central chimney stack may be an earlier survival. The street front, which contains blocked openings, has a first-floor platband and eaves courses with bricks arranged diagonally and as dentils. Inside, the main rooms have axial ceiling beams; no features are earlier than the 18th century.
(11) House, of two storeys, clunch and red brick walls, pantiled gabled roof, is perhaps late 18th-century but later subdivisions have obscured its history. Inside, the cross beams are either chamfered or cased.
(12) House, Class I, of two storeys, timber-framing and tiled gabled roofs, is 17th-century and stands at right angles to the street. The framing was progressively replaced in red and yellow brick from the 18th century onwards. Inside, an enlarged-headed post and some other framing survive in the N. wall.
(13) House, Class I, of two storeys, rendered brick with dentilled eaves course, slated gabled roofs with parapets, stands at right angles to the street. It is probably late 18th-century.
(14) Former Swan Inn, of two storeys, clunch and red brick walls with slated and tiled gabled roof with parapets, has a 17th-century origin, now approximating to a Class-G plan; in the 19th century the main E. front of the two S. rooms was refronted to form a symmetrical design of five bays with gable chimney stacks, sash windows and central doorway with fanlight. The N. part of the house which is not refaced, is canted back to conform with the road-line. Inside, the central room has chamfered axial beam with moulded and broach stops. A long range of Stables in clunch with brick plinth and dressings is late 18th-century.
(15) House, Class I, of two storeys and cellar, brick and clunch walls, tiled gabled roofs, is early 18th-century. The rooms are canted with the curve of the street. In the stack is a recess for a panel. In each room is a stop-chamfered axial beam.
(16) Manor House, of two storeys, red brick and limestone walls, some timber-framing in the gables, has tile and pantile gabled roofs. The original house, perhaps of the early 16th century, consisted of a hall with chamber over, service end on the W. and cross wing beyond a two-sided chimney stack on the E.; opposed doorways to a cross passage remain at the W. end of the hall. The cross wing was extended to the S. in the 17th century to provide a kitchen. The walls of the hall and service end were cased in brick and the ground-floor stage of the cross wing in limestone in the early 18th century; at the same time a stair turret was added in the angle with the cross wing. The roof of the cross wing was later made to return as a hip.
The main front on the N. has three window-bays on each floor and two ground-floor doorways, one at the E. end being blocked. At the upper sill-level is a brick and limestone platband which continues on the W. and S. and round the stair turret. The 17th-century extension has a wide external chimney stack on the E. and on the first floor a reused four-light window with roll-and-hollow moulded wooden frame and two similarly-moulded mullions of the 16th century. Inside are stop-chamfered axial beams in the N. range; the position of the former service-end partition is not traceable. An upper room has early 18th-century fielded panelling in two heights, a bolection-moulded fireplace surround and flanking cupboards with fielded panels. In the stair turret, an early 18th-century stair has closed string, square balusters and turned half-balusters and square newels with ball-finials.
(17) House, Class S, clunch and brick walls, slated gabled roof, is early 19th-century. On S. gable are wall anchors in form of letters I and T.
(18) House, Class G, of two storeys and cellar, mostly timber-framed but with some brick, tiled gabled and hipped roofs, is mid 16th-century; the parlour on the E. was removed in the late 19th century and replaced by a cross wing. Later in the 16th century a two-storey S. porch was added; it is now a room and additions have been made on its E. and W. The main S. front has a continuous jetty, partly masked by the porch and obliterated by the later cross wing; on the jetty-bressummer is folded-ribbon decoration. The modern porch on the E. of the original is entered by a reset medieval clunch archway of two chamfered orders with an unrelated four-centred head. The studwork of the service end and the jetty-joists are exposed; the W. end of the house has been rebuilt in brick.
Inside, the central room, originally the hall with chamber over, has a cross beam carved with three scrolls of folded-leaf decoration separated by roll-mouldings; its S. end is morticed for a jetty-bracket. In the N. wall one jamb of the original cross-passage door survives. The service end, which is divided into two unequal compartments, has a cased axial beam, and a blocked original window on the S. The 16th-century porch has moulded joists with leaf stops. The staircase, perhaps of the early 18th century, is set against the stack; it has flat balusters with cut-out pattern of circles and frets, and closed string and moulded handrail. Later fittings of the early 18th century include a mullion and transom window, sash windows, wood-surrounded fireplace and a fielded-panelled front door. To the N. of the house is a roofless clunch Barn of c. 1800, standing against a branch of the lode.
(19) Barn, of clunch with foundations of narrow brick, and gabled roof formerly thatched, has a stone panel inscribed 'F B 1802'. Of four bays with cart entrance, it has rectangular wind-eyes in the walls and gables; the roof has two tiers of purlins, tie beams, collars and raking struts.
(20) House, two dwellings, of one storey and attics, red brick gable and clunch side walls, pantiled roof, is mid 18th-century. The house has chimney stacks at each gable end. The front is symmetrical with three windows and two doors; the end wall has an eaves-level platband stopping short of the angles. (Access refused)
(21) House, Class T, of two storeys, brick, slated gabled roof, is early 19th-century.
(22) House (Fig. 3), Class I, of one storey, attics and later cellar, framed and plastered, has thatched hipped and gabled roof covered in metal sheets. A plaster panel over the door inscribed 'I T 1713' may be taken as the construction-date. The doorway is flanked by pargetting in two panels with moulded borders. Inside, only one room was originally heated. From it rises a staircase with wave-profile flat balusters, and formerly a gate, at attic level. A number of fielded-panelled doors, of two, four or six panels, survive.
(23) House, Class G, of one storey and attics, clunch walls perhaps replacing timber-framing, and thatch roof beneath metal sheets, is 17th-century. The house stands between the bank of the catchwater drain on the N. and a former hythe on the E. Openings on the N. are blocked. Inside, the axial beams are cased except for one with stop-chamfers in the E. room.
(24) Spring Hall, of two storeys, white brick, slated hipped roof, and sash windows, is mid 19th-century; the Class-T plan has a two-storey lean-to at the rear. Contemporary with the house is a clunch Barn with white brick dressings and slated half-hipped roof; it is of three bays with raking-strut roof and opposed doors in the central bay.
(25) and (26) Pairs of Dwellings, of two storeys, white brick walls with end chimneys and rooms arranged in double depth; mid 19th-century.
Earthworks
Prehistoric and Roman
(27) Iron Age Settlement (TL 56406536) lies on the S.E. edge of Church Hill on chalk marl at 50 ft. above O.D. Deep ploughing has revealed dark circular marks, 4–6 ft. in diameter, possibly the remains of storage pits. These have produced large quantities of animal bones, mainly of cattle, as well as small amounts of black burnished wares of late Iron Age type and grey wares with incised lines. Similar pottery also associated with animal bones is alleged to have been found 'on the edge of the fens at Reach' (Fox, A.C.R., 96 and 110).
(28) Iron Age and Roman Settlements (around TL 575656) lie immediately N.E. of the Devil's Dyke on chalk marl at 50 ft. above O.D. Dark circular areas 4–6 ft. in diameter, possibly the site of storage pits, have been noticed after deep ploughing. These have produced animal bones and pottery of late Iron Age type. The occurrence in the same area of quantities of Roman pottery, roof tiles and fragments of green and yellow painted wall-plaster indicates the existence of a Roman building in the same area.
(29) Roman Building (TL 57056502) lies immediately N. of the old railway just within the parish on chalk marl at 25 ft. above O.D. An area 30 yds. square of brown coloured soil containing large quantities of Roman pottery, box tiles, roofing tiles, mortar and flint indicates the presence of a substantial building.
(30) Villa (TL 57266518; Fig. 80) lies ¾ mile S. E. of Reach village on chalk at 40 ft. above O.D., on ground sloping gently S.W. to the fen edge. It was partly excavated in 1892–3 by T. McKenney Hughes and T. D. Atkinson who probably recovered most of the main range of buildings.
The remains were of a corridor villa, consisting of a main block 25 ft. wide and at least 130 ft. long, with wings extending 36 ft. S.E., each with a small apsidal projection. In front of the main block was what may have been a portico which returned along the wings. A projecting piece of walling near the W. corner may indicate a rear corridor. The S.W. wing had a further apsidal projection on the S.W. side and the traces of a hypocaust in it show that it incorporated a bath suite. The larger of the two complete rooms in this wing had flue tiles in situ in its corners, while traces of plain red brick tessellated flooring were found in both wings. With the exception of one indeterminate piece of walling, no internal divisions of the main block were noted.
Numerous flue and roofing tiles were discovered, as well as quantities of painted wall-plaster from the S.W. wing. The latter showed that some walls were painted in bands of vermilion, blue and green, with more elaborate floral designs in places. Yellow, black and red plaster was also found in the hypocaust remains. Small finds included a piece of lead with an iron bolt in it, iron hooks as well as many animal bones. Some small fragments of Samian and large quantities of coarse ware, some of Horningsea type, were also found. (C.A.S. Procs. VIII (1894), 229; F.N. and Q., II (1894), 164, No. 352; Fox, A.C.R., 184; Atkinson notebook in R.I.B.A. Library).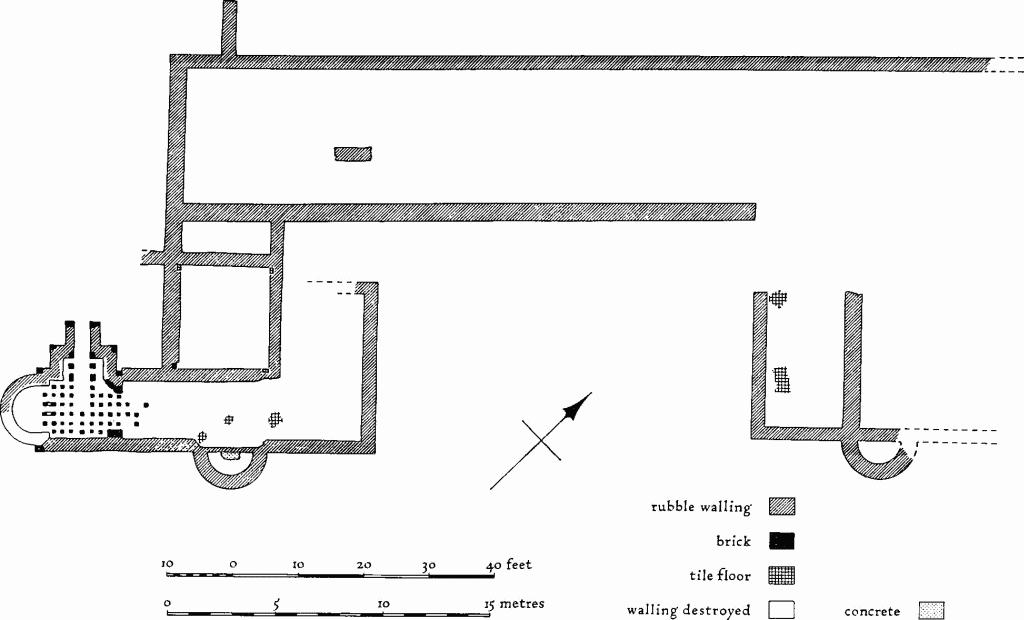 Medieval and Later
Hythe and Basins
The status of Reach as a small fenland port in medieval and later times is reflected by the existing remains of a hythe or wharf and basins for lighters. Their exact date is unknown but they were certainly in use in the 18th and early 19th centuries and probably for some centuries before, when trade in many commodities is well documented. Most of the remains are shown on the Enclosure Map of Swaffham Prior.
(31) Hythe (TL 56506640; Plate 31), lies at the N.W. end of Fair Green. Before encroachment by houses (15), (17) and (25), the green extended as far as the hythe. It consists of a parallelsided promontory of 1½ acres with a pointed N. end projecting into the fens, at the S. end of Reach Lode. It is 160 yds. long and 36 yds. wide, bounded on the W. by a watercourse 20 ft. wide, now a catch-water drain, and on the E. by a 15 ft. wide watercourse leading to a basin (33). The surface is flat, 3 ft. above the water level. During excavations for a sewage plant in 1968 it was shown to be constructed of some 4 ft. of rammed chalk rubble overlying peat and clay.
(32) Basin (TL 56546641) lies 70 yds. N.W. of Manor House (16) and immediately E. of the hythe. Although now damaged and partly filled in, it originally consisted of a small rectangular basin 100 ft. long, 15 ft. wide and 4 ft. deep, extending S.E. from the E. side of Reach Lode. It was probably a basin for the Manor House.
(33) Basin (TL 56556634) W. of Manor House (16), in the S.E. corner of the hythe. It has recently been almost entirely filled-in, but was originally 80 ft. long, 15 ft. wide and 4 ft. deep. It was probably another basin for the Manor House.
(34)Two Basins (TL 56496632) lie side by side in the S.W. corner of the hythe. The E. one, now filled-in at the N. end, was 130 ft. long, 15 ft. wide and 3 ft. deep. The W. one lies 10 ft. away and is 105 ft. long, 15 ft. wide and 4 ft. deep. There are traces of 19th-century brick revetting in its W. side. The latter was probably the basin for house (18).
(35) Basin (TL 56446633) lies 30 yds. E. of Delver Bridge on the S. side of the catch-water drain. It consists of a rectangular sunken area 85 ft. long, 20 ft. wide and 4 ft. deep, now dry. Until recently there was an access road to the basin from Great Lane on the S. (O.S. 25-inch map (1926); Enclosure Map of Swaffham Prior).
(36) Basin (TL 56346621) lies 100 yds. S.W. of Delver Bridge on the S. side of the catch-water drain. It survives as a slight depression 50 ft. long and 15 ft. wide. It is shown on the Enclosure Map of c. 1810, but even then it was apparently partly filled-in.
(37) Basin (TL 56306620) lies 30 yds. W. of (33) in a similar position. It is now partly filled, but a rectangular sunken area 50 ft. long and 20 ft. wide still remains. A later buttress on the N.E. wall of house (23), which adjoins the basin, is actually within it and blocks it.
(38) Quarries (centred TL 565658) now disused and partly ploughed over, occupy some 50 acres of land immediately S. of the village on lower chalk, at about 50 ft. above O.D. The area is approached by a number of deeply cut narrow lanes. These quarries were an important source of clunch from medieval times, and perhaps earlier, to the end of the 19th century. The stone was used extensively for many local churches and Cambridge colleges during the Middle Ages, and for numerous buildings in the area throughout the postmedieval period. It was also used in the 19th century for strengthening the banks of the River Cam and the lodes against flooding. Much of the stone was presumably transported by water.
(Fox, A.C.R., 181; V.C.H. Cambs. II, 365–6; C.R.O., Swaffham Drainage Board Minute Books)
(39) Cultivation Remains on the chalk promontory S. and S.E. of the village consist of long low ridges which are the remains of former headlands between furlongs in the common fields. Those S.W. of the Devil's Dyke (at TL 569653 and 572652) are of the common fields of Swaff ham Prior finally enclosed in 1815. Those to the N.E. of the Dyke (at TL 574657, 574658, 576659 and 578660) are of the common fields of Burwell, ultimately enclosed in 1817. The ridges are generally straight, 25–30 yds. wide, up to 1 ft. high and as much as 700 yds. long. (Commercial air photographs in N.M.R.; C.R.O., Enclosure Maps and Awards of Swaff ham Prior and Burwell)
Devil's Dyke, see p. 139
Reach Lode, see Swaffham Prior (74)
Fen Drainage, see Swaffham Prior (76) and Burwell (138)
Undated
(40) Burials (TL 56626587) found c. 1820 during quarrying; no details. (O.S. 25-inch map)