Pages 102-104
An Inventory of the Historical Monuments in Dorset, Volume 1, West. Originally published by Her Majesty's Stationery Office, London, 1952.
This free content was digitised by double rekeying and sponsored by English Heritage. All rights reserved.
36 COMPTON, OVER (D.a.)
(O.S. 6 in. V, S.E.)
Over Compton is a small parish 3 m. W. of Sherborne. The church is the principal monument.
Ecclesiastical
(1) Parish Church of St. Michael stands in Compton Park to the E. of the parish. The walls are of local rubble, partly ashlar-faced and the dressings are of the same materials; the roofs are covered with stone slates. The Nave is of uncertain date the earliest details being the 15th-century windows. The West Tower was added in the first half of the 15th century. The North Chapel or Goodden Pew was added by Robert Goodden in 1776; he restored and largely rebuilt the church in 1821–2, the North Vestry was added and the Baptistery, perhaps formerly a porch, was built or rebuilt at this time. The Chancel was again restored in 1877.
In the N. chapel is a monument with a standing figure in marble of Robert Goodden, erected in 1825, which is an outstanding piece of portrait-sculpture.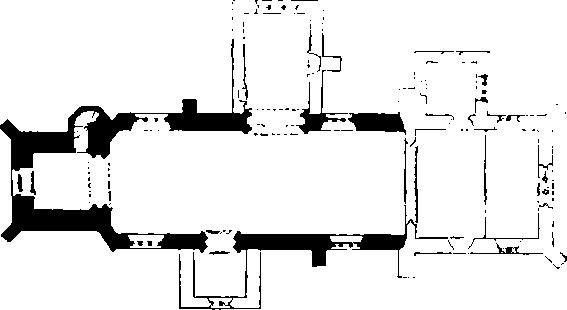 Architectural Description—The Chancel is modern, but the doorway to the N. vestry, with moulded jambs and two-centred head, incorporates old material; the reset E. window of the vestry is of the 15th century and of three trefoiled ogee lights in a square head with moulded reveals and label.
The Nave (46¼ ft. by 16¼ ft.) has an early 19th-century arch to the N. chapel; flanking it are two 15th-century windows each of three cinque-foiled lights in a square head with a label and returned stops. In the S. wall are two similar windows, but the eastern has head-stops; between the windows is an early 19th-century arch.
The West Tower (8¾ ft. square) is of early 15th-century date and of three stages with an embattled parapet, pinnacles and gargoyles. The tower-arch is two-centred with shafted responds and panelled reveals and soffit; it appears to have been largely restored. The W. window is of three cinque-foiled ogee lights with vertical tracery in a two-centred head with moulded reveals and label; the W. doorway has moulded jambs and four-centred arch in a square head with a label and head-stops of a king and bishop. The second stage has, in the S. wall, a square-headed window. The bell-chamber has, in each wall, a window of two cinque-foiled lights with a quatrefoil in a two-centred head with a label.
Fittings—Bells: four; 1st dated 1618; 2nd unhung and cracked, 17th-century, uninscribed; 3rd from the Salisbury foundry, early 16th-century and inscribed "Intersede pia pro nobis Virgo"; 4th dated 1596. Communion Table: In N. chapel—with turned legs and enriched top rails, 17th-century. Door: In bell-chamber—of double battens with strap-hinges, probably 17th-century. Font: octagonal bowl with quatre-foiled panels enclosing shields, crosses or a rose, probably 17th-century; splayed under-side with trefoil-headed panels and stem with similar panels, 15th-century; initials and date N.B., C.W. 1620 on rim. Hatchments: five; in N. chapel, one, Goodden impaling Harbin; in nave, four, (a) Goodden impaling Harbin, (b) Bishop and Goodden quarterly, (c) Goodden and Bishop quarterly, (d) Goodden and Culliford quarterly with a quartered scutcheon of Jeanes, 18th or early 19th century. Monuments and Floor-slabs. Monuments: In chancel—(1) to Charles Abington, 1726, and Isabella (Compton) his wife, 1720, wall-monument (Plate 21) carved with gilded drapery and achievement-of-arms, supported on gadroon corbel. In N. chapel— (2) to Wyndham Goodden, youngest son of Robert and Abigail Goodden, 1839, and Mary, his wife, 1844, erected by his eldest son John, white marble wall-monument in the form of a classical sarcophagus with two shields-of-arms; (3) to Robert Goodden, 1828 (Frontispiece), white marble standing figure of an elderly man with a stick, on a pedestal, in recess, dated 1825, possibly by Flaxman or John Bacon the younger; (4) to John Harbin Goodden, eldest son of Robert and Abigail Goodden, 1766, Elizabeth, 1768, and Anne, his sisters, white marble pyramidal wall-monument (Plate 110); (5) to Robert Goodden, 1764, and Abigail, his wife, erected by their son Robert in 1777, black and white marble wall-monument (Plate 110) with curved pediment and urn, foliage decoration with C-scrolls, tablet of arms and shaped apron. In S. chapel—(6) to Onesiphorus Bicknell, 1805, and Susanna Bicknell, his wife, 1821, erected by his master, Robert Goodden, slate wall-monument. In nave—(7) to Mary, second daughter of Robert and Abigail Goodden, 1812, and Rev. John Culliford Goodden, third son, 1813, wall-monument with the figure of a weeping woman carved in high relief. In churchyard—S. of church, (8) table-tomb, late 16th or early 17th-century; (9) to James Hann, sen., 1701, headstone; (10) to Elizabeth, daughter of Thomas Whillyar, 1712–3, headstone; (11) to Ann, daughter of Thomas Wheeler, 1707, head-stone. Floor-slabs: In chancel—(1) to Margaret, wife of W. Somers, 17th-century; (2) to Mary Abington, 1599; (3) to George Keate, J.P., 1698, with achievement-of arms; (4) to Barbara, wife of George Abington, 1688, with circular panel of arms. Painting: In second stage of tower—section of plaster in modern frame with remains of painted name Jehovah in Hebrew, with rays, 18th-century, removed from chancel in 1821. Plate: includes a cup of 1571, two cups and a paten all of silver-gilt of 1752 and a flagon and an alms-dish of 1822. Pulpit: hexagonal with moulded framing and enriched cornice, sides each with two panels, upper carved with arabesques and lower with enriched arch, 17th-century; reader's pew incorporating 17th-century carved panels and rail. Weather-vanes: On four pinnacles of tower—as many wrought-iron scrolled standards with small copper cocks, probably 18th-century.
Secular
(2) Compton House (Compton Hawy), just S. of the church, was badly damaged by fire in 1827 and was largely rebuilt about the middle of the 19th century. It has a number of outbuildings of 18th and early 19th-century date. All are built of squared and coursed stone or ashlar and the roofs are covered with slates or tiles. The Stables form three sides of a square; the coach-house in the middle of the E. range has a pair of semicircular-headed doorways in a projecting pedimented bay containing a lunette-window in the tympanum. The other windows are of two lights with stone mullions, those on the ground floor with segmental heads and transoms. The Granary and waggon-house is of very similar design. The Barn has segmental-headed openings and tall rectangular loops. The Dovecot is circular with a conical roof and with a number of dressed stone oval openings in the walls. The Walled Garden has a substantial N. wall with heavy weathered buttresses. In the grounds is a Pinnacle of stone with a twisted shaft and moulded capital supporting a seated lion holding a shield with the initials J.H. for John Horsey. It came from the demolished portion of Clifton Maybank and dates from the first half of the 16th century.
Monuments (3–7)
The following monuments, unless otherwise described, are of the 17th century and of two storeys; the walls are of rubble and the roofs are covered with thatch or modern slates. Some of the buildings have exposed ceiling-beams.
(3) Home Farm, house 380 yards W. of the church, retains two three-light stone windows to the ground floor and some windows with solid wooden frames to the first floor; the doorway has a four-centred head.
(4) Cottage, two tenements immediately W. of (3), retains some original stone-mullioned windows, those of the lower range with labels; the doorway has a four-centred head.
(5) House, on the N. side of the road 670 yards W. of the church, retains its original stone-mullioned windows in front, the lower ones with labels.
(6) Barn, on the W. side of the road, 30 yards N.W. of (5), is built of ashlar and the roofs are tiled. In the E. gable are the initials and date R.G. 1787.
(7) Lower Farm, house 180 yards N.N.W. of (5), retains windows similar to those of (5). On the S.E. gable is a stone with the initials and date P. and E.A. 1665. The Barn, N. of the house, has stone walls and tiled roofs and is initialed and dated P.G. 1804.