Pages 15-17
An Inventory of the Historical Monuments in Dorset, Volume 1, West. Originally published by Her Majesty's Stationery Office, London, 1952.
This free content was digitised by double rekeying and sponsored by English Heritage. All rights reserved.
4 BATCOMBE (D.c.)
(O.S. 6 in. (a)XXI, S.E. (b)XXII, S.W.)
Batcombe is a small parish 7 m. N.E. of Beaminster. The church and the cross are the principal monuments.
Ecclesiastical
a(1) Parish Church of St. Mary stands in the S. part of the parish. The walls are of local rubble and flint with freestone dressings; the roofs are tiled. The West Tower was built in the first half of the 15th century and the Nave and Chancel were rebuilt shortly after. The church was restored in 1864 when the chancel was rebuilt, except the chancel-arch, and the North Porch was added.
The church is of no great architectural interest, but among the fittings the font, the stone rood-screen and the pre-Conquest fragment are noteworthy.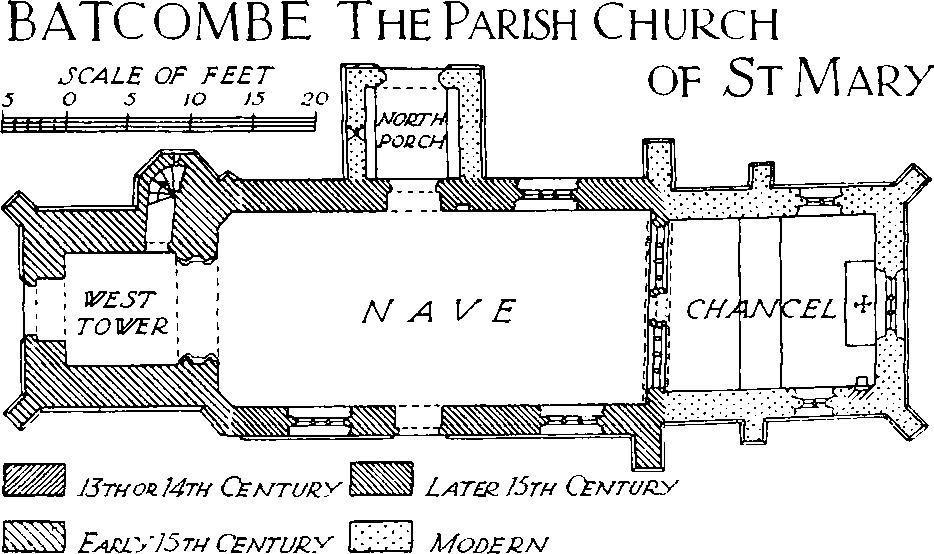 Architectural Description—The Chancel (16½ ft. by 13½ ft.) is modern except for the 15th-century chancel-arch; this is moulded and two-centred; the splayed responds have been cut back for the late 15th-century stone screen.
The Nave (34¾ by 15½ ft.) has, in the N. wall, a 15th-century window of three cinque-foiled ogee lights with vertical tracery in a two-centred head with moulded and shafted reveals and label with head-stops; the 15th-century N. doorway has chamfered jambs and two-centred head. In the S. wall are two windows similar to that in the N. wall but the eastern window has no label; the S. doorway is uniform with the N. doorway.
The West Tower (9 ft. square) is of early 15th-century date and of three stages with an embattled parapet with pinnacles and gargoyles at the angles. The two-centred tower-arch is moulded and springs from moulded and shafted responds; the reveals and soffit have a single row of sunk panels with pointed heads. The W. window is of three cinque-foiled ogee lights with vertical tracery in a two-centred head with moulded reveals and label; the W. doorway has moulded jambs and two-centred arch in a square head with a label and head-stops of a king and a bishop. The second stage has a N. window of one pointed light in a square head with moulded reveals. The bell-chamber has, in each wall, a window of two trefoiled lights with a cusped panel in a two-centred head, with moulded reveals and label; the panels enclose either shields, a rose or the initials I.C.; the lights are partly filled with slabs having quatrefoils or pierced trellis work.
The Roof of the chancel is modern but incorporates some 15th-century timbers. The partly restored 15th-century roof of the nave is of collar-beam type with curved braces forming four-centred arches; the moulded principals and purlins have carved foliage-bosses at their intersections; the moulded plates have carved paterae and rest on stone cornices.
Fittings—Bells: three; 1st broken and not hung, probably c.1400 and inscribed "Sta Maria Magdalene"; 2nd by William Warre of Yetminster, 1592; 3rd probably by Bilbie and of the second half of the 18th century. Bell-frame old. Font (Plate 14): Roughly circular bowl, in the form of a mortar, with four strips of cable-ornament with lugs at top, forming angular projections, and having incised circles between them, 12th-century or earlier, square stem with chamfered angles and capital carved with crude volutes at the angles, probably 12th-century. Monuments: In nave— on N. wall, (1) to George Harris, 1804, Ann his mother, 1810, and John her husband, 1826, sarcophagus-shaped wall-tablet of white marble by E. Gaffin, Regent St., London. In tower—on N. wall, (2) to John Minterne, 1592, plain stone tablet; (3) to John Palmer, rector, 1702–3, stone tablet with double carved frame; (4) to Thomas Beazer, rector, 1734, slate wall-tablet with rounded top and skull-and-crossbones; on S. wall, (5) to Frances (Minterne), wife of Andrew Buckler, 1648, painted freestone tablet with Corinthian side-columns, entablature, apron, cresting and shield-of-arms; (6) to John Minterne, 1705, Eleanor his wife, 1716–7, and Ruth their daughter, 1685, stone tablet with scrolls. In churchyard—N. of chancel, (7) part of 16th-century table-tomb, with heavy top slab, and a quatre-foiled side-panel enclosing a shield, probably reused; (8) to Francis Stount, 1685, and Sarah his daughter, 1685–6, table-tomb; N. of nave, (9) to Paul Slade, 1811, and Paul Slade Dunning, 1814, table-tomb with fluted angle-pilasters and blank shields. Piscina: reset in chancel—pillar-piscina with moulded base and cushion-capital with drain, 12th-century; above it, recess with two-centred head, 13th or 14th-century. Screen (Plate 34): Under chancel-arch—of stone and of four bays and a central doorway, solid base and moulded and embattled cornice; doorway with four-centred arch and two cinque-foiled lights above it; side-bays each with two similar lights, late 15th-century, considerably restored. Seating: In chancel—two coffin-stools, with turned legs, 17th-century. Stoup: In nave—in N. wall E. of doorway, recess with pointed arch and oval bowl, probably 15th-century. Miscellanea: Incorporated in middle S. buttress of chancel—fragment (Plate 6) of stone 5 ½ 4½ in. with pre-Conquest interlacement.
Secular
b(2) Batcombe Cross and Hand on the N. side of the road 1,430 yards E. of the church, is a monolithic crudely tapered oval shaft (Plate 12) with a necking and capital of cushion form; it stands 3½ ft. out of the ground and the capital is 11 in. square. It is possible that this shaft belongs to the group of pre-conquest shafts of which the pillar of Eliseg is the best known; if so the capital must have been cut down. The hand said to have been carved on one face is not traceable.
a(3) Newlands Farm, house ¾ m. N. of the church, belonged to the Minterne family. It has been entirely rebuilt but reset in the attics is a large amount of 17th-century oak panelling and doors. In the garden is a stone archway with moulded jambs, imposts and three-centred arch, surmounted by a cornice, pediment and three pinnacles; on the tympanum is the date 1622.
a(4) Dyer's Farm, house 1,170 yards N.N.W. of the church, is of two storeys; the walls are of rubble and the roofs are thatched. It was built in the 17th century and retains an original window with a moulded oak frame and two original plank partitions.
a(5) Redford Farm, house over 1¼ m. N.W. of the church, is of two storeys; the walls are of rubble and the roofs are thatched. It was built c. 1700 but has been much altered.
a(6) Cottage, nearly 5/8 m. N. by W. of the church, is built of rubble partly plastered over and the roofs are thatched. In the W. front is a panel with initials and date S.P.L. 1767. There is a central chimney.
a(7) House, 930 yards N. by W. of the church, is of two storeys with attics. The walls are built of three courses of ashlar alternating with rubble; the roofs are thatched. It is a rectangular building of 17th-century date with modern bay-windows and a brick porch added to the E. front. The N. and S. ends are gabled with copings and shaped kneelers.
a(8) Church Farm, house 170 yards N.N.W. of the church, is of two storeys; the walls are of clunch rubble and the roofs are thatched. It was built probably late in the 17th century.
Earthworks
b(9) Mound, probably a barrow, on Batcombe Hill 60 yards E.N.E. of (2), has been almost obliterated; it is about 2 ft. high.
a(10) Mound, probably a barrow, about 550 yards E. of the church, is about 40 ft. in diam. and 3 ft. high; the middle has been disturbed.