Pages 157-160
An Inventory of the Historical Monuments in Dorset, Volume 2, South east. Originally published by Her Majesty's Stationery Office, London, 1970.
This free content was digitised by double rekeying and sponsored by English Heritage. All rights reserved.
21 LYTCHETT MINSTER (9693)
(O.S. 6 ins. aSY 99 SW, bSY 99 SE, cSY 99 NE)
The parish of Lytchett Minster covering about 3,500 acres lies immediately W. of Poole. It is made up of two distinct areas linked together by a narrow connecting strip of land. The E. block is irregularly shaped and lies N. of Lytchett Bay, an inlet of Poole Harbour; the E. two-thirds of this area is low-lying heathland sloping gently S. to the sea, while the W. third, within which the village is situated, is a generally flat wooded landscape on London Clay. The W. block is rectangular and lies N. of the Sherford river, from which the land rises gently N. across heathland to an area of London Clay.
Everything points to a history of late development in an area of marginal land. The parish was only a Chapelry of Sturminster Marshall in the mediaeval period and the village itself is not recorded until 1244 (Fägersten, 112). In the W. block the small settlements of Slepe and the significantly named Newton are both first recorded in 1333. Settlement is now widely scattered over the parish with only a small nucleus S. of the church. The houses, few of which are earlier than the late 18th century, are of cob or brick, mostly with thatched roofs.
The principal monument is Bulbury hill-fort, set in an unusually inconspicuous position and the site of a remarkable find of Iron Age metalwork.
Ecclesiastical
b(1) The Parish Church (dedication unknown) stands in the village. The walls are of buff-coloured brick with some stone dressings above a rubble plinth, except in the tower which has walls of roughly squared carstone rubble; the roofs are covered with slate. The West Tower of the 15th century is all that remains of the mediaeval church; the Chancel, Nave, Vestry and Porch were all built in 1833, by John Tulloch of Wimborne, contractor (British Magazine, Sept. 1833).
Architectural Description—The Chancel (9 ft. by 20 ft.) has the E. wall only carried up to a parapet, with two-stage diagonal buttresses finishing above the parapet in pyramidal cappings. The E. window has three lights with thin vertical tracery in a two-centred head. The chancel arch is two-centred with continuous moulding to the W. and cusped panels to the reveals and soffit. The Nave (59½ ft. by 29 ft.) has diagonal buttresses at the corners similar to those on the chancel and intermediate buttresses of two stages finishing under the eaves. The windows, three in the N. wall and four in the S., all had two uncusped lancet lights and a pierced spandrel in a two centred head; the easternmost in each wall has been altered to a single light and the second window on the S. side now has modern moulded jambs and tracery. Doorways with simple moulded architraves and panelled doors lead to the vestry and the tower, and a similar doorway with modern doors leads to the porch. The West Tower (8½ ft. by 11½ ft.) is of two stages with chamfered plinth, weathered string-course, parapet string-course, embattled parapet and angle and diagonal buttresses of two weathered stages; on the N. side a polygonal vice reaches to the top of the lower stage. The tower arch is of one boldly chamfered order with continuous jambs and is now partly blocked. In the N. wall is a small doorway to the vice with four-centred head. The W. window, originally with vertical tracery, which has been destroyed, has had the sill raised and a 19th-century doorway inserted below. In the upper stage are windows of two lights with sunk spandrels. The Vestry (12 ft. square) has diagonal buttresses with pyramidal cappings. In the E. wall is a window of two ogee lights in a square head; in the W. wall is a blind recess. The Porch (9½ ft. square) has diagonal buttresses with pyramidal cappings. The E. window is of two ogee lights in a square head. The S. archway is two-centred with continuous mouldings in Roman cement. The Roofs of chancel and nave are ceiled on the line of raking braces under collar beams. In the nave the collar beams support king posts with raking struts to the principals. The porch is ceiled with a four-part plaster vault.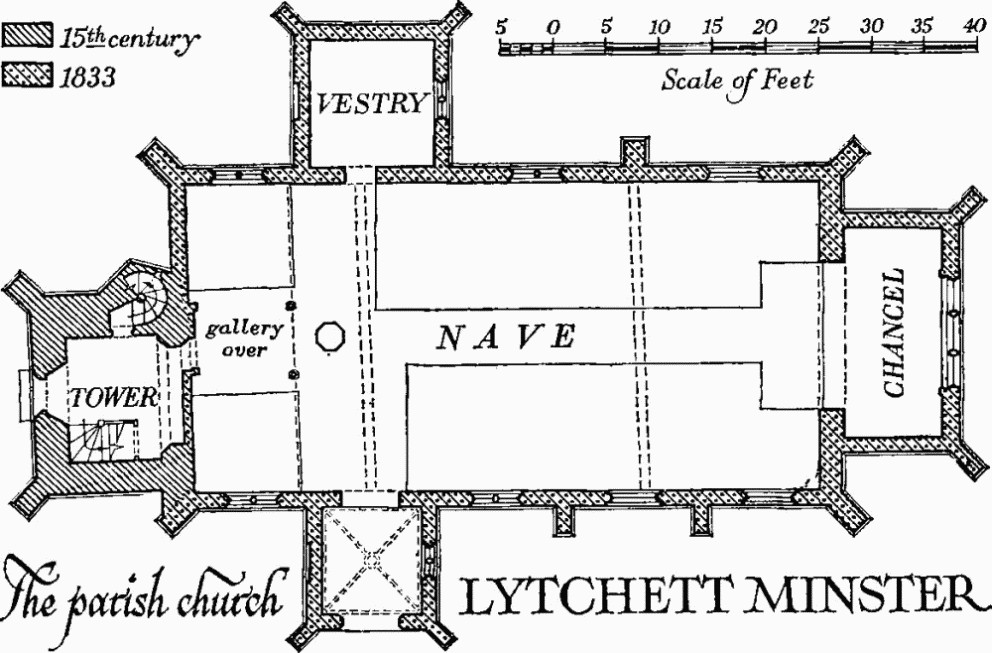 Fittings—Bells: six, 1st and 2nd modern; 3rd by R. Lott, 1699 but recast in 1903; 4th by John Wallis, 1593; 5th inscribed 'Ave Maria gracia plena Deus (sic.) tecum', 15th-century; 6th by John Wallis, 1601. Chests: in porch, (1) with panelled front, early 17th-century; (2) plain, probably 18th-century. Churchyard Cross: N.W. of tower, base only, square sloped back to an octagon, with square socket, 15th-century. Coffin Stools: a pair, with turned legs, tops inscribed '1699 R.L., M.L., E.L.' Fonts: in nave, (1) octagonal bowl and stem with necking and moulded base, 15th-century; loose in churchyard, (2) small octagonal bowl with moulded under edge, broken, c. 1833. Gallery: in nave, at W. end, with panelled front, carried on timber columns set on modern stone bases, and approached by staircase with close string and turned newels and balusters, c. 1833. Monuments: In tower, (1) to Jane Slade, 1850, white marble tablet in the form of a scroll. In churchyard, headstones—E. of church, (2) to Ann, wife of Luke Brewer, 1680; (3) to Zachariah Barnes, 1701; S. of church, (4) to Mary, daughter of Richard . . .; (5) to John Speare, 1683/4; (6) to William Saveg, 1710; (7) to Mary, wife of Nicholas Green, 1709. Organ: in two stages, the upper stage with arcaded panels of pipes under a cornice, early 19th-century. Royal Arms: on gallery front, small, of wood crudely repainted, early 19th-century. Seating: in gallery, plain benches, c. 1833. Sundials: on nave, on S.E. buttress, reused stone with scratch dial; on S. porch, at apex of gable, with four slate faces on a stone base and with a moulded and embattled stone top with finials much decayed, inscribed 'Restant Aeterna Caduci AD MDCCCXXXIII' and, on back, 'Hiscock, Christchurch'. Tables of the Creed and the Lord's Prayer: loose in tower, two painted boards, early 19th-century.
b(2) Independent and Baptist Chapel (957927), dated 1824, has brick walls and a slated roof; the S. front is in polychrome brickwork. The chapel was altered in the mid 19th century.
Secular
b(3) Post Green, house (958935), of two and three storeys with cellars, has brick walls and slate-covered roofs; it was built in the third quarter of the 18th century and enlarged towards the S. at the end of the same century.
The N. front is symmetrical; the central doorway has a modern architrave and fanlight flanked by original fluted columns with reeded and fluted capitals carrying an entablature, which has been altered and heightened, and an original pedi ment reset; the windows are plain with double-hung sashes. The S. elevation is symmetrical and built in header bond with two large two-storey bay windows flanking a modern opening with french casements and fixed side lights; the lower windows to the bays have french casements, and across the whole front is an early 19th-century verandah with curved roof carried on cast-iron trellised standards and transoms. At the W. end is a lower wing which has been heightened and much altered.
Internally a central spine wall is the original S. outside wall. The older part of the house, to the N., has been modernised; to the S. is a central stairhall between drawing room and dining room. The drawing-room is octagonal and has a coved ceiling with a border enriched with garlands; the fireplace is flanked by Ionic pilasters, panelled and decorated, supporting a frieze under the mantleshelf decorated with lutes, garlands and allegorical figures. The dining room has an enriched ceiling cornice and a fireplace with moulded surround with roundels at the corners. The foregoing are of c. 1800. Parts only of the staircase of c. 1800 survive, with open string, turned newels and plain square balusters.
Monuments (4–29)
The following monuments unless otherwise described are small houses and cottages of one storey with attics or two storeys, with walls of cob sometimes refaced in brick and with thatched roofs; they are of the late 18th or early 19th century.
b(4) The Old Vicarage (75 yds. S.E.) has the roof covered with modern shingles.
b(5) House and Cottage (250 yds. S.) have walls rendered in rough-cast.
b(6) Cottages, range of three, immediately W. of (5).
b(7) Cottages, two, (958927).
b(8) North Holton Farm, house (956927), of two storeys and attic with brick walls partly tile-hung and with tiled roof, is of the second half of the 18th century (Plate 43). The front elevation is symmetrical and finished with a cornice and parapet; the central doorway has flanking pilasters, fanlight and open pediment. The plan is nearly square, with an axial stairhall between two front rooms and service rooms behind.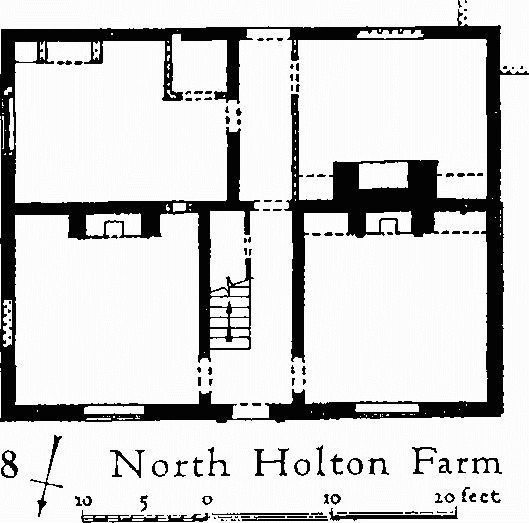 b(9) House (96079294) has an entrance porch with panelled pilasters; it is L-shaped on plan.
b(10) Cottage (960936) is L-shaped on plan and may incorporate earlier work.
b(11) Kicherman's, house (963940), of two storeys with rendered walls above a stone plinth and with a thatched roof, is of the late 17th century. It is built on a long rectangular plan with central and end chimneys, giving, on the ground floor, three heated rooms, and a small room behind the entrance lobby. The windows and most of the internal fittings have been renewed.
b(12) Three Oaks Cottage (964937) has brick walls and is symmetrically designed, with central porch, casement windows under segmental heads and end chimneys. It has an original outshot at the rear and has been extended to the N.E.
b(13) Cottage Farm, house (964936), with brick walls and slated roof, is L-shaped on plan, with a verandah round the N. wing, and has windows of one, two and three round-headed lights.
b(14) Randall's Cottage (967941).
b(15) Randall's Farm, house (968941), has later additions at the back.
b(16) Forest Hill Cottage, (968941) has the roof covered with slates; it is symmetrically planned with a central stairhall.
c(17) St. Leonard's Farm, house (971950), has a central entrance to the larger of two front rooms (Plate 46); a lean-to roof covers service rooms at the back.
c(18) Cottage (972950), with tiled roof, was originally symmetrical with central entrance and end chimneys, but has been extended.
c(19) Cottage (972951) has a tiled roof.
b(20) Beacon Hill Farm, house and barn (976949), has tiled roofs; the barn is of three bays with a central porch.
b(21) Cottage (975938), has a tiled roof.
b(22) Cottage (978933), with rendered brick walls, was symmetrically designed with a central porch; it has been divided into two tenements.
b(23) Cottage (97549332), on S. side of Dorchester Road.
b(24) Cottage (97439335) was built as two dwellings, with a central chimney.
b(25) Cottage (97079345) was symmetrically built with central entrance, but has been extended.
b(26) Cottage (97039336), in Marsh Lane, was extended to the E. in the first half of the 19th century.
a(27) Cottage (940922), at Organ Ford, of brick with a tiled roof, is symmetrically designed, with central entrance and hung-sash windows.
a(28) Mill (938922), at Organ Ford, of three storeys with brick walls and slated roof, has segmental-headed door and window openings alternating with blind recesses. It is said to have had four pairs of barley stones and one pair of wheat stones driven by an external water wheel; the machinery is partly dismantled.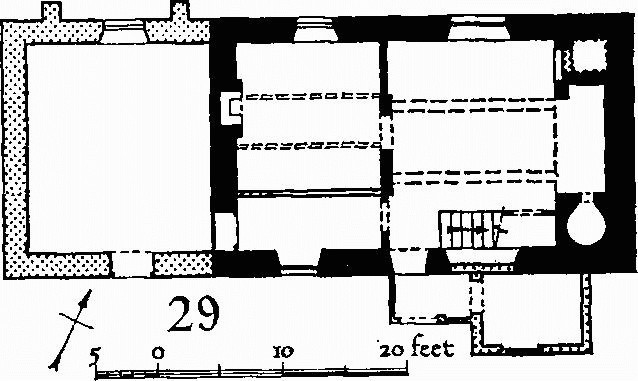 a(29) Cottage (929932), at Slepe, of one storey and attic, was built in the 17th century on a two-room plan with one end chimney; a second chimney and a third room were added later. A dormer window of three lights has original chamfered wood frame and mullions.
Railway Gatekeeper's Cottage, at Upton, see p. 416.
Earthworks
(30) Bulbury, hill-fort, p. 492.