Pages 240-246
An Inventory of the Historical Monuments in Dorset, Volume 2, South east. Originally published by Her Majesty's Stationery Office, London, 1970.
This free content was digitised by double rekeying and sponsored by English Heritage. All rights reserved.
27 PORTESHAM (6085)
(O.S. 6 ins. aSY 58 NE, bSY 68 SW, cSY 68 NW)
Portesham, a parish covering 4,511 acres, lies 6 m. N.W. of Weymouth and occupies a roughly rectangular area of land, with a narrow projection to the S. The N. boundary of the parish follows the crest of the chalk hills of the S. Dorset Ridgeway, here over 500 ft. above O.D. and rising to a maximum of 776 ft. at the Hardy Monument on Black Down, where the chalk is overlaid by gravel. To the S. the land falls steeply, but, except on the W., where Portesham village occupies the mouth of one of two valleys, rises again to a sharp E.–W. ridge of Portland and Purbeck Stone at a height of between 400 and 500 ft. above O.D. Beyond there is a gentle slope on Kimmeridge Clay to the valley of a small E.-flowing brook which is succeeded by another much lower E.–W. ridge of Corallian Limestone at 250 ft. above O.D. The narrow projection of the parish to the S. continues across small E.-flowing streams, cut into the soft Oxford and Cornbrash Beds, with the harder Forest Marble rising between them. On the N. uplands, prehistoric monuments include the Hell Stone, a Neolithic chambered long barrow and a number of Bronze Age barrows along the Ridgeway.
The W. third of the parish is occupied by the present nucleated village with extensive remains of its former open field system. The E. part was originally divided into four small rectangular blocks of land, the boundaries of which are still marked by continuous field walls, associated with the four small settlements of Waddon (now Waddon Manor), Little Waddon, Corton (now Corton Farm) and Friar Waddon. The S. projection of the parish was divided between two other tiny settlements, E. and W. Shilvinghampton. Portesham, Corton, two Waddons and three Shilvinghamptons are listed in Domesday Book.
Most of these small settlements have standing monuments of some interest, including the remains of the 13th-century chapel at Corton and houses of the 16th and 17th centuries. Portesham Church and Waddon Manor, a fine house of c. 1700, are the principal monuments.
Ecclesiastical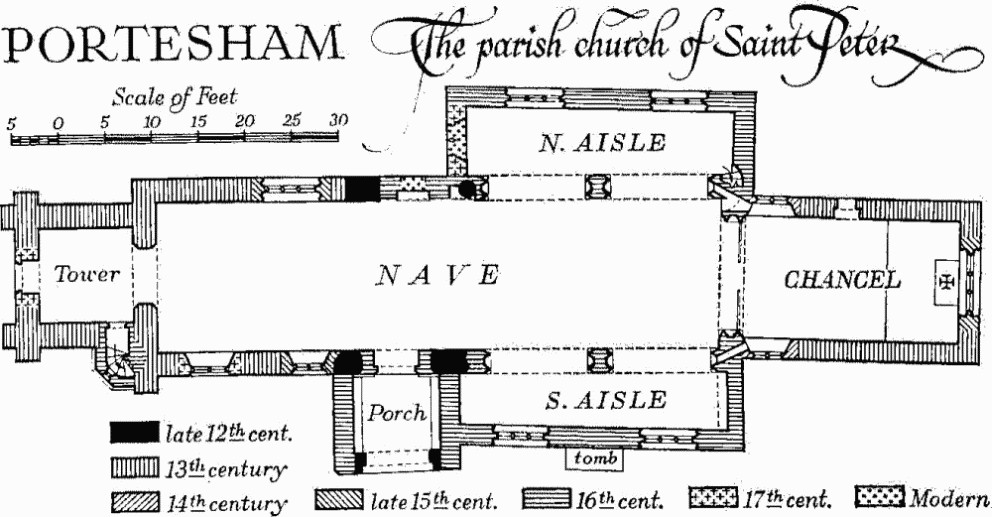 c(1) The Parish Church of St. Peter stands in the middle of the village. The walls are of Portland rubble with dressings of the same stone. The chancel roof is covered with slates; the nave and aisle roofs are covered with lead. The Nave was built in the late 12th century and probably had N. and S. aisles; part of the N. arcade remains, now blocked. The existing narrow N. and S. aisles are probably built to the width of the original ones. In the 13th century the Chancel was built, the nave was extended to the W. and the West Tower was added; the extension to the nave opened on the N. into an extension of the N. aisle which has been destroyed. The chancel arch was rebuilt c. 1500 and at the same time new two-bay arcades were built to the eastern part of the nave opening into new North and South Aisles and the top stage and the vice were added to the tower. Later in the same century the South Porch was built, with 12th-century material reused in the outer archway. The Roofs are modern.
The church has suffered less from restoration than many others in this district, and the arcades and the W. tower are of some distinction.
Architectural Description—The Chancel (23 ft. by 12½ ft.) has in the E. wall a late 15th-century window of three cinque-foiled lights with vertical tracery in a two-centred head. In the N. wall is an early 13th-century doorway with roll-moulded jambs and continuous trefoiled head. Further W. is an early 14th-century window of two trefoiled lights with a quatrefoil in a two-centred head. In the S. wall is a window similar to that in the N. but taller. The chancel arch, of c. 1500, is two-centred and has moulded and panelled reveals and soffit, the mouldings of the reveals having engaged shafts with moulded bases and capitals. To each side is a plain squint. Above the haunches of the chancel arch and evident only from the outside are two small blocked windows with rounded heads of the late 12th century.
The Nave (60 ft. by 16 ft.) has a N. arcade of two four-centred arches springing from a rectangular central pier and responds and with mouldings and panelling uniform with those of the chancel arch. Further W. are the remains of one bay of a 12th-century arcade, now blocked, which originally extended further E. The arch is two-centred, springing from a circular pier with scalloped capital and a plain respond with moulded impost; under the arch is a blocked doorway. Still further W. are the imposts and haunches of a blocked 13th-century arch; the crown of the arch has been removed for the insertion of a 15th-century window of three cinque-foiled ogee lights with vertical tracery in a two-centred head with a label finished to head-stops of a king and a bishop. The S. arcade is of two bays, uniform with the later N. arcade. The S. doorway is of the 16th century and has a cambered timber lintel. Further W. are a restored late 15th-century window of two cinque-foiled lights in a square head with a label and depressed two-centred rear arch and a 17th-century window of two transomed lights in a square head with a label. The North Aisle (28 ft. by 7 ft.) has high up in the S.E. corner a doorway with four-centred head and the remains of a stone staircase to a former rood loft. In the N. wall are two windows each of three cinque-foiled ogee lights in a square head with a label ending with head-stops. In the W. wall is a blocked 17th-century window of two lights with a square head and a label. The South Aisle (28 ft. by 5½ ft.) has in the E. wall an internal recess with segmental head and in the S. wall two windows uniform with those in the N. wall of the N. aisle.
The West Tower (9½ ft. square) is of three stages with two-stage angle buttresses to the lower part. The lower, 13th-century, stages are divided by a plain offset. The top stage of c. 1500 rises from a weathered string-course and is surmounted by a string-course and embattled parapet with crocketed pinnacles at the corners (mostly restored) and in the middle of each side (now missing). The tower arch is two-centred and of two chamfered orders, the inner order springing from the reveals, the outer carried down. In the S. wall is a doorway of c. 1500 to the vice, with chamfered four-centred head. Higher up is a small 13th-century single-light window with roll-moulded jambs and head. The W. doorway is of the 17th century and has a chamfered four-centred head with an elliptical-headed window of the same date above it; behind the window is a chamfered 13th-century rear arch. In each face of the second stage is a small single-light window, that to the E. now blocked. The top stage has in each face a window of two trefoiled lights with sunk spandrels in a square head. The E. and W. windows only have labels. The stair turret, which rises higher than the main tower, has a moulded plinth and is divided into three stages by weathered strings; at the top is a parapet string with gargoyles at the corners, and a plain low parapet formerly embattled. The South Porch (9 ft. by 8 ft.) has been partly heightened to give a level parapet. The entrance archway is two-centred and of one chamfered order with moulded imposts and a roll-moulded label.
Fittings—Bells: three; 1st by GP 1607; 2nd by R. Austen, 1623; 3rd by R. Austen, 1635. (fn. 1) Bell-frame: probably 17th-century. Brackets: seventeen, all of stone; in chancel, on E. wall, (1) moulded and carved with stiff-leaf foliage, late 12th-century, (2) with carved head, mediaeval; in nave, on E. respond of N. arcade and E. respond and pier of S. arcade, (3–5) with half-angels holding shields; in N. aisle, on E. and N. walls, (6–8) with carved angels' heads, c. 1500, over arcade, (9–12) two plain and two with masks, mediaeval; in S. aisle, over arcade, (13–15) plain, mediaeval, in S. wall, (16) small with defaced carving, possibly a head, c. 1500, and (outside) on E. wall, (17) with carved grotesque, 12th-century. Coffin Stools: pair, with turned legs and moulded rails, marked with nails BG 91, 17th-century. Communion Tables: in chancel, (1) made up with moulded framing and top, now enlarged, of the 18th century; in N. aisle, (2) with turned legs and moulded rails, 17th-century much altered and restored. Doors: in S. doorway, (1) of double boarding with nail-studded battens, hinged in the middle, 16th-century; in W. doorway, (2) of double boarding, nail-studded and with original furniture, 17th-century; in vice doorway, (3) with moulded battens and studded with nails, c. 1500. Font: square, slightly tapered bowl with chamfered angles, on circular stem and chamfered base, probably 13th-century. Hatchment: in N. aisle, of Sir Andrew Riccard, 1672 (see Hutchins II, 758, where his monument at St. Olave's, Hart Street, is described; R.C.H.M. London City (1929), 182, 183). Image: in W. wall of N. aisle, outside, reset in a niche with defaced trefoiled triangular head, stone figure of Virgin and Child, 1½ ft. high, early 15th-century.
Monuments and Floor-slab. Monuments: in chancel, on S. wall, (1) to John Callard Manfield, Attorney at Law, 1808, of black and white marble with urn, signed L. Wood, Chelsea Middx.; in N. aisle, on E. wall, (2) to Harry Chafin, 1726, Anna (Coker) his first wife, 1701, and Mary (Pley) his second wife, 1721, marble wall-monument with tablet with arched head and cherubs' heads in the spandrels between pilasters, with moulded base and entablature and cartouche with arms now defaced; in S. aisle, (3) to John Thresher, 1829, and Elizabeth his wife, 1841, marble sarcophagus-shaped tablet signed Lester, Dorchester; (4) to Mary, wife of Robert Weare, 1675, stone tablet; in porch, (5) to Joan, wife of Thom. Deering the elder, 1682, and Willm., son of Thom. and Mary Deering, 1695, arcaded stone tablet in moulded frame with pulvinated frieze and cornice; (6) to Thomas Dearing the elder, 1668, stone tablet set in W. seat; (7) to ... Deering, c. 1700, wall-tablet reset in W. jamb of outer archway. In churchyard—6 yds. S. of chancel, (8) tapered table-tomb, no inscription, 17th-century; 20 yds. S. of chancel, (9) to John Curtise, 1665/6, and Barbara his wife, 1657, table-tomb with arcaded sides; S. of S. aisle, (10) to Mary Warer (?), 1661, headstone; against S. wall of S. aisle, (11) to William Weare, 1670, table-tomb with panelled side, ends carved with blank shields and scroll-work, under a wall-tablet between engaged columns carrying an entablature; S. of porch, (12) to John Coward, c. 1700, table-tomb; S.W. of last, (13) to Ralph Thorne, 1709, table-tomb; S. of tower, (14) table-tomb, c. 1700; (15) table-tomb, slightly tapered and with broken chamfered top, probably late 16th-century; (16) to Mary wife of Henry ..., c. 1700, table-tomb; (17) to Richard son of John and Elizabeth Thresher, 1634, headstone; (18) to Jone wife of Osmond .. ckar, 1689, headstone. Floor-slab: in nave, to Walte[r] Riccard, 1644.
Niche: see Image. Piscina: in S. aisle, with chamfered two-centred head, 13th-century. Plate: includes a cup and cover-paten dated 1573, by Lawrence Stratford of Dorchester, and paten and flagon both by Lias, 1825. Pulpit: six sides of an octagon panelled in three heights with moulded and enriched framing, arcaded and patterned panels, 17th-century on modern base. Royal Arms: in nave, over tower arch, of George II, painted on canvas and signed Thomas Ironside pinxit 1754. Screen: in chancel arch, of timber, divided into three main bays, the centre bay containing a pair of doors with traceried panels below and plain openings above under a four-centred head with carved spandrels, each of the side bays divided into four with restored traceried panels below and traceried openings above, under a moulded top rail, c. 1500, restored. Miscellanea: in N. aisle, fragment of moulded and enriched arcaded wooden panelling with terminal figures, late 16th-century, perhaps from an overmantel or bedhead.
c(2) The Chapel of St. Bartholomew, at Corton (63608548), a former free chapel, has walls of coursed rubble with ashlar dressings and roofs covered with slate. It consists of an early 13th-century chancel and a nave rebuilt probably in the 16th century. After a period of desecration it was restored and reconsecrated in 1897, and the W. part of the nave was then again rebuilt.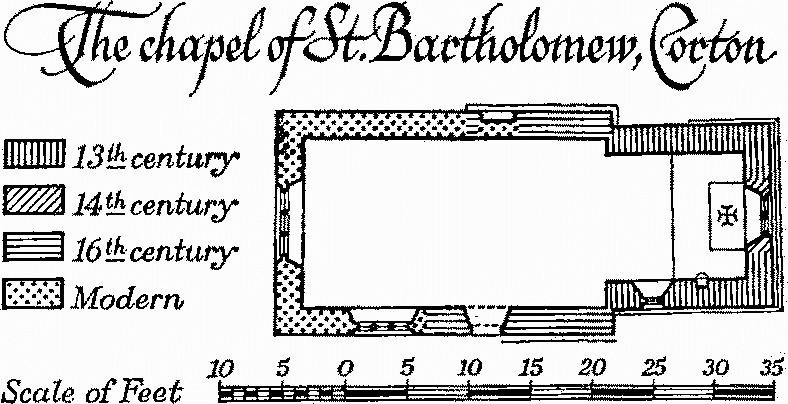 The Chancel (11 ft. by 10 ft.) has a chamfered plinth and a chamfered offset in the E. wall below the window. The E. window is of the late 14th century and has two trefoiled lights with a tracery light between vertical bars in a two-centred head. In the S. wall is a single-light window, rebated externally and widely splayed internally and with a modern two-centred head. There is no chancel arch. The Nave (24½ ft. by 13 ft.) has no plinth; in the N. wall is a blocked doorway with chamfered depressed two-centred head and continuous jambs; the S. wall has a modern three-light window and a doorway with chamfered polygonal arched head, of reused voussoirs, and with two-centred rear arch. The W. wall is rebuilt and has a modern window with a two-centred rear arch of old stone used. The bell-cote surmounting the W. wall is modern.
Fittings—Altar: of stone with chamfered Purbeck marble base and similar top carried on two stone cross walls, early 13th-century. Brackets: in chancel, flanking E. window, two moulded stone corbels, 15th-century. Piscina: with chamfered jambs and ill-fitting two-centred head and label; moulded corbelled shelf much restored; 13th-century. Plate: includes a pewter plate by George Lester of Dorchester, 1690–1700, inscribed 'In usum Ecclesiae S: Petris par: Portsham'. Tiles: in chancel, reset in floor, eighteen mediaeval tiles, red with yellow glaze.
Secular
c(3) Hardy Monument (613876), a prominent landmark on the highest part of the Ridgeway, is of ashlar and was built in 1844 to the design of Arthur Dyke Troyte, Esq. (Hutchins II, 760), in memory of Admiral Sir Thomas Masterman Hardy, who died in 1839. The foundation stone was laid on October 21st 1844, Henry Goddard of Bridport being the contractor (The Builder, II (1844), 553). The monument was restored in 1908. It is an octagonal tower, some 70 ft. high, with battered base and heavy cornice and parapet, containing a spiral staircase lit through small slits.
c(4) School and Schoolhouse, at Coryates (628852), have walls of squared rubble and slated roofs. The school is dated 1845 and the buildings are in the Tudor style, with arched door and window openings; the school building consists of a single schoolroom and porch.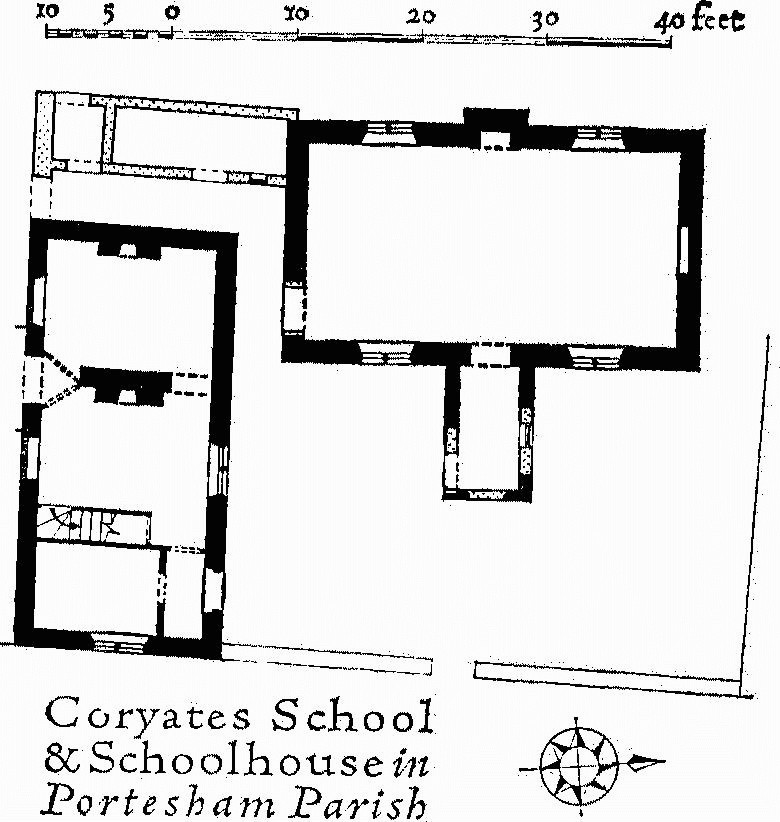 c(5) Portesham Manor (90 yds. W.) is of two storeys and attics with walls of squared coursed rubble and roof covered with slate with stone slates at the verges. The house is of the early 17th century; it has been heightened and additions have been made to the back. The original building consists of a long straight range with stone-mullioned windows with a continuous string-course over the ground-floor windows and eared labels over those on the first floor. The entrance doorway, near the middle of the front elevation, has moulded jambs and a four-centred head and is flanked by niches of the same shape. The interior has been rearranged but contains some original panelling.

c(6) The Old Vicarage (50 yds. N.) is of two storeys with walls of squared rubble and thatched roof. Over the entrance doorway is the date 1711 with initials; the front has hollow-chamfered stone-mullioned windows and a doorway with moulded four-centred head all under a continuous string-course in 17th-century style, but the unusual height and regular spacing of the windows suggests that 1711 is the correct date of erection. The plan follows the 17th-century type with three rooms and a through passage, but in place of the passage there is an entrance hall with a staircase. (Demolished)
c(7) Portesham House (160 yds. S.S.W.), of two storeys and attics with rubble walls, partly rendered in stucco, and stone-slated roofs, is an 18th-century rectangular double-pile building with the symmetrical front remodelled in the early 19th century. Admiral Sir Thomas Masterman Hardy lived here till his marriage in 1807.
c(8) Waddon Manor (620857) is U-shaped on plan, with a courtyard open to the S. (plan p. 244; Plate 141). The N. and E. ranges are of one storey and attics, with walls of squared Portland rubble and slate-covered roofs; the W. range is of two storeys and attics, partly with a basement, and has Portland ashlar walls and stone-slated roof. The manor came to Colonel Bullen Reymes as part of his wife's inheritance in 1651 (Dorset Worthies No. 9. D.N.H.A.S. (1964)); he enlarged and improved a pre-existing house and the E. and N. ranges are of this date; further work was carried out c. 1700 by Henry Chafin, who gave the W. range its present form. Part of the house which extended further W. was burnt down in 1704; its position is shown by a plastered section of the present W. wall.
The W. range of Waddon Manor is an accomplished and elegant work of the period c. 1700, containing good contemporary panelling of considered architectural design.
The W. range has rusticated quoins, a first-floor plat-band and a timber eaves cornice with modillions; the windows generally have double-hung sashes set within moulded stone architraves with keystones, but towards the N. end are some windows uniform with those in the N. and E. ranges. These lower ranges have a coved plaster eaves cornice and windows with stone architraves, mullions and transoms. Towards the S. end of the E. range is an arched carriage doorway. Inside, the 'White Parlour' (Plate 142) at the S. end of the W. range is lined with bolection-moulded panelling; the dining room and three of the bedrooms have ovolo-moulded and fielded panelling. The principal doorways have moulded and shouldered architraves with pediments. The staircase of c. 1710 (Plate 57) has a cut string, turned newels, turned and octagonal balusters, and a dog-gate.
The gateway to the courtyard has square stone piers with ball finials; a gateway to the garden, W. of the house, has rusticated stone piers with entablatures and ball finials.
Garden House, E. of house, of stone with a tiled roof, is of the early 18th century; it is rectangular and has a pyramidal roof with a ball finial at the apex. Barn, S. of the house, has stone walls and a thatched roof; it is dated 1702, is L-shaped and partly of two storeys. Barn, S.E. of house, has stone walls and a modern iron roof. It is of the 17th century and has doorways with moulded jambs and lintels and stone-mullioned windows.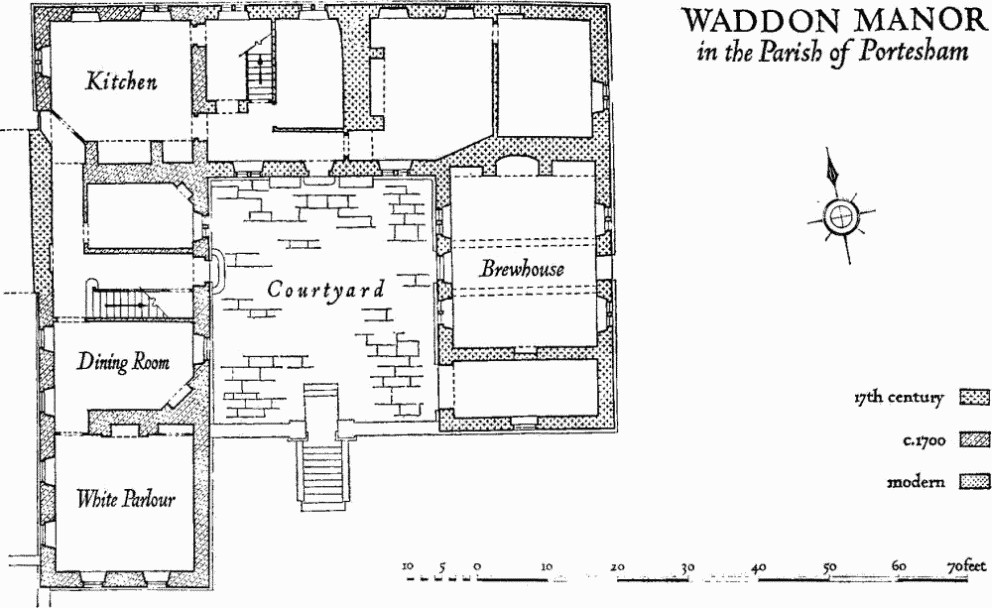 c(9) Corton Farm, house (636854), is of two storeys partly with attics and has walls of squared rubble and roofs covered with slate with stone slates at the verges. The house was built in the 16th century, probably as a straight range running N. and S., on a three-room and through-passage plan. In the 17th century it was much enlarged; a wing was added to the E. at the N. end, the S. end room was replaced by a cross wing projecting to E. and W., and a small wing was built out from the middle of the E. side; later the spaces between this last and the N.E. and S. wings were filled in. The partition between hall and parlour in the N. part of the original house has been removed and linenfold panelling from it has been reset against another wall.
The two original hall windows in the W. elevation each have three round-headed lights, moulded stone mullions and moulded jambs and heads, all under a common label; the jambs are finished with elaborate moulded stops. Above, on the first floor, is a similar window of five lights. Further S., over the passage, and reset in the S. wing are other 16th-century windows of three and two round-headed lights, with simpler mouldings. The other windows, excepting those which have been modernised, are of the 17th century, with square-headed lights and stone mullions. The interior fittings are largely of the early 19th century.
Monuments (10–29)
The following monuments unless otherwise described are of two storeys with rubble walls and thatched roofs and are of the 17th century. They retain some stone-mullioned windows, and several also have original doorways with shaped stone heads.
c(10) House (70 yds. S.), of two storeys, with rendered rubble walls and thatched roof, has a stone over the doorway inscribed J J C 1771. The house is symmetrically planned with a central entrance and stairhall, a small room behind the staircase, and a room at each end of the house with gable fireplace. In the early 19th century a cottage was added at the E. end.
c(11) The Knapp (100 yds. S.W.), of one storey and attics, is an L-shaped cottage, of which the main range, running E.–W., has an entrance doorway in the E. gable wall alongside the original fireplace; the S. wing, of slightly later date, has an original doorway and a chimney in the gable wall. The walls have been partly rebuilt and the interior modernised.
c(12) Tudor House (120 yds. W.S.W.) has a modern tiled roof. The house may be of 16th-century origin and was enlarged in the 18th century. It was damaged by fire c. 1944 and has been reconstructed with a full upper storey replacing the original semi-attics. The central front door (now blocked) has a moulded four-centred head; one original window remains, of three square-headed lights with stone mullions and a label. The original plan comprised two rooms with gable fireplaces.
c(13) Cottage, 40 yds. W.N.W. of (5), built in the early 19th century on a two-room plan, has a symmetrical front with central entrance.
c(14) House (50 yds. W.N.W.), has a slate-covered roof and is of the mid 18th century. The central entrance doorway is set in a slight projection and has rusticated jambs and head, and the ground-floor windows have 19th-century casements set in the openings of original stone-mullioned windows. On plan it has two rooms of unequal size, with gable fireplaces.
c(15) Cottage, in Back Street (170 yds. N.N.W.), dated 1657, has been extended and modernised.
c(16) Cottage, in Back Street (180 yds. N.), has been heightened and has a slated roof. On plan there is one room with a gable fireplace to each side of a central through passage.
c(17) Cottage, at junction of Front Street and Back Street (180 yds. N.), is of the 18th century and has a symmetrical front with central entrance.
c(18) Shepherds Cottage (230 yds. N.N.E.) has been enlarged and much altered.
c(19) Cottages, a pair (290 yds. N.E. by N.), are of the late 18th century.
c(20) House (160 yds. N.E. by N.), rendered in stucco and with slate-covered mansard roof, is of the late 18th century and has a symmetrical front with central entrance.
c(21) Cottage (50 yds. N.E.) was built in the early 17th century on a two-room plan; the symmetrical front has an original central doorway and flanking windows; the first-floor ceiling has moulded plaster plaques of a fleur-de-lys and a face within a horseshoe. A second Cottage added to the S. has a similar central doorway, perhaps made as a copy of the first.
c(22) Swallow Cottage, at Little Waddon (62418570), has the upper storey partly in the roof. It is built on a two-room plan with a gable and chimney at the S. end but the roof is hipped at the N. end.
c(23) House, at Little Waddon (62538569), is of the second quarter of the 19th century and has a slate-covered roof; it is symmetrically planned with two rooms flanking a central entrance and staircase.
c(24) Cottage, at Coryates (628850), is of the late 18th century.
b(25) House, at West Shilvinghampton (62478432), has a slated roof and is of c. 1840.
b(26) East Shilvinghampton Farm, house (627843), has a slate-covered roof and is of the late 17th century, extended to the S.W. in the early 18th century. The earlier part (Plate 45) retains an original doorway and ground-floor windows with a continuous string-course in place of labels; an original first-floor window has a moulded wood frame. On plan it comprises two unequal rooms with entrance and staircase between them; the staircase has been reconstructed. (See plan and (27) below.)
b(27) Shilvinghampton Farm Cottages, three (628843), immediately E. of (26), have tiled roofs. The two N.E. cottages have been formed out of a house which comprised on plan three rooms and a through passage with outshots to the rear. The S.W. end is of later build but not structurally separate and the whole probably represents the piecemeal rebuilding of an earlier structure; the middle part may have been heightened to two full storeys when the S.W. end was rebuilt.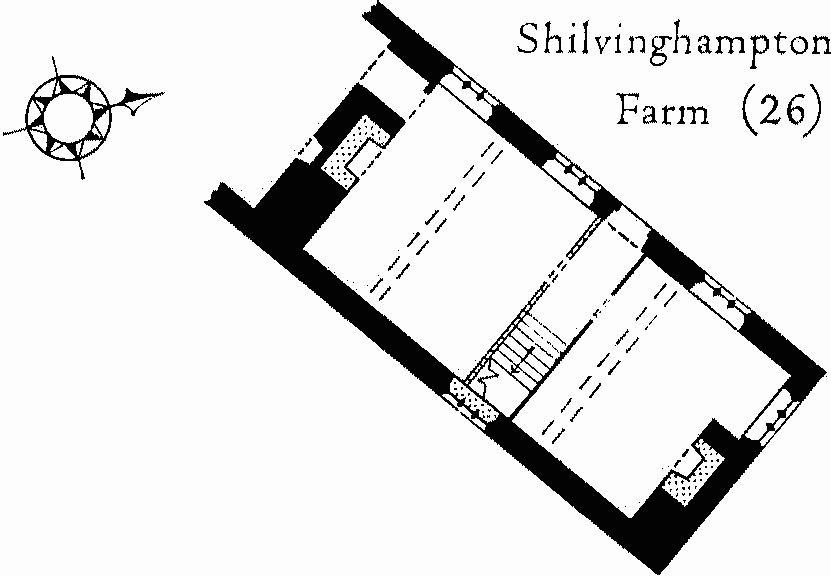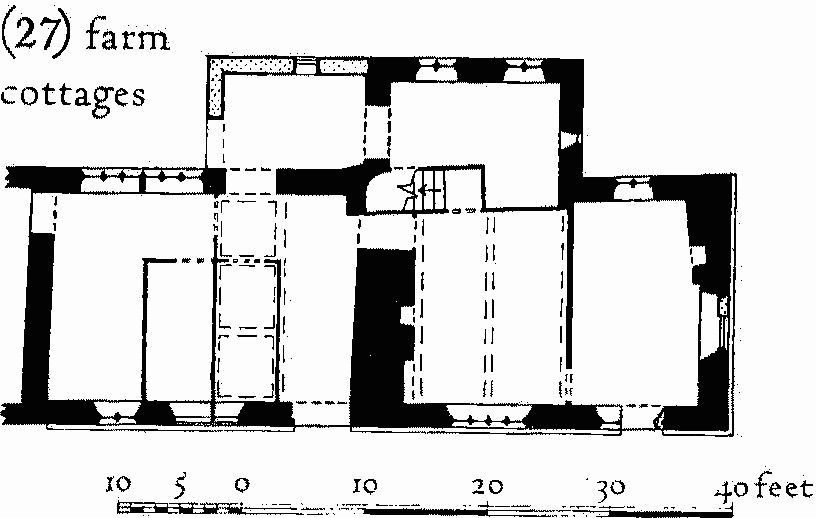 c(28) Cottage, now two tenements, S.E. of Corton Farm (63688543), is dated 1684. On plan the building comprises two rooms with gable fireplaces, a larger one with an oven at one side and a smaller one with four-centred timber head.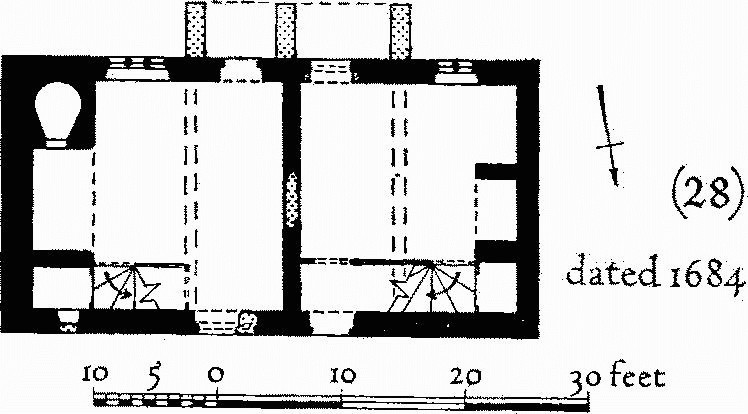 c(29) Friar Waddon (641858) was formerly a manor held at the time of the Domesday survey by the French nunnery of St. Mary, Montevilliers (Hutchins II, 764); Friar Waddon House is fairly modern and the old hamlet now forms a large farmstead to the S.E. (Plate 147). In addition to the buildings described, there are traces of foundations indicating that other buildings have been pulled down, particularly in the N.W. corner of the farmstead.
House, to W., with walls of squared stone and slate-covered roof, is built on a three-room plan with end chimneys and entrance opposite a small central room; it has been extended to the W. and divided to form two tenements. House, to S., is similar in size and plan but has the upper floor partly in the roof; it is of the 18th century but has reset in the S. wall a 16th-century window of three arched lights in a moulded square head with continuous jambs; the house has been rearranged to form two tenements. House, to E., is of similar size to the foregoing and has one end chimney and one projecting lateral chimney suggesting a late 16th-century date; it has been drastically altered and only part is now occupied as a dwelling. Stable, to N., is probably of the 18th century. Barn, to E., has opposed porches and has been extended; the roof was reconstructed in the 19th century. Barn, further E., has a shallow porch to the S. only; the roof is carried on three tie and collar-beam trusses. Byre to N.E. is probably of the late 18th century. Barn to N.W. is of five bays with opposed porches, one with gabled roof and one with pent roof; the main roof is carried on queen-post trusses.
Earthworks Etc.
Mediaeval and Later Earthworks
b(30, 31) Settlement Remains, at West and East Shilvinghampton, lie some 12/3 miles S.E. of Portesham Church on the lower N.-facing slopes of a limestone ridge. West Shilvinghampton (called 'West Shilvington' in Hutchins II, 762) is mentioned in Domesday Book and belonged to Abbotsbury Abbey until 1539 when it passed to the Samways family. East Shilvinghampton ('Shilvington' in Hutchins) was described in Domesday Book as two parcels, of which one or both passed to Shaftesbury Abbey and after 1539 both were held by the Earl of Pembroke. The two settlements are clearly set in a territory bounded on the W. by Abbotsbury and Langton Herring, on the E. by the Chickerell boundary and its continuation by field walls N. to the vicinity of Corton, on the S. by Fleet, but only dubiously along the N. by Corton Hill. This territory seems to be divided by a line running between the two settlements and then S. passing E. of Seven Acre Coppice and through Drift Plantation. (R.A.F. V.A.P. CPE/UK 1821, 6455–8.)
West Shilvinghampton (625844) is marked by some 9 acres of scarped and banked closes with associated tracks in the fields immediately N. and E. of West Shilvinghampton Farm. The area, now under pasture, has been much disturbed. A sunken way runs N. to S. through the remains; it is 20 ft. or more wide, up to 6 ft. deep and very wet with a stream canalised along part of its length. To the W. are long scarped closes bounded on the W. side by a continuous N. to S. ditch up to 10 ft. wide and a bank, 27 ft. across and 1 ft. high, beyond it. E. of the sunken way lie less regular, roughly square scarped platforms, the largest about ½ acre in area.
East Shilvinghampton (629844) has very disturbed remains immediately N.E. of East Shilvinghampton Farm covering about 8 acres 200 yds. E. of (30) and in a similar situation. Two small and virtually flat closes probably mark sites of buildings.
a,c(32) Strip Fields, including contour and up-anddown types of strip lynchets, cover 88 acres W.N.W., N.E., and E. of Portesham village. Of six groups of remains the first three are clearly connected with Portesham itself, (d) and (e) may have belonged to West Waddon and (f) certainly belonged to Little Waddon. All except group (a), partly on chalk, are on Jurassic limestone. Treads are up to 350 yds. long and 2 yds. to 10 yds. wide, and risers up to 8 ft. high. (R.A.F. V.A.P. CPE/UK 1934: 1063–72).
(a) In and around Portesham Withy Bed (593859) traces of contour strip lynchets (Plates 140, 233) cover about 16 acres. One block runs W. into the parish boundary with Abbotsbury, unchanged at least since 1758, and probably crossed the line.
(b) N. of the church (around 606863) fragmentary contour strip lynchets cover about 4 acres and run N. into 'Celtic' fields of Ancient Field Group (4). They probably once joined strip lynchets of group (c).
(c) On the W. part of Rocket Hill (around 607860) a complex of field remains includes, in addition to strip lynchets, scarps possibly of 'Celtic' fields, a block of unusual rectangular scarped plots each about 30 yds. by 7 yds. set against a slope of 22°, and some narrow rig. A curving footpath marked on O.S. maps appears on the ground as a hollow-way with natural outcrops of limestone to the S.
(d) On the E. part of Rocket Hill (around 609859) well-marked contour strip lynchets are linked to remains of (c) by broad ridge-and-furrow (60828615) with ridges 11 yds. wide. At about 61158585, E. of a disused tramway causeway, four strip lynchets run up and down a slope of 14½°. Risers 2 ft. to 4 ft. high with limestone rubble in their faces maintain a constant height. At the lower end they probably ran out on to the line of the present road (Winter's Lane).
(e) E. of (d) (around 615859) are 6 acres of confused remains including strip lynchets and a block of strips 7 yds. to 14 yds. wide divided by low banks about 12 ft. wide; these are disturbed by narrow rig. This cultivation has sliced a round barrow (Portesham 48) on E. and W.
(f) E. of (e) (around 620858) are massive and well-preserved contour strip lynchets.
Other Earthworks and Allied Monuments
(33) The Hell Stone, chambered long barrow, p. 432.
(34–55) Round Barrows, p. 449.
(56–57) Enclosures, p. 503.
(58–61) Stone Circle and other Stones, p. 513.
(62) Cross-ridge Dyke, p. 518.
(63–64) Roman Burials and other Remains, p. 604.
Ancient Field Groups (4–6), p. 625.