Pages 263-268
An Inventory of the Historical Monuments in Dorset, Volume 2, South east. Originally published by Her Majesty's Stationery Office, London, 1970.
This free content was digitised by double rekeying and sponsored by English Heritage. All rights reserved.
30 STAFFORD, WEST (7289)
(O.S. 6 ins. aSY 78 NW, SY 79 SW)
West Stafford, a compact parish covering some 1,000 acres, lies immediately E. of Dorchester, S. of the river Frome. It falls into two distinct parts on both geographical and historical grounds, divided by the S. Winterborne which flows N.E. across the parish to join the Frome. The smaller W. part lies entirely on Chalk except in the centre where a low hill capped with Bagshot Beds rises to just over 200 ft. above O.D.; this was the manor of Frome Billet. The E. part is on Chalk which gives way on the E. to an area of heath-land on Plateau Gravel overlying Reading and Bagshot Beds, and sloping gently N. to the river; this part was the land of West Stafford itself.
Frome Billet and West Stafford are both recorded in Domesday Book and were the only settlements in the parish till the 19th century (cf. O.S. I in. map, 1st ed. 1811). Frome Billet is now represented only by Stafford House; West Stafford has remained a small village with little new development before 1960.
Mount Pleasant, probably a Neolithic 'henge' monument, the parish church and Stafford House are the principal monuments; Glebe Court and the Manor House are of interest for their great similarity of plan.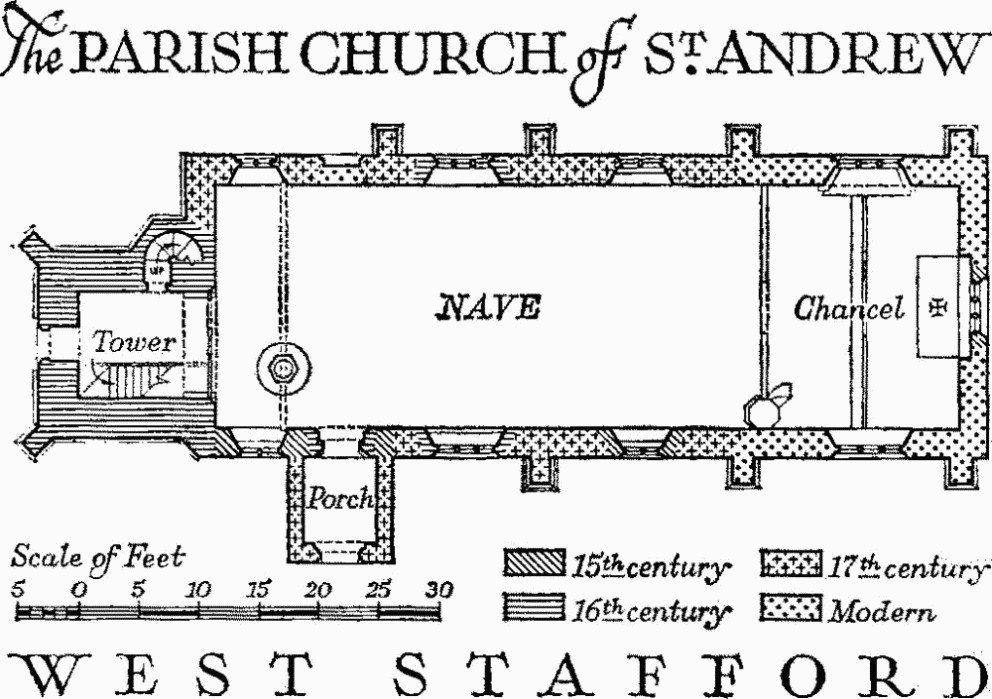 Ecclesiastical
a(1) The Parish Church of St. Andrew stands at the W. end of the village. The walls are of coursed rubble with ashlar dressings and the roof is covered with stone slates. The W. end of the S. wall of a 15th-century nave remains. Early in the 16th century the West Tower was built; central on the E. wall of the tower is the apex of the weathering for a former nave roof indicating that the 15th-century nave was narrower than the present nave and that the tower was built central to it. In 1640 the Nave and Chancel were rebuilt on a simple rectangular plan and without structural division between them; at the same time the South Porch was added. In 18989 the present Chancel was added, the chancel screen was moved eastward and the chancel of 1640 became part of the nave. The new chancel was designed by C. E. Ponting at an estimated cost of 800.
The church is an interesting survival of a 17th-century reconstruction with several fittings of the period (Plate 151).
Architectural DescriptionThe chancel and nave are structurally undivided. The Chancel has in the E. wall a reused 15th-century window of three cinque-foiled lights with vertical tracery in a two-centred head.
The Nave (45 ft. by 20 ft.) has on the N. wall two two-stage buttresses, one inscribed 'Iohn Dashwood 1640'. The N. doorway is blocked; it has a four-centred head and continuous chamfered jambs. The easternmost window is of 1640 and of two lights in a square head with a label; the internal splays are moulded and the internal stone lintel is chamfered. The second window is of three elliptical-headed lights in a square head with a label, of the 16th century, reset; it has a moulded oak lintel internally. The third window has two lights in a square head with a label, also with a moulded oak lintel internally, of 1640. The S. wall is dated 1640; the S. doorway has reset moulded 16th-century jambs with stones numbered for rebuilding and a four-centred head; the easternmost window is of the 15th century reset and has two cinque-foiled lights in a square head with a label and an internal lintel with modern casing. The second window is similar to the second window on the N. but with sunk spandrels and with chamfered sill and plain wood lintel. The third window is of the mid 15th century and has two trefoiled lights and vertical tracery in a two-centred head with a label and head-stops.
The West Tower (9 ft. square) is of three storeys divided into two stages externally by a moulded string-course and has moulded plinth, parapet string and embattled parapet, and diagonal buttresses on the W. A part-octagonal stair turret projects on the N. and rises higher than the main tower. The tower arch is two-centred and of one chamfered order, the chamfer carried down on the E. side and dying into the responds on the W. In the N. wall is a doorway with chamfered elliptical head to the stair turret. The W. doorway has chamfered jambs and continuous two-centred head under a square moulded label; above it is a window of three cinque-foiled lights with vertical tracery in a two-centred head; the mullions and tracery have all been renewed and the window enlarged. The middle storey has a window in the E. wall of two square-headed lights with the string-course carried over the head as a label. The bell chamber has in each wall a window of two square-headed lights. The South Porch (6 ft. by 7 ft.) is gabled and has a two-centred entrance archway chamfered and rebated with continuous jambs.
The Roof of the nave is ceiled with a plaster barrel vault of 1640 divided into panels by moulded ribs with turned pendants at the intersections. The elaboration of the panelling in the two eastern bays represents the extent of the original chancel.
FittingsBells: three, all by John Wallis, dated 1620, 1595, 1620. Books: include a Prayer Book printed by Robert Barker of London, 1632, and a Bible printed by John Baskett of Oxford, 1716. Brasses and Indents. Brasses: in naveon N. wall, (1) to Giles Long, Patron of the Living, 1592, rectangular plate; on S. wall, (2) to Robert White, 1680, rectangular plate with Latin inscription; (3) to Robert White, grandson of Richard Russell, Rector and Patron, and eldest son of the above, 1682/3, rectangular plate with Latin inscription. Indents: in nave, for brasses (1), (2) and (3). Candelabrum and Sconces: in chancel, (1) brass hanging candelabrum with six arms radiating from a central ball with cherubs' heads and pendant, inscribed 'The Gift of John Gould Esqr. Anno Domi 1713', similar to one in Milborne St. Andrew church given by the same donor, 1712; in nave, on W. side of screen, (2) pair of scrolled bras sconces, inscribed as (1); on screen over pulpit, (3) twin candlesticks carried on jointed arm mounted on iron standard, inscribed as (1).
Chest: of banded sheet iron with hasps and ring handles, 3 ft. by 1ft., 17th-century, presented to the church c. 1948. Communion Rails: of oak, with turned balusters between square standards surmounted by ball finials and with central gates, c. 1700. Communion Table: of oak, with chamfered legs, plain stretchers, moulded bearers and modern top, early 18th-century. Door: in S. doorway, of two layers of planks, nail-studded and with iron strap hinges, 17th-century. Font: octagonal straight-sided bowl and notched square stem, mediaeval set on modern base. Gallery: with moulded panelled front surmounted by bold moulded cornice, mid 18th-century. Inscriptions: on buttress to N. wall, (1) 16 John 40 Dashwood; on S. wall, (2) R.R. SONN OF R.R. 1640, probably for Richard Russell, see Monument (3); on S. porch, (3) C.W. R.H. H.D. 1640; the last two inlaid in lead.
Monuments and Floor-slabs. Monuments: in naveon N. wall, (1) to William England, D.D., Archdeacon of Dorset, 1835, and Margaret his widow, 1837, oval tablet of white marble on black ground, signed Lester, Dorchester; (2) to John Gould of Milborn St. Andrew, erected by his executors, 1727, marble wall-monument (Plate 17) set against a painted black ground with inscription tablet flanked by Composite columns carrying a pediment surmounted by two urns and achievement-of-arms of Gould; the columns flanked by foliated scrolls above a gadrooned base carried on console brackets with moulded and enriched apron between them; on S. wall, (3) to Richard Russell, 1638, Richard Russell, 1660, Richard Russell, 1667, Rectors and Patrons, erected by Elizabeth Russell, 1674, marble and slate wall-monument with inscription tablet flanked by Corinthian pilasters carrying entablature and broken pediment containing shield-of-arms with helmet and mantling and surmounted by lamp and skull; below moulded base console brackets flank small tablet with scrolled and foliated frame. In churchyard, S. of nave, (4) to William Anthony, 1732, table-tomb with shaped ends. Floor-slabs: in nave, (1) to William England, D.D., 18[35]; (2) to Richard Russell, late 17th-century; (3) to James Gould, Rector, 1708, and Sarah his wife.
Paintings: in chancel, four oil paintings on canvas, copies of old masters, 18th and 19th-century; in nave, on N. and S. walls, remains of Decalogue and Creed in black letter, c. 1640. Plate: cup of 1638 (Plate 23); paten and flagon (Plate 24) given by George and Mary White, 1718; cup and cover-paten for the sick, 1819, given by the rector; alms-dish of 1682 with shield-of-arms of Gould, given in 1760; pair of brass candlesticks 3 ft. high with scrolled bases and moulded and embossed stems, inscribed 'IN MEN BlANCHE EGERTON', possibly Dutch, early 18th-century. Pulpit: octagonal, panelled in three heights with enriched framing and upper panels carved with arabesque, with 18th-century door and modern bookrest, all under octagonal sounding board with enriched panelled sides, pendants at the angles and restored cornice, 17th-century. Royal Arms: in nave, on N. wall, of James I, painted on wood panel with painted frame. Screen (Plate 151): of timber, the lower part panelled in three heights; top frieze and cornice carried by square posts flanking central segmental-headed opening and by small open arcades above panelling; to N., arcade has round arches and turned columns, to S., columns replaced by modern pendants and arches renewed; c. 1640, restored. Seating: in nave, pews with rectangular moulded and enriched panelled ends and panelled backs, c. 1640, restored. Table: of oak, small with turned and moulded legs, 18th-century. Weather-vane: copper vane on wrought iron scrolled standard, probably 18th-century. Miscellanea: Pitch pipe of mahogany with sliding stop, 18 ins. long, 18th or early 19th-century.
The Churchyard is enclosed on S. and W. by a stone wall with moulded coping, probably of 1640; it was enlarged to the N. in 1885 and the wall extended.
Secular
a(2) Bridge (160 yds. N.), of rubble with three small segmental brick arches, is of the early 19th century.
b(3) Bridge (721900), of brick, has two small segmental arches and is dated 1733; the E. parapet also has a date stone of 1807.
Railway Bridges, see p. 417.
a(4) Former School (160 yds. E.), of one storey with rubble walls and tiled roof, is in the Tudor style and dated 1846. Over the doorway is a shield-of-arms of Floyer.
b(5) Stafford House ( m. N.N.W.) is of two storeys with attics and has walls of coursed, squared rubble with Portland stone dressings and roofs covered with stone slates. It was formerly known as Frome House and was once the manor house of Frome Billet, a village which has otherwise completely disappeared (Hutchins II, 514, and Country Life, 22 March 1962). The manor belonged to the Gould family from 1613 to 1830. The main part of the present house (Plate 139) is dated on the porch 1633 and must have been built by the second John Gould. The house of 1633 is E-shaped on plan and incorporates as its S. wing part of an earlier house; this is of the 16th century but may itself have been an addition to a still earlier house, for in 1530 William Long took a lease of the 'chyffe mansion' in Frome Billet. Originally only one room thick, the 1633 house was enlarged to a double pile in 184850 (J. Pouncy, Dorsetshire Photographically Illustrated (1857)) following the earlier advice given by Humphry Repton to Nicholas Gould, which was printed in Repton's Fragments on the Theory and Practice of Landscape Gardening (1816). The new work, carried out for John Floyer, who bought the house in 1830, is uniform in style with the old. A number of detail drawings for the new work and for the outbuildings are preserved at the house; none is signed, but one bears the seal of the architect Benjamin Ferrey.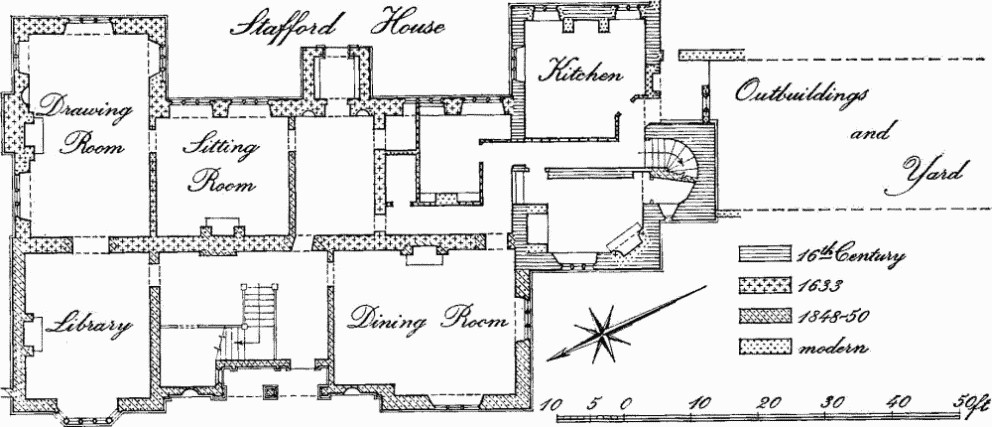 The E. part of this house is among the best specimens of early 17th-century building in S.E. Dorset, the use of round-headed windows throughout being unusual. The W. part is interesting as a remarkably successful pastiche, with an arcaded porch that may be compared with that at Warmwell House.
Architectural DescriptionThe E. elevation (Plate 139) is nearly symmetrical with central porch flanked by gables over attic windows and with projecting wings at each end. The gables are surmounted by plain chimneys. The entrance to the porch has a moulded semicircular arch with keystone dated 1633 and moulded imposts; the inner doorway has a moulded four-centred head. The windows are mostly of three round-headed lights with labels; a number of them have been lengthened, the sills being brought down below the top of the plinth. The E. end of the S. wing does not match the end of the N. wing; it has two modern windows on the ground floor and single-light windows above. The S. elevation has an original projection for a staircase with a gabled roof without a parapet. The windows to this side and in the W. end of the original S. wing have been somewhat altered but are generally uniform with those in the E. front, for which they presumably served as a model. The W. elevation of the 19th-century addition has gabled projections at each end and a small gable in the centre; as in the E. front, chimneys rise from the tops of the gables. The central part has a ground-floor arcade of four round arches with moulded archivolts and imposts; the outer two arches are blind, enclosing shell-headed niches. In the middle of the elevation is a shield-of-arms of Floyer impaling Bankes. The windows have round-headed lights and labels to match the E. front; in the N. projection is a two-storey bay with transomed lights; in the S. projection only the ground-floor window has transomed lights, and there is a similar transomed window in the S. return wall.
The interior has been much altered. On the first floor, in the S. wing, is a fireplace with chamfered four-centred stone head and continuous jambs and further N. is a similar fireplace. The S. staircase is of stone and appears to have been rebuilt. The eastern part of the first floor was largely refitted in the early 19th century, with reeded architraves to the doorways. The main staircase, of 184850, has arcaded balustrades between heavy square newels which were formerly surmounted by heraldic beasts, for which the drawings survive. The ceiling over the stairhall is divided into nine panels by plastered beams with jewel-ornament on the soffits and pendants at the intersections. The library is lined with oak bookcases in the Jacobean style, consonant with the style of the staircase.
a(6) Manor Farm, formerly Manor House (300 yds. E.N.E.), is of two storeys with attic and has walls of stone partly rendered in stucco and slate-covered roof. The house (Plate 152) was built on a U-shaped plan in the 17th century and remodelled by George White between 1702 and 1718, these limiting dates being given by the arms of White impaling Baynard with inescutcheon of Baynard on the E. elevation (George White married Mary (Baynard), widow of James Parkyns, Rector of Corfe, who died in 1702; Mary died in 1718). The N. front was remodelled in the 19th century.
The N. front, rendered in stucco, is divided into three bays by pilasters and finished with a parapet; the entrance porch has Roman Doric columns and entablature. The E. side is of the early 18th century; the walling of squared coursed rubble is finished with a timber cornice with carved modillions rising to a small central gable over an elaborate cartouche containing the shield-of-arms (Plate 61). The double-hung sash windows, five to each floor, have plain stone architraves except for the central ground-floor window, which replaces a doorway and has a moulded architrave. The S. elevation has a recessed centre between two wings; at the eaves is a moulded timber cornice. The central entrance has a porch of the 18th century with a second storey added to it later. To each side of the porch are round-headed windows on both floors. The wings retain a 17th-century string-course and the jambs of original windows now blocked or replaced by narrower double-hung sash windows with plain stone architraves.
Inside, the door and window openings to the hall have early 19th-century architraves; the principal rooms to the E. are lined with early 18th-century panelling. Some of the first-floor rooms have 18th-century cornices and one has also a fireplace surround and some reset panelling of the same date.
a(7) Glebe Court, former Rectory (140 yds. W.S.W.), of two storeys with attic, has walls mainly of brick and a thatched roof. The house, built on a U-shaped plan very similar to (6), is of early 17th-century origin, largely rebuilt or refaced in brick and dated 1767; this work was carried out for the Rev. James Acton, rector 176275.
(Divided into two dwellings and tiled).
The N. front is of brick laid in Flemish bond with blue headers and has the entrance recessed between two projecting wings; above the entrance the wall is carried up to a steeply pitched gable. The doorway has a timber door-case with attached Ionic columns, entablature and pediment. There are Palladian windows over the entrance and in the ends of the wings. The S. elevation has the centre part set forward a few inches with a Palladian window on the first floor over a plain doorway; the flanking windows have plain double-hung sashes. The E. and W. sides are rendered in stucco and may be partly of 17th-century rubble; the E. side has a 17th-century window of four lights with stone mullions and a Palladian window lighting the staircase.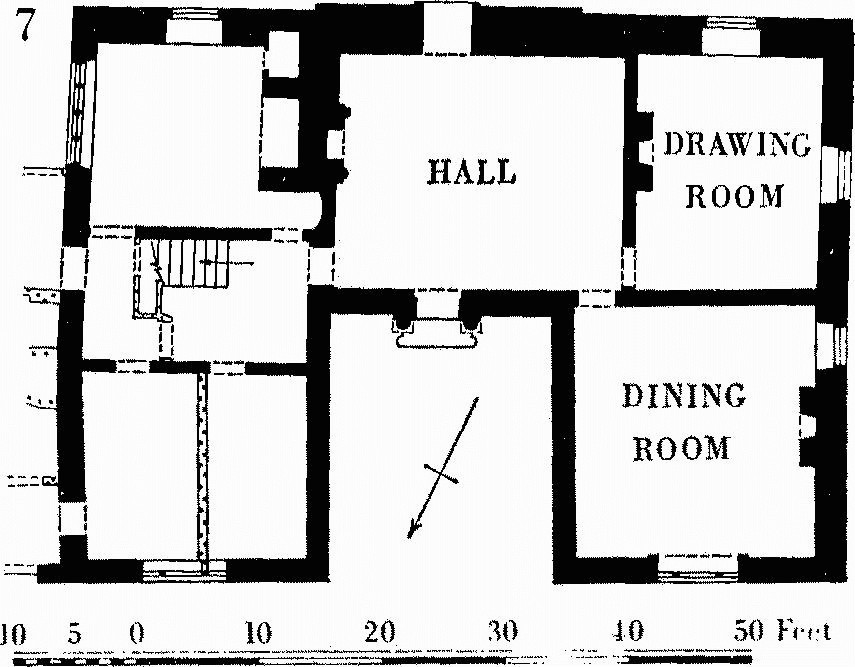 The interior retains many of the original fittings of 1767; the ground-floor rooms have moulded and enriched ceiling corniches; the hall (Plate 142) has panelled walls, with enriched plaster mouldings, the doorways have eared and scrolled Doric architraves with shields-of-arms of Acton in a frieze above and the fireplace has flanking marble columns, enriched entablature and broken pediment. The drawing room and dining room also have original fireplace surrounds, the latter with flanking fluted Ionic pilasters. Other 18th-century fittings include the main staircase and ceiling cornices and moulded fireplace surrounds on the first floor.
Barn, E. of the house, is dated 1766 with initials I.A.
Monuments (8 to 15)
The following monuments, unless otherwise described, are of two storeys with walls of cob and rubble and thatched roofs and are of the 18th century.
a(8) Cottages, three(15 yds. S.S.W.).
a(9) House (100 yds. S.E.), of one storey and attic with walls of cob faced with brick, is of the early 18th century (Plate 45); it has a central entrance between casement windows, and end chimneys. On plan there is a small central stairhall with a small room behind it, between the two heated rooms.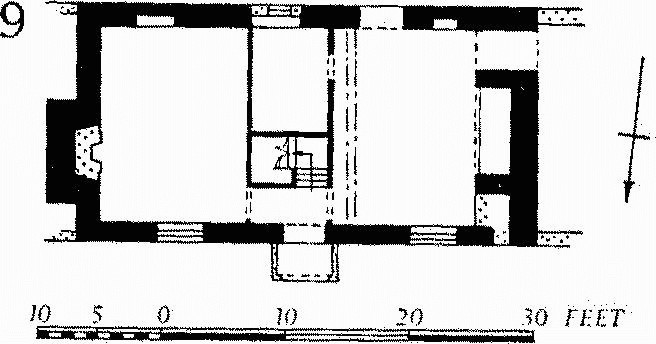 a(10) Barn (60 yds. S.E.) has the upper part of the long walls timber-framed, with brick panels (Plate 52). The roof trusses (Plate 53; Fig., Pt. I, p. lxv) are of scarfed-cruck construction with collar beams. Posts and blades are joined by loose tenons pegged to both members; cleats between blades and collar beams are fixed in the same way.
a(11) Cottage (130 yds. E.S.E.) is of the early 19th century, with later cottages adjoining.
a(12) Cottages, two (170 yds. E.), are of the early 19th century with a later cottage adjoining.
a(13) Stafford Dairy, farmhouse (729897), with brick walls and slate-covered roof, is of the late 18th century. It was built as a symmetrical house with a central entrance. A N. extension which provided a cheese room is now converted to a dairy.
a(14) House, at Stafford Dairy on W. side of farmyard, of one storey and attic, is of the late 17th century and was probably the original farmhouse. It has been much altered and rearranged but the plan was originally similar to that of (9).
a(15) Stafford Farm, house (725886), with walls of brick and roof covered with slate with stone slate verges, is of c. 1840. The symmetrical front is covered with stucco and has a verandah with iron trellis standards. The house is T-shaped on plan, having a central stairhall with a room each side in the front block and service rooms in the rear wing.
a(1617) Cottages, two, immediately W. of (15), have brick walls and tiled roofs with slate verges; they have both been enlarged and heightened. Both were built on a two-room plan with the entrance leading to an unheated room and the inner room having a fireplace on the gable wall.
Earthworks Etc.
(1823) Round Barrows, p. 451.
(24) Enclosure at Mount Pleasant, p. 504.
(25) Roman Burials, p. 608.