Pages 376-380
An Inventory of the Historical Monuments in Dorset, Volume 2, South east. Originally published by Her Majesty's Stationery Office, London, 1970.
This free content was digitised by double rekeying and sponsored by English Heritage. All rights reserved.
44 WINFRITH NEWBURGH (8084)
(O.S. 6 ins. aSY 78 SE, bSY 78 NE, cSY 88 SW, dSY 88 NW)
Winfrith Newburgh is a roughly rectangular parish of 5,015 acres lying across the S. edge of the S. Dorset Heath 7½ miles W.S.W. of Wareham. The whole of the S. two-thirds of the parish is on Chalk and slopes gently N. from about 500 ft. to 150 ft. above O.D. This gradual slope is etched into a series of deeply cut dry valleys all draining N. Beyond the Chalk are narrow outcrops of Reading Beds and London Clay which in turn give way to extensive heathland on Bagshot Beds and River Gravels and not rising above 170 ft. Until recent times the parish extended further N. to the river Frome and N.E. to include East Burton, but this is now in the parish of Wool.
Winfrith Newburgh village, the original settlement, lies at the junction of the Chalk and Reading Beds along a small N.-flowing stream, and extensive remains of its former open fields lie in the Chalk valleys to the S. Other small settlements further N. are probably earlier than their first documentary references. These are East Fossil, now East Fossil Dairy (1456), East Knighton (1279) and West Burton (1210), all on the edge of the heathland near the Dorchester-Wool road, and Broomhill (1227) in the extreme N. of the parish on the banks of a small tributary of the river Frome. East Burton (1210) on the S. bank of the Frome, and now in Wool parish, was another.
The parish church and Winfrith Fields Farm are the principal monuments.
Ecclesiastical
c(1) The Parish Church of St. Christopher stands at the S. end of the village. The walls are of limestone rubble, flint and carstone with limestone dressings; the roofs are covered with slate, stone slates and lead. The earliest parts are of the 12th century and include the W. wall of the Chancel and the S. door of the nave; the remainder of the chancel dates from the early 13th century except the E. wall which was rebuilt in the 19th century. The S. wall of the Nave has been entirely rebuilt at more than one period during the 15th century but incorporates some reused 12th-century material. The West Tower was built in the early 15th century, and the South Porch was added in the 17th century. The North Aisle was added in 1854 when the church was restored, and an organ chamber was built against the N. wall of the chancel in 1914.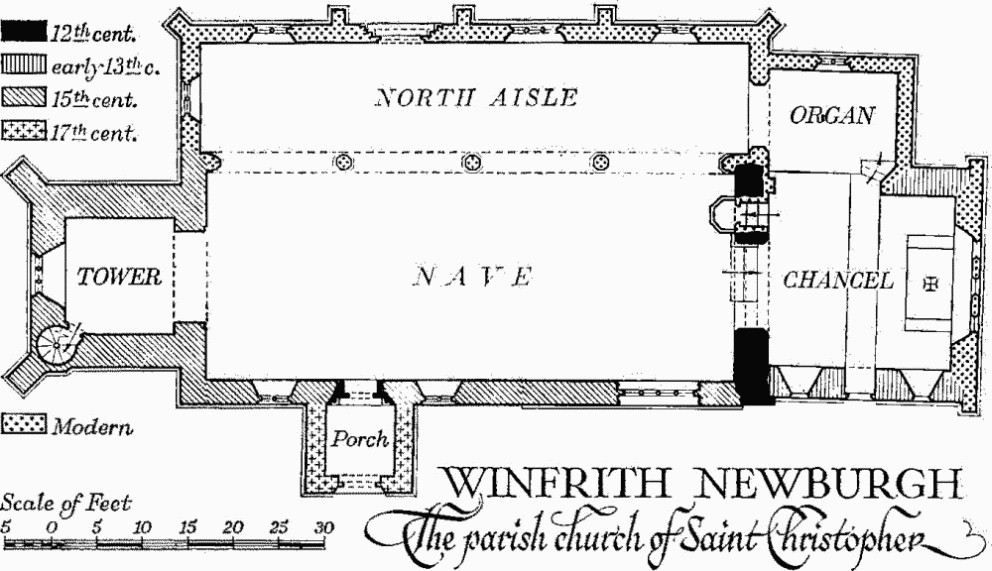 Architectural Description—The Chancel (20½ ft. by 19 ft.) has a chamfered plinth. The E. wall is of squared limestone with carstone rubble at the base and a band of flint work just beneath the sill of the 19th-century triple lancet window; the window has two reused mediaeval head-stops of a king and a bishop. The N. wall has been partly destroyed by the erection of the organ chamber and retains no old features. The S. wall is of limestone and carstone rubble at the base, with large stones above interspersed with smaller rubble and flint; it has two lancet windows of the 13th century with small ogee cusping at the head of each; between the windows is a doorway of the same date with plain chamfered jambs and a segmental-pointed arched head. The chancel arch, altered in the early 13th century, is of two chamfered orders, the outer on the E. continuing to pyramidal stops, the inner springing from corbels consisting of short shafts with reeded capitals. On the W. the outer order does not arch over but continues straight to the roof of the nave. Immediately N. of the chancel arch is a 19th-century opening to the pulpit. At the S. end of this wall is a clasping buttress of 12th-century ashlar with a weathered string at mid height.
The Nave (58 ft. by 23 ft.) has in the N. wall a mid 19th-century arcade of four bays. The S. wall was rebuilt at various periods in the 15th century: the eastern portion, approx. 24 ft. long, of regularly coursed rubble above a hollow-chamfered plinth, contains a 15th-century window of four cinque-foiled lights with casement-moulded jambs and vertical tracery in a segmental-pointed head with a label; this window was removed from the N. wall of the nave in 1854. Between the above and the S. porch is a stretch of rather earlier 15th-century walling comprising larger blocks roughly shaped and coursed above a flint base and containing a 15th-century window of two lights, much restored; W. of the porch is a further portion of 15th-century walling similar to that first described but with a more elaborate base and containing a restored 15th-century window. The 12th-century S. doorway is in two orders of which the outer, a semicircular arch with label above, is carried by single nook-shafts with cushion capitals and moulded imposts; the inner order forming a tympanum has been replaced. The North Aisle, of 1854, has a N. doorway with a semicircular arch of two orders incorporating many reused 12th-century voussoirs with chevron ornament.
The West Tower (12 ft. by 12½ ft.) is of three stages separated by moulded string-courses and divided into four storeys internally; it has a moulded plinth, diagonal buttresses, an embattled parapet and gargoyles. The tower arch is two-centred and of two moulded orders; the inner springs from the face of the jambs and the outer from shafts with moulded caps and bases set in the angles of the jambs. The W. window is of three cinque-foiled lights with vertical tracery in a two-centred head with moulded and splayed jambs. In the S.W. corner is a doorway with two-centred head, leading to a vice. The first floor is carried by beams resting on shaped corbels. In the second stage are N. and S. windows each of a single trefoiled light in a square head, and a similar window higher in the W. side to light the third storey. The bell chamber has one window in each wall, of two trefoiled lights with quatrefoil tracery under a two-centred arched head and moulded label with head-stops. The lead of the roof was cast with the inscription: Linard Strovd Tho Meaden 1680 (now on S. wall of nave W. of S. door).
The South Porch has a 17th-century semicircular outer archway enclosing a wooden segmental-headed moulded door-frame. The Roofs of the nave and N. aisle are of the mid 19th century; the chancel roof is modern.
Fittings—Bracket: outside, on S. side of tower, above lower window, stone corbel head. Chairs: in chancel, pair with tall carved backs, turned posts, and legs with claw feet, late 17th-century. Glass: in chancel, in S.W. window, three fragments with two leopards' heads and part of priest's head, early 15th-century; in nave, in tracery of S.E. window, two fragments each with red rose on field of gold leaves, 15th-century. Inscription: see West Tower. Monuments: in chancel—on N. wall, (1) to Rev. John Rodbard Bain, Rector, 1820, white marble tablet on grey marble backing; (2) to Rev. Samuel Staines, Rector, 1826, white marble tablet with shield-of-arms, on grey marble backing, signed Hiscock, Blandford; on S. wall, (3) to Andrew Bain, 1827, similar to (1), signed Warr[en], Wareham; in nave—on S. wall, (4) to Edward Berkeley, 1774, son of William Berkeley Portman and Anne daughter of Sir Edward Seymour, Bart., Speaker of the House of Commons and Comptroller of the Household of Queen Anne, and Ann (Ryves) his wife, 1754, white marble tablet surmounted by draped urn on scrolled pedestal bearing shield-of-arms, on oval grey veined marble backing, signed T. King ft., Bath; (5) to James Scott, 1836, white marble tablet on black marble backing, signed Hellyer, Weymouth; (6) to Rev. James Scott, 1827, and others, sarcophagus-shaped white marble tablet on lion's paws surmounted by draped urn on black marble backing, signed Hellyer, Weymouth. In churchyard—E. of chancel, (7) 17th-century table-tomb; (8) to Jeane wife of Henry Samwayes of Weymouth, early 18th-century headstone; S.E. of chancel, (9) to Frances Dennett, 1799, headstone; S. of nave, (10) to William Burt, 1722, and Alice his wife, 1700, headstone; N.W. of tower, (11) to Richard Symonds, 1764, Elizabeth his wife and their sons, headstone with urn between cherubs, and scrolled top. Plate: includes flagon, 1781, inscribed 1782, the gift of Mrs. Anna Little, paten, 1704, inscribed 1704, the gift of Mrs. Dorothy Smith, cup and paten, both 1663. Scratch Dials: four, on chancel, on jambs of S. door. Table: in nave, of oak, with modern top, turned legs, carved rails, plain stretchers, 17th-century much damaged. Miscellanea: in porch, in E. wall, shaped stones perhaps from a gable cross.
Secular
Broomhill Bridge, see Moreton, Monument (4).
Railway Bridge, see p. 417.
c(2) Rectory, of three storeys with brick walls and a slate-covered roof, was built in the early 19th century; the windows have hung sashes.
c(3) Winfrith Fields Farm, also known as the Manor House, of brick with some coursed rubble and roofed with stone slates and tiles, was built in the late 16th century but was extensively remodelled in the early 19th century. Outbuildings (Plate 52), including some of 16th-century date, stand to the N. and E.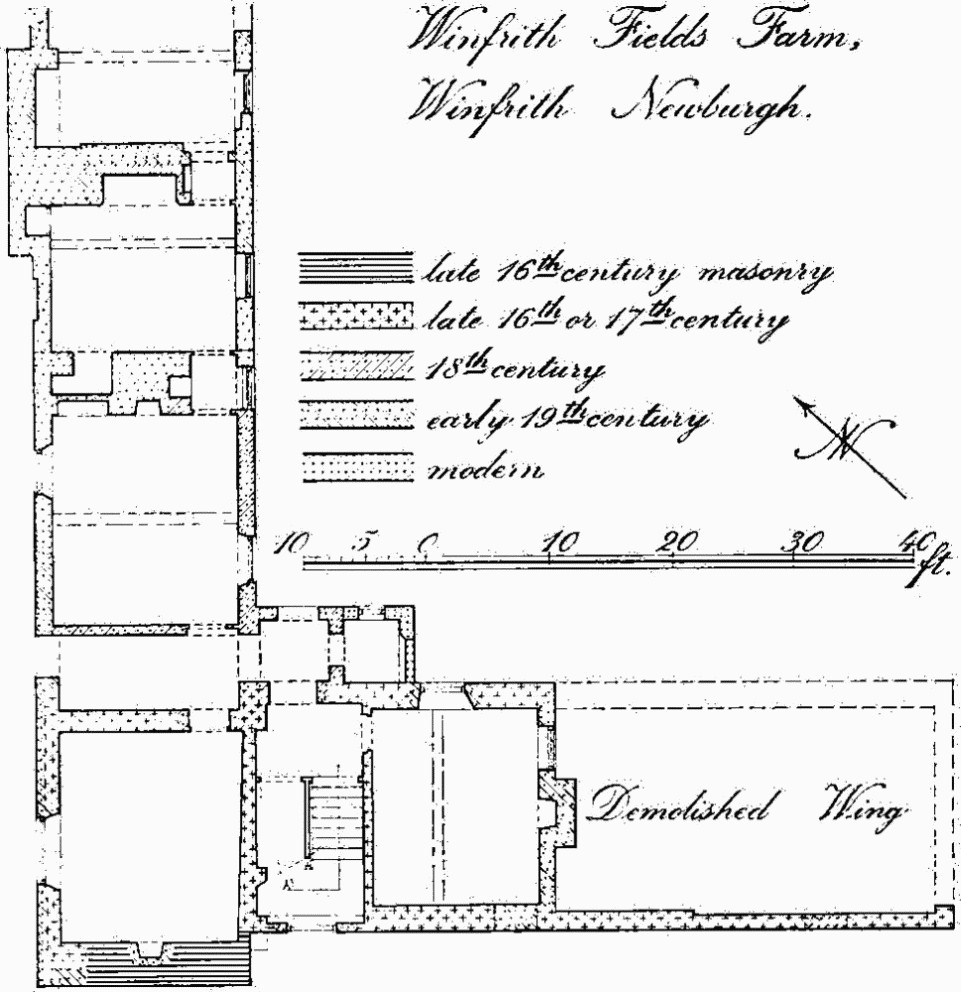 The plan of the house is L-shaped with a staircase in the S.E. wing; original stonework remains at the S.W. end of the front block, surmounted by brickwork of 17th and 19th-century date; the N.W. elevation has been entirely rebuilt in the early 19th century. The S.E. wing, which has been truncated, also has traces of stonework and 17th-century brickwork. The late 16th-century staircase has close strings with turned balusters, a moulded hand-rail and square newels with panelled sides and shaped finials; a semicircular wooden arch with lion-headed key block and pendant spans the base of the stair.
N.E. of the front block is a single-storey Kitchen Wing containing a reset 18th-century fireplace with a moulded arched stone head and stop-chamfered jambs. Further N.E. are farm Outbuildings including at the N. end an L-shaped brick building of one storey and attics with a thatched roof; the brickwork in the latter is of late 16th-century date laid to English bond, with a diaper pattern of glazed headers; this building, which is probably domestic in origin, retains two original three-light wooden-framed dormer windows on the N. side.
A Barn, 80 yds. E. of the house, of coursed rubble, partly rebuilt in brick, and with a thatched roof, is of the 16th century. It has a porch with lean-to roof on the S.W. side. The barn roof (Pt. 1, Fig. p. lxv) is supported by jointed cruck trusses with arch-braced collars, the ridge piece being carried on yokes joining the heads of the principals.
c(4) Winfrith House, of two storeys and attics, with brick walls and a slate-covered roof, was built in the late 18th century and has since been extended to the S.
The front elevation has a stone plinth, a plat-band under the first-floor windows, moulded cornice and parapet; it was originally symmetrical with a central entrance and hung-sash window above, and wider sash windows at each side. The plan comprised two front rooms flanking an entrance hall and two rear rooms with a staircase between. The S.W. room has extraneous mid 18th-century panelling.
N.W. of the house, facing Winfrith Drove, are the remains of an 18th-century brick Gatehouse with battlemented parapet.
Monuments (5–29)
The following monuments unless otherwise described are of one storey and attics with cob walls and thatched roofs.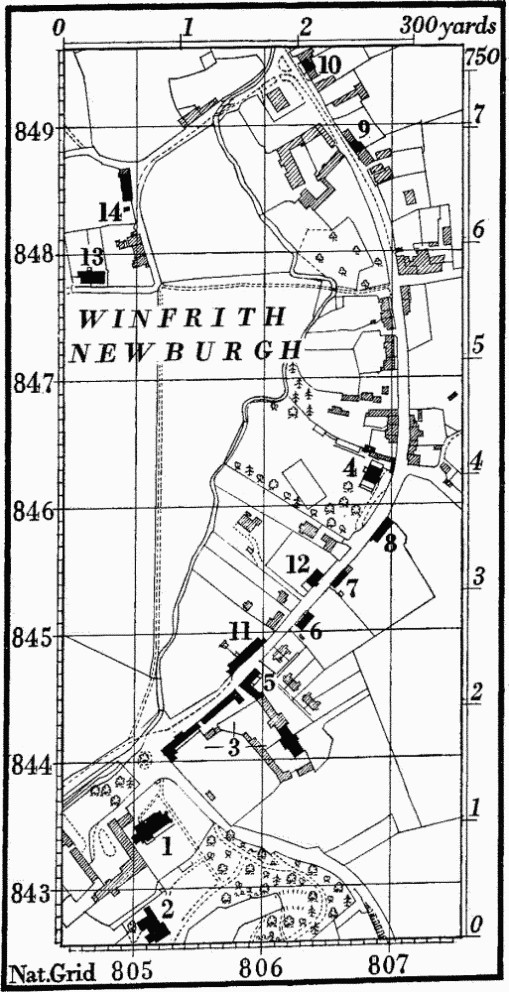 High Street (formerly Water Lane)
E. side
c(5) Cottages, three, partly of two storeys, with brick walls including some cob and stone, are of the 17th century but much rebuilt.
c(6) Cottages, two, with walls of rubble and cob partly faced in brickwork, were built in the 18th century.
c(7) Cottages, two, of two storeys, with rendered brick and rubble walls and a central chimney-stack, were built in the 18th century.
c(8) Cottages, pair, with rubble walls and brick dressings and a tiled roof, were largely rebuilt in the early 19th century.
c(9) Cottage, with brick and cob walls above a rubble base, was built in the first half of the 18th century and considerably altered in the following century.
c(10) Cottages, two, have brick and rubble walls, partly rendered, and a modern tiled roof. Traces of an 18th-century house remain in the N. gable; chamfered beams and timber fireplace lintels inside are possibly reused.
W. side
c(11) Cottages, four, have walls of rubble, cob and brick; one, of 17th-century date with rubble and some brick refronting to the ground floor and cob beneath the eaves, has a stone chimney-stack at the N. end; the other cottages were built in the 18th or 19th century.
c(12) Malt House, of two storeys, with walls probably of cob but rendered and a brick porch and chimneys, was built in the late 18th century and later extended to the N.; the outer doorway is placed centrally between two heated rooms.
c(13) Cottages, two, were built in the 17th century as a single dwelling and have a central brick chimney-stack and contain an original stop-chamfered ceiling beam.
c(14) Cottages, three, are of two storeys with brick walls and slate-covered roofs. The pair of cottages at the N. end of the group are of early 18th-century date, much altered but retaining a brick plat-band to the E.; at the S. end is a 17th-century cottage with a central chimney.
School Lane
S. side
c(15) Cottage (550 yds. N.N.E.) is of two storeys; the walls are rendered above a rubble plinth and the roof is tiled. The N. elevation is of typical mid 18th-century character comprising a central door flanked by two windows with similar windows to the first floor and a narrower light above the door.
c(16) Rushpond Cottages, three (812849), of two storeys, were built in the late 18th or early 19th century; the E. cottage is double-fronted.
N. side
c(17) Cottage (730 yds. N.E.), of cob and brick above a rubble plinth, was built in the 17th century; it has a central chimney of brick. (Demolished)
c(18) Cottage (760 yds. N.E.), of brick, was built in the late 18th century; the windows retain original timber lintels; on the ground floor are two rooms, one heated, with a central doorway; adjacent to the S. is a barn or stable.
d(19) Red Lion Inn (805853), of two storeys with walls of cob and brick, is of 18th-century date with later extensions.
d(20) Cottage (802852), on the S. side of the Dorchester road, of coursed rubble with a projecting brick chimney-breast on the E. side, was built in the early 18th century.
d(21) Knoll Cottage (805861) is of the early 19th century.
East Knighton
d(22) Myrtle Cottage (810856), N. of the Wareham road, with rendered walls, was built in the 17th century; the interior retains a stop-chamfered ceiling beam and chamfered fireplace bressummer.
d(23) Cottages, range of three, 40 yds. E.S.E. of (22), each double-fronted with rendered cob walls, are of the mid 19th century.
d(24) Cottage (815855), of two storeys, is dated 1772 on a stone in the E. gable. The walling is in Flemish bond brickwork above a rubble plinth and has simply moulded brick kneelers to the gables; the building is double-fronted and has segmental arches to all openings.
d(25) Cottage, 60 yds. E. of (24), of two storeys, was built in the early 19th century; the ground floor is divided into living room and scullery.
d(26) Cottage (81088556), on S. side of road, with rendered cob walls, is of late 17th or 18th-century date. The interior retains a stop-chamfered ceiling beam and a chamfered fireplace bressummer.
d(27) Cottage (814853), on W. side of Knighton Lane, of one storey and attics raised to two storeys on the E., with walls of coursed rubble to the ground floor heightened in brickwork above, was built in the 17th century. The ground floor has been much altered; it was originally entered through a W. doorway, now blocked, opposite a central chimney-stack flanked by single rooms N. and S. Two E. windows of three mullioned lights and one W. window of a single light, now blocked, survive of the S. room. Evidence of a three-light E. window N. of the present doorway and a stop-chamfered ceiling beam at the N. end are the only traces of the larger N. room. The upper floor was partly heightened and the roofs probably replaced in the early 18th century; the brick chimneys are of this date, the central one having an arched panel on the E. face.
d(28) Cottage, now divided, 60 yds. S. of (27), with rubble walls repaired with brickwork and partly rendered and a hipped roof, is of the 17th century and of central-chimney plan; most of the original features have been replaced but the chimney is of early brickwork, and a stop-chamfered ceiling beam survives inside.
d(29) West Burton Dairy, house (820859), of two storeys and attics with brick walls and a tiled roof, was built in the early 18th century. The entrance and chimney are central; traces of a brick plat-band remain on the S. side.
Earthworks, Etc.
Mediaeval and Later Earthworks
c(30) Strip Lynchets (805833 to 811833), formerly part of the open fields, cover 40 acres S. of Winfrith Newburgh village. Disturbed remains of contour and up-and-down type include three over 330 yds. long and others up to 150 yds. long with risers up to 12 ft. high. A map by J. Sparrow of 1768 (in D.C.R.O.) shows vestiges of strip arrangements here. On the S. the strips run into 'Celtic' fields of Ancient Field Group (15). (R.A.F. V.A.P. CPE/UK 1821 : 4433–5.)
d(31) West Burton, deserted mediaeval village (824858), lies immediately N. of the WarehamDorchester road and 300 yds. S.E. of West Burton Dairy (29), on Reading Beds and London Clay. West Burton appears to have been a flourishing settlement until at least the early 14th century, after which it declined and was apparently completely deserted by the mid 16th century (Dorset Procs. LXXXVIII (1966), 117–8).
The remains, covering 10 acres, consist of two hollow-ways meeting to form a T-junction at the S. of the site. The bar of the T is an irregular hollow-way running N.E.-S.W., varying from 15 ft. to 30 ft. wide and up to 2 ft. deep, which meets the existing main road at both ends. The other hollow-way, 30 ft. wide and up to 3 ft. deep, runs N.W. for 300 ft. and then turns W. and runs for 700 ft. until it joins a modern cart-track leading to the Dairy. On both sides of this hollow-way are the slight remains of at least ten roughly rectangular closes bounded by low banks, within which are spreads of carstone, flint and limestone rubble indicating former building sites. A quantity of pottery, all dating from the 12th-14th centuries, has been picked up on the site.
Other Earthworks and Allied Monuments
(32–48) Round Barrows, p. 459
Roman Finds, p. 619
Ancient Field Group (15), p. 628