Pages 54-55
An Inventory of the Historical Monuments in Dorset, Volume 3, Central. Originally published by Her Majesty's Stationery Office, London, 1970.
This free content was digitised by double rekeying and sponsored by English Heritage. All rights reserved.
9 BURLESTON (7794)
(O.S. 6 ins. SY 79 NE, SY 79 SE)
The parish of Burleston covers only 366 acres and measures barely 500 yds. from W. to E. It stretches N. from the R. Piddle between Puddletown and Tolpuddle, the Devil's Brook forming the W. boundary. The village is at the S. end of the parish at the edge of the flood plain. The mediaeval open fields were not enclosed until the 19th century.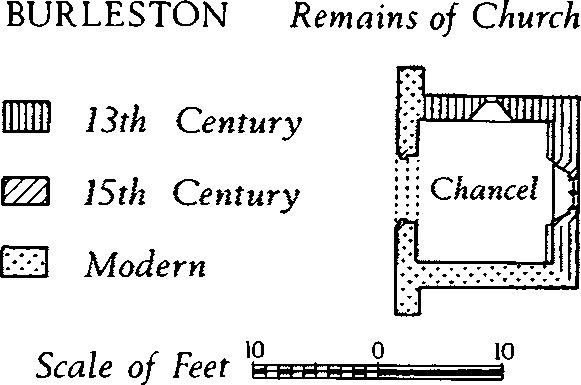 Ecclesiastical
(1) The Parish Church, now in ruins, stands N.W. of the village. The walls are of flint with ashlar dressings; the surviving roofs are slated. Only the Chancel remains standing; the N. and possibly the E. walls are of the 13th century; the S. and W. walls, of flint with brick bonding courses, were probably rebuilt in 1910 when the structure was repaired and re-roofed.
Architectural Description—The Chancel (11¼ ft. square) has in the E. wall a 15th-century window of two lights with vertical tracery in a two-centred head. The N. wall retains an original chamfered lancet light. A 15th-century doorway with casement-moulded head and jambs has been reset in the modern W. wall.
Fittings—Brackets: Reset on each side of the E. window, plain mediaeval corbel-stones. Font: Stone bowl approximately 2 ft. in diameter and of uncertain date, now transferred to Broadwindsor. Monuments and Floor-slab. Monuments: In churchyard, E. of chancel, (1) of Thomas Grose, 1675, and commemorating his parents and ancestors, table-tomb; S. of chancel, (2) of Richard Phillips of E. Elworth, 1644, table-tomb; (3) of Thomas Jesse, 1744, and Thomas Jesse, junior, 1746, headstone. Floor-slab: W. of chancel, originally in nave, of Mrs. Susannah Grosse, 1693, with incised mask. Plate: kept at Puddletown, includes Elizabethan cup and cover-paten, the cup with mark of Lawrence Stratford and the cover-paten with '1575' engraved on foot; also silver stand-paten of 1717 and 19th-century silver-plated flagon, both given in 1843.
Secular
(2) The Rectory (77679428), 130 yds. S.E. of the church, is of two storeys, with walls of rendered brick and cob; the roofs are slated and tiled. The house consists of a late 17th or early 18th-century N. wing, much altered, and a main S. range which was added in the second half of the 18th century. The symmetrical S. front is of three bays and has a plat-band at first-floor level, a moulded brick eaves-cornice and sashed windows. The central doorway has 18th-century Gothic clustered side-pilasters and an entablature with cusped arcading. The staircase has latticed banisters and a moulded handrail.
(3) House (77559426), 40 yds. S. of the church, is of two storeys with walls of rendered rubble and cob; the roofs are modern. Built in the 18th century, with later lean-to additions, the house is now divided into three tenements. A Barn to the E. of the house has been altered and reduced in size; the 19th-century brick S. wall has two-stage buttresses with stepped weatherings.
Mediaeval and Later Earthworks
(4) Cultivation Remains. As late as 1843 (Tithe Map) the open fields of the parish were still unenclosed; they were named Bottom, Hill, and North Fields; the date of enclosure is unknown. A single contour strip lynchet, 130 yds. long, some 200 yds. N.E. of the village, is the only fragment that remains; in 1843 it was one of a group of strips which made up Heading Bottom Furlong in Hill Field.
Roman and Prehistoric
Monuments (5–8), Round Barrows
Four barrows lie above 250 ft. O.D. on Burleston Down at the W. end of a scatter that extends into the adjacent parishes of Dewlish and Milborne; all have been heavily ploughed. An incense cup was recovered from a large barrow 'removed for agricultural operations on Burlestone Farm, near Dewlish Old Turnpike Gate' (C.T.D., illustration on title-page). The barrow must have been adjacent to (7) and (8).
(5) Bowl (77849599), on a gentle N. slope on the summit of the down; ploughed almost flat; diam. about 45 ft.
(6) Bowl (77699632), immediately N. of the PuddletownMilborne road; diam. about 45 ft., ht. 9 ins.
(7) Bowl (77949634), 270 yds. E. of (2) and immediately S. of the Puddletown-Milborne road; diam. about 75 ft., ht. 2 ft.
(8) Bowl (77989635), 50 yds. E. of (3); diam. about 90 ft., ht. 2½ ft.