Pages 116-117
An Inventory of the Historical Monuments in Dorset, Volume 4, North. Originally published by Her Majesty's Stationery Office, London, 1972.
This free content was digitised by double rekeying and sponsored by English Heritage. All rights reserved.
34 WEST STOUR (7822)
(O.S. 6 ins., ST 72 SE)
The parish lies on the W. bank of the R. Stour and has an area of 1,070 acres. The N.E. part, on a low escarpment of Corallian Limestone which slopes E. to the river, lies between 200 ft. and 350 ft. above sea-level. Below the limestone scarp the S.W. part of the parish is on Oxford Clay, sloping gently south-westwards from 250 ft. to 180 ft., to the R. Cale which forms the parish boundary. At the Domesday survey the parish contained two settlements: West Stour, a narrow strip of land running S.W. from the R. Stour, and Little Kington, a shorter strip of land on the N., parallel with the first; the combination of the two strips causes the irregular shape of the N.W. boundary. Little Kington was never more than a small settlement, but West Stour developed into a village, with open fields on the S.W. These fields were enclosed in 1779 (Enclosure Act), but no Award exists. Roadside cottages in the S.W. of the village reflect growth subsequent to enclosure.
Ecclesiastical
(1) The Parish Church of St. Mary stands in the N. of the village; it has walls of squared and coursed rubble with ashlar dressings, and roofs covered with stone-slates and slates. The Chancel is of the 13th century with late 18th-century alterations; the Nave and South Tower were rebuilt in 1840, following the original plan (contract in parish records).
Architectural Description—The Chancel has a chamfered plinth. In the E. wall is an 18th-century window of three trefoil-headed lights with vertical tracery in a square head under a moulded label. In the N. wall are two restored 13th-century lancets, each with a chamfered and rebated two-centred head, continuous jambs, a segmental rear-arch and widely splayed reveals. In the S. wall, on the E., is a 13th-century window of one light, wider than those on the N. and with a 16th-century trefoil head; to the W. is a 14th-century window of two cinquefoil-headed lights with a plain spandrel light in a two-centred head; between the windows is an original S. doorway with a chamfered two-centred head, continuous jambs and a two-centred rear-arch. The chamfered, two-centred chancel arch is of 1840.
The Nave has diagonal buttresses of two weathered stages at each corner. In the N. wall are three windows with plain two-centred heads; in the S. wall two similar windows flank a central doorway with a chamfered two-centred head; the W. window is uniform with those on the N. and S. The South Tower is of one stage, with an ashlar plinth and with an embattled and moulded ashlar parapet above a moulded string-course; the walls are of rubble with ashlar dressings. The base of the tower forms the South Porch, and in the S. wall is a chamfered two-centred archway with a moulded label. Above, each face of the tower contains a chamfered lancet-shaped belfry window.
The nave Roof has a panelled ceiling, four-centred in crosssection, with hollow-chamfered and moulded wall-plates, and moulded transverse and longitudinal ribs forming six bays, each of four square panels, with plaster infilling.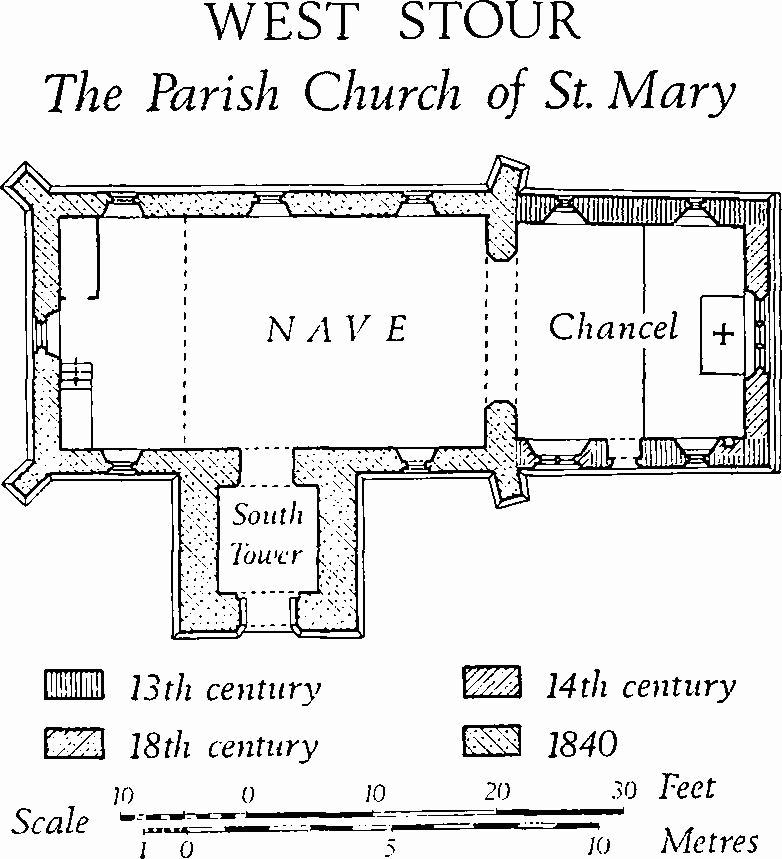 Fittings—Bells: three; treble by John Danton, inscribed 'Reioyce in God 1635 ID', 2nd inscribed 'Mr Robert Hannam Ch Wd Wm Cockey bell founder 1733', tenor inscribed in black-letter 'sunt mea spes hii tres xpe. maria johes', late 15th century. Communion Table: (Plate 22), of oak, with heavy turned legs, moulded stretchers, shaped braces and carved rails, 17th century; top modern. Font: comprises hexagonal stone bowl, hollow-chamfered below, on large centre shaft and six small corner shafts, on chamfered hexagonal base; probably of 13th-century origin, recut. Monuments and Floor-slab. Monuments: In churchyard, 5 paces S. of tower, (1) of... Cox, table-tomb with rusticated central and corner pilasters, and moulded top, 18th century; further S., (2) of ... Ransom, table-tomb with plain pilasters and moulded top, 18th century. Floor-slab: In nave, at W. end, with incised architectural surround enclosing inscription of ... Meatyard and Margret Meatyard, 171 . . Piscina: In chancel, in S. wall, recess with trefoil two-centred head, 14th century; bowl modern. Plate: now in Salisbury Museum, pewter flagon, early 18th century, and pewter stand-paten, late 18th century ('Connoisseur', June 1949). Pulpit: of oak, polygonal, panelled, with guilloche frieze and moulded cornice, 17th century. Woodwork: Reset in parapet of W. gallery, twenty-one trefoil-headed oak panels carved with finials and fleurs-de-lis, similar to those noted in Gillingham parish church; reset to form frontal-chest, six similar panels and, above, six panels with cusped ogee heads with traceried spandrels; reset in door to vesting cubicle, two fragments of oak tracery with cinquefoil two-centred heads and pierced spandrels, 16th century.
Secular
(2) Causeway (75812150), at the W. end of the parish and nearly 2 m. S.W. of (1), carrying the road from Shaftesbury to Sherborne across the flood plain of the R. Cale (see also Kington Magna (28)), is probably of late 18th-century origin. The structure is of rubble, squared rubble and ashlar, and comprises five arches of roughly two-centred form. The arches are now linked by walls, but originally were separate from one another, witness vertical joints in the masonry at the abutments of each arch. The connecting walls are of the early 19th century; the parapets are later.
(3) Little Kington Farm (77522318), house, about 2/3 m. N.W. of (1), is of two storeys, but originally was of one storey with attics. It has rubble walls and tiled roofs and dates from the end of the 17th century. The E. front is of four bays, the entrance being in the second bay from the S. On the ground floor the N. and S. bays have original stone casement windows of four lights with chamfered surrounds and moulded labels. The doorway is modern and the window in the adjacent bay is a modern replica of those to N. and S. Between the doorway and the modern window is a small original loop. On the first floor each bay has a modern three-light casement window.
(4) Manor Farm (78402251), house, 400 yds. S. of (1), is of two storeys with attics and has walls of coursed rubble, and roofs covered with stone-slates (Plate 30); it dates from c. 1800. The S. front is symmetrical and of three bays, with a central doorway on the ground floor and with uniform three-light casement windows in both storeys; the attic has dormer windows with sashed lights. To the W. is a single-storeyed service annex similar in construction to the main block.
(5) Cottage (78372313), 270 yds. N. of (1), is two-storeyed and has rubble walls and tiled roofs. It was built in the 18th century and formerly was two tenements.
(6) Cottages (78432295), pair, 50 yds. N.W. of (1), are two-storeyed, with rubble walls and metal-covered roofs; until recently they were single-storeyed with attics and had thatched roofs. They date from the mid 18th century.
(7) House (78502283), 90 yds. S.W. of (1), is two-storeyed and has rubble walls and slated roofs. It dates from the end of the 17th century, but has been much altered. To the S.E. is an 18th-century addition. The W. front has been largely rebuilt in modern brickwork. The E. front, of rubble, appears originally to have been single-storeyed, the upper part being added in coursed rubble. Inside, the main room is lined with 17th-century panelling, probably reset and now painted; the doorway has fluted pilasters and a pedimented head. Similar reset woodwork is seen in the staircase. Two rooms have stop-chamfered beams.
(8) The Ship Inn (78482256), 150 yds. E. of (4), is two-storeyed, with coursed rubble and ashlar walls, and slate-covered roofs. It is of the early 19th century.
(9) Cottages (78422245), pair, 500 yds. S. of (1), are two-storeyed, but were originally of one storey with attics; they have rubble walls and metal-covered roofs and are of 17th-century origin although considerably altered. Inside, the E. tenement retains some oak panelling and a blocked fireplace surround with a stone four-centred head.
(10) House (78222245), 550 yds. S.W. of (1), is two-storeyed with squared rubble walls and tiled roofs; it dates from the 18th century. The N. front is symmetrical and of three bays, with a central doorway under a pedimented hood on moulded brackets, and with large sashed windows in each storey.
(11) Cottage (78262248), 520 yds. S.W. of (1), is singlestoreyed with dormer-windowed attics, and has brick walls and a thatched roof; it is of the 18th century. On the S. front, which is of two bays with a central doorway, the first-floor level is marked by a strongly projecting plat-band; the same feature continues on the gabled W. wall.
Of the late 18th or early 19th century is a house at Stour Farm (78202244), some 550 yds. S.W. of (1), with carved stone panels on the W. front representing a swan and a ship. Seven early 19th-century Cottages are dispersed along the village street between 78352321 and 78262245.
Mediaeval and Later Earthworks
(12) Cultivation Remains. Nothing remains of the open fields of West Stour, which were enclosed by 1779 (D.C.R.O.). It is not certain if the settlement of Little Kington had open fields apart from those of West Stour, but angular field boundaries and two ploughed-down strip lynchets, S.E. of Little Kington Farm (778228), suggest that this was the case.