Pages 13-15
An Inventory of the Historical Monuments in Dorset, Volume 4, North. Originally published by Her Majesty's Stationery Office, London, 1972.
This free content was digitised by double rekeying and sponsored by English Heritage. All rights reserved.
6 COMPTON ABBAS (8616)
(O.S., 6 ins. ST 81 NE, ST 81 NW)
The parish, a narrow strip of some 1,450 acres, lies across the Chalk escarpment, about 2½ m. S. of Shaftesbury. The eastern extremity and the N. and S. sides of the central part of the parish lie on Chalk at altitudes approaching 800 ft. The centre of the parish is a deep valley bounded on N., E. and S. by scarps 300 ft. high; the valley floor, only 400 ft. above sea-level, is on Upper Greensand. In the W. part of the parish the land inclines gently downwards across Upper Greensand, Gault and Lower Greensand to the Twyford Brook, which crosses the parish near the 250 ft. contour; to the S. rises a Chalk outlyer, Elbury Hill. To the W. of the brook the land is Kimmeridge Clay, about 300 ft. in altitude. The twin villages of East and West Compton probably represent original settlements. Twyford and Crocker's Farm, in the less favoured Kimmeridge Clay area, appear to be secondary settlements, but nothing is known of their history. Crocker's Farm is dated 1660.
Ecclesiastical
(1) The Parish Church of St. Mary, near the centre of West Compton, was built in 1866 and fittings from the former church in East Compton (see (2)) were transferred to it.
Fittings—Bells: five; 3rd by John Wallis, inscribed 'Searve God IW 1616'; 4th inscribed 'Maria' in black-letter, late 15th or early 16th century; 5th by John Danton, inscribed 'Remember God ID RT 1624'; others modern. Brass: reset in chancel, of Thomas Lawrence [d. 1640], plate, 12 ins. by 17 ins., with Latin inscription. Communion Table: of oak, with turned legs, plain stretchers and scrolled end rails, c. 1700. Font: with circular tub-shaped bowl with raised foliate scroll decoration, perhaps of 12th-century origin, but recut probably in 1866; shaft and pedestal, 1866. Monument: In S. aisle, of Edith Broughton, 1830, and John Broughton, 1827, marble tablet with pediment, by Willson, London. Plate: includes plain silver cup inscribed 'The parrish cupp of Cumpton Abbies 1665', and paten inscribed 'The plate of the Parish Church of Compton Abbas', undated, probably 18th century.
(2) The Church of St. Mary (87561880), ruined, stands in East Compton. Only the late 15th-century West Tower and the W. wall of the former nave remain.
Architectural Description—The West Tower, of rough ashlar, is of two stages, with a moulded plinth and the remains of a parapet (Plate 33); the stages are defined by a weathered string-course and the parapet has a hollow-chamfered and moulded string-course with gargoyles at the centre of each side and on the angles. At the S.E. corner is a polygonal vice turret, staged in correspondence with the tower and capped with weathered stonework. At the S.W. corner is a diagonal buttress of four weathered stages; the N.W. corner has no buttress; at the N.E. corner, the projecting W. wall of the former nave has a low diagonal buttress of one weathered stage. The two-centred tower arch is walled up and the mouldings are partly hidden; it appears to be of two orders, an ogee moulding outlined by a hollow chamfer. The vice doorway and the W. doorway have chamfered two-centred heads with continuous jambs. Above the W. doorway, the W. window is of two trefoil-headed lights with a tracery light, now gone, in a two-centred head with a moulded label. In the upper stage the S. side has a chamfered ogee-headed loop; above this, each side of the tower has a belfry window of two chamfered, trefoil-headed lights under a square label.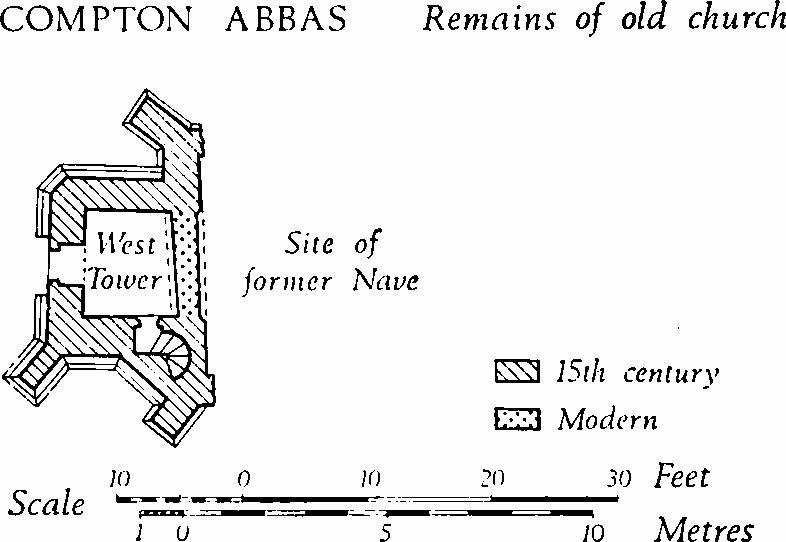 Fittings—Bell-cage: much decayed, with inscription 'T.P. 1742'. Cross: of stone, in churchyard, some 10 paces S.E. of tower, with square stepped base, lower step with hollow-chamfered capping, chamfered square pedestal, and lower part of octagonal shaft with pyramidal stops; probably 15th century. Doors: of tower vice, with iron studs and strap-hinges, late 15th century; of W. doorway, similar to foregoing, perhaps 16th century. Monuments: In churchyard, adjacent to cross, (1) of Robert Thomas, 1703, headstone with wreath border to inscription panel; 2 paces S.W. of tower, (2) of John Gould, 1716/7, headstone; 11 paces N.E. of tower, (3) of Elizabeth Bennett, adjacent to foregoing, (4) of Jenevorah of-arms of Bennett; adjacent to foregoing, (4) of Jenevorah Bennett, 1711, headstone. Miscellanea: Enclosing churchyard, rubble wall, perhaps partly mediaeval, with 18th-century coping.
Secular
(3) Crocker's Farm (84641968), house, of two storeys with attics and with ashlar walls and thatched roofs, dates from 1660. The original stone windows are of four, three and two square-headed lights under weathered labels with square stops. The plan is L-shaped, with the main range lying N.—S. and a gabled W. wing at the N. end. The main doorway is near the middle of the N. wall and a W. doorway opens near the re-entrant angle; the latter has a chamfered four-centred head and continuous jambs. Incised on ashlar blocks over the W. doorway and the adjacent window are 'TD 1660' in an ornamental margin, and 'ID 1660'. Inside, several rooms retain plank-and-muntin partitions. Fireplaces occur on the S. end wall of the range and on the W. wall of the wing. Adjacent to the farmhouse on the S.W. is a Granary on staddle stones, with timber and ashlar walls, and a thatched roof.
(4) House (87061845), with rubble walls and thatched and slated roofs, is of 18th-century origin. An early 19th-century extension on the S., originally a dairy, is now incorporated in the dwelling. The W. front is of one storey with dormer windows above; the E. front is two storeyed and has square-headed casement windows of two and of three lights; the S. extension has similar windows.
(5) House (86821840), of two storeys, with squared rubble walls and thatched roofs, is of the 18th century. Inside, one room has a large open fireplace and a stop-chamfered ceiling beam.
(6) Whitehall Cottage (86971913), of two storeys, with coursed rubble walls and a thatched roof, is of the first half of the 18th century. The rubble walls have ashlar quoins. At the centre of the plan is a large open fireplace with a timber bressummer.
(7) Manor Farm (87591885), house, of two storeys, with coursed rubble walls and a slate-covered roof, is of the late 18th century. The S.E. front is symmetrical and of three bays, with a central doorway in a small porch with a pediment, and with uniform sashed windows in both storeys. Inside, the plan is of class T. The S. room has a stone fireplace surround with egg-and-dart enrichment.
(8) Cottages (87571876), two adjacent, of one storey with attics, with squared rubble walls and thatched roofs, are of c. 1750. Each tenement has a class-S plan, the fireplaces being set back-to-back.
(9) House (87011836), of two storeys, with walls of ashlar and rubble, repaired in brickwork, and with slated roofs, is of late 18th-century origin, but it was extensively altered in the 19th century. Adjacent on the W. is a boundary wall of rusticated ashlar with gate-piers with pyramidal finials; a low doorway in this wall has an elliptical head and a shaped stone lintel.
(10) House (86981838), of two storeys with rubble walls and a thatched roof, is of the late 18th century. The S. front is symmetrical and of three bays. The plan is of class T.
Other late 18th and early 19th-century monuments are as follows. In East Compton: a two-storeyed Farmhouse (87541869) of c. 1840. In West Compton: a Cottage (87281859) of c. 1800; Tucker's Farm (87141857), house, formerly two adjacent cottages; a pair of Cottages (87081850); a Cottage (86941831). In Twyford: Prystock Farm (85501831), house, comprising two late 18th-century cottages; Twyford Farm (85351903), house, of the mid 19th century, with a symmetrical E. front of three bays.
Mediaeval and Later Earthworks
(11) Cultivation Remains. The date of enclosure of the open fields is unknown. A late 18th or early 19th-century map (D.C.R.O.) shows nine separate open fields, all apparently in the last stages of piecemeal enclosure; they existed substantially unaltered in 1844 (Tithe Map). Well preserved contour and cross-contour strip lynchets in four places in the parish represent some of these fields: those on the N. and N.E. slopes of Elbury Hill (863183) were in Hawkam Field; those on the W. of Melbury Hill (868192) were in Incombe Field; those on the S. and E. of Melbury Hill (871195) were in Forked Bridge Field; those on the N.W. slopes of Fontmell Down (877182) were in Culverland Field.
Roman and Prehistoric
(12) Cross-Dyke (87781979–87701953),running from N.N.E. to S.S.W. across a ridge which rises steeply westwards to the summit of Melbury Hill, lies at an altitude of over 600 ft. and extends across the parish boundary into Melbury Abbas. It is some 300 yds. in length and comprises a bank with a ditch on the uphill side. At each end the dyke runs out on the shoulder of the slope above a combe. A gap of 30 yds. occurs where the dyke crosses the parish boundary; it is probably an original entrance, but disturbance makes this difficult to prove. Some 57 yds. S. of the boundary the ditch suddenly deepens and here, where the earthwork is best preserved, the ditch is 16 ft. wide and 5 ft. deep; the bank is 20 ft. across, and 8 ft. high from below and 2 ft. high from above. Near the N. end the dyke is cut by a deep hollow-way coming from Compton Down.

(13) Bowl Barrow (88511894), over 700 ft. above sea-level, on the neck of the spur of Compton Down, lies in arable land. Diam. 45 ft., ht. 1½ ft.
'Celtic' Fields, see p. 120, Group (79).