Pages 6-8
An Inventory of the Historical Monuments in Dorset, Volume 4, North. Originally published by Her Majesty's Stationery Office, London, 1972.
This free content was digitised by double rekeying and sponsored by English Heritage. All rights reserved.
3 BUCKHORN WESTON (7524)
(O.S. 6 ins., ST 72 NE, ST 72 SE, ST 72 SW)
Buckhorn Weston, with an area of 1,705 acres, lies in the extreme W. of the area described in this volume. The N.E. third of the parish is on the Corallian Limestone escarpment, at altitudes of 300 ft. to 400 ft. above sea-level. The rest of the land is Oxford Clay, almost flat, between 190 ft. and 230 ft. above sea-level; this area is drained by the R. Cale and its tributary the Filley Brook, forming the parish boundaries on the W. and S. The village stands at the foot of the escarpment. In Domesday times Westone was of fair size (V.C.H., Dorset iii, 141), with a recorded population of 26, but little is known of its subsequent history. An isolated farmhouse (3) in the S.W. appears to stand in an area of former open fields; it existed in 1641, showing that enclosure had taken place before that date (Hutchins IV, 116).
Ecclesiastical
(1) The Parish Church of St. John the Baptist, near the centre of the village, has walls of squared rubble with ashlar dressings, and tiled roofs (Plate 33). The Chancel and Nave are of 14th-century origin, but were extensively restored and altered in the 19th century. The N. arcade of the nave is of 15th-century origin, as also is the South Porch. The West Tower was taken down and rebuilt in 1861; the North Aisle was enlarged and rebuilt in 1870.
The fittings include a 14th-century recumbent effigy, a mediaeval silver paten, and a communion cup of 1562.
Architectural Description—The Chancel was extensively rebuilt in the 19th century, but the N. wall is original and contains a late 14th-century window of two trefoil ogee-headed lights with quatrefoil tracery in a two-centred head; the rear-arch is two-centred. The S. wall has, reset, two restored windows similar to that on the N. and, between them, a doorway with a chamfered segmental-pointed head and continuous jambs, perhaps original. The chancel arch, of one chamfered order and of 14th-century origin, was partly rebuilt in the 19th century with re-use of original material; cutting-away of some of the lower voussoirs indicates the position of a former rood-loft. Above the chancel arch, on the E. gable of the nave, is a mediaeval apex finial with leaf enrichment.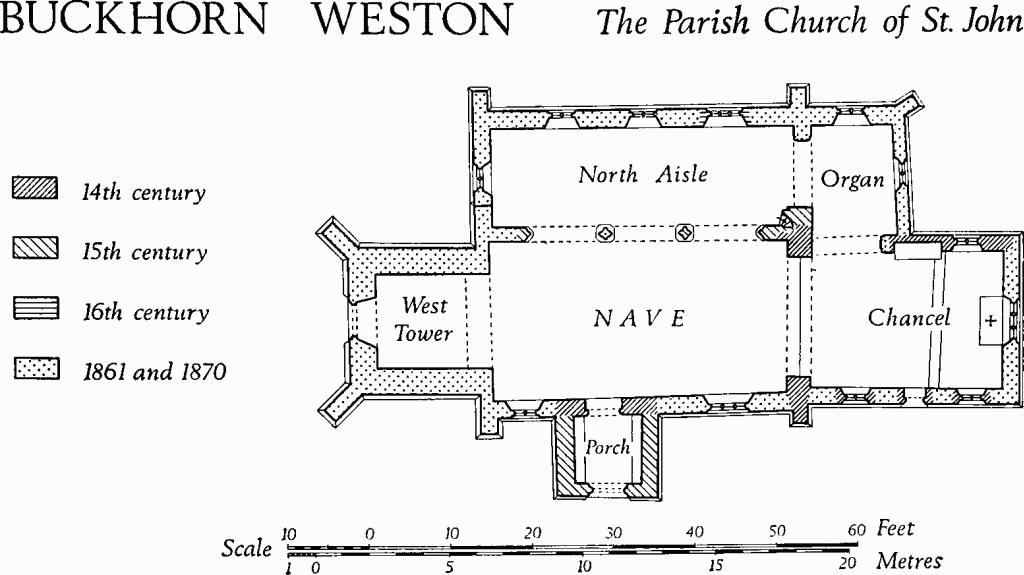 In the Nave, the N. arcade has piers and responds with attached shafts alternating with hollow chamfers, and moulded capitals and polygonal bases. The W. pier is of the 19th century; that on the E., and both responds, are of the 15th century, the W. respond having been moved to its present position in 1870 when the arcade was extended from two to three bays (plan in Sarum Dioc. Regy.); the capitals, however, and the two-centred arches with ogee mouldings and hollow-chamfers are wholly of the 19th century. At the E. end of the S. wall is a 14th-century two-stage buttress with ogee weathering. The S. doorway has a three-centred head with a broad recessed chamfer, and continuous jambs; it is of 14th-century origin, but rebuilt and perhaps heightened. The two S. windows are of the 19th century.
The North Aisle is largely of 1870, but at the E. end, on the S., are three steps and part of the doorway of the 15th-century rood-loft vice. A three-light window in the eastern part of the N. wall has trefoil-headed lights and a moulded label; it is of the late 16th century and was transferred in 1870 from the former N. wall.
The West Tower, of 1861, is of two stages, with three-stage buttresses in the lower stage, an embattled parapet, and angle pinnacles with crocketed finials.
The South Porch has an archway with a four-centred head, with ovolo and hollow-chamfered mouldings continuous on the jambs; above the arch is a weathered and hollow-chamfered hood-mould.
Fittings—Bells: six; 1st modern; 2nd by William Knight, inscribed 'WK, BF 1727'; 3rd dated 1845; 4th by John Wallis, inscribed 'Praise the Lord IW 1602'; 5th with black-letter inscription 'In multus annis risoent campana iohannis baptiste' (sic), 15th-century; 6th by William Knight, inscribed 'The gift of George Pitt of Shroton Esq. 1727, WK, BF'. Book: attached to oak lectern (q.v.) by iron chain, Reliquiae Sacrae Carolinae, incomplete, leather-bound, with brass clasps and mounts, brass roundel on cover inscribed 'This book given by Steven Thos 1690, John Sampson Rector, set up 1696, Christr Thomas, Thos Davidg churchwardens. Beata Benefactoris Memoria'. Chest: of cast iron, for registers, 1813, on oak stand made up with carved 17th-century members. Font: of stone, octagonal, with quatrefoil panel and central boss on each face, below, spaced leaf-bosses, moulded octagonal stem, and base with shaped stops, 15th-century. Image: see Niche. Lectern: (Plate 13) of oak, with turned stem on shaped cross foot, shaped cross-piece at top and two back-to-back desks with beaded edges, probably 1696 (see Book); roughly incised on desk, 'IE 1701'.
Monuments and Floor-slabs. Monuments: In chancel, in N. wall, (1) recess with two-centred, ovolo-moulded, hollow-chamfered and cusped head, containing recumbent effigy of man in late 14th-century dress (Plate 15) with short jupon with tippet and hood, tight house, belt with purse; hair long, hands together in prayer, feet resting on unidentifiable beast; head on tasselled pillow with angel supporter on N., S. angel gone; late 14th century. Above the foregoing, (2) of Samuel Clark, rector, 1761, and Ann Clark, 1764, marble wall monument with enriched border and pediment, with pelican-in-piety as finial, flanked by urns with flame finials (Plate 17). In churchyard, 8 paces E. of chancel, (3) table-tomb of John Davidge, 166—, with heavily moulded top slab and oval panels in sides. Floor-slabs: In chancel, (1) of John Samp [so]n, rector, 1715, slate slab with foliate border; (2) of [Joseph Bannister, 1731]; (3) of Samuel Clark, 1761.
Niche: In gable of S. porch, with polygonal base, plain sides, canopy with cusped arcading, pinnacles and crocketed finials, probably late 15th century. Within niche, worn figure said to represent St. John the Baptist, with oblong pillow behind head, probably 15th century. Paintings: six, on panels, formerly comprising front of W. gallery (Hutchins IV, 117), now reset in W. tower, two depicting landscapes with angels blowing trumpets, one with Nativity, three with saintly figures, paint badly deteriorated; 18th century.
Piscina: reset in chancel, round stone basin with cusped outlet, probably 14th century. Plate: includes silver cup (Plate 24) with hallmark of 1562 and maker's mark, letter 'a' at centre of sun-burst; silver paten of c. 1510 (Plate 24), cusped bowl with IHS in black-letter, cusps with leaf decoration, diameter 5 ins.; maker's mark a circle divided into four quarters, each quarter with a pellet; also 17th-century pewter flagon and 18th-century brass alms-dish, the latter perhaps part of a warming-pan. Seating: Small bench with turned legs and beaded stretchers, early 18th century. Sundial: reset on S. wall of tower, square stone plate with arabic numerals and inscription ANNO DO 1599.
Secular
(2) Hope Farm (75192463), house, of two storeys with attics, has walls of rubble and coursed rubble with some brickwork, and is roofed with tiles and stoneslates; it is of late 16th-century origin with early 18th-century alterations.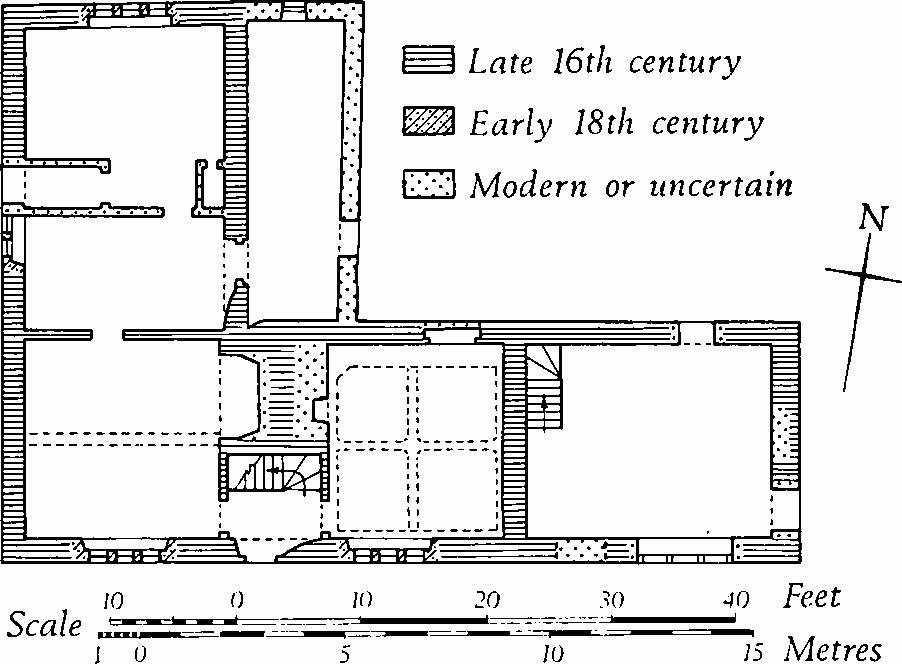 The plan is a variant of class J, but L-shaped, having an original wing on the N. In the S. front the three western bays are symmetrically arranged, with casement windows of three square-headed lights flanking the doorway, corresponding windows in the upper storey, and with a two-light window over the doorway. The ground-floor windows have stone mullions and moulded stone surrounds under brick relieving arches and are probably of the early 18th century; a similar window occurs in the gabled N. wall of the N. wing. Inside, the central room of the S. range has deeply chamfered wall-plates and ceiling beams, intersecting at carved bosses enriched with shields bearing the monograms 'W', 'RC' and 'ST'. In elevation the E. bay is slightly lower than the rest of the S. range. Although formerly used for storage, this bay has now been made into a separate dwelling. There appears to be no doorway from the E. room to the rest of the range and it may have been a separate dwelling originally.
(3) Pelsham Farm (74512355), house, is two-storeyed and has walls of ashlar and of rubble, and slate-covered roofs. The plan is L-shaped and the principal range, on the N., is of the late 17th century; the S. wing is perhaps of the first half of the same century. The N. front is symmetrical and of five bays, with a central doorway and uniform casement windows, each of two square-headed lights with moulded architraves; the windows of the lower storey have plain aprons rising above offsets in the moulded plinth. A plat-band marks the level of the first floor. Inside, the N. range has a class-T plan, with the earlier S. range constituting a service wing. The roof has original collar-beam trusses. At the S. end of the S. range is a 19th-century extension.
Monuments (4–10)
Unless otherwise described the following buildings are of the second half of the 18th century; they are two-storeyed, with rubble walls and with tiled or slated roofs.
(4) Caggypole Farm (75292353), house, is L-shaped in plan. The S. range has a symmetrical S. front of three bays, with a doorway at the centre, sashed windows on each side of it, and casement windows in the upper storey.
(5) Court Farm (75682479), house, is of two dates: the original range on the N.E. is of the 18th century; added to it is an ashlar-fronted 19th-century block with a S.W. façade of three bays, with a central doorway and with large sashed windows in both storeys.
(6) Hill Farm (75882482), house, is of the late 18th century.
(7) Newhouse Farm (76912524), house, is L-shaped in plan and has walls of coursed rubble with ashlar quoins. The S. front is of two bays with a central doorway.
(8) House (75632463) is of the early 19th century; the walls are partly of brick and partly rendered. In the symmetrical S.W. front the central doorway, with a porch with wooden Roman-Doric columns, is flanked by sashed windows; three similar windows occur in the upper storey. Adjacent on the W. is a former Smithy, probably of the late 18th century.
(9) Inn (75652462), comprises buildings of two dates. The main range is of the 19th century and has a rendered N.W. front of three bays, with a central doorway under a Roman-Doric porch, flanked by three-sided bay windows, and with sashed windows in the upper storey; the extremities of this façade are marked by pilasters. Adjacent, on the N.E., is an 18th-century range, originally a stable or coach-house, but now incorporated in the dwelling; the rubble walls retain traces of former coachhouse doorways.
(10) House (75542463), of two storeys with attics, with ashlar and rubble walls and with a tile-covered roof, is of the early 19th century. The N. front is symmetrical and of three bays, with a central doorway and with square-headed sashed windows.
Minor buildings of the late 18th and early 19th century, with rubble walls and generally with thatched, tiled or slated roofs, are dispersed in the parish, as follows: Cottage (76612648); Cottage (76542620), now two tenements; Cottages (76542615), two adjacent, that on the E. being the earlier, now combined as one dwelling; Cottage (76542611); Cottage (76512613); Cottages (75892554), two adjacent; Cottage (76312540), with a symmetrical S. front of two bays with a central doorway; Cottage (76442540); Cottages (76962470), pair; Cottage (76292436); House (75342467); Cottages (75332469), pair; Cottage (75302470), adjacent to the foregoing.
Mediaeval and Later Earthworks
(11) Cultivation Remains. Little is known of the enclosure of the open fields in the parish. Pelsham Farm (3), which appears to lie within the area of the open fields, was in existence in 1641 (Hutchins IV, 116) and some enclosure, if not all, presumably had been effected by that date. Ridge-and-furrow of the open fields, arranged in interlocking furlongs of curved and reversed-S type, exist all over the S. and E. of the parish; in places it is associated with flat strips, slightly lyncheted (R.A.F. CPE/UK 1924: 2236 and 4235–7).