Page 156
An Inventory of the Historical Monuments in Essex, Volume 2, Central and South west. Originally published by His Majesty's Stationery Office, London, 1921.
This free content was digitised by double rekeying and sponsored by English Heritage. All rights reserved.
54. LITTLE ILFORD. (B.e.)
(O.S. 6 in. lxxiii. N.E.)
Little Ilford is a parish and suburb of London adjoining E. Ham on the N.
Ecclesiastical
(1). Parish Church of St Mary the Virgin stands in the S. part of the parish. The walls are probably of flint-rubble but are covered with plaster or cement. The roofs are covered with slate. The Nave was built probably early in the 12th century and the lower part of the Chancel walls may be of the same date. The bell-turret is of uncertain date. In 1724 the chancel was almost entirely re-built and the North Vestry (or Lethieullier Chapel) and South Porch added.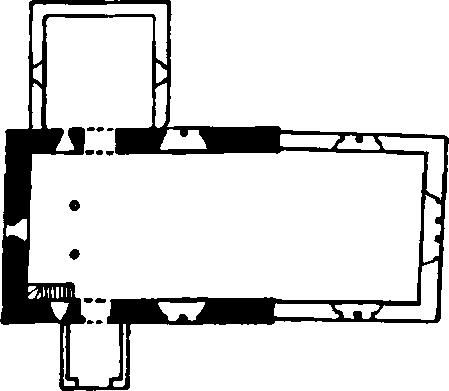 Architectural Description—The Chancel (19½ ft. by 19¾ ft.) is of 1724 except the lower part of the walls which are cement rendered. There is no chancel-arch.
The Nave (32½ ft by 19 ft.) has in the N. wall two windows, the eastern is of the 18th century; the western window is of early 12th-century date and of a single round-headed light; it now opens into the vestry; between the windows is the N. doorway probably of 12th-century date with a semi-circular rear-arch; the segmental head is probably of later date. In the S. wall are two windows and a S. doorway uniform with those in the N. wall except that the western window has been widened and altered. In the W. wall is a 12th-century window with the opening widened, probably in the 18th century.
Fittings—Brasses: In nave—on N, wall, (1) of Thomas, son of Sir John Heron, 1517, with figure of schoolboy with inkhorn and pen-case; (2) of William, 1614, and Anne, 1630, children of Barnard Hyde with figure of swaddled infant and woman with ruff, lace collar, etc. Door: to cupboard under gallery, panelled with moulded styles, early 17th-century. Glass: In vestry—in E. window, shield of France modern and England quarterly flanked by a Tudor rose and a red rose both crowned, late 15th-century; small panel of the Deposition, a damaged shield and fragments, 16th and 17th-century. Monuments: In chancel on N. wall (1) of William Waldegrave, 1610, and Dorothy (Conyers) his wife, 1589, white and coloured marble wall-monument (Plate p. 251) with man and woman at prayer-desk, under double arched canopy flanked by pilasters with obelisks in front and supporting an entablature and cresting; below main figures, smaller kneeling figures of three sons and four daughters, cartouche and three shields of arms; (2) to Francis Osbaston, 1678, and Henry and Francis, his infant sons, tablet of white veined marble with Corinthian pilasters, segmental pediment and achievement of arms.
Condition—Good.