Pages 250-252
An Inventory of the Historical Monuments in Essex, Volume 2, Central and South west. Originally published by His Majesty's Stationery Office, London, 1921.
This free content was digitised by double rekeying and sponsored by English Heritage. All rights reserved.
99. WEST HAM. (B.f.)
(O.S. 6 in. (a)lxxiii. S.W. (b)lxxiii S.E.)
West Ham is a parish and suburb of London on the left bank of the River Lea. The Church is an important monument.
Ecclesiastical
b(1). Parish Church of All Saints stands near the middle of the parish. The walls are of ragstone and flint-rubble, partly faced with modern brick; the tower and dressings are of Reigate stone, and the N. chapel of red brick. The roofs are tiled. The clearstorey of the Nave is of late 12th-century date, but was shorter than the existing nave. C. 1240 the N. and S. arcades of the nave were re-built of five bays; at this period the church included a crossing and probably transepts. C. 1400 this crossing was pulled down and the nave arcades continued E. on its site, re-using much of the materials of the former transept arches; about the same date the West Tower was added and the W. responds and half the W. arches of the arcades re-built; the chancel-arch is of the same period, and the N. arcade of the Chancel a little later. The South Chapel with its arcade was built late in the 15th century and probably incorporating earlier material; and the North Chapel was re-built c. 1550. There is no existing evidence of the date of the North and South Aisles, but they were probably re-built in the 15th century. Early in the 19th-century the S. aisle, chapel and E. wall were refaced with brick, and the Vestries and South Porches are modern.
Architectural Description—The Chancel (43 ft. by 19 ft.) has a modern E. window. The mid 15th-century N. arcade is of three bays with four-centred arches of two hollow-chamfered orders; the first arch is of narrower span and less height than the others; the re-tooled octagonal columns have moulded capitals and bases, and the responds have attached half columns. The late 15th-century S. arcade is of three bays with four-centred arches of two hollow-chamfered orders; the columns and responds are similar to those on the N. but with differing mouldings; the W. respond has been cut away for a monument. The chancel-arch of c. 1400 is two-centred and moulded, the outer members continuous and the inner resting on attached shafts with moulded capitals and bases.
The North Chapel (44 ft. by 20 ft.) is of c. 1550 and has walls of red brick with blue-brick diapering. In the E. wall is a brick window of four four-centred lights in a four-centred main head with a moulded label. In the N. wall are three windows similar to that in the E. wall but of three lights. Further W. is a projecting rood-stair turret, refaced with brick and carried up above the parapet, c. 1550; internally, the two 15th-century doorways with four-centred heads are visible and are now blocked. In the W. wall is a 16th century two-centred arch of two chamfered orders.
The South Chapel (43 ft. by 19 ft.) has no ancient details, except the early 16th-century W. arch, which is four-centred and of two chamfered orders on the W. face and of three on the E. face; the arch is apparently of plastered brick.
The Nave (88½ ft. by 22 ft.) has N. and S. arcades of seven bays, of which the two eastern represent the former crossing and are of c. 1400, while the rest of both arcades is of c. 1240; the easternmost bay has a three quarter arch dying into the E. wall, and this and the next arch are of two hollow-chamfered orders, incorporating 13th-century voussoirs; the first two columns on the N. side are of larger stones than the rest; the remaining arches are two-centred and of two chamfered orders; all the columns are circular and have modern capitals, except the westernmost capital on the S. side, where part of the 13th-century capital remains; the bases are all restored; the W. responds are of c. 1400 and are octagonal with concave faces, moulded capitals and bases; the W. half of the W. arch on each side with the walling above were re-built c. 1400. The clearstorey on each side has the walling exposed, the small rubble indicating the extent of the 12th-century building; in this part of the wall are on each side three clearstorey windows, formerly with round rear-arches and now blocked.
The North Aisle (19 ft. wide) has no ancient detail, except the easternmost window in the N. wall, which is probably of late 15th-century date, and is of three cinque-foiled lights in a four-centred head, all modern externally; below the third window in this wall are traces externally of a former N. doorway.
The South Aisle (17 ft. wide) has no ancient features.
The West Tower (14½ ft. square) is of c. 1400 and of three stages with a moulded plinth, an embattled parapet and a stair-turret rising above the parapet. The two-centred tower-arch is moulded, the outer members continuous and the inner resting on attached shafts with moulded capitals and bases. The W. window is modern, except for the jambs. label and moulded splays, which are continued down to the floor; the W. doorway has moulded and shafted jambs, and four-centred arch in a square head with intersecting mouldings and traceried spandrels. A blocked doorway from the stair-turret and about 12ft. above the floor, indicates the former existence of a gallery at this level. The second stage has in the N., S. and W. walls a window of two cinque-foiled lights with tracery in a two-centred head, all partly restored. The bell-chamber has in each wall an original three-light window with mullions and intersecting tracery, probably of the 17th or 18th century, in a two-centred head.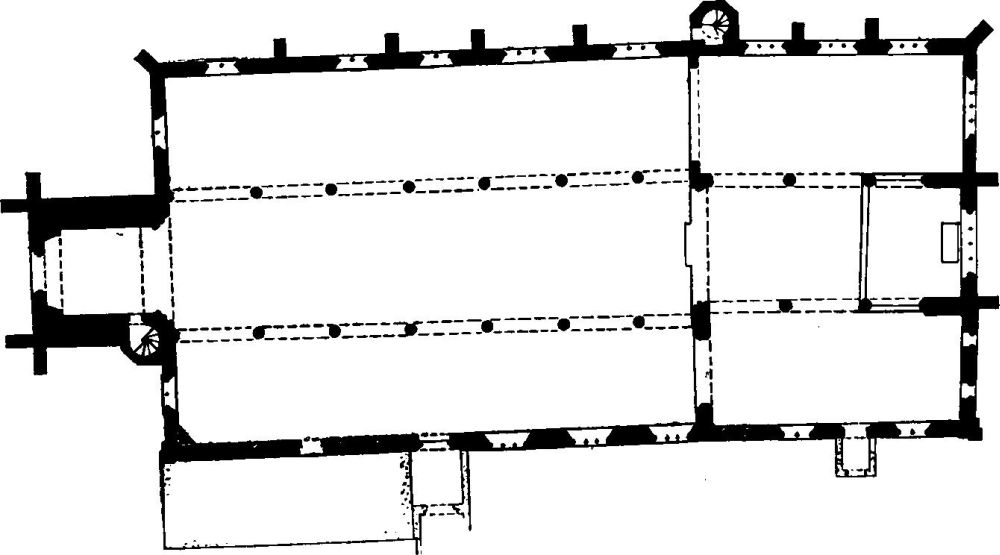 The Roof of the chancel is of c. 1500, and of three bays with moulded and cambered tie-beams and moulded wall-posts; the trussed rafters are ceiled. The roof of the N. chapel has early 16th-century moulded tie-beams. The roof of the nave is ceiled but has six late 15th-century chamfered tie-beams with wall-posts and curved braces; the wall-plates are moulded and the moulded stone corbels of the three W. bays are original. The N. aisle has 17th-century moulded wall-plates at the E. end and chamfered plates at the W. end; three of the tie-beams are probably of the 15th century and others of the 17th century. The S. aisle has double chamfered tie-beams with curved braces and double chamfered plate on the N. side only. One of the moulded corbels is probably of the 16th century.
Fittings—Brass and Indents. Brass: In nave —on S. respond of chancel arch, of Thomas Staples, 1592, plate with figures of man and four women in civil costume, and inscription-plate. Indents: In N. chapel—on N. wall; (1) of two figures with scrolls and Trinity, moulded stone label over slab, early 16th-century. In S. chapel—on E. wall, of inscription-plate. (See also Monuments.) Font: now on altar-tomb in N. chapel—plain octagonal bowl with rim, names of churchwardens, and date 1707. Monuments and Floor-slabs. Monuments: In chancel—on S. wall; (1) of John Faldo, 1613, mural monument with kneeling figure of man in round-headed recess with cornice, scrolls and shield of arms; (2) of Francis Faldo, 1632, John Fawcitt, 1625, and William and Anne, his children, 1636, wall-monument similar to (1) and with shield of arms. In N. chapel—against E. wall; (3) of Sir Thomas Foot, Bart., 1688, Lord Mayor of London, and Elizabeth, his wife, 1667, marble monument with moulded sarcophagus base surmounted by two round-headed niches with standing figures of man with mayoral chain and wife, enriched cartouche of arms, pediment and large urn with festoons; on N. wall, (4) of Capt. Robert Rooke, 1630, wall-monument with mutilated kneeling figures of man in plate armour and two wives, four sons and three daughters below, enriched pilasters at sides with round arch surmounted by cartouche of arms; under W. arch of chapel. (5) altar-tomb with moulded Purbeck marble slab having indent of figures of man, two wives and inscription plate, sides of tomb with quatre-foiled and cusped panels, enclosing shields, five held by angels, (a) an irradiated half figure in a dalmatic (perhaps for the Mercers' Company, (b) a Y-shaped charge (perhaps for the See of Canterbury), (c) parted palewise of three pieces the See of Canterbury, St. Thomas, and the Brewers' Company, but with single garbs, (d) a covered cup between two buckles in chief and two leopards' faces in base, for the Goldsmiths' Company, (e) a cross cut off at the ends with a sword erect in the first quarter and a flesh-hook (?) in each of the other quarters, (f) a cross cut off at the ends between three tuns and four garbs, (g) a cheveron between a tun and two garbs in chief and a maltsters' shovel and two tuns in base, probably for a provincial Brewers' Company; (h) as (d), (i) as (c); (j) Brewers' Company (with single garbs); late 15th-century. In S. chapel —on N. wall, (6) of William Fawcit, 1631, and his wife, and William Toppesfield, her second husband, marble wall-monument with kneeling figures of man and wife at prayer-desk in a round-headed recess, and below, reclining figure of man holding book, recess flanked by Corinthian columns and with entablature, broken pediment and three shields of arms; at W. end, (7) of Elizabeth, 1698, Amhurst, 1709, Eleanor, 1710, Annabell, Anne, Nicholas, and William, children of Nicholas and Eleanor Buckeridge, with later inscription to the parents who died 1724 and 1727 respectively; marble monument with kneeling figures of parents and a cornice above similar figure of one daughter, flanked by four busts of infants. In S. aisle—on S. wall, (8) to Nicholas Avenant, 1599, slab; (9) to Henry Colchester, 1700–1, and Penelope, his wife, 1719 marble tablet with shield of arms. In church-yard—E. of church, (10) to Richard Gregorie, 1658, Dorothy, his wife, 1678, and William and John their children, table-tomb with shield of arms. N. of church—(11) to Godfrey Richards, 1702, slab with defaced shield; (12) headstones to George Greaves and William Hilton, early 18th-century. Floor-slabs: In S. chapel—(1) to James Wittewrongle, 1622; (2) to Jane (Smythe), wife of John Pyott, 1684, with shield of arms; (3) to William Tuder, 1653, Elizabeth, his wife, 1654, Elizabeth Clarke, 1654, and William their children; (4) to Mary Batailhey alias Shirley, 1702, with lozenge of arms; (5) to Capt. Zachariah Taylor, 1710, Elizabeth, his wife, 1711, and Priscilla, his daughter, 1698. In nave—(6) to William Wright, 1683, Mary, his wife, 1688, John, 1704, and Richard, 1713, their sons. In N. aisle—(7) to William Millington, Jane, his wife, Henry and Susanna, their children, all 1683; also to Daniel Ingole, 1697, and Katherine (Millington), his wife, 1689. Plate: includes a flagon, cup with cover-paten and two patens, all of 1693, and given in the same year; flagon has shield of arms. Miscellanea: In tower—on N. wall, carved stone with trefoiled head and below, four hutches filled with skulls, early 16th-century, said to have come from site of Stratford Abbey.
Condition—Good, much altered, stonework of tower, much perished.
a(2). Remains of Stratford Langthorne Abbey, 700 yards S.W. of the parish church. The Abbey was founded in 1135 for monks of the order of Savigny, which subsequently became Cistercian. The remains consist of a two-light 13th-century window with shouldered heads, built into a modern wall opposite the Adam and Eve Public House, and two capitals of columns in the yard of the public house itself. The former moat has now been entirely obliterated.
Condition—Fragments only.
Secular
b(3) House, two tenements (34 and 36 West Ham Lane), S. of the parish churchyard, is of two storeys with attics. The walls are timber-framed and boarded and the roofs are tiled. It was built about the middle of the 17th century. In front, the upper storey projects and the boarding is imitative of rusticated ashlar. The original central chimney-stack is of cross-shaped plan. Inside the building the late 17th-century staircase has turned and twisted balusters, close string and square newels.
Condition—Poor.