Pages 55-56
An Inventory of the Historical Monuments in Essex, Volume 2, Central and South west. Originally published by His Majesty's Stationery Office, London, 1921.
This free content was digitised by double rekeying and sponsored by English Heritage. All rights reserved.
20. DAGENHAM. (C.f.)
(O.S. 6 in. (a)lxvi. S.W. (b)lxxiv. N.W. (c)lxxiv. N.E. (d)lxxiv. S.W. (e)lxxiv. S.E.)
Dagenham is a village and extensive parish adjoining Barking and Ilford on the E.
Ecclesiastical
c(1). Parish Church of S.S. Peter and Paul stands in the village. The walls are of rubble, covered with cement; the dressings are of limestone and the roofs are covered with tiles and slates. The Chancel was built early in the 13th century. The North Chapel is mentioned as new in a will of 1475. The Nave and West Tower were re-built between the years 1800 and 1805.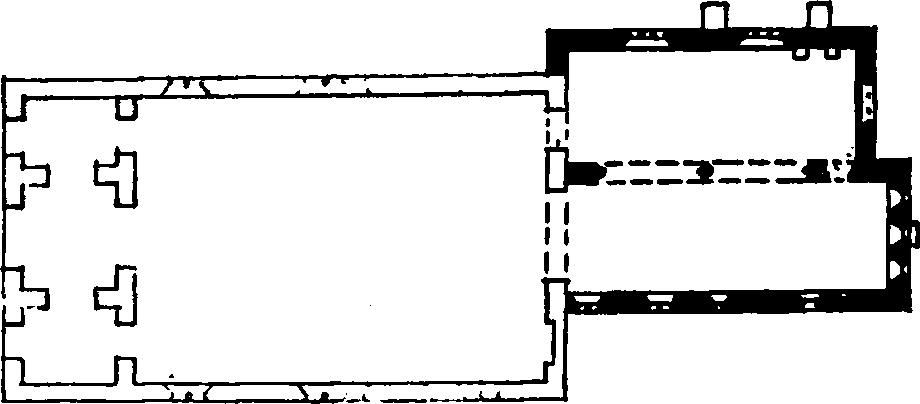 Architectural Description—The Chancel (40½ ft. by 14 ft.) has in the E. wall three early 13th-century lancet windows, covered with cement externally and internally. In the N. wall is a late 15th-century arcade of two bays with moulded four-centred arches; the column has four attached shafts with moulded capitals and bases, and the responds have each one similar attached shaft; further E. is a modern doorway. In the S. wall are four windows; the two eastern are lancet windows, entirely restored; the third window is of the 15th century and of two lights, with the former cinque-foiled cusping cut away; the westernmost window is similar to the third, but has restored heads. The chancel-arch is modern.
The North Chapel (36 ft. by 14 ft.) is of late 15th-century date with an embattled parapet, except the E. wall, which is of the 18th century. It has no other ancient features.
Fittings—Altar: In chancel—stone slab with chamfered under edge and two consecration crosses. Brasses and Indent. Brasses: see Monuments. Indent: In chancel—of figure of priest or woman with scroll and marginal inscription. Chest: In N. chapel—heavily bound with iron, three hasps and staples, 17th-century. Door: In doorway of N. chapel—of nail-studded battens with strap-hinges, probably late 17th-century. Funeral Helms: In chancel—on N. wall, with gauntlets and sword; on S. wall, helm and gauntlets, all 17th-century. Monuments and Floor-slabs. Monuments: In chancel—on N. side, (1) of [Sir Thomas Urswyk, 1479, chief baron of the exchequer and recorder of London], plain altar-tomb with moulded slab, brass figure of man in judicial robes, but without coif or hood, and woman in butterfly head-dress, etc., feet on dog; two shields of arms; (a) quarterly 1 and 4 on a bend, three lozenges, for Urswik, 2 and 3 a bend engrailed between two . . . .? impaling a cheveron between three crosslets; (b) the impaled coat of (a); group of nine daughters, one of them habited as a nun and two in butterfly head-dress, indents of two shields, group of four sons and marginal fillet; (2) on S. wall, to Jacob Uphill, 1662, and Ann, his wife, 1667, white marble tablet, erected in 1707. In N. chapel—on E. wall, (3) to James Harvy, 1627, alabaster tablet with carved frame, black marble Corinthian side-columns, cornice and three shields of arms; on N. wall, (4) to Jonathan Lloyd, 1652, oval tablet with alabaster frame and achievement of arms; (5) of Sir Richard Alibon, 1688, justice of the King's Bench, large marble monument with standing figures of man in judicial robes, and wife, urn and shield of arms. In churchyard—(6) to Thomas Witham, 1646, and Bridget, his wife, 1655, table-tomb with panelled sides; (7) to Captain Richard Comyns, 1700, table-tomb with shield of arms. Floor-slabs: In N. chapel—(1) to Mary, daughter of Michael Thompson, 1687–8; (2) to Thomas Bonham, 1676, and Anne, his wife (?), 1678, with two shields of arms; (3) to Dr. Thomas Comyns, 1656, with shield of arms. Piscina: In chancel— with two-centred head, Purbeck marble sill and quatre-foiled drain, 13th-century, restored. Plate: includes egg-shaped cup of 1589 (York marks), engraved bands and pendants of fruit, fluted knop to stem and trumpet-shaped base; stand-paten of 1678, and large cup of same date, with marks defaced. Screen: In N. chapel—parclose with middle post and five bays on each side with four-centred heads and moulded mullions, moulded top and chamfered middle rails, close lower panels, early 16th-century, two bays removed for modern door.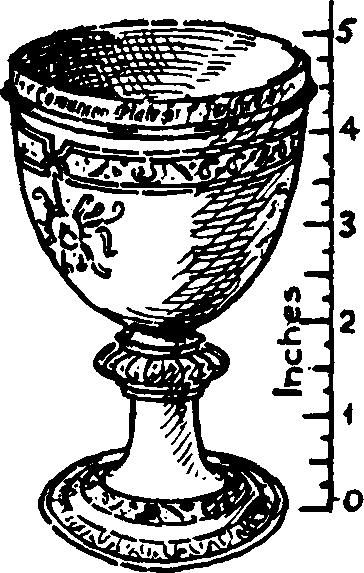 Condition—Good, much altered.
Secular
b(2). Homestead Moat, at Valence House, 1¾ m. N.W. of the parish church.
Monuments (3–12).
The following monuments, unless otherwise described, are of the 17th century and of two storeys, timber-framed and plastered or weather-boarded; the roofs are tiled or thatched. Several of the buildings have original chimney-stacks and exposed ceiling-beams.
Condition—Good or fairly good, unless noted.
e(3). Cross Keys Inn, 20 yards N.W. of the parish church, was built probably in the 15th century with a central Hall and cross-wings at the E. and W. ends. The upper storey projected at the S. end of both cross-wings, but in the E. wing it has been under-built. On the N. side of the Hall, at the E. end is an original doorway, with a four-centred head. Inside the building, the Hall has an original moulded ceiling-beam and in the roof is a cambered tie-beam with the mortice for a former king-post.
e(4). Vicarage, 40 yards N.N.E. of the parish church, is of two storeys with attics. The middle portion at the back of the house is probably of early 17th-century date, but the front part was re-built in 1665, the date on the gable of porch. There are modern additions on the E. and W. Inside the porch is a late 17th-century pavement of black and white squares.
e(5). Eastbrooks Farm, cottage, two tenements, 760 yards N.W. of the parish church. The upper storey projects on the W. side.
c(6). Eastbrook Farm, house, about 1¼ m. N. by W. of the parish church.
c(7). Cottage, two tenements, 550 yards W. of (6).
d(8). Cottage, on S.W. side of Halbutt Street and about 1 m. N.W. of the parish church. The original central chimney-stack has a diagonal pilaster on each face.
d(9). Osborne's Farm, house, about 1¼ m. W.S.W. of the church, was built probably in the 16th century with a cross-wing at the E. end. The upper storey projects at the N. end of the cross-wing.
a(10). Padnall's Farm, house, about 3 m. N.N.W. of the parish church, incorporates part of a 16th-century house, with a projecting upper storey at the N. end. Inside the building is an original shaped wall-post.
a(11). Roselane Farm, house, 300 yards N. by W. of (10), was built in the 15th century with a cross-wing at the N. end. Late in the 16th century a porch was added on the W. side, and in the 17th century the roof of the main block was heightened. The gable of the porch has late 16th-century moulded barge-boards and a shaped pendant. The 17th-century chimney-stack is cross-shaped on plan.
a(12). Sheepcotes, house, 600 yards N.N.E. of (11), was built probably late in the 16th century, but there are extensive 18th-century and modern additions on the N., S. and W.