Page 19
An Inventory of the Historical Monuments in Essex, Volume 3, North East. Originally published by His Majesty's Stationery Office, London, 1922.
This free content was digitised by double rekeying and sponsored by English Heritage. All rights reserved.
13. CHAPEL. (B.c.)
(O.S. 6 in. (a)xvii. S.E. (b)xxvi. N.E.)
Chapel is a small parish and village on the River Colne, 5½ m. E.S.E. of Halstead.
Ecclesiastical
b(1). Parish Church (dedication unknown) stands at the N. end of the parish. The walls are of flint-rubble, covered with cement and the dressings are of clunch; the roofs are tiled. The church was consecrated in 1352 as a chapel-ofease to Great Tey and the Chancel and Nave are probably of this date. The South Porch was added probably in the 18th century. The building was restored in the 19th century when the North Vestry was added and the bell-turret added or rebuilt.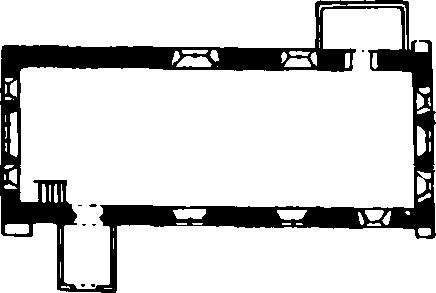 Architectural Description — The Chancel and Nave (53½ ft. by 18½ ft.) are structurally undivided. The mid 14th-century E. window is of two pointed lights with a quatrefoil in a two-centred head; on either side of it is a modern window. The N. wall has two modern windows and E. of them a modern doorway. In the S. wall are three windows, the easternmost is modern, the second is of the 15th century and of two cinquefoiled lights in a square head; the westernmost window is of mid 14th-century date and of two trefoiled lights with a quatrefoil in a two-centred head; the jambs and mullion are moulded; further W. is the N. doorway with a wooden frame and square head, probably of the 17th century. In the W. wall is a late 15th-century window of three cinquefoiled lights in a three-centred head with a moulded label and three modern windows.
Fittings—Door: In S. doorway—of oak battens with strap-hinges, 17th-century. Piscina: In chancel—with two-centred head and octofoiled drain, 14th-century. Plate: includes pewter flagon and plate, early 18th-century. Pulpit: semi-octagonal with panelled sides, upper panels fluted, carved and shaped brackets to book-rest, mid 17th-century. Reading-desk: with two arcaded panels carved with foliage and carved and shaped brackets to book-rest, mid 17th-century.
Condition—Good, but much ivy on S. wall.
Secular
Monuments (2–6).
The following monuments, unless otherwise described, are of the 17th century and of two storeys, timber-framed and plastered; the roofs are tiled. Some of the buildings have original chimney-stacks and exposed ceiling-beams.
Condition—Good, or fairly good.
a(2). Swan Inn, 130 yards N.E. of the church, has later and modern extensions at the back.
b(3). House, 50 yards E. of the church.
b(4). Hillhouse Farm, house, ¼ m. S. of the church.
b(5). Brook Hall, 120 yards S. of (4), was built probably in the 16th century with cross-wings at the E. and W. ends. The front has been faced with modern brick.
b(6). Pope's Farm, house, ¼ m. S.E. of (5), was built probably in the 15th century with crosswings at the N. and S. ends. There are two 17th-century additions on the W. side. Inside the building the main block and one cross-wing have original king-post trusses.
Clacton, see Great Clacton and Little Clacton.
Coggeshall, see Great Coggeshall and Little Coggeshall.