Pages 221-222
An Inventory of the Historical Monuments in Essex, Volume 3, North East. Originally published by His Majesty's Stationery Office, London, 1922.
This free content was digitised by double rekeying and sponsored by English Heritage. All rights reserved.
88. TOLLESHUNT KNIGHTS. (C.e.)
(O.S. 6 in. xlvi. N.W.)
Tolleshunt Knights is a parish with a small village at Tiptree, 6 m. N.E. of Maldon.
Roman
(1). Possibly a Roman house stood near Barne Walden, now called Barn Hall, N.E. of the church, where Morant records that "Roman pavements were dug up near it some years ago several feet under ground." Nothing more is known of this find. (Morant, Essex, 1768, I, 393; hence Gough's Camden's Britannia, 1789, II, 53; Essex Arch. Soc. Trans., O.S., I, 199.) (See also Tollesbury (1) and Sectional Preface, p. xxvii.)
Ecclesiastical
(2). Parish Church of All Saints stands near the middle of the parish. The walls are plastered except in one place where pudding-stone is visible the dressings are of limestone and the roofs are tiled. The proportions of the Nave and the thickness of the walls indicate a 12th-century building but none of the details are earlier than the 15th century. The Chancel was rebuilt in the 13th or 14th century. The South Porch was added late in the 16th or early in the 17th century. The church was extensively restored in the 19th century.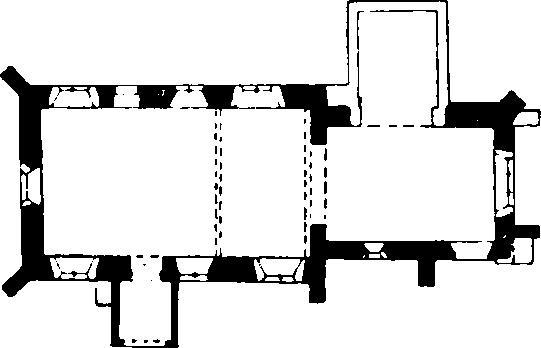 Architectural Description—The Chancel (23 ft. by 16 ft.) has no ancient features in the E. or N. walls. In the S. wall is a lancet-window completely restored and E. of it is part of a square-headed window with a 14th-century moulded label and defaced stop, now blocked. The chancel-arch is probably of the 15th century and is two-centred and of two hollow-chamfered orders dying on to the hollow-chamfered responds.
The Nave (37 ft. by 20 ft.) has in the N. wall three windows; the easternmost and westernmost are modern; the middle window is of the 15th century and of two cinquefoiled lights in a square head with a moulded label; W. of it is the 15th-century N. doorway, now blocked and with moulded jambs, two-centred arch and label; the shafted splays have moulded capitals. In the S. wall are three windows similar in date and details to the corresponding windows in the N. wall; between the two western is the 15th-century S. doorway partly restored and with moulded jambs, two-centred arch and moulded label with headstops of two bishops. In the W. wall is a modern single-light window with splays and two-centred rear-arch possibly of the 13th century.
The South Porch is of modern timber-framing set on dwarf brick walls of late 16th or early 17th-century date.
The Roof of the chancel incorporates some 15th or 16th-century timbers. The roof of the nave has two late 15th-century moulded tie-beams with curved braces and straining-beams. The roof of the S. porch incorporates some old timbers.
Fittings—Bells: two; said to be 1st by Miles Graye, 1664; 2nd by Richard Bowler, 1595. Door: In N. doorway—of overlapping battens and strap-hinges, probably 15th-century. Font: In chancel—square tapering bowl, of Barnack stone, sides each with two square traceried panels; late 14th-century panelling probably cut on earlier bowl. Monument: In chancel—in N.E. angle, mutilated stone effigy of man in armour with bascinet, camail with a series of lappets each with a crescent on it, surcoat and sword-belt, head on helm, hands holding heart, c. 1380, legs and arms broken off and figure much scratched and defaced. Piscina: In chancel—with chamfered and rebated jambs and two-centred head, 13th-century. Miscellanea: In nave—set in wall over haunch of chancel-arch, carved head on a moulded bracket, probably 15th-century.
Condition—Good, much restored.