Pages 1-2
An Inventory of the Historical Monuments in Essex, Volume 4, South east. Originally published by His Majesty's Stationery Office, London, 1923.
This free content was digitised by double rekeying and sponsored by English Heritage. All rights reserved.
AN INVENTORY OF THE ANCIENT AND HISTORICAL MONUMENTS IN SOUTH-EAST ESSEX. ACCREDITED TO A DATE ANTERIOR TO 1714,
arranged by Parishes.
(Unless otherwise stated, the dimensions given in the Inventory are internal. Monuments with titles printed in italics are covered by an introductory sentence, to which reference should be made. The key plans of those churches which are not illustrated by historically hatched plans are drawn to a uniform scale of 48 ft. to the inch, with the monumental portions shown in solid black.)
1. ALTHORNE. (F.b.)
(O.S. 6 in. lxii. S.E.)
Althorne is a parish on the left bank of the Crouch, 3 m. N.W. of Burnham. The church is the principal monument.
Ecclesiastical
(1). Parish Church of St. Andrew stands towards the W. side of the parish. The walls are of flint and stone-rubble, those of the chancel are of brick; the dressings are of limestone and brick and the roofs are tiled. The Nave was built probably late in the 14th century. Early in the 16th century the Chancel was re-built. About 1500 the West Tower was added. The church has been restored in modern times. The South Porch is probably of the 18th century. Among the fittings the font is noteworthy.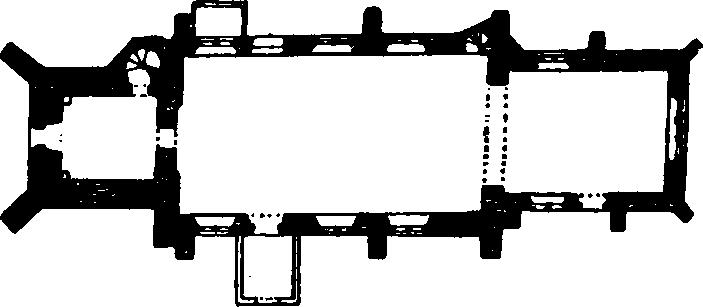 Architectural Description—The Chancel (20¾ ft. by 15¾ ft.) has a modern E. window. In the N. wall is a much restored early 16th-century window of two cinque-foiled lights with vertical tracery in a square head with a moulded label, all covered with cement. In the S. wall is a similar window and further E. is a doorway of the same date, also covered with cement and with moulded jambs and four-centred arch. The chancel-arch is modern except for the stone responds which are possibly of the 14th century.
The Nave (38¼ ft. by 20 ft.) has in the N. wall three windows, the two eastern are of 15th-century date, partly restored, and each of two trefoiled lights in a four-centred head with a moulded label; the western window is of late 15th-century date, partly restored, and of two pointed lights in a square head with a moulded label; the heads of all three windows have been re-built; between the two western windows is the late 14th-century N. doorway with moulded jambs and two-centred arch; it is now blocked; at the E. end of the wall are the late 15th or early 16th-century upper and lower doorways to the rood-loft staircase, which is enclosed in a projection; the upper doorway has a segmental-pointed head. In the S. wall are three windows uniform with those in the N. wall; the late 14th-century S. doorway has moulded jambs and a four-centred arch.
The West Tower (12 ft. by 10¾ ft.) is of c. 1500 and of three stages with an embattled parapet, enriched with flint-inlay in a trellis-work of ashlar. The two-centred tower-arch is of three chamfered orders, but has been filled in and the responds re-built. The W. window is modern; flanking it are two plain crosses in brick; the W. doorway has moulded jambs and segmental-pointed arch with a moulded label enriched with carved flowers. The S. and W. walls of the second stage have each a window with a trefoiled head and jambs carved with flowers. The bell-chamber has in each wall a window of two cinque-foiled lights under a four-centred head with a moulded label, some partly broken away.
Fittings—Bells: two; 1st by Thomas Harrys, late 15th-century and inscribed "Vox Augustine Sonet in Aure Dei"; 2nd by Miles Graye, 1638. Brasses: In nave—(1) of William Hyklott, 1508, " which paide for the werkemanship of the wall' of this churche," figure in civil costume, Trinity and indents of two children; (2) to Margaret Hyklott, 1502, figures of two daughters, one habited as a nun, a Virgin and child, indent only of main figure. Bracket: In nave—on splay of window, moulded bracket, 15th-century. Font (Plate, p. xlii–iii): octagonal bowl with sunk panels carved with figures—(a) baptism of a king, (b) man and woman, (c) king and queen, (d) seraph, (e) two men with scrolls, (f) martyrdom of St. Andrew, (g) two figures of men, moulded under-edge carved with angels, panelled stem, with two ranges of cusped panels divided by an embattled band, moulded base carved with square flowers, c. 1400. Inscription: On tower—above W. doorway, in blackletter, "+ Orate pro animabus dominorum Johannis Wylson et Johannis Hyll quorum animabus propicictur deus amen." Piscina: In nave—in S. wall, with rounded head and round drain, 15th-century. Plate: includes cup of 1599 with baluster stem. Sundial: On buttress on S. side of nave scratched sundial.
Condition—Of tower, bad.
Secular
(2). Homestead Moat at Warner's Farm, 400 yards E.S.E. of the church.
(3). Cottage, 170 yards S. of the church, is of two storeys, timber-framed and weather-boarded; the roofs are tiled. It was built probably in the 16th century with a cross-wing at the E. end. Inside the building are exposed ceiling-beams.
Condition—Fairly good.