Pages 158-159
An Inventory of the Historical Monuments in Essex, Volume 4, South east. Originally published by His Majesty's Stationery Office, London, 1923.
This free content was digitised by double rekeying and sponsored by English Heritage. All rights reserved.
93. THUNDERSLEY. (E.c.)
(O.S. 6 in. lxix. S.E.)
Thundersley is a parish about 6 m. W.N.W. of Southend-on-Sea. The church is the principal monument.
Ecclesiastical
(1). Parish Church of St. Peter stands near the middle of the parish. The walls are of ragstone-rubble with some flint, Roman brick, puddingstone, etc.; the dressings are of limestone; the roofs are tiled. The Chancel is of uncertain date. The Nave, with North and South Aisles, was built c. 1200. The Bell-turret was added in the 15th century. The South Porch was added in the 18th century. The church has been restored in modern times, when the chancel was largely re-built and the Organ Chamber added.
The arcades of the nave have interesting early 13th-century foliage.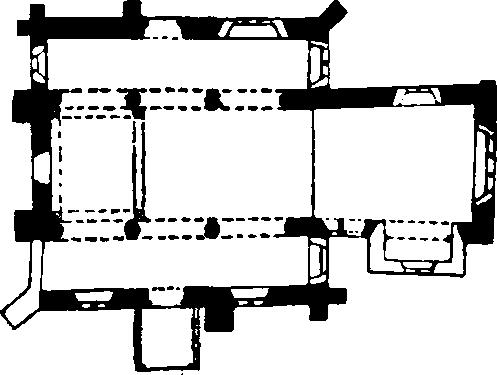 Architectural Description—The Chancel (19½ ft. by 15 ft.) has modern E. and N. windows. In the S. wall is a round-headed doorway and a square-headed single-light window, all covered with cement but probably old. There is no chancel-arch.
The Nave (35 ft. by 14 ft.) is of early 13th-century date, and has N. and S. arcades of three bays with two-centred arches of two hollow-chamfered orders; the columns and responds are alternately round and octagonal, with moulded capitals (Plate, p. 161) carved with conventional foliage of various designs and moulded bases. The 15th-century W. window is of three cinque-foiled lights with vertical tracery in a two-centred head with a moulded label; below it is a 15th-century doorway with chamfered jambs and three-centred arch and now blocked. The bell-turret at the W. end of the nave is of the 15th century, and stands on four oak posts with braced cross-beams and added uprights.
The North Aisle (6½ ft. wide) has three modern windows. The 14th-century N. doorway has chamfered jambs and two-centred arch.
The South Aisle (6¼ ft. wide) has a modern E. window. In the S. wall are two 15th-century windows, partly restored, and each of two trefoiled lights in a square head with a moulded label; between is a doorway entirely covered with modern cement.
The South Porch is modern, but incorporates some old timbers.
The Roof of the nave is of the 15th century and of the braced collar-beam type with two king-post trusses; the soffit of the E. tie-beam is grooved for a former boarded tympanum. The roof is continued down over the aisles.
Fittings—Bells: two, inaccessible, but said to be 1st uninscribed; 2nd by Robert Mot, 1588. Font: octagonal bowl with quatre-foiled panels enclosing square flowers, of doubtful antiquity. Funeral-helm, etc. In nave—on S. wall, helm, 16th or early 17th-century, and sword, later. Glass: In S. aisle—in S.E. window, two quarries with conventional ornament and fragments of tabernacle work, foliage, etc., 15th-century. Plate: includes cup with band of engraved ornament and cover-paten of 1569. Miscellanea: In N. aisle— moulded bracket or corbel, 13th-century, and another fragment not in situ.
Condition—Good.
Secular
Monuments (2 and 3).
The following monuments are of two storeys and of the 17th century. Both have exposed ceiling-beams and tiled roofs.
Condi tion—Good.
(2). House, now three tenements, at junction of roads nearly ½ m. E. of the church, is of weather-boarded timber-framing. It is of the central-chimney type with modern extensions; the chimney-stack is original.
(3). Great Wyburns, house, 1¾ m, E. of the church, is of plastered timber-framing. It was built on an L-shaped plan with the wings extending towards the N. and W., but has been much altered and added to.
Thurrock, see Grays Thurrock, Little Thurrock and West Thurrock.
Tilbury, see East Tilbury and West Tilbury.