Pages 16-17
An Inventory of the Historical Monuments in Essex, Volume 4, South east. Originally published by His Majesty's Stationery Office, London, 1923.
This free content was digitised by double rekeying and sponsored by English Heritage. All rights reserved.
9. BULPHAN. (C.d.)
(O.S. 6 in. (a)lxxv. S.E. (b)lxxvi. N.W.)
Bulphan is a parish 5½ m. S.S.E. of Brentwood. The church is the principal monument.
Ecclesiastical
b(1). Parish Church of St. Mary stands towards the centre of the parish. The walls are of limestone and flint-rubble, modern brick and timber-framing. The Chancel, Nave, Belfry and South Porch are apparently of late 15th-century date but the church was very considerably repaired and partly re-built in the 19th century when the Vestry was added and the external walls were refaced so that little of the earlier building remains.
Amongst the fittings the screen, which is said to have been brought from Barking, is of interest.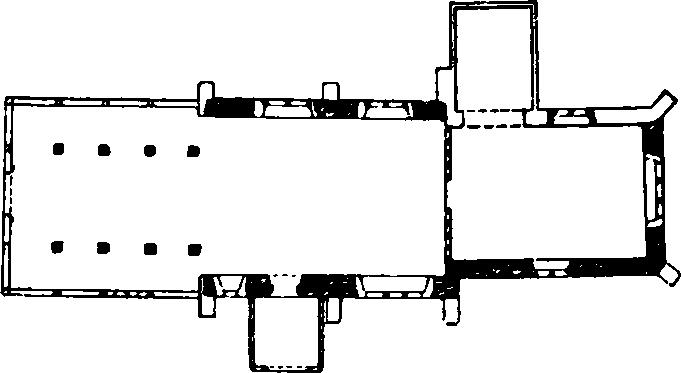 Architectural Description—The Chancel (25 ft. by 17¼ ft.) has in the E. wall a modern window. The N. wall is modern but incorporates a partly restored square-headed window of c. 1500 and of two trefoiled lights with a moulded label. In the S. wall, in the refacing of which some old material has been re-used, is a similar window. There is no chancel-arch.
The Nave (32 ft. by 20¼ ft.) has been largely re-built. Re-set in the N. wall are two square-headed windows of c. 1500 each of two cinque-foiled lights with a moulded label; externally only the head and labels are old. In the S. wall is a doorway of c. 1500 with hollow-chamfered jambs, four-centred head and moulded label; the W. jamb has been partly restored.
The Belfry (about 24 ft. square) at the W. end of the nave is enclosed within modern timber-framed and plastered walls standing on a brick plinth. It is a heavy timber structure supporting the bell-turret and is of late 15th-century date and divided by oak posts into four bays with side aisles; the curved cross-braces from N. to S. form wide two-centred arches and support the square framework of the modern turret. The N. and S. sides are divided horizontally by crossbeams with diagonal framing above; supporting the cross-beams to the two middle bays are curved braces forming arches into the aisles.
The South Porch (Plate, p. xxxix) is of c. 1500 and of timber-framing on a modern plinth. The entrance archway has moulded jambs and four-centred head with spandrels carved on both sides with symbols of the Evangelists. On either side the framing is moulded in the form of vertical panels; above is a moulded bressummer and a panelled gable with cusped barge-boards terminating at the apex in an ogee. The sides have each five lights with four-centred heads, traceried spandrels carved with foliage, and grotesques and moulded mullions. The roof is in one bay with a moulded tie-beam at either end supporting a king-post with moulded and curved braces carrying a moulded ridge-piece. Under the N. tie-beam are curved braces forming a four-centred arch with a Tudor rose and conventional foliage carved in the spandrels. The gable at the S. end is panelled and the rafters and wall-plates are moulded.
Fittings—Bell: one, uninscribed. Brass Indents: Outside W. doorway—(1) with traces of inscription-plate, probably 16th-century. At entrance to S. porch—(2) of civilian with inscription-plate, late 15th-century. Font: In churchyard, by lych-gate, circular stem with moulded edge. Plate: includes cup of 1650 and a pewter alms-dish, with shield-of-arms, 17th-century. Royal Arms: At W. end of nave—of Queen Anne, in wooden frame. Screen (Plates, pp. 4-5, 20): Between chancel and nave—of four bays, two on each side of the entrance, upper panels open with two-centred heads, each sub-divided into two trefoiled and sub-cusped lights with open traceried heads; middle rail moulded and embattled; close lower panels, moulded and having circular and triangular piercings with traces of colour in imitation of tracery on W. face; entrance with cusped and sub-cusped head and on S. side part of a carved eagle; main spandrels below cornice traceried on E. side and plain on W. side for fixing of former loft, 15th-century, slightly repaired and not in situ, cornice modern. Miscellanea: Brick panel on outside of S. wall of nave with date and initials in relief HWS 1686. Part of hollow-chamfered stone window-jamb by lych-gate, probably 15th-century.
Condition— Good, much altered.
Secular
Homestead Moats.
a(2). At Spring Farm, ¾ m. S.S. W. of the church.
b(3). N. of Noke Hall, nearly 1 m. E.N.E. of the church.
b(4). Garlesters, house, 700 yards W. of (3), is of two storeys with attics, timber-framed and plastered; the roofs are tilled. It was built probably in the 16th century. Inside the building some of the timber-framing is exposed.
Condition—Good.
b(5) Appleton's Farm, house (Plate, p. xxxv), 100 yards W. of (4), is of two storeys, timber-framed and plastered; the roofs are tiled. It was built in the 15th century with a central Hall and crosswings at the E. and W. ends. In the 17th century the Hall was divided into two storeys and late in the same century the E. wing was extended N. The upper storey projects at the S. end of both cross-wings, on curved brackets. There is a blocked window to the staircase with bar-mullions, set diagonally. The 17th-century W. chimney-stack has four grouped shafts, set diagonally. Inside the building the ceiling-beams are exposed. The Hall has an original king-post roof with moulded wall-plates. The king-post roof of the E. wing is also original.
Condition—Good.