Page 152
An Inventory of the Historical Monuments in Herefordshire, Volume 1, South west. Originally published by His Majesty's Stationery Office, London, 1931.
This free content was digitised by double rekeying and sponsored by English Heritage. All rights reserved.
36 KENDERCHURCH (C.c.).
(O.S. 6 in. XLIV, S.E.)
Kenderchurch is a small parish 10 m. S.W. of Hereford. The church is the principal monument.
Ecclesiastical
(1). Parish Church of St. Mary stands at the S.W. end of the parish on a small hill on the N.W. side of the Hereford-Pontrilas Road. The walls are of rubble with ashlar dressings of sandstone; the roofs are covered with stone slates. There is no definite evidence showing when the church was built, and though the font and incised slab in the churchyard are of 12th-century date the earliest structural detail is of the early 16th century. The church was restored in 1871 when the vestry and S. porch were added, the chancel-arch re-built, and modern windows inserted in all the walls except the S. wall of the nave.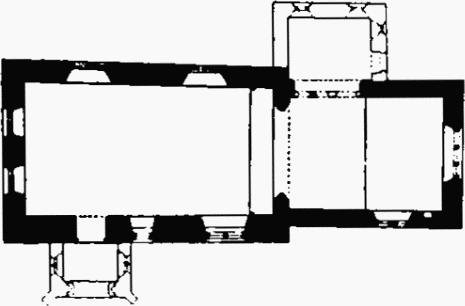 Architectural Description—The Chancel (20 ft. by 14¾ ft.) has a modern E. window, a modern doorway and modern arcaded window, opening into the vestry, in the N. wall, and a modern window in the S. wall. The chancel-arch and responds are also modern.
The Nave (32¼ ft. by 17 ft.) has in the N. wall two modern windows. In the S. wall are two square-headed windows of 16th or 17th-century date; the western is of a single light and the eastern of two lights, and both have shouldered lintels as rear-arches; the S. doorway is of early 16th-century date with stop-moulded jambs, four-centred head and shouldered internal lintel. In the W. wall are two modern lights with a quatre-foiled circle above. The W. wall is carried up in a modern bell-cote.
The Roof of the chancel is of barrel-form divided into rectangular panels by moulded ribs with carved rosettes at the intersections and has a moulded and embattled wall-plate; it is of 16th-century date, but the boarding and some of the rosettes are modern.
Fittings—Bell: in W. bell-cote—inscribed with Lombardic capitals, mediæval. Coffin-lids: in churchyard—(1) against E. wall of chancel, short and thick tapering slab with deeply incised cross, 12th-century or earlier; (2) with lower part broken off and missing and upper part carved with cross with geometrically designed head formed by segments of circles and on N. side two carved rings, and on S. side two segments of rings, 13th-century. Churchyard-cross: S.W. of church—with octagonal to square base with shaped stops at the angles and a round-headed niche in S. face, mediæval with modern step and shaft. Communion Table: of oak, with turned legs, moulded rails, with top rails with fluted decoration and supported by small shaped brackets, modern top; early 17th-century, patched and restored. Font: of sandstone with circular tapering bowl with projecting rim having top roughly incised with cheveron-ornament and hole for cover fastener, plain cylindrical stem and square to octagonal base, late 12th or early 13th-century. Piscina: in chancel, with chamfered jambs, ogee head and rectangular drain, 14th-century. Pulpit: (Plate 58) of oak, with three sides only, forming part of octagon on plan, each side in three stages, lowest forming base, and with sunk panel ornamented with circles with carved centres, middle stage with central panel on each side with semi-circular arched head on pilasters, these and angle-posts, all carved with guilloche enrichment and surmounted by dentil-cornice, upper stage similar to lower stage and with carved scroll frieze and modern brackets and shelf, early 17th-century on modern base re-arranged and incorporating modern work. Screen: (Plate 76) under chancel-arch, of oak, mostly modern but incorporating pieces of old work including moulded top rail, moulded cross-beam at head of cove, below former loft, carved with running vine-ornament, moulded side post on S. side supporting cross-beam and carved spandrel-pieces, late 15th-century. Stoup: in S. porch—E. of S. doorway, round-headed and with broken bowl, early 16th-century.
Condition—Good, largely restored.
Unclassified
(2). Mound, N.E. of Howton Farm and 1 m. N.E. of the church, is about 45 yards in diameter, with a flat top about 7 ft. above the surrounding ground. There are very faint traces of a ditch round the base.
Condition—Good.