Pages 166-167
An Inventory of the Historical Monuments in Herefordshire, Volume 1, South west. Originally published by His Majesty's Stationery Office, London, 1931.
This free content was digitised by double rekeying and sponsored by English Heritage. All rights reserved.
41 LLANDINABO (D.c.).
(O.S. 6 in. XLV, S.E.)
Llandinabo is a small parish, 6 m. N.W. of Ross. The church is the principal monument.
Ecclesiastical
(1). Parish Church of St. Dinebo stands in the middle of the parish. The walls are of local sandstone with ashlar dressings of the same material; the roofs are tiled. The font and a coffin-lid against the outer wall of the vestry are of the 13th century, but modern restorations have entirely destroyed all evidence of the date of the structure itself. In 1881 the outer walls were entirely recased, the inner walls plastered, the W. wall was entirely re-built as were also all the old windows, the old W. gallery was removed and the roofs were repaired and retiled. At the same time the North Vestry, the North Aisle, and the South Porch were added; the West Bell Turret is also modern.
Among the fittings the early renaissance screen is noteworthy.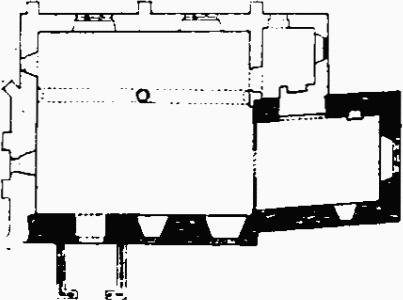 Architectural Description—The Chancel (16¼ ft. by 11 ft.) retains no old features, but has in the N. wall a blocked round-headed arch, probably mediæval, but with the dressings now covered with plaster.
The Nave (28 ft. by 14¼ ft.) has no ancient features.
The Roof of the chancel is of braced collar-beam type of mediæval date. The roof of the nave has curved braces to the rafters and is also probably of mediæval date; it has been repaired and has modern wall-plates.
Fittings—Bell: inaccessible. Brass and Indent: Brass: in chancel—on N. wall, to Thomas Tompkins, 1629, with figure of boy, clothed and wearing collar and tau-cross pendant, half submerged in circular pool of water, with, below, Latin inscription recording his death by drowning. Indent: in churchyard, S.W. of porch, stone slab partly hidden by turf with indent for small rectangular brass. Coffin-lid: in churchyard —against E. wall of vestry, half buried in ground, with chamfered edge and upper part of cross showing, with geometrical head of circle and intersecting segments in low relief, 13th-century. Font: octagonal bowl with curved underside, rounded moulding above stem and modern chamfered top, plain circular stem, 13th-century, on modern base and step. Monuments: in churchyard—S. of porch, (1) to Hannah (?) Kinersley, 1712, stone slab with decorations at corners; S.E. of the chancel; (2) to John Rogers, 1704, and Elizabeth his wife, 1705, stone slab with moulded edge; (3) to John, second son of John Rogers, 1699–1700, similar to (2) with Latin inscription; (4) to Edward, son of John Rogers, 1705, stone slab with moulded edge. Plate: includes a cup of late 17th-century character, but without date-letter and with inscription recording gift to the parish in 1728. Pulpit: of modern construction but incorporating moulded framing and carved panelling with pilasters and round arch 'motif' enriched with guilloche pattern, lower panels with arabesque ornament, early to mid 17th-century. Recess: in chancel—in N. wall, with round head, old but now covered with plaster. Screen: (Plate 171) between the chancel and nave, of early renaissance character with four panels on the N. side and five panels on S. side of lower part of central opening, each pierced with trefoil-headed slits and set in moulded framing; upper part divided on either side of central opening into three bays by richly carved shafts; each side bay with semi-circular trefoiled arch with cusped spandrels in square head, and cusps of trefoils extended in conventional clusters of grapes and scroll-like foliage; in square head of central opening, band of pierced foliated scroll-work with carved head in circle, in middle supported by two mermaids; elaborately carved and moulded cornice with inverted brattishing to lower part, bands of carved rope 'motif' above surmounted by carved frieze of dolphins, angels, grotesque faces and a mermaid; c. 1520–30, and incorporating some modern work in lower panels.
Condition—Good, much restored.
Secular
(2). Llandinabo Farm, house and barn, a few yards N.W. of the church. The House has been re-built, but incorporates a late 17th-century staircase with moulded and turned balusters and moulded handrail; at the ground-floor level is a "dog-gate" which appears to have been made up from early 17th-century communion railing.
The Barn incorporates two 17th-century doors, studded with flat-headed nails and having heavy strap-hinges.
Condition—Good.