Pages 24-25
An Inventory of the Historical Monuments in Herefordshire, Volume 1, South west. Originally published by His Majesty's Stationery Office, London, 1931.
This free content was digitised by double rekeying and sponsored by English Heritage. All rights reserved.
9 BOLSTONE (E.c.)
(O.S. 6 in. XL, S.W.).
Bolstone is a small parish 5 m. S.S.E. of Hereford. The church is the principal monument.
Ecclesiastical
(1). Parish Church (dedication unknown), stands at the E. end of the parish. The walls are of local sandstone with dressings of the same material; the roof is covered with slates. The church, consisting of Chancel and Nave, was built in the 12th century, but in 1877, it was very largely re-built, except for parts of the E. and W. walls, and the South Porch added.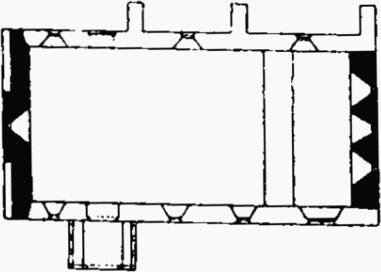 Architectural Description—The Chancel and Nave (41 ft. by 19¾ ft.) are structurally undivided. In the E. wall are three round-headed windows, the middle one being set high in the wall; all have been completely restored. In the N. wall are three modern windows, incorporating some old stones; the re-set N. doorway is of late 12th-century date, and has chamfered jambs, round arch, grooved and chamfered imposts and a chamfered label with dragon-headstops, and a grotesque head at the apex; the doorway is blocked and much of the work has been restored. In the S. wall are four windows, one modern and the others partly restored; the easternmost is of the 14th century, and of two cinque-foiled lights with a quatre-foiled spandrel in an ogee head; the second window is of late 13th-century date, and of one trefoiled light; the third window is modern; the westernmost window is a small 13th-century lancet-light; the S. doorway is modern. The W. wall sets back externally at the eaves-level, except in the middle, where it is carried up to support the modern bell-cote; in it is a window of one trefoiled light, partly of 13th or 14th-century material.
Fittings—Cross: In churchyard—square stone base of churchyard cross with splayed angles; lower part of shaft roughly cut, cruciform on plan and inscribed T.W., J.M., C.W. 1701. Font: (Plate 39) octagonal bowl with moulded under-edge, each face with two trefoiled arches, three of which enclose a rose, thistle and fleur-de-lis respectively, octagonal stem with moulded capping and base, and each face with a plain pointed panel, probably early 17th-century. Plate: includes a cup of 1635 and a paten of the same maker; there is also a silver penny of Edward I, found when the church was restored.
Condition—Good, mostly re-built.
Secular
(2). Homestead Moat, in Trilloes Court Wood, 700 yards S.W. of the church.