Pages 241-242
An Inventory of the Historical Monuments in Herefordshire, Volume 1, South west. Originally published by His Majesty's Stationery Office, London, 1931.
This free content was digitised by double rekeying and sponsored by English Heritage. All rights reserved.
65 TURNASTONE (B.b.).
(O.S. 6 in. XXXVIII, N.W.)
Turnastone is a small parish, on the W. side of the Golden Valley, 10 m. W.S.W. of Hereford. The church is the principal monument.
Ecclesiastical
(1). Parish Church of St. Mary (Plate 4), stands at the extreme end of the parish. The walls and dressings are of local sandstone and the roof is covered with stone slates. The thick walls and the S. doorway indicate that the building is of fairly early, perhaps late 12th-century origin, but there is no detail work of this period. The windows are all of c. 1280–1300, and it is probable that the building, consisting of Chancel and Nave, was largely, if not entirely, reconstructed at this period. The bell-turret may be of the 16th or 17th century, but has no distinctive detail. The church has been restored in modern times and the Chancel and South Porch re-built.
The incised slab of 1522 is noteworthy.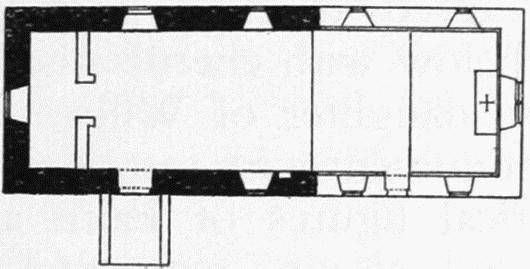 Architectural Description—The Chancel and Nave (60 ft. by 18 ft.) are structurally undivided. The late 13th-century E. window is of two lights with an original rear-arch; the external head has been removed and the window finished square at the springing level. In the N. wall are three late 13th-century windows each of a single trefoiled light; the two easternmost windows have been re-built and restored; the late 13th-century N. doorway has chamfered jambs and two-centred head, and has been partly blocked and partly fitted with a window. In the S. wall are three windows similar to the corresponding windows in the N. wall; the two eastern are completely restored, externally and between them is a 15th-century doorway, with chamfered jambs and four-centred head; the S. doorway has jambs and round arch of one roll-moulded order with moulded imposts and hollow-chamfered label; it is probably of early 13th-century date; across the end of the nave is a modern wall 6 ft. from the W. wall. In the W. wall is a window of one square-headed light with a modern external head and sill. The timber bell-turret over the W. end of the nave is a square weather-boarded construction with a pyramidal roof.
The Roof is of early 16th-century date and of wagonform, ceiled on the soffit and divided into panels by moulded ribs with carved bosses at the intersections, apparently all modern; there is a tie-beam between the nave and the chancel and a second over the modern W. wall; the wall-plates are moulded and embattled, and on the N. side of the nave are decorated with painted running foliage in red. The roof of the re-built S. porch is of 14th or early 15th-century date, and has two trusses with cambered tie-beams and curved braces forming two-centred arches with ogee tip cut into the tie-beam; the intermediate truss is of braced collar-beam type, the braces forming an arch with an ogee point.
Fittings—Bells: two; 2nd uninscribed but not of early form. Brackets: In chancel—on E. wall, flanking altar, two with hollow-chamfered under-edge, 15th-century or earlier. Chair: In chancel—with moulded front posts and rail, shaped arms and low panelled back, early 17th-century. Chest: In nave— at W. end, of hutch-type with panelled front, ends and lid, top rail carved with foliage-ornament, one lock, early 17th-century. Communion Table: In nave —with moulded legs and rails, 17th-century, top, modern. Font: cup-shaped bowl of reddish breccia, probably 13th-century, stem and base modern. Lectern: modern but incorporating a 17th-century turned post. Monuments and Floor-slabs. Monuments: In nave— on N. wall, (1) to Mary (Philpot) wife of William Traunter, 1685, white freestone wall-monument with black inscribed tablet in moulded frame with arched head and drapery, flanked by Composite twisted columns supporting an entablature with a scrolled pediment, cartouche-of-arms and two female figures. In churchyard—(2) to Richard, infant son of Nicholas Philpot, 1704, flat slab. Floor-slabs: In chancel—upright against N. wall, (1) to Thomas Aparri (ap Harry), 1522, and Agnes [Bodenham] his wife, incised white marble slab (Plate 41) with figures of man in armour with head on mantled helm and feet on dog and of woman in pedimental head-dress, double canopy over heads of figures, with floral cresting, two shields-of-arms (a) Parry or Ap Harry quartering Thunder, Waterton and Delahay; (b) sable, three leopards; marginal inscription in 'black-letter': under altar, (2) to Richard Parry, 1626, with shield-of-arms. In nave—against S. wall, (3) to Mary, wife of William Traunter, 1685, with shield-of-arms; at W. end, (4) to Nicholas Philpot, 1683, with shield-of-arms. Piscinæ: In chancel—recess with trefoiled head and round drain, late 13th-century. In nave—in S. wall, rectangular recess, with square drain, probably 15th-century. Pulpit: (Plate 59) semi-octagonal with moulded styles, foliated top-rail and restored moulded cornice; panelled sides in two tiers, old central post with feet and modern stiffeners, early 17th-century.
Condition—Good.
Secular
(2). House, adjoining the rectory, 50 yards S.W. of the church, is of one storey with attics; the walls are timber-framed and the roofs are covered with slates. It was built in the 17th century and has had a larger modern house added. The timber-framing is exposed on the S.W. and S.E. Inside the building, a room on the ground floor is lined with re-used early 17th-century panelling.
Condition—Good.
(3). Cottage, on the S. side of the road, 40 yards S.E. of the church, is of one storey with attics; the walls are timber-framed and partly refaced with brick; the roofs are covered with stone slates. It was built in the 17th century. There is a stone chimney-stack at the N. end. Inside the building are some exposed ceiling-beams.
Condition—Fairly good.
(4). Barns, on the S. side of the road, at Turnastone Farm, E. of (3). The N. barn is timber-framed and weather-boarded on a stone base. It was built in the 17th century, and the roof has sloping struts above the tie-beams. The S. barn is of the same period; the walls are of rubble and the roof, of four bays, has queen-post trusses.
Condition—Fairly good.
Unclassified
(5). Mound, nearly 1¼ m. W. of the church, is about 34 yards in diameter, surrounded by a dry ditch. The mound rises about 12 ft. above the bottom of the ditch, and the top has a sinking some 3 ft. deep.
Condition—Fairly good.