Pages 82-83
An Inventory of the Historical Monuments in Herefordshire, Volume 1, South west. Originally published by His Majesty's Stationery Office, London, 1931.
This free content was digitised by double rekeying and sponsored by English Heritage. All rights reserved.
30 GRAFTON (D.b.)
(O.S. 6 in. XXXIX, N.E.)
Grafton with Upper Bullingham (or Bullinghope) is a small parish 2 m. S. of Hereford. Upper Bullingham church is the principal monument.
Ecclesiastical
(1). Church of St. Peter, Upper Bullingham, stands in the N.E. angle of the parish. The walls are of local sandstone rubble. The church was a small rectangular building of the 12th century. It fell into decay and a new church was built on another site in 1880; the old church is now a mere shell and is heavily covered with ivy.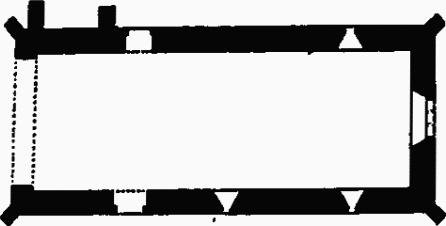 Architectural Description—The Church (48 ft. by 18 ft.) is without structural division. The E. window has now no head, but lying within the church are remains of oak mullions and ogee heads of lights indicating that it had a 17th or 18th-century pseudoGothic frame, perhaps of three lights; N. and S. of the opening are straight joints indicating the position of the outer splays of two 12th-century windows. In the N. wall, near the E. end, is a 12th or 13th-century window of one lancet-light; the 12th-century N. doorway, now blocked, retains its flat lintel and most of its plain round rear-arch. In the S. wall are two windows, the eastern is of a single lancet-light with an internal lintel of oak; the western window is probably of the 14th century and of one light with an ogee or weathered trefoiled head; immediately E. of it is the E. splay of an earlier window; the S. doorway, now blocked, is probably of the 12th-century and has a plain round rear-arch; just W. of the doorway are the sawn-off ends of a beam, about 7 ft. above the floor, which perhaps formed the support of a former bell-turret. The W. wall has been removed, and the stumps of it, at either end, are brought to a rough fair face.
Fittings—Churchyard Cross: E. of church—square base with chamfered angles and broach-stops, mediæval; steps, shaft and head, modern. Coffin-lid: against E. wall of modern church—tapering slab with plain cross with round head, in relief, 13th-century. Monuments and Floor-slabs. Monuments: In churchyard—S. of church, (1) to Mary, wife of Richard Waughon, 1699, headstone; (2) to Bridgate, wife of Richard Baughan, 1713, headstone; (3) to Dorothy, wife of John Baughan, 1689–90, headstone; (4) to Mary, wife of Thomas Sudgwick, early 18th-century, headstone; (5) to Hannah Iles, 1699, headstone. Floor-slabs: In old church—(1) to Thomas Bullock, 1713, and Thomas his son, 1714; (2) to Richard Davies, 1691, and Martha his daughter; (3) to Joane (Willcokes), wife of Edward Bullock, late 17th or early 18th-century. Plate: includes a cup of 1662.
Condition—Ruined and covered with ivy.
Secular
(2). Court Farm (Plate 18), house, 60 yards N.N.E. of the old church, is of two storeys with attics, timber-framed and with tiled roofs. It was built early in the 17th century on a rectangular plan and has a rather later wing on the S.E. side, making the plan L-shaped. The timber-framing is exposed on all sides of the house; the main block forms five bays, and two bays on the S.E. side have gables. Inside the building, the chamfered ceiling-beams are exposed in most of the rooms.
Condition—Good.
(3). Church Farm, house, now two tenements, 90 yards S. of the old church, is of two storeys, timber-framed and with tiled roofs. It was built early in the 17th century and is T-shaped on plan with the cross-wing at the N. end. The rubble wall at the S. end perhaps indicates that a second cross-wing at this end has been removed. The other walls have exposed timber-framing. Inside the building are some exposed ceiling-beams and a few pieces of early 17th-century panelling, said to have come from the church.
Condition—Good.
(4). Barn, or granary at the vicarage, 40 yards W. of the old church, is timber-framed and has a tiled roof. It was built in the 17th century, but has modern internal divisions. The timber-framing is exposed, and the roof-trusses are of queen-post type.
Condition—Good.