Pages 101-102
An Inventory of the Historical Monuments in Herefordshire, Volume 3, North West. Originally published by His Majesty's Stationery Office, London, 1934.
This free content was digitised by double rekeying and sponsored by English Heritage. All rights reserved.
42 KNILL (A.c.)
(O.S. 6 in. X, S.E.)
Knill is a small parish 2½ m. N. of Kington. The church is the principal monument.
Ecclesiastical
(1). Parish Church of St. Michael stands at the S. end of the parish. The walls are largely of local igneous rock with dressings and some rough ashlar of sandstone; the roofs are covered with stone slates. The Chancel was built late in the 12th century, and the Nave is perhaps of the same date, though there is no evidence of this. The West Tower was added early in the 13th century. The W. wall of the tower together with the W. ends of the adjoining walls were re-built at a later date. The church was drastically restored in 1876, when most of the old features were renewed; the South Porch is modern.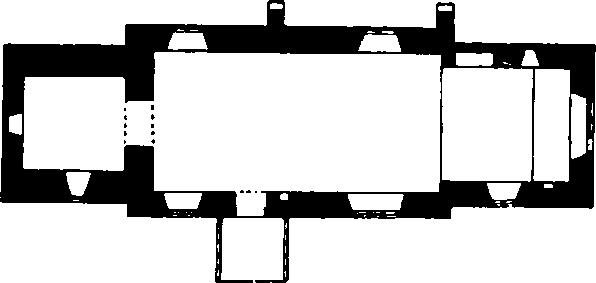 Architectural Description—The Chancel (16½ ft. by 14 ft.) has a modern E. window. In the N. wall is a partly restored late 12th-century window of one round-headed light; further W. is a modern recess for the organ. In the S. wall is a modern window. There is no chancel-arch.
The Nave (36½ ft. by 17¼ ft.) has two modern windows in the N. wall and two in the S. wall. The 14th-century S. doorway has chamfered jambs and two-centred head; the rear-arch is modern.
The West Tower (13 ft. by 11¾ ft.) is of three storeys undivided externally and finished with a modern embattled parapet. The early 13th-century tower-arch has plain responds and two-centred arch; above it is a modern or much restored opening. The S. and W. walls have each a modern single-light window. The second storey has, in the N. and S. walls, a single loop-light. The bell-chamber has, in the S. and W. walls, a single square-headed light; in the N. wall is the E. splay of a similar window, destroyed when the W. side of the tower was re-built.
Fittings—Bells: three; 1st of 1638 and 3rd of 1649. Bell-frame old. Brass: In chancel—to H.W., 1713–4, W.W., 1712–3, and R.W., 1716–7, small inscription-plate. Churchyard Cross (Plate 46): S. of nave—square base with trefoil-headed niche in W. face, square to octagonal tapering shaft, square capping with ogee-headed panel in each face and gabled top terminating in a small cross, the whole standing on three square steps, probably 14th-century. Communion Table: largely modern but incorporating four early 17th-century turned legs. Cupboard: In chancel—in S. wall, small rectangular recess, with modern frame and door. Font (Plate 57): octagonal bowl with splayed underside, each face with sunk panel carved with varied conventional and geometrical designs including simple interlacements, saltire-designs, rosette, etc., probably c. 1200, column-base re-used as stem. Monuments: In nave—on N. wall, (1) to Elizabeth (Child), wife of John Walsham, 1685, white marble tablet with round head, cartouche-of-arms, scrolls and cherub-head. In churchyard—S. of tower, (2) to John Walsham, 1677, flat slab; (3) to Joan Walsham, 1680, flat slab. Panelling: In ground stage of tower—on S. wall, dado of 17th-century panelling. Piscina: In chancel—recess with plain round head, c. 1200, modern drain. Plate: includes cup and cover-paten of 1696, given by Mrs. Walsham in 1753, also a large 17th-century pewter cup. Stoup: In nave—E. of S. doorway, recess with trefoiled head and projecting sill, late 13th-century, now containing an old stone mortar.
Condition—Good, much restored.
Secular
(2). Knill Court, 100 yards S. of the church, is of two storeys with cellars and attics. It may be of mediæval origin and the masonry of the S.E. angle, with a moulded string-course, is perhaps of earlier date than the 16th century. Modern inscriptions record an enlargement of the house in 1561 and its almost complete rebuilding in 1867. Inside the building, the Library has an early 17th-century overmantel of two bays with terminal figures, panelled bays and a fluted frieze; the fireplace is flanked by fluted Doric pilasters. The fireplace (Plate 52) in the Dining-room is flanked by early 17th-century arabesque oak panels and Ionic columns supporting a richly carved overmantel; this is of three bays divided and flanked by terminal figures and finished with a carved entablature; the panelled middle bay encloses a small half-figure holding a shield with the date 1632; the side bays have each a rich arched panel enclosing a vase of conventional flowers.
Condition—Largely re-built.
(3). Knill Farm, house and outbuildings, 220 yards N. of the church. The House is of two storeys with cellars and attics; the walls are timber-framed and the roofs are covered with stone slates. It was built probably early in the 17th century, with a cross-wing at the W. end. The roof of the E. wing has been raised. Inside the building some of the framing and ceiling-beams are exposed. There is also some re-used original panelling.
The Outbuildings project northwards from the cross-wing, and on the N. and E. sides of the yard are barns; there is a range of cow-sheds, etc., on the S. side of the yard. All these are of 17th-century date and are mainly timber-framed.
Condition—Good.
(4). School-house and cottage, 300 yards N. of the church, is of one storey with attics, timber-framed, and with a thatched roof. It was built in the 17th century and has some exposed ceiling-beams.
Condition—Good, re-built with old materials in 1933 and no longer a school.
N.B.—For Offa's Dyke, see p. xxx.