Pages 151-153
An Inventory of the Historical Monuments in Herefordshire, Volume 3, North West. Originally published by His Majesty's Stationery Office, London, 1934.
This free content was digitised by double rekeying and sponsored by English Heritage. All rights reserved.
57 MONNINGTON-ON-WYE (C.e.)
(O.S. 6 in. XXXII, N.W.)
Monnington is a small parish on the left bank of the Wye, 9 m. W. of Hereford. The church, an interesting 17th-century structure, and Monnington Court are the principal monuments.
Ecclesiastical
(1). Parish Church of St. Mary (Plate 150) stands on the N. bank of the river. The walls are of local sandstone rubble and ashlar, with dressings of the same material; the roofs are covered with stone slates. The West Tower was built early in the 15th century, but the rest of the church, consisting of Chancel, Nave and North Porch, was re-built in 1679 by Uvedall and Mary Tomkins.
The church, fittings and lych-gate are interesting examples of late 17th-century work.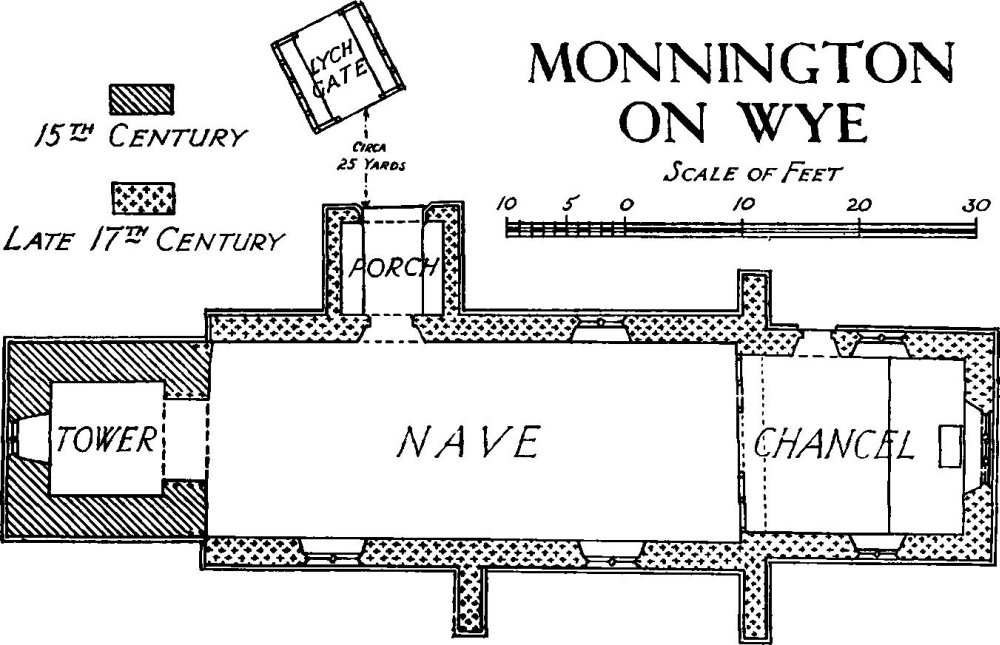 Architectural Description—All the details, not otherwise described, are of late 17th-century date. The Chancel (19½ ft. by 15 ft.) has an E. window of three transomed and elliptical-headed lights in an elliptical head with a moulded label; the lights have similar heads below the transom; on the gable is an ornamental pinnacle, which is repeated on the gables of the nave and porch. The N. and S. walls have each a window of two tiers of two round-headed lights in a square head with a moulded label; the N. doorway has a plain elliptical head. The chancel-arch has plain jambs and chamfered two-centred arch; on the E. face of the gable above is a panel with a carved achievement of the arms of Tomkins impaling Capell. The side walls of the chancel and nave have moulded eavesboards.
The Nave (45 ft. by 17 ft.) (Plate 151) has one window in the N. and two in the S. wall, all uniform with the side windows in the chancel. The N. doorway has chamfered jambs and a segmental arch cut in one stone.
The North Porch has an outer archway with moulded jambs, imposts and elliptical arch; above it is a carved achievement of the arms of Tomkins impaling Capell, in an architectural setting with side-pilasters and cornice and above it is a round scrolled panel with the initials and date V. and M.T., 1679.
The West Tower (about 9½ ft. square) is of the 15th century and of three storeys with an embattled parapet with the merlons pierced by cruciform loops. The tower-arch has plain jambs and chamfered two-centred arch. In the W. wall is a window of two trefoiled lights with a quatrefoil in a two-centred head. The second storey has a loop-light in the N., S. and W. walls. The bell-chamber has, in each wall, a window of two lights in a square head; the lights in the S. window have pointed heads; the rest are trefoiled.
The Roof of the chancel is ceiled, but has three trusses with tie-beams and principals; the roofs of the nave and porch are ceiled but the latter has moulded wall-plates; all these are probably of late 17th-century date. The low pyramidal roof of the tower has crossed tie-beams.
Fittings—Bells: four; 1st by Godwin Baker of Worcester, 1615; 2nd by Clibury, 1610; 3rd mediæval and inscribed in Lombardic capitals, "Eternis anis resonet campana Joannis." Chest: In tower—with panelled front, middle panel sub-divided, three locks, two missing, 17th-century. Communion Table (Plate 50): with heavy twisted legs, moulded upper rail with shaped brackets; on upper part of both legs the initials and date V. and M.T., 1679. Communion Rails: with moulded rails and twisted balusters, c. 1679. Doors: In N. doorway of chancel—with moulded ribs forming two panels, two strap-hinges with ornamental ends. In nave—in N. doorway, similar but larger door (Plate 45), in four panels, with drop-handle, both 17th-century. Font (Plate 58): octagonal bowl with moulded under edge, tapering stem and moulded base; on face of bowl initials and date, V. and M.T., 1680. Flat oak cover with radiating panels and acorn-finial in middle. Gates: In tower-arch—two of oak, each of three bays with twisted posts and half-round arches, possibly from chancel-screen, 17th-century. Glass: In nave— in S.E. window, achievement-of-arms of Tomkins impaling Capell, 17th-century, set reversed. Monuments and Floor-slabs. Monuments: In nave—on N. wall, (1) of Robert Perrott, 1667, stone wall-monument (Plate 67) with bust of man in shallow recess, with Composite side-columns, entablature, broken pediment and cartouche-of-arms. In churchyard—W. of porch, (2) broken slab of uncertain date, locally attributed to Owen Glendower. Floor-slabs: In chancel—(1) to Uvedall Tomkyns, 1692, and Mary, his widow, 1728, with achievement-of-arms. In nave—(2) to Francis Perrott, 1667; (3) to Lucy Tomkyns, 1677; (4) to W.L., 1651; (5) to Charles..., 1668; (6) to James Hodges, 1653–4, Anne, wife of J. H., 1643, William Hodges, 1676, and Grace, wife of William Hodges, 1704–5; (7) to John Hodges, 1712, with shield-of-arms. Panelling: On side walls of chancel and at W. end of nave—panelled dado, 17th-century. Paving: In W. part of chancel—paving of square stones, set diagonally, late 17th-century. Pulpit (Plate 70): hexagonal, with pairs of twisted half-balusters at angles, each face with two ranges of varied panelling, alternate faces with large arcaded panel and sub-divided panel with small arcaded panel in middle; stairs with twisted balusters, moulded rail and square moulded newel, late 17th-century. Reredos: made up of 17th-century panelling. Royal Arms (Plate 120): In nave—on S. wall, formerly on screen, square oak panel with twisted side-columns, entablature and plain pediment with the initials C.R. 2, royal Stuart arms painted and gilt; at sides of panel twisted iron stays with scrolls or crowns at top. Screens: Under chancel-arch (Plate 151)—of oak with large central opening and four bays on each side with close lower panels and open upper panels, the latter with twisted posts and round arches with projecting key and impost blocks, moulded main cornice; on lower part of E. face, two large panels on each side with unusual mouldings. E. and W. of chancel-screen—four low enclosures or desk-fronts with twisted balusters similar to the communion-rails; enclosure to reading-desk with turned balusters and arches similar to screen, all late 17th-century. Seating: In nave—nineteen benches, with turned front legs, shaped arms and open backs, also one panelled front, late 17th-century. Miscellanea: In tower—stone mortar.
The Lych-gate (Plate 42), N. of the church, is of late 17th-century date, timber-framed and square on plan. The N. and S. faces have open framing and square-headed doorways. The E. and W. sides have close lower panels and openings above divided by flat shaped balusters, partly renewed. The roof is gabled on each face and is covered with stone slates.
Condition—Good.
Secular
(2). Monnington Court, W.N.W. of the churchyard, is of two storeys; the walls are mainly of rubble and the roofs are covered with stone slates. The house was built late in the 16th century on a half H-shaped plan with the wings extending towards the N. A large room was formed on the upper floor of the E. wing and the wing probably widened, late in the 17th century. The original timber-framing was probably replaced by stone in the 18th century. The original entrance-doorway (Plate 45) on the S. front has a moulded oak frame with a shaped head-piece carved with two monsters; the panelled door has a diamond-shaped sinking in each panel and a strap-hinge with a fleur-de-lis end. A window in the E. gable has a mullion and transom, perhaps of late 17th-century date. The central chimney-stack has two attached diagonal shafts. There are two late 17th-century windows on the E. side. Inside the building, the main block was almost entirely occupied by one large room; the ceiling is divided by beams and joists into 24 equal panels, those towards the E. end retaining their original plaster decorations (Plate 72); these consist of central geometrical designs with moulded ribs and fleur-de-lis and conventional sprigs in the angles. At the W. end of the room a considerable amount of mid 17th-century woodwork has been re-set as a deep frieze (Plate 151); it includes enriched cornices and friezes, two grotesque caryatides, two shields of the arms of Tomkins, one supported by two cherubs and the other held by an angel, a crest of the same family, the inscriptions T. and L.T., 1656 (twice repeated), "Crimini(e) mundatus, semper transire pe(a)ratus" and "Vive Deo gratus, toti mundo tumulatus." Other rooms have exposed ceiling-beams, and on the first floor of the W. wing are two rooms lined or partly lined with late 16th or early 17th-century panelling re-set. The large room on the first floor of the E. wing has a ceiling divided by chamfered beams into three main bays, sub-divided into panels; at the N. end is a late 17th-century fireplace with a moulded surround.
Condition—Good.
(3). Cottage, on the S. side of the road, nearly ¾ m. N.N.E. of the church, is of one storey with attics; the walls are timber-framed, and the roofs are covered with stone slates. It was built probably late in the 17th century, and has exposed external timber-framing and internal ceiling-beams.
Condition—Good.
New Hampton, see Hampton, New.