Pages 26-27
An Inventory of the Historical Monuments in Herefordshire, Volume 3, North West. Originally published by His Majesty's Stationery Office, London, 1934.
This free content was digitised by double rekeying and sponsored by English Heritage. All rights reserved.
11 BROBURY (B.e.)
(O.S. 6 in. XXXII, N.W.)
Brobury is a small parish on the left bank of the Wye 11 m. W.N.W. of Hereford.
Ecclesiastical
(1). Parish Church of St. Mary Magdalene stands near the middle of the parish. The walls are of local sandstone rubble with dressings of the same material; the roof is covered with stone slates. The Chancel was built c. 1300, probably on the site of an earlier structure. In 1873 the former nave was pulled down and the existing W. wall of the chancel was built.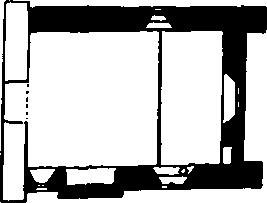 Architectural Description—The Chancel (24½ ft. by 17 ft.) has a partly restored E. window of c. 1300 and of two pointed lights. In the N. wall is a single light window of similar character to the E. window. In the S. wall are two windows of c. 1300, the eastern of two trefoiled lights with a pierced spandrel and the western of one pointed light. In the W. wall is a modern doorway and, above, a window of one pointed light, restored and re-set. The bell-cote is modern.
The Roof is probably of the 17th century, and has three cambered tie-beams with plain struts; it is ceiled at the collar.
Fittings—Bell: mediæval, with inscription in Lombardic capitals, "Sancta Maria ora pro nobis," inaccessible. Coffin-lids: In chancel—(1) tapering slab with remains of elaborate foliated cross and stem, late 13th or early 14th-century; in recessed monument in S. wall, (2) tapering slab (Plate 47) with elaborate foliated cross, flanked by foliated scrolls, hollowed edge with carved pateræ, early 14th-century. Communion Table: with heavy turned legs and moulded lower rails, top rails with incised ornament and shaped brackets, early 17th-century. Font (Plate 55): tapering cylindrical bowl with moulded base and square plinth with spur-ornaments, late 12th-century. Lockers: in E. and S. walls, plain rectangular recesses. Monuments: In S. wall, (1) recess (Plate 79) with moulded jambs, segmental-pointed arch and moulded label, all enriched with pateræ, crockets, square finial at top, early 14th-century. In churchyard —S. of chancel, (2) to Elizabeth Smith, 1711, headstone. Piscina: In sill of S.E. window, quatre-foiled drain, c. 1300. Plate: includes cup with balusterstem, of 1634, with the initials I.S. and B.
Condition—Good.
Secular
(2). Well House, 100 yards N.W. of the church, is of two storeys, timber-framed and with a thatched roof. It was built late in the 17th or early in the 18th century and has exposed external timber-framing and a large chamfered ceiling-beam.
Condition—Good.