Pages 56-57
An Inventory of the Historical Monuments in Herefordshire, Volume 3, North West. Originally published by His Majesty's Stationery Office, London, 1934.
This free content was digitised by double rekeying and sponsored by English Heritage. All rights reserved.
23 ELTON (D.b.)
(O.S. 6 in. VII, N.W.)
Elton is a small parish 8 m. N.N.W. of Leominster. The 12th-century church, formerly a chapel of Wigmore and which contains the Royal Arms of Queen Elizabeth, is the principal monument.
Ecclesiastical
(1) Parish Church of St. Mary stands near the middle of the parish. The walls are of local sandstone rubble with dressings of the same material, and the roofs are tiled. The church, consisting of Chancel and Nave, without structural division, was built in the 12th century. The building was drastically restored in 1879, the bell-turret is modern, and the South Porch modern, or entirely re-built.
The Royal Arms are noteworthy.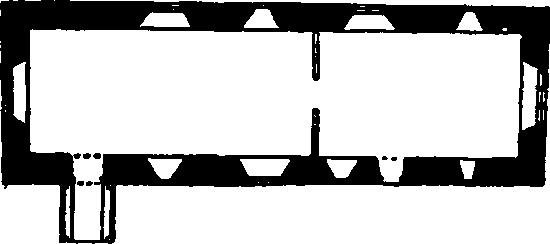 Architectural Description—The Chancel (25½ ft. by 15½ ft.) has a modern E. window. In the N. wall is a 12th-century window, not in situ, of one round-headed light; the internal opening is modern; further W. is a modern window. In the S. wall are two windows, the eastern is a 13th-century lancet-light and the western is modern; between them is a 12th-century doorway with plain jambs and round arch. There is no chancel-arch.
The Nave (35¾ ft. by 15½ ft.) has modern windows in the N. and S. walls which may represent 13th-century openings. The 12th-century S. doorway has plain jambs and round arch with chamfered imposts. In the W. wall is a modern window; the upper part of the wall is modern.
Fittings—Bells: two, inaccessible and uninscribed, but 1st of long-waisted type, probably late 13th or early 14th-century. Chairs: In chancel—two with turned legs, panelled arm-pieces and panelled backs with lozenge-shaped enrichments, late 17th-century. Communion Table: with turned legs and moulded top rails with shaped brackets, late 17th-century. Font: plain cylindrical bowl, probably 12th-century, with modern stem and base. Monument: In chancel—on E. wall, to H.L. 1666, lozenge-shaped panel of wood with painted achievement-of-arms; below two stone shields with remains of painted inscription to Katherine . . . Panelling: In nave—on N. and S. walls, re-used 17th-century panelling. Plate: includes cup of 1571 (Plate 60), with band of engraved ornament, also a pewter flagon and two pewter stand-patens. Pulpit: five-sided and panelled in two heights, upper range with strap-work ornament and lower range with enriched arches, early to mid 17th-century. Royal Arms (Plate 120): In nave—on N. wall, arms of Queen Elizabeth in carved wood with the initials E.R. and the inscription "God save the Queene." Screen (Plate 77): Between chancel and nave—with central opening and four bays on each side, opening with flat four-centred and cusped arch and foliated spandrels, short vertical post at apex with shield charged with an engrailed cross; side bays with close lower panels made up of 17th-century panelling with leaf-enrichment, open upper panels with trefoiled, sub-cusped and traceried heads, moulded mullions and head-beam with a second beam, superimposed, 15th-century. Miscellanea: desk in chancel incorporating one side of the pulpit, and 17th-century panelling partly enriched with conventional foliage.
Condition—Good.
Secular
(2). Elton Hall, house and stables, N. of the church. The House is of three storeys; the walls are of brick and rubble and the roofs are of slate and tile. The small N.E. wing is perhaps of the 17th century incorporating re-used timbers of earlier date. The main S.W. block was built c. 1720–30, but also incorporates some earlier work. Inside the building are some exposed ceiling-beams and some large curved timbers, possibly mediæval.
The Stabling, extending N. from the House, is of mid 17th-century date with modern additions. It is timber-framed and of two storeys.
Condition—Good.
(3). Elton Farm, house, 230 yards S.W. of the church, is of two storeys, timber-framed, and with slate and tile-covered roofs. It is of H-shaped plan with the cross-wings at the E. and W. ends; the E. part was built late in the 16th century but the W. cross-wing and the low porch on the N. were added early in the 17th century. Much of the timber-framing is exposed. Inside the building are some exposed ceiling-beams and an original shaped wall-post.
Condition—Good.
(4). Cottage (Plate 27), on the W. side of the road, 130 yards S. of (3), is of two storeys, timber-framed and with a thatched roof. The S. part is of early 17th-century date and the N. part is a rather later addition. The timber-framing and ceiling-beams are exposed.
Condition—Bad.
(5). Woodlands, house, 800 yards S.E. of the church, is of two storeys, timber-framed and with tiled roofs. It was built late in the 17th century on an L-shaped plan with the wings extending towards the E. and S. In the W. wall is an original window of three transomed lights. Inside the building are some exposed ceiling-beams and framing.
Condition—Good.