Page 48
An Inventory of the Historical Monuments in Huntingdonshire. Originally published by His Majesty's Stationery Office, London, 1926.
This free content was digitised by double rekeying and sponsored by English Heritage. All rights reserved.
15. CALDECOTE (B.b.).
(O.S. 6 in. IX. N.W.)
Caldecote is a small parish, 7 m. S.W. of Peterborough. The church is the principal monument.
Ecclesiastical
(1). Parish Church of St. Mary Magdalene stands on the N. side of the parish. The walls are of cornbrash-rubble and ashlar with dressings of Barnack and Ketton stone; the roofs are covered with slates. The church is of 12th-century origin but little work of this period survives. The Chancel except the W. wall was re-built in the second half of the 13th century and the Nave in the 14th century. The church was drastically restored and partly re-built in 1874. The South Porch and North Vestry are modern.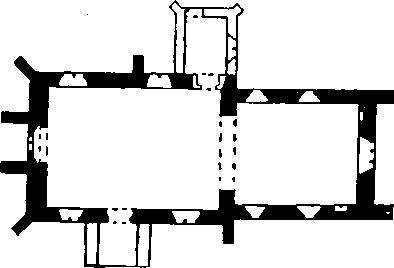 Architectural Description—The Chancel (20 ft. by 16½ ft.) has a late 13th-century E. window of three graduated lights under a two-centred rear-arch, restored externally except the moulded labels and mask-stops; below the internal sill is a moulded string-course continued along the side walls. In the N. wall are two late 13th-century lancet-windows, completely restored externally. In the S. wall are two similar windows, not so extensively restored and with moulded labels and mask-stops; the western window is carried down below a transom as a 'low-side', which is now blocked. The round chancel-arch is modern but the square responds are of the 12th-century material, re-set and have scalloped capitals with modern abaci.
The Nave (28 ft. by 19½ ft.) has in the N. wall two partly restored 16th-century windows each of two four-centred lights in a square head with a moulded label and a two-centred rear-arch; further E. is a modern doorway. In the S. wall are two windows similar to those in the N. wall; the 14th-century S. doorway has wave-moulded jambs and two-centred arch. In the W. wall is a two-light window, all modern except the late 13th-century quatrefoil in the spandrel and the adjoining parts of the heads of the two pointed lights; the window is set in a recess with a two-centred arch of one continuous chamfered order; higher up in the wall is a small window, all modern except the splays and rear-arch. On the W. gable is a modern bell-cote.
Fittings—Brackets: In chancel—on N. wall, square moulded shelf on a triple shaft terminating in a crude beast's head, 13th-century. In nave— above chancel-arch, two, one a carved beast's head, and the second moulded rectangular bracket, 16th-century. In porch—rough shaped bracket and a bearded head, perhaps a label-stop, re-used, both re-set. Chest: In vestry—front with three moulded panels, two original lock-plates, early 17th-century. Coffin-lid: In chancel—in window-recess, fragment with remains of omega ornament, 13th- or 14th-century. Font: octagonal, ogee-shaped bowl set against a square pier, plain attached stem and moulded base, 15th-century. Locker: In chancel— in E. wall, rectangular, with rebated reveals, probably 13th-century. Monuments: In N. wall of vestry—(1) to Isaac Gregory, 1707, vicar of Peterborough, and Ann his wife, 1707, plain slab; in churchyard—loose, E. of chancel, (2) to . . . Stretch, 1662, head-stone. Piscina: In chancel— double, with chamfered jambs and trefoiled heads, free shaft with moulded capital and base between the bays, moulded two-centred label with mask-stops common to both bays and with a fleur-de-lis carved in the spandrel, sex-foiled drain in E. bay, 13th-century, sill of W. bay modern. Pulpit: (Plate 152) of oak, pentagonal, each face with two panels, lower plain and upper carved with conventional foliage, on middle rail the date 1646, top rail, stem, etc., modern. Table: In vestry— with turned legs, carved top rail with shaped braces, 17th-century. Miscellanea: In rectory garden—13th-century moulded capital.
Condition—Good, much restored.
Secular
(2). Homestead Moat, 60 yards W. of the church.
Monuments (3–5).
The following monuments are of the 17th century and of two storeys, timber-framed and plastered; the roofs are thatched. The interiors have exposed timber-framing.
Condition—Poor.
(3). Cottage, 200 yards E.S.E. of the church.
(4). Cottage, 40 yards E. of (3), has been refronted with modern brick.
(5). Cottage, 140 yards S.E. of (4).