Pages 101-102
An Inventory of the Historical Monuments in Huntingdonshire. Originally published by His Majesty's Stationery Office, London, 1926.
This free content was digitised by double rekeying and sponsored by English Heritage. All rights reserved.
34. GIDDING, LITTLE (B.c.).
(O.S. 6 in. XIII N.W.)
Little Gidding is a small parish 9 m. N.W. of Huntingdon. The Church is the principal monument, and is of interest from its connection with the Ferrars of Little Gidding Hall.
Ecclesiastical
(1). Parish Church of St. John stands in the S.W. part of the parish. The walls are of brick with dressings of Ketton stone and brick; the W. wall is faced with Ketton stone; the roofs are covered with stone slates. The church is said to have been re-built c. 1625 and the Chancel is possibly of this date; the Nave was re-built in 1714. The church was restored in 1853 when the upper part of the E. wall was re-built. The South Vestry is modern.
The church is notable for its 17th and early 18th-century fittings.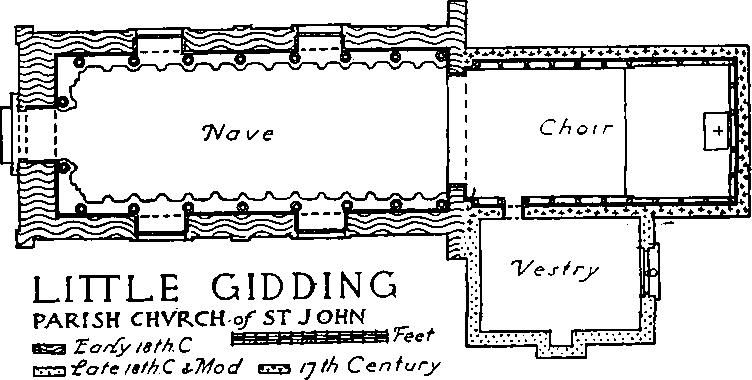 Architectural Description—The Chancel (22¾ ft. by 12 ft.) has a 17th-century E. window with plain brick jambs and a round head. In the S. wall is a square-headed doorway. The round chancel-arch is cased with panelling.
The Nave (32¾ ft. by 13½ ft.) has in each side wall two square-headed windows with moulded sills, plain architraves and key-blocks all of stone. The W. end (Plate 62) has square stone pilasters at the angles supporting small pedestals and obelisks; on the pedestals is the date 1714; the capping of the pilasters is carried across as a string-course and above it rises the stone bell-cote with rusticated sides flanking the square-headed opening for one bell and supporting a moulded cornice; above the cornice is a pyramidal termination resting on a concave plinth and finished with a ball; the pyramid is pierced with three rectangular openings. The W. doorway has a square head, moulded architrave and plain key-block; above it is a moulded cornice supported on two scrolled brackets.
Fittings—Brasses and Indents. Brasses: In nave—on E. wall, (1) to John Farrar, 1657, with shield-of-arms; (2) to Ann (Brook) wife of John Ferrar, 1702–3, inscription only; (3) to Mary, daughter of Solomon Mapletoft, 1656, with shield-of-arms; (4) to Susanna (Ferrar) wife of John Collet, 1657, inscription only. Indents: of all the above, in churchyard W. of nave. Chair: In chancel—largely modern, but incorporating 17th-century material. Communion Table and Rails. Table: with turned legs and moulded upper and lower rails, c. 1700. Rails: modern but incorporating three early 18th-century balusters. Font: (Plate 59) small brass basin on baluster-stem, brass cover with pierced cresting and top with incised decoration of crosses and fleurs-de-lis; fixed on front of modern base, a brass leopard's face supported by two wingless griffons, 17th-century, stem of doubtful age. Hour-glass Stand: (Plate 59) fixed on N. respond of chancel-arch —wrought-iron bracket with scrolled ornaments supporting a stand in the form of a crown of pierced metal, 17th-century. Lectern: (Plate 59) In nave—of brass with large eagle on baluster-stem supported on three seated lions, 17th-century. Monument and Floor-slabs. Monument: In churchyard—W. of nave, table-tomb, said to be to Nicholas Ferrar, 1637, but inscription illegible. Floor-slabs: In churchyard—W. of nave, (1) to John Collet, 1650; (2) to Susanna (Collet) wife successively to Josuah Mapletoft and James Chedley, 1657, with shield-of-arms. Panelling: In chancel—side walls lined with plain oak-panelling to two-thirds their height, with wooden bench in front supporting an arcade of small Doric shafts with plain segmental arches and simply moulded cornice, c. 1714. In nave—side walls lined to full height with similar panelling and arcading (Plate 61), continued across W. end at same height; arcading supported on modern stalls and with more elaborate shafts than those in the chancel, segmental arches with turned pendant key-blocks and dentilled main and subsidiary cornice; panelling at back slightly enriched, c. 1714, but whole of N. and W. sides modern. Pavement: In nave—black and white stone chequer pavement, c. 1714. Plate: includes 17th-century cover-paten and flagon of 1629 and an alms-dish of 1634, given by Susan Beckwith. Reredos: On E. wall—one large and two smaller wooden tablets, each with moulded frame, cornice and segmental pediment; middle tablet with three brass panels inscribed with the Ten Commandments; side tablets each with a brass panel inscribed with the Lord's Prayer and Creed respectively, 17th- or early 18th-century. Royal Arms: In nave—on W. wall, Stuart arms embroidered on fabric, 17th-century. Miscellanea: Used as cover of cushion of litany-desk, piece of brocade, 17th-century.
Condition—Good.
Secular
(2). Homestead Moat, with outer enclosure, ¼ m. N.E. of the church.
Gidding, Steeple, see Steeple Gidding.