Pages 56-58
An Inventory of the Historical Monuments in Huntingdonshire. Originally published by His Majesty's Stationery Office, London, 1926.
This free content was digitised by double rekeying and sponsored by English Heritage. All rights reserved.
18. COLNE (E.d.).
(O.S. 6 in. (a)XV S.E., (b)XIX N.E.)
Colne is a small parish and village nearly 5 m. N.E. of St. Ives.
Roman
a(1). Village Site, to the S.E. of the Chatteris Road, about 1½ m. N.N.E. of the church. The site covers about 15 acres and is known locally as Camp Ground; it is separated from the road by a narrow strip of fenland, now often flooded. From the edge of the site and towards this strip of low ground runs a series of short ditches, suggesting docks for small boats. The main area is a complex of shallow hollows and ditches, apparently dug in a haphazard manner. In the middle is a comparatively level space (about 250 ft. by 90 ft.) of roughly rectangular form surrounded by a ditch; within it are several hollows, one obviously of subsequent date as it cuts into part of the ditch. Five of the hollows were examined by Mr. C. F. Tebbutt in 1925–6; they were dug down into undisturbed gravel, two yielded nothing, one some ox-bones and two domestic rubbish. One of the last was dug out completely; it was almost a circle of 20 ft. diameter and had a sloping bottom. The section showed a foot of loam with a few Romano-British pot-sherds; then 3 in. to 9 in. of clay, and under this a fine black earth containing domestic rubbish lying on the undisturbed gravel. Sherds and animal-bones were found in the black earth with a few oyster-shells, some carbonised wood, a bone pin or stylus and part of a twisted wire bracelet. The pot-sherds were very numerous and were mostly of large corn-jars and ollæ of very coarse, porous brown ware; other types included a mortarium of late hammer-head type, pateræ of black ware and five beakers. The finest piece was part of a narrow-necked olla-like vessel of greengrey ware ornamented with bands of parallel brownish lines crossing one another. The Samian fragments included one with a mid 2nd-century potter's stamp (Saturnini). Castor ware was of common occurrence. The evidence appeared to indicate a community of fishermen and hunters, owning some domestic animals, living during the Roman period on dry gravel land as near the Fens as possible and using small boats. Their huts were of perishable material (as digging has revealed no trace of building-material), and were surrounded by ditches. They used, and perhaps made, corn jars and cooking-pots similar to those of the Early Iron Age, but obtained better pottery from the Castor and Horningsea kilns, both of which were on the supposed line of the Car Dyke.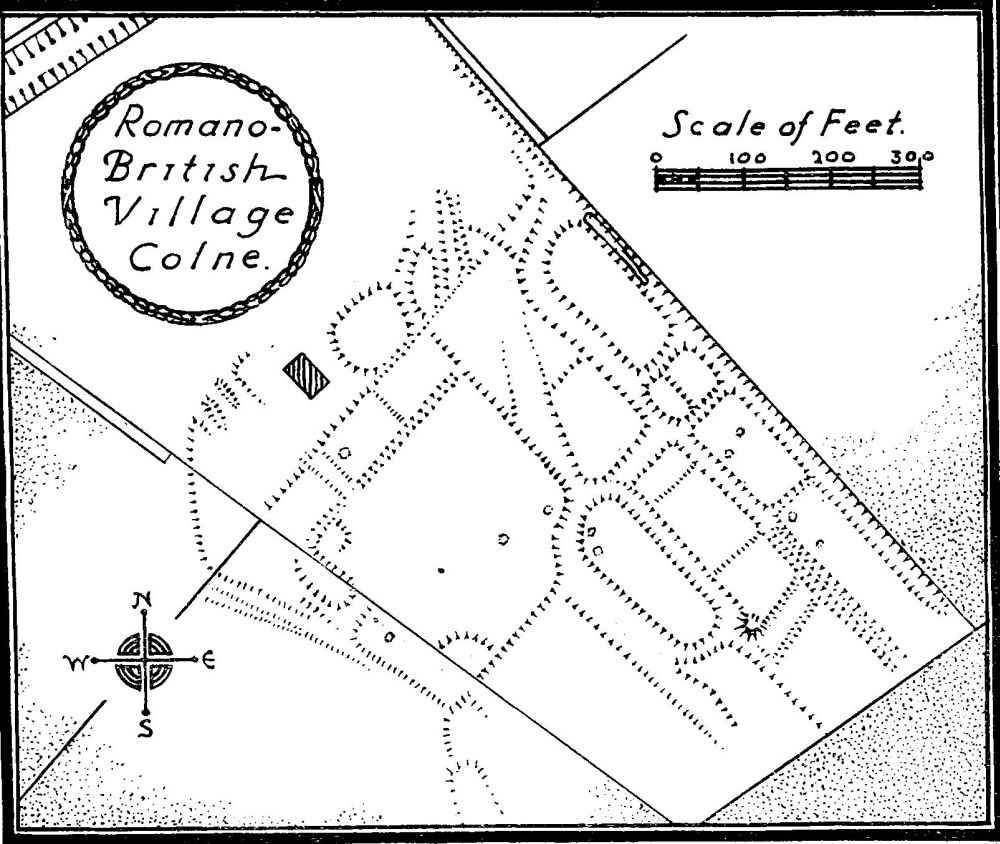 (Mr. C. F. Tebbutt in Antiq. Jour., VI, p. 190. See also Fox, Arch. of the Cambridge Region, p. 223, and Allcroft, Earthworks of England, p. 557). See also sub Somersham.
Ecclesiastical
b(2). Parish Church of St. Helen stands in the village. The old church stood 600 yards to the W.N.W. The old church, which fell down in 1896, consisted of a chancel, nave, N. and S. aisles, W. tower and S. porch; the only part still standing is the early 16th-century South Porch. The new church in the village was completed in 1900 and incorporates a considerable quantity of material from the old building.
Architectural Description—The South Porch of the old church is of early 16th-century date with diagonal buttresses; the outer archway has stop-moulded jambs, four-centred arch and moulded label. The side walls have each a window of two square-headed lights. The inner doorway is of 18th-century or modern date.
The New Church incorporates, besides a certain amount of re-used ashlar, the following features from the old building:—The chancel has in the N. wall two windows, the eastern of early 14th-century date, partly restored and of two pointed lights with a plain spandrel in a two-centred head; the western window is of the 13th century and of two pointed lights in a round-headed outer order. In the S. wall is a window similar to the eastern window in the N. wall. The nave has a 14th-century S. arcade of three bays with two-centred arches of two chamfered orders; the octagonal columns have moulded capitals and bases. In the N. wall is a partly restored 15th-century window of two cinque-foiled lights in a four-centred head with a moulded label; there are also re-used stones in the other windows. The S. aisle has an early 14th-century E. window of two cinque-foiled lights with a quatrefoil in a two-centred head with a moulded label and mask-stops. In the S. wall are three partly restored 14th-century windows, each of two trefoiled lights and a 14th-century doorway with chamfered jambs and two-centred arch. The tower has re-used stones in the responds of the N. and E. tower-arches, and some re-used voussoirs in the N. arch; there is also a four-centred head to the doorway of the stair-turret, which dates from the 15th century.
Fittings—All in the new church. Bells: four; 1st and 4th by John Draper, 1607; 2nd by Miles Graye, 1654; 3rd by Charles Newman, 1700. Brackets: In chancel—in E. wall, two moulded brackets, with knotted terminations, c. 1300. Brass Indents: In S. aisle—(1) of man in armour, with canopy, two shields above and inscription-plate below, late 14th-century; (2) of inscription-plate. Coffin-lids: In tower—three fragments with parts of ornamental crosses. In churchyard—part of lid with head of ornamental cross, all late 13th- or early 14th-century. Font: plain octagonal bowl with chamfered under-edge and plain cylindrical stem, probably 14th-century. Monument: In chancel—on N. wall, to Charles Wandisford, 1693, white marble draped cartouche with cartouche-of-arms. Piscinae: In chancel—double, with moulded jambs and mullion and trefoiled heads with soffit-cusping and octofoil drain, early 14th-century, W. half of W. bay modern. In S. aisle—double, with hollow-chamfered jambs, trefoiled heads and central shaft with moulded capital and base, trefoil in spandrel, multifoil drain, early 14th-century. Miscellanea: Used as corbels in S. aisle, portions of 12th-century ornament. Set in tower, portions of 12th- and 13th-century detail. In churchyard, foliated capital of respond, part of a similar capital and springer of a stone vault, 13th-century, probably brought from elsewhere.
Condition—Of porch, poor.
Secular
Homestead Moats.
b(3). About 300 yards E. of the remains of the old church.
b(4). About 200 yards W. of the remains of the old church.
Monuments (5–13).
The following monuments, unless otherwise described, are of the 17th century and of two storeys, timber-framed and plastered; the roofs are tiled or thatched. Some of the buildings have original chimney-stacks and exposed ceiling-beams.
Condition—Good or fairly good.
b(5). Cottage, on W. wide of road, about 280 yards N. of the new church, was built probably early in the 18th century.
b(6). Church Farm, house 180 yards E. of the remains of the old church, has been refaced in brick and the roof covered with corrugated iron. One original casement remains, with a moulded frame and cornice.
b(7). House, on W. side of street, 200 yards S.S.W. of the new church, was built probably late in the 16th century and has cross-wings at the N. and S. ends. The original central chimney-stack has three octagonal shafts with moulded bases. Inside the building is an early 16th-century moulded beam, probably re-used.
b(8). Green Man Inn, on N. side of street, 210 yards S. of the new church, has been refaced with modern brick and the roofs covered with corrugated iron. The original central chimney-stack has four detached shafts set diagonally on a square base.
b(9). Cottage, 20 yards E. of (8), was built probably early in the 18th century. The walls are of brick.
b(10). Cottage, two tenements, 50 yards E. of (9), has a cross-wing at the W. end. The walls are mainly of brick.
b(11). House, two tenements, 50 yards N.E. of (10), has an original chimney-stack with grouped diagonal shafts.
b(12). House, 80 yards E. of (10,) is of L-shaped plan with the wings extending towards the E. and N. The upper storey projects slightly at the W. end of the S. front and has been under-built with brick.
b(13). Cottage, opposite and S. of (8), was built probably early in the 18th century; the walls are of brick.