Pages 65-66
An Inventory of the Historical Monuments in Huntingdonshire. Originally published by His Majesty's Stationery Office, London, 1926.
This free content was digitised by double rekeying and sponsored by English Heritage. All rights reserved.
22. DENTON (B.b.).
(O.S. 6 in. IX N.W.)
Denton is a small parish 7 m. S.S.W. of Peterborough. The church is the principal monument.
Ecclesiastical
(1). Parish Church of All Saints stands in the middle of the parish. The walls are of stone and pebble - rubble with dressings of Barnack and Ketton stone; the roofs are covered with stone slates and tiles. The responds of the chancel-arch are of the 12th century and the arch itself of the 13th century but the whole of the rest of the building, except part of the W. wall, was re-built in the 17th century, the Chancel in 1629, the Nave about the same time, the North Porch in 1665 and the West Tower probably in 1671. The church was restored in the 19th century.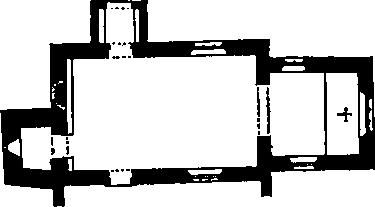 Architectural Description—The Chancel (14½ ft. by 13¼ ft.) has an E. window of three lights, and is modern except for the jambs; above the window is a stone inscribed "Anno Domini 1629 August"; the gable has a mutilated gable-cross. In the N. wall is a 17th-century window of two square-headed lights and further E. is a blocked doorway with a wooden lintel. In the S. wall is a window similar to that in the N. wall. The 13th-century chancel-arch is two-centred and of one chamfered order and springs from mid 12th-century square responds with moulded imposts and chamfered plinths.
The Nave (30½ ft. by 18 ft.) has in the N. wall a 17th-century window of three transomed and square-headed lights; the N. doorway has chamfered jambs and segmental head with a re-used early 14th-century label. In the S. wall is a window similar to that in the N. wall; the S. doorway has plain jambs and a chamfered two-centred head; the chamfered label has mask-stops and the whole is set in a slight projection. In the W. wall is a 17th-century window of a single light with a modern head; the doorway to the tower has a W. jamb probably of early 14th-century date; the head has been replaced by a wooden lintel; the W. gable has a trefoiled gable-cross.
The West Tower (5 ft. by 7¼ ft.) is of the 17th century and of two stages finished with a pyramidal roof. In the S. wall of the ground-stage is a roughly built doorway, now blocked. In the W. wall is a single-light square-headed window. The bell-chamber has in the N., S. and W. walls a window of two round-headed lights.
The North Porch has a two-centred outer archway with moulded archivolt and imposts and plain jambs; above it is a sunk panel with the date 1665.
Fittings—Bells: two, inaccessible but said to be, 1st with initials R.O.S., early 16th-century; 2nd by Norris, 1671. Communion Table and Rails. Table: with upper rails moulded and with simple enrichment, 17th-century. Rails: moulded rail with four turned posts, two with acorn tops, 17th-century. Doors: In N. doorway—battened door with moulded fillets and frame planted on, strap-hinges and wooden stock-lock with moulded edges and simple enrichment, 17th-century. In S. doorway—similar to that in N. doorway but without lock. In E. doorway to tower—plain battened door, 17th-century. Font: octagonal tapering bowl, octagonal shaft and chamfered base, date uncertain. Monuments: In churchyard— N.E. of chancel, (1) to Elizabeth (?) wife of Robert Newburn, Jun., late 17th-century; by N.W. corner of nave, (2) to Richard Hill, 1688, head-stone. Plate: includes small cup and cover-paten of 1568 with band of incised ornament, large Elizabethan cup with band of incised ornament and cover-paten with traces of stippled ornament, probably 17th-century. Pulpit: 18th-century with some re-used 17th-century moulded and carved rails in the sounding-board. Scratchings: On door to tower, initials and date W. H. 1709. Seating: In nave—bench-end with conventionalized fleur-de-lis head and date A.D. 1607 and two benches with shaped ends and moulded rails, early 17th-century. Sundial: On S. wall of nave— of wood, with iron gnomon, perhaps early 18th-century.
Condition—Poor.
Secular
Monuments (2–5).
The following monuments are of late 17th-century date and of two storeys, timber-framed and plastered; the roofs are thatched. Some of the buildings have original chimney-stacks and exposed ceiling-beams.
(2). Cottage, 100 yards S.E. of the church.
Condition—Poor.
(3). Cottage, two tenements, 50 yards N.W. of the church.
Condition—Poor.
(4). Cottage, 80 yards W. of the church.
Condition—Ruinous.
(5). Cottage, two tenements, 200 yards W.N.W. of the church.
Condition—Fairly good.