Pages 95-97
An Inventory of the Historical Monuments in Huntingdonshire. Originally published by His Majesty's Stationery Office, London, 1926.
This free content was digitised by double rekeying and sponsored by English Heritage. All rights reserved.
31. FLETTON (C.a.).
(O.S. 6 in. II S.E.)
Fletton is a village and small parish adjoining Peterborough on the S. The church is the principal monument.
Roman
(1). Village Site. The area between the railway-line and Stanground Lode, S. of the Nene, was occupied early in the Roman period, particularly at a spot half-a-mile S. of St. Margaret's Church. Many objects, chiefly potsherds, were found in clay-digging in the London Brick Co.'s No. 1 Yard and in the Fletton brick-yard on the W. of the Great Northern line between 1910 and and 1912. No definite traces of buildings, but some levelled floors, numerous pits, about 5 ft. deep and 8 ft. to 12 ft. in diameter, containing much pottery, and about fifteen burials, were observed. A little S. of these was a circular, steyned (corn-brash) well, 20 ft. deep and 3½ ft. in external diameter; in it were a bottle of La Marne type probably of the first century, a coarse grey urn, possibly of the second century, cooking-pots, etc.
In June, 1904, in this same brick-yard (London Brick Co.'s) a pit 4 ft. deep and 3 ft. wide was opened. It was filled with debris, black soil, bones, potsherds, etc. (See also sub Woodstone).
Ecclesiastical
(2). Parish Church of St. Margaret stands in the village. The walls are of uncoursed rubble with dressings of Barnack stone. The roofs are covered with stone tiles, slates and lead. The Chancel was built c. 1150 and shortly afterwards c. 1160–70 the North Chapel was added, the chancel-arch built and the North Aisle of the Nave added. About 1300 the South Aisle was added, the nave lengthened or the N. arcade altered and the North Vestry and West Tower added; the N. aisle was re-built at the same time. The rood-loft staircase was added late in the 15th century. The church was restored in 1872, the North Aisle re-built and the South Porch added. In 1917 the top of the spire was re-built, after being struck by lightning.
The church contains some 12th-century work of average interest. Among the fittings the pre-Conquest carvings and 12th-century cross are noteworthy.
Architectural Description—The Chancel (28½ ft. by 13 ft.) is of mid 12th-century date and has clasping buttresses of ashlar, two external string-courses, and an internal string-course to the E. end, returned a short distance along the side walls; the eaves have a 12th-century corbel-table of 'nebuly' form. The E. window is of c. 1300 and of three trefoiled lights with modern net-tracery in a two-centred head with moulded internal and external labels and mask-stops. In the N. wall is a doorway with chamfered jambs and square head, probably of c. 1300; the arcade is of two bays of c. 1170, with round arches of two chamfered orders with a grooved and chamfered label, responds with chamfered imposts, and a round column with scalloped capital and chamfered abacus of cross-shaped plan and a moulded base on a square plinth; the thicker and slightly earlier wall to the E. of the arcade is finished with an ashlar arris. In the S. wall are two early 14th-century windows each of two trefoiled ogee lights with a quatrefoil in a two-centred head with moulded labels; below the sills is a moulded string-course of the same date; further W. is a 'low-side' window of one square-headed light, rebated externally; between the two eastern windows is a blocked 12th-century window, only visible externally. The chancel-arch of c. 1170 is two-centred, but somewhat distorted, and of two chamfered orders; the responds have each one free and one half-round attached shaft, the former with water-leaf and the latter with a fluted capital and both with hollow-chamfered abaci and moulded bases partly restored; the small shafts are modern.
The North Vestry is of c. 1300 and has in the E. wall a window of three square-headed lights with a horizontal label and mask-stops. In the W. wall is a cruciform loop with lobed ends.
The Nave (40¾ ft. by 14 ft.) has a N. arcade (Plate 6) of three bays; the two eastern arches are of c. 1160, round and of two chamfered orders; the piers are cylindrical and have scalloped capitals with grooved and chamfered abaci, rebated at the angles on the nave side; the moulded bases have square plinths; the responds have attached half-columns; the capital of the E. respond has been partly cut away and defaced for the former rood-loft which was approached by an opening above the E. haunch of the arch, now blocked with brick and plastered over; the W. respond has apparently been re-set, either in its original position or one bay further W.; the W. arch of the arcade is of two chamfered orders and is double the width of the others; it is of segmental-pointed form with a moulded label and is of c. 1300. The thicker wall of the earlier arcade-wall is finished above the second pier with a chamfered arris, which appears to have had a moulded stop below the present clearstorey window. The S. arcade is of c. 1300 and of three bays with stilted segmental-pointed arches of two chamfered orders and moulded labels with head or mask-stops; the slender octagonal columns and semi-octagonal responds have the mouldings of the capitals projected to take the outer order of the arches; the bases are also moulded. The clearstorey is of c. 1300 and has on each side three windows each of two square-headed lights.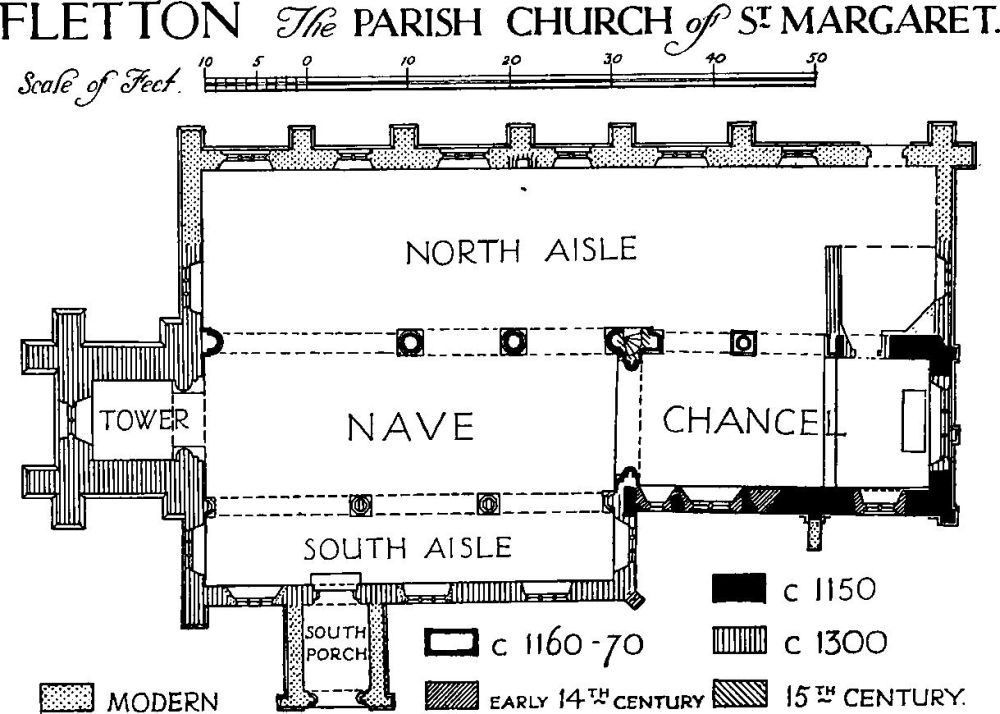 The North Aisle is modern except for part of the W. wall, which is of c. 1300 and has a moulded internal string-course; in this wall is a window of three graduated trefoiled lights with spandrels in a two-centred head with a moulded label and mask-stops. In the S. wall of the aisle, between the chancel and nave-arcades is the late 15th-century doorway to the rood-loft staircase; it has rebated jambs and four-centred head and retains the hooks of the former door.
The South Aisle (7 ft. wide) has E. and W. windows uniform with the W. window of the N. aisle. In the S. wall are three windows, the two western modern and the eastern of c. 1300 and of three square-headed lights; the S. doorway, of the same date, has jambs and two-centred arch of two chamfered orders with a moulded label and mask-stops.
The West Tower (8 ft. square) is of c. 1300 and of three stages finished with a moulded cornice with ball-flower ornament, at the base of the spire. The two-centred tower-arch is of three chamfered orders with a moulded label, partly restored; the two outer orders are continuous and the inner order rests on semi-circular shafts with moulded capitals. The W. window is of two trefoiled lights with a quatrefoil in a two-centred head with a moulded label and mask-stops. The second stage has in the W. wall a window of a single trefoiled light in a square head. The bell-chamber has in each wall a window of two pointed lights with a pierced spandrel in a two-centred head with a moulded label. The broach-spire is octagonal and of ashlar with two tiers of four lights; the windows of the lower tier are each of two-pointed lights with a blank spandrel in a gabled head; those of the upper tier are each of one trefoiled light in a gabled head.
Fittings—Bells: three, 1st by Edward Newcombe, first half of the 16th century; 2nd by Tobias Norris, 1620; 3rd by William Wates, 1590. Carvings: (Plate 58) In chancel—on S. wall, two stones, (a) carved figure of angel with flowered staff and standing in round-headed panel with remains of inscription above; (b) larger figure in similar panel with halo, no wings and apparently a scroll in the right hand, both pre-Conquest, perhaps 10th-century. Incorporated in two E. buttresses of chancel, six carved stones (Plate 58)—(a) half figure of a winged and nimbed angel holding staff, rest of panel filled with conventional foliage; (b) same subject as (a) but positions reversed; (c) panel with vine-scroll ornament, etc.; (d) three busts, probably of apostles, under round-headed arcade with conventional foliage above as in (a) and (b); (e) parts of two panels on same stone, left with a disc-shaped ornament, large bird and foliage, right, scrolled foliage with birds; (f) panel with three figures, two being bird-like monsters with a man in the middle, figures separated by interlaced trees. All the above are carved probably in yellow Ketton stone apparently reddened in places by burning and all are of pre-Conquest date, perhaps 8th-century, the figures bearing a close resemblance to those on 'Hedda's' stone and the stone in the S. transept of Peterborough cathedral. On the S.E. buttress of the chancel is a square Barnackstone panel of foliage-diaper of the 12th century. Coffins and Coffin-lid: In churchyard—E. of chancel, fragments of two stone coffins with shaped heads; at W. end, near gate—coped slab with raised cross, 13th-century, broken. Cross: W. of tower—standing cross (Plate 50) of Barnack stone with tapering stem (1 ft. 1½ in. by 10 in. at base) and mutilated wheel-head; stem cut short at bottom and with projecting moulded band half way up; on W. face above band, much defaced inscription apparently reading "RADULFI FILIVS (W)IELM"; below band, upper part of series of medallions with conventional acanthus-ornament; one medallion complete and containing a beast, perhaps the tiger and mirror; on E. face above band, a large much defaced animal, perhaps an Agnus Dei; below band, medallions as on W. face, one with a sort of antelope, looking backwards, the other defaced; angles of cross with cable ornament, on N. face-coarse conventional acanthus-foliage, S. face much defaced but with cross below, c. 1180; old moulded base not belonging. Font: (Plate 9) octagonal bowl with faces alternately panelled and fluted, moulded under-edge and moulded stem with moulded capital and base, probably late 16th-century. Locker: In N. aisle—re-set in N. wall, rectangular, with rebated edges. Piscina: In chancel—plain recess with chamfered jambs, no drain, date uncertain. Seating: In N. aisle—two 15th-century bench-ends with popey-heads carved with foliage and two angels holding shields, now much defaced, incorporated in modern bench. Sundial: On S.W. buttress of tower—incised sundial with iron gnomon, 17th- or 18th-century.
Condition—Good.
Secular
(3). Cross and moat, 140 yards E.N.E. of the church. The cross, probably of the 15th century and not in situ, has a square base, of Barnack stone, with chamfered angles and a broken octagonal shaft; near by lies a moulded capital probably belonging to the cross.
The Moat, E. of the cross, is rectangular and outside it are remains of a roadway and perhaps gardens.
Condition—Poor.
(4). Outbuilding in field, 60 yards E. of the church. The walls are of rubble with ashlar dressings. The building, now ruinous, incorporates walls of 15th- or early 16th-century date and a doorway with chamfered jambs and four-centred arch. The building has been altered and adapted for use as a cowshed and there is no indication of its original plan or purpose.
Condition—Ruinous.
(5). Rectory, N.W. of the church, is of two storeys with attics. The building is modern except for a cross-wing at the E. end which is of stone and was built probably in the 17th century. Some mediæval masonry has been re-used in the outbuildings.
Condition—Good.
(6). House, on S. side of road 100 yards S. of the church, is of one storey with attics; the walls are of rubble and the roofs are covered with slates. It was built probably late in the 17th century and has at the W. end an original ashlar chimney-stack with moulded cornice and necking.
Condition—Fairly good.
(7). Cottage, on the N. side of the road 50 yards W.N.W. of (6), is of one storey with attics; the walls are of rubble and the roofs are covered with slates. It was built probably late in the 17th century.
Condition—Fairly good.
(8). Carved Stone on modern house about 250 yards W.S.W. of the church. The stone bears an achievement of the quartered arms of Whitbrooke of Water Newton and is probably of early 18th-century date.