Pages 14-18
An Inventory of the Historical Monuments in London, Volume 4, the City. Originally published by His Majesty's Stationery Office, London, 1929.
This free content was digitised by double rekeying and sponsored by English Heritage. All rights reserved.
4. BILLINGSGATE WARD.
Billingsgate Ward consists of the parishes of St. Mary at Hill, St. Botolph Billingsgate, St. George Botolph Lane, St. Andrew Hubbard and St. Leonard Eastcheap, and parts of the parishes of St. Margaret Pattens and St. Mary Magdalen Fish Street.
Ecclesiastical
(1) Parish Church of St. Margaret Pattens stands on the E. side of Rood Lane. The walls are probably of plastered brick, partly faced with Portland-stone and with dressings of the same material; the roofs are covered with slates and lead. The old church was destroyed in the Great Fire of 1666 and re-built from the designs of Sir Christopher Wren in 1684–89, at a cost of £4986 18s. 8d. The church forms a simple rectangular apartment (77 ft. by 38½ ft.) with N. aisle (15 ft. wide), N.E. Vestry and N.W. Tower (13½ ft. square); it probably stands on mediæval foundations, but the style and detail are Renaissance.
Architectural Description—The E. Elevation is plastered and painted and finished with a cornice and parapet; the middle bay projects and has a pediment with a round window in the tympanum, a large round-headed E. window with moulded imposts and key-stone; the side bays have each a similar but smaller window with a round window above. The E. wall of the N. aisle has a round-headed window. The vestry has a plain segmental-headed window in both the E. and S. walls.
The N. Elevation has four round-headed windows with moulded architraves; the easternmost is blocked, and below the second is a doorway with moulded architrave and segmental-head; the wall is finished with a cornice and parapet. The Tower occupies the N.W. angle of the building and is of four stages divided by cornices and faced with Portland stone. The ground-stage has in the N. wall a square-headed doorway and in the W. wall a round-headed window and a round window above it, both with moulded architraves. The second and third stages have each in the W. wall a round window, and these together with the fourth stage have shallow pilasters at the angles. The bell-chamber has in each wall a square-headed two-light window with a moulded architrave, a plain mullion and a grotesque mask in the middle of the head. The tower is finished with a Doric entablature over the pilasters with the cornice continued round, a balustraded parapet above with pedestals at the angles supporting panelled obelisks with acanthus enrichments.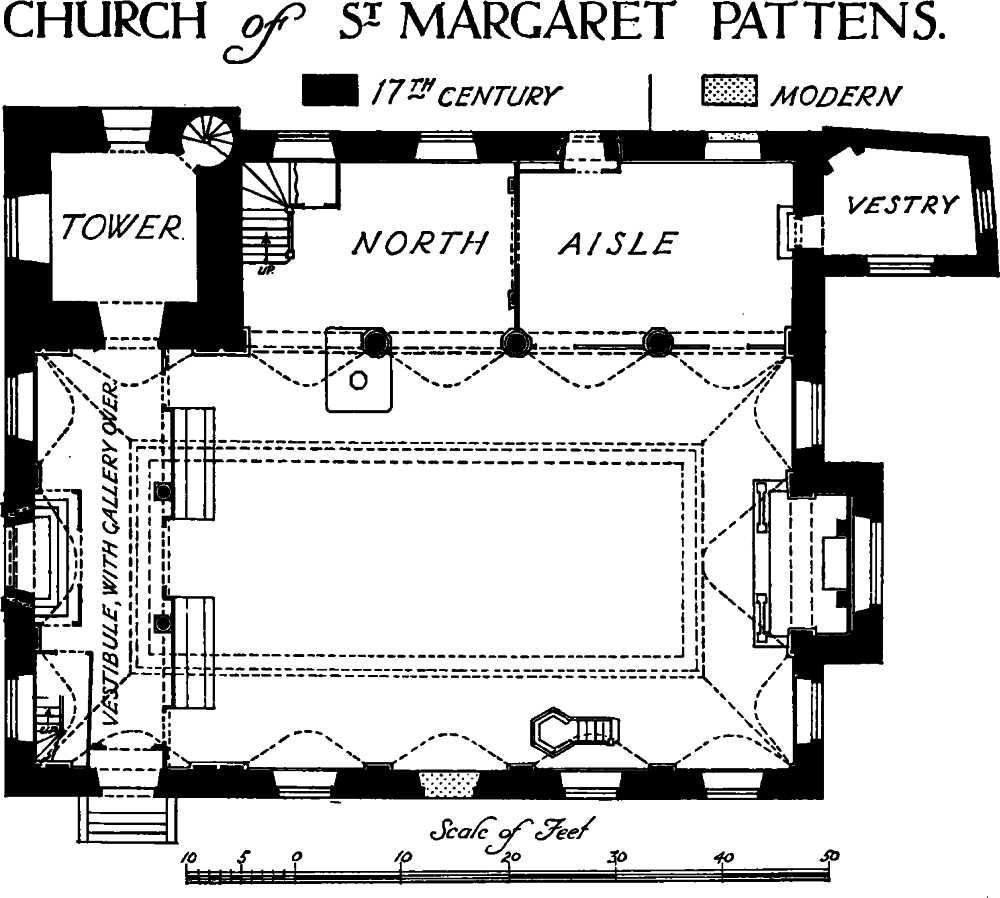 Rising from the tower is an octagonal lead-covered spire of timber with panelled faces and three ranges of lunettes in alternate faces; those in the lowest range are rectangular with small pediments, but the lunettes of the two upper ranges are oval; the spire is finished with a ball and vane.
The S. Elevation (Plate 62) is finished with a cornice and plain parapet, and the third bay is covered by a modern building; the other bays, except the westernmost, have each a round-headed window with a moulded architrave and a round window above; the westernmost bay has two round windows one above the other, and below is the square-headed S. doorway with moulded architrave, cornice and segmental pediment resting on carved consoles.
The W. Elevation is finished with a moulded cornice and pediment with a round window in the tympanum. The middle bay projects slightly and contains the round-headed W. window with side pilasters, cherub-head key-stone and carved swags above; below the window is a round-headed doorway with moulded imposts, archivolt and key-stone; it is flanked by Doric pilasters supporting an entablature; the side bays have each a round-headed and round window similar to those in the ground-stage of the tower.
Interior—The walls of the body of the church are divided into bays by Corinthian pilasters on high pedestals and supporting a continuous architravemoulding; the pilasters are coupled between the fourth and fifth bays of the side walls; on the N. side the pilasters are replaced by free columns where the aisle adjoins the church. The ceiling is flat, with coves at the sides springing from the architrave-moulding and groined back over the round windows of the clearstorey; between the cove and the flat ceiling is an enriched band and cornice. The aisle has a plain flat ceiling of plaster. In the S. wall of the tower is a square-headed doorway with a moulded architrave.
Fittings—All late 17th-century unless otherwise described. Bells: two, 2nd by Thomas Bartlett, 1624. Chairs: two; in vestry and chancel—with carved and pierced back, twisted posts, carved arms and carved and twisted legs, from St. George Botolph Lane; also stool with carved legs and rails. Communion Rails: with moulded upper and lower rails, turned and twisted balusters and square panelled posts. Cupboards: In vestry— with panelled doors; also small cupboard of Jacobean type. Doors: panelled doors to both vestries, cupboard beneath gallery-stairs, tower, W. and S. doorways and lobbies of W. and S. doorways. Lobby of W. doorway panelled with moulded architrave and panel over door-head carved with drapery and swags. Inner S. doorway flanked by fluted Corinthian pilasters supporting entablature with raised panel on frieze. Font (Plate 9): of marble, with moulded bowl of ovolo section carved with four cherub-heads and swags and acanthus ornament, octagonal stem with acanthus ornament. Galleries: N. gallery in N. aisle has front with moulded cornice and base carried round columns of arcades and three panels in each bay, the middle one of oval form; staircase with twisted balusters, moulded string and moulded hand-rail ramped over square newels. W. gallery rests on two fluted Ionic columns and two fluted pilasters of the same order with a simple entablature; the gallery-front is panelled and has a moulded capping. Monuments and Floor-slabs. Monuments: In body of church—on easternmost pier on N. side, (1) to Giles Vandeput, 1646, Sara his wife, 1656, Peter his son, 1668, and Jane (Hoste) wife of Peter, marble cartouche with drapery, palms, cherub-head and cartouche-of-arms; on S. wall (2) to Richard Litler, 1674, and Phebe his wife, 1695, marble tablet with moulded cornice, segmental pediment and apron carved with palms. Floor-slabs: In chancel—(1) to Thomas Arundel, 1707, and Priscilla his wife, 1712, with shield-of-arms; (2) to John Gardner, 1690, and Mary his wife, 1713, with shield-of-arms; in nave— (3) to James Donalson, 1684–5, and John his son, 1681, with shield-of-arms; (4) to Judith, wife of Nicholas Bosquet, 1714–15; in vestibule—(5) to Edmund Cox, 1722, Elizabeth (Cleveland) his wife, 1712, and Gerrad their son, 1702, with shield-of-arms. In N. aisle—(6) to Ann Chaplin, 1690–1; (7) to John Lorimer, 1689, and Gilbert Lorimer, 1688, with shield-of-arms; (8) to Thomas Wright, 1712. Painting: Over vestry door—oil painting of Christ in the Wilderness, attributed to Carlo Maratti (1625–1713) and formerly on reredos. Panelling: round walls of church, vestry and vestibule, panelled wainscoting with moulded capping. Paving: In sanctuary and round font— of black and white marble squares. Plate: includes flagon of 1708 given the same year and with shield-of-arms, flagon of 1709 given in 1710 and with shield-of-arms, cup of 1545 and cover-paten of 1600, cup of 1649 and cover-paten with inscribed date 1639, two stand-patens of 1709, one with a shield-of-arms, three dishes of 1709, one with a shield-of-arms. Pulpit: of oak, hexagonal with inlaid styles, rails and panels, enriched mouldings to panels, base and cornice, coved base with octagonal panelled stem having moulded capital; stairs with cut string and turned and twisted balusters. Rainwater-heads: On N. wall—two, of lead, dated 1685. Reredos: In chancel—of three bays divided by fluted Corinthian columns supporting an enriched entablature and segmental pediment over the middle bay, side bays each with two panels, the lower carved and the upper with the Lord's Prayer and Creed, space above richly carved with fruit, foliage, palms, etc., and finished with a cornice of quadrant form; the middle bay has a tapestry-picture. At E. end of N. aisle—reredos formed from former door-head, flanked by fluted Corinthian pilasters, cut down and supporting entablatures and a segmental pediment; in the pediment are carved scrolls and a Della Robbia plaque. Royal Arms: On gallery front—Stuart arms (Plate 16), carved and pierced. Screens: At W. end of stalls, panelled screens with carved and pierced frieze-panels and enriched cornices. Under W. gallery-front—middle portion with square-headed doorway flanked by panelled pilasters supporting enriched cornice. Seating: In N.E. angle of church—rectangular pew with panelled enclosure and carved and pierced frieze-panels with enriched cornice. Quire-stalls made up of old work of similar type; on one panel is scratched D.H. 1709. Pews in nave incorporate some old panelling. Churchwardens' pews (Plate 68) at W. end, two with panelled enclosures, carved and pierced frieze-panels, flat canopies resting on slender metal columns and with carved brackets, carved and moulded cornice; panelled backs each with five oval openings; on panelled soffit of S. canopy, inlaid monograms and date 1686; on ends carved lion and unicorn with cartouches. Miscellanea: In nave—metal cross, gilt, from steeple. In vestry—fragment of mediæval MSS. from registers of St. Gabriel. In nave—Litany-desk, made up of old twisted balusters, rails, etc.
Condition—Good.
(2) Parish Church of St. Mary at Hill stands between the street of that name and Love Lane. It is a Renaissance building, the internal plan being in the form of a Greek cross, with a dome at the intersection. The E. wall is faced with Portland stone, partly plastered, but the S. wall is rendered in cement. The body of the church was re-built by Sir Christopher Wren in 1670–1676, after the Great Fire, at a cost of £3980 12s. 3d., but some mediæval work may possibly remain in the side walls. The Tower, Vestibules and N. and S. windows are modern and the church has been otherwise restored.
The carved wood-work of the church is noteworthy.
Architectural Description—The church forms a slightly irregular square (70 ft. by 59½ ft.) with a tower flanked by vestibules at the W. end and a projecting vestry at the E. end of the S. wall.
The E. Elevation is divided into three bays, with rusticated angles, the centre bay projecting slightly and having a blocked window of three divisions separated by pseudo-classical pilasters. These support an entablature arched over the central portion. The middle division is of three lights with a transom at the springing, and the side ones have each two lights and a transom. The middle bay is finished with a cornice and pediment, both broken to admit a blocked semi-circular window; the cornice is carried across the side bays. The side bays of the E. wall are pierced by round-headed windows, with moulded architraves and plain key-stones. The wall stands on a stone plinth.
The N. and S. Elevations have each a modern window in the second and third bays. Adjoining the first bay on the S. is a two-storeyed vestry forming an integral part of the adjoining building.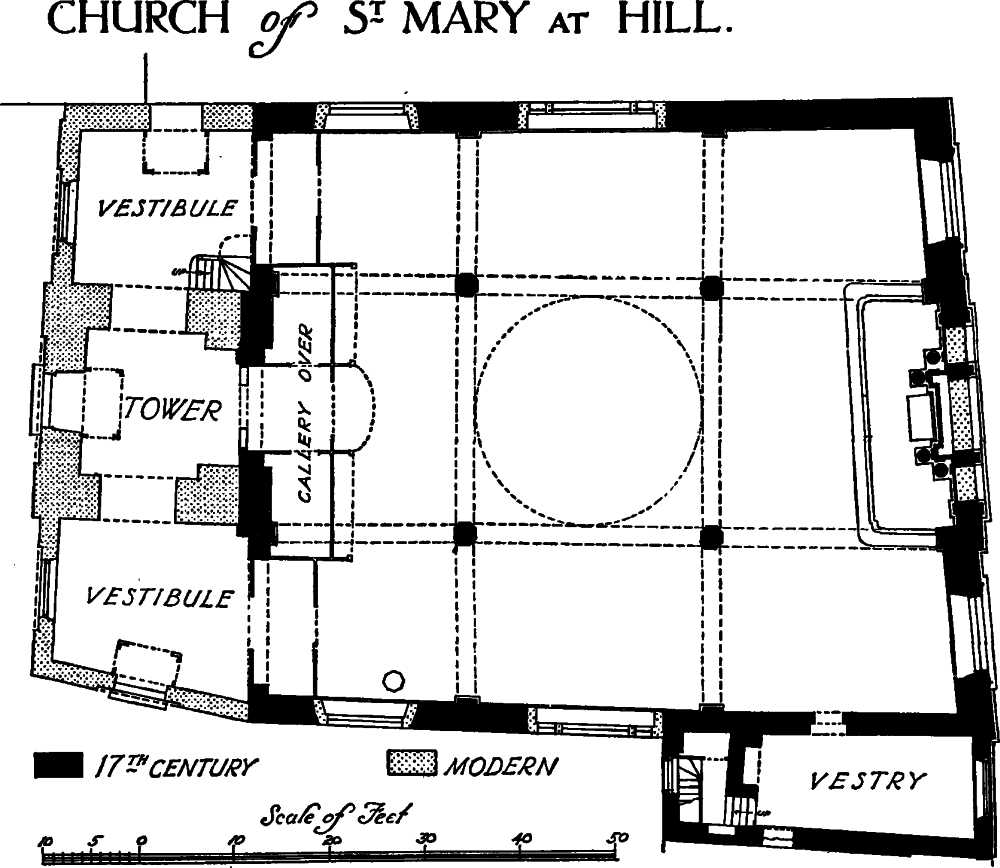 The W. Elevation is entirely modern.
Interior—In the first bay of the S. wall is a door to the vestry, and in the two side bays of the W. end are round arches with cherub-head key-stones opening into the modern vestibules. Within the church an inner square is formed by four pseudo-classical fluted columns supporting a deep architrave with panelled soffit, following the arms of the Greek Cross, and resting on corresponding pilasters against the walls. The arms of the cross are roofed with plaster barrel-vaults, enriched with coffered bands and ornamental borders, largely modern; above the intersection rises a coffered and ornamented plaster dome resting on pendentives with modelled foliage. On each side of the eastern arm are two round-headed clearstorey windows groined into the vault. The small angle-bays of the church have flat plaster ceilings.
Fittings—All of late 17th-century date unless otherwise described, but much of the wood-work was altered and added to in 1848–9 by the woodcarver W. Gibbs Rogers, whose work is so like its original as to render the age of many of the fittings, in whole or in part, doubtful. Chairs: two, partly repaired, with carved and pierced backs, enriched arms, carved legs, shaped stretchers, and twisted front posts. Clock-case: projecting from S.E. angle of church, square case with carved spandrels, moulded cornice and pediment, carved supporting beam with carved truss below. Communion Table: with five legs carved and twisted at the top, curved stretchers and moulded and enriched top. Communion Rails: with carved and twisted balusters and flat carved standards, quadrant-shaped angles and carved top rail. Doors: In centre of vestibule under gallery, panelled door to screen. In vestry—two panelled doors. A carved bas-relief in stone of the Resurrection, formerly over the gateway in Love Lane, is now in the N.W. vestibule. Font: octagonal white marble bowl with reeded enrichment, baluster-stem with acanthus-enrichment, black marble base. Carved oak cover with cherub-heads and swags, ogee-shaped upper part with enriched angles and terminal. Gallery: Organgallery at W. end approached by a staircase from the N. vestibule, with turned and twisted balusters. The panels of the front have modern carving. It is brought forward in the centre for organist's seat. Monuments and Floor-slabs. Monuments: On N. wall, (1) to John Woods, 1658, Anne (Burnet) his first wife, 1645, and John his son, 1670, marble tablet with Corinthian side columns, entablature, broken segmental pediment with cherubs supporting cartouche-of-arms. On S. wall, (2) to John Harvey, 1700, marble cartouche (Plate 26) with drapery, shield-of-arms and cherub head; (3) to Thomas Dovall and Anna (Potts) his wife, 1700, marble wall-monument (Plate 25) with Composite side-pilasters, draped segmental pediment, achievement-of-arms, etc.; (4) to Charles Vickars 1712–3, marble draped cartouche with cherub-heads and shield-of-arms. In N. vestibule —on N. wall, (5) to Isaac Milner, 1713, marble tablet with Composite side-columns, entablature, segmental pediment with urn and achievement-of-arms. In S. vestibule—on S. wall, formerly in St. George Botolph Lane, (6) to Daniel Wigfall, 1698–9, marble cartouche with drapery, cherub-head and shield-of-arms. Floor-slabs: In middle aisle— (1) to John Knapp, 1708, and Mary (Brownrigg) his wife, 1711, with shield-of-arms. In vestibule— (2) to Samuel Leadbeater, 1710. Panelling: panelled wainscot all round church, three panels high, with some modern work. The vestry has panelling two panels high and a moulded architrave and cornice to the fireplace. Plate: includes two cups and cover-patens, one of 1576 and inscribed Thomas Lorimar, the other of 1587, two tankards of 1637, a paten and dish both of 1684, and a sealhead spoon of the same date. Reredos: of three bays, middle bay flanked by Corinthian columns supporting an enriched cornice and round arch and enclosing two enriched round-headed panels, painted cherubs above heads of panels, and below panels a third panel carved with foliage, fruit, flowers and a crown; above arch, a segmental pediment with cherub-heads and a book in the tympanum; side bays each with enriched panels, the lower one carved with swag and crown, frieze carved with swags and wreath. Royal Arms: Stuart (Plate 16), in centre of gallery front, a second of same date at W. end, from St. George Botolph Lane. Screens: Under gallery, in middle of vestibule—with Corinthian pilasters flanking doorway and supporting an enriched entablature with cherub-heads on the frieze; E. side panelled and finished with a coved and enriched cornice. Under gallery, at N. and S. ends—panelled, that on N. with names of churchwardens, Thomas Beckford and Henry Loades and date 1672. Seating: Under gallery—churchwardens' pews have four posts, with old carving in front, supporting the gallery.
Condition—Good.
Secular
(3) Watermen's Hall, standing on the W. side of St. Mary at Hill, is a modern building. In the Hall is a wood-carving of the royal Stuart arms, from the old hall.
(4) Sign on Nos. 6 and 7 on S. side of Lower Thames Street. The building is modern, but on the N. front is a sculptured stone sign of a chained bear in high relief; in a semi-circular panel above are the date 1670 and the initials M.E.