Pages 166-172
An Inventory of the Historical Monuments in London, Volume 4, the City. Originally published by His Majesty's Stationery Office, London, 1929.
This free content was digitised by double rekeying and sponsored by English Heritage. All rights reserved.
20. LANGBOURN WARD.
Langbourn Ward includes the parishes of St. Edmund Lombard Street, St. Dionis Backchurch, St. Gabriel Fenchurch and parts of the parishes of St. Mary Woolnoth, All Hallows Lombard Street, St. Nicholas Acon, St. Clement Eastcheap and All Hallows Staining. All Hallows Church Lombard Street and the Pewterers' Hall are the principal monuments.
Ecclesiastical
(1) Parish Church of All Hallows stands on the N. side of Lombard Street. It is a Renaissance building, probably following the Gothic plan. The walls generally are of rag-stone with Portlandstone dressings, but the tower and W. wall are faced with Portland stone; the roofs are lead-covered. The old church was much damaged in the Great Fire of 1666 and was re-built by Sir Christopher Wren in 1686–94, at a cost of £8,058 15s. 6d.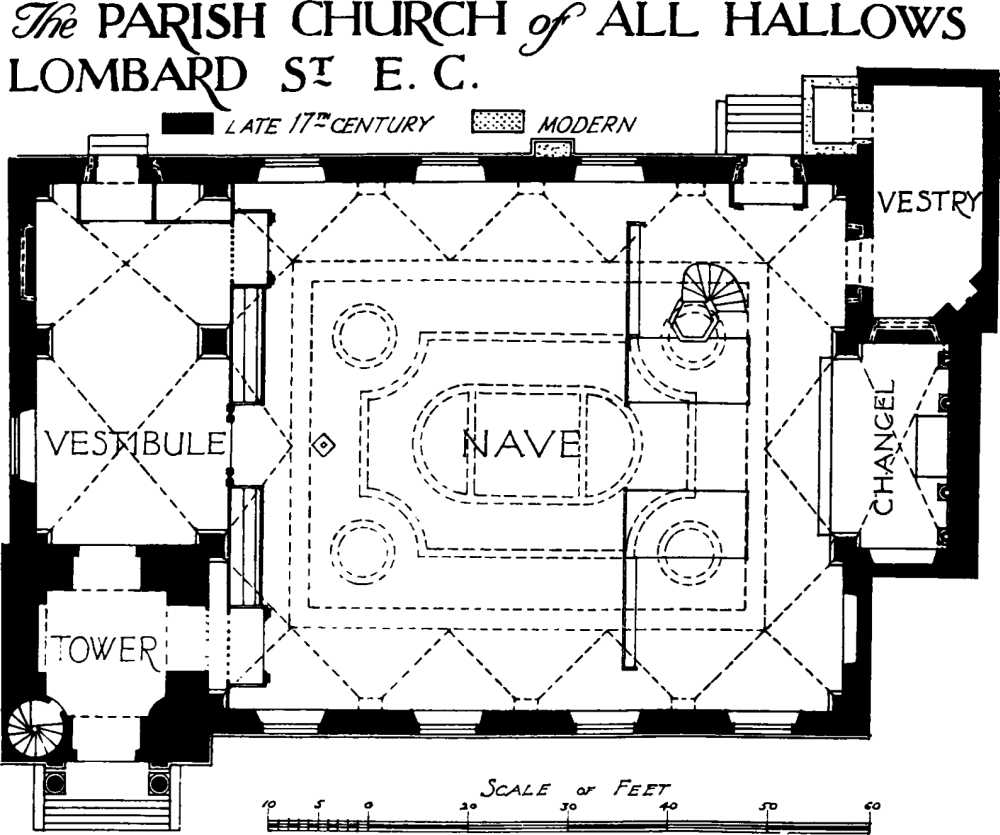 Architectural Description—The church is rectangular (63½ ft. by 52 ft.), with a projecting chancel (10½ ft. by 20 ft.), a tower (12½ ft. by 12 ft.), at the S.W. angle within the church, and a vestibule (18 ft. by 36 ft.) between the tower and the N. wall.
Elevations—The chancel has a blank E. Wall with a round-headed window on the N. and a similar, but blocked, window on the S. The N. Wall has a moulded plinth and is finished with a cornice and plain parapet and has five windows similar to those in the chancel, with a blocked one in the E. return-wall and a square-headed doorway under it having a moulded architrave and scrolled keystone. Externally the windows have moulded architraves and sills. Below both eastern and western windows, on this side, are square-headed doorways with moulded external architraves and shaped keystones. The S. Wall has plinth, windows, cornice and parapet similar to those of the N. wall and a blocked window in the E. return wall. In the northern bay of the W. Wall is a round window placed high up, and in the southern bay a round-headed window uniform with those before described. Below the N. window is a square-headed doorway uniform to that in the easternmost bay of the N. wall. The Tower is of four stages and has a moulded plinth. In the S. wall of the ground-stage is a square-headed doorway, with moulded architrave flanked by Corinthian pilasters. Above it is a projecting entablature supported on Corinthian columns standing in front of the pilasters. The space above the door-head is enriched with carved swags of fruit and flowers and a cherub-head in the middle. Above the entablature is a panelled block with a cornice and pediment. The second stage has a moulded band externally at half its height and a round-headed window with moulded architrave, in the W. wall, cutting through the band. The third stage has a similar window in the N. and S. faces and a square-headed doorway beneath the N. window. A small cornice marks the base of the bell-chamber, which has in each face a square-headed window of two lights with an eared architrave and a cornice over. The tower is finished with a cornice and a pierced stone parapet, solid at the angles.
Interior—The main ceiling is flat with a large rectangular panel with segmental angles and pierced in the middle by three modern lights. In each corner is a circular panel. The sides are coved and groined back above the windows, the cove springing from enriched consoles, with cherub-heads, between the windows. Between the flat and the cove is an enriched band or cornice. The chancel is covered by a groined vault springing from consoles in the E. angles and from pilasters uniform with those in vestibule at the outer angles. The W. wall of the church has three round arches, the two northern opening into the vestibule and forming part of its vault; they spring from panelled pilasters with moulded capitals and bases against the N. wall and at the N.E. angle of the tower, and a square free pier of similar character. The pilasters are repeated against the W. wall of the vestibule. The vestibule-ceiling has a groined plaster vault in two bays. The ground-stage of the tower has in the E. wall a segmental arch with a square head on the E. face. In the N. wall is a similar arch, the N. face having a moulded architrave and scrolled key. In the W. wall is a segmental-headed recess of similar size.
The Vestry on the N.E. is of the 17th century and has a moulded plinth to the N. wall. The external walls are painted and whitewashed.
Fittings—All fittings, not otherwise described, are of late 17th-century date. Books: In case next vestry-doorway—bible of 1613 and Erasmus' Paraphrase of the New Testament of 1548–9, formerly in St. Benet Gracechurch. Candelabrum: In chancel—of brass, with eight branches. Communion Table: with inlaid top, richly carved and bracketed supports and moulded base-rails which support pedestals with doves at the angles and an Agnus Dei on a paten in the middle. Cupboard: In vestibule—bread-shelves (Plate 45) with panelled and carved pilasters at sides, enriched cornice and pediment with cartouche above. Doors and Doorcases: In two N. doorways, in doorways of tower and to N.E. vestry—panelled doors of two folds. At N. and S. ends of vestibule-screen—two doorcases, E. front of each with Corinthian fluted pilasters supporting enriched entablature with segmental pediment and figures of Time and Death respectively; panelled doors of two folds, moulded imposts and cornice to frame, with elliptical arch over, supporting a panel with carved scrolls and with a carved tympanum. Standing against W. internal wall of tower, but formerly the entrance from Lombard Street—square-headed doorway (Plate 7) and gate, frame and head richly carved with cherub-heads, emblems of mortality, etc., enriched cornice above on carved consoles; panelled gate with wrought-iron grate above. Font (Plate 11): of white marble, round bowl carved with cherub-heads and swags, carved pedestal or foot standing on square baluster-shaped stem with carved panels. Cover, of oak with scrolls and swags to lower part, ogee-shaped capping with cherub-heads, swags and cartouches-of-arms and on top group of Charity and children. Monuments: On S. wall—(1) to Thomas Lewis, 1714, and George Lewis, 1722, marble tablet with Composite side-pilasters, entablature with cartouche-of-arms and two angels with trumpets. Formerly in St. Dionis' church, the following—On N. wall, (2) to Nathaniel Letten, 1668, marble cartouche with drapery, cherub-heads and cartouche-of-arms; (3) to Edward Tyson, M.D., 1708, marble wall-monument, by Edward Stanton, with draped niche containing bust and flanked by standing cherubs and pilasters with segmental cornice, supporting vases and cartouche-of-arms. On S. wall, (4) to Elizabeth, wife of James Woods, 1690, and James Woods, 1700, marble tablet with Corinthian side-columns, entablature, broken pediment and cartouche-of-arms. At W. end, (5) to Lionel Gatford, Rector of St. Dionis, 1715, and Anne, 1705, and Mary (Halford), 1710, his wives, marble tablet with cornice and cartouche-of-arms; on W. wall—(6) to Philip Jackson, 1686, marble tablet with Corinthian pilasters, entablature, broken pediment and cartouche-of-arms. On N. wall of tower, (7) to Sir Arthur Ingram, 1681, Hannah Champneys, 1693, his daughter, Ann his wife, 1702, and others later, tablet with scrolls, cornice, pediment, urn and shield-of-arms. Organ (Plates 82, 28): built by Renatus Harris, 1701, now placed at S.E. angle of church—rich case with large round panel in middle surrounded by pierced carving and with two smaller panels above, having upper sides ramped up to a central tower of pipes with an entablature, at sides two towers of pipes on half-round acanthusbrackets with carved frieze above and with pierced carving and entablature at top, lower part of case and sides panelled. Panelling: round walls of church, panelled wainscoting, in two heights, with moulded capping. In vestry—bolection-moulded panelling, with moulded surround to fireplace. Plate: includes flagon of 1613, given by Christopher Tolderney, with enamelled achievement-of arms; cup of 1612; cup of 1617; cup of 1624, given by William Clarke; cup of 1663, given by Mary Masters; paten of 1560; stand-paten of 1617; paten of 1624; stand-paten of 1661, given by M. M. (Mary Masters); alms-dish of 1683, given by Edward Fownes, with shield-of-arms; also two flagons from St. Benet Gracechurch, one of 1605, the other of 1631 and given by John Raynye; also an alms-dish of 1709, given by Edward Boulter, and two alms-dishes of 1706; all three belonging to St. Leonard Eastcheap. Pulpit (Plate 212): hexagonal with moulded and enriched top and bottom rails, raised panels on each side flanked by festoons and surmounted by cherub-head and swags, ogee base on plain hexagonal stem; staircase with turned and twisted balusters and continuous carved string; sounding-board, hexagonal with inlaid soffit and segmental pediment on each face, projecting angles supporting richly carved vases; support to sounding-board, in form of square panelled pier with enriched Ionic capital and two long carved console-brackets. Reredos (Plates 213, 36): of three bays on a panelled base, middle bay with entablature and two round-headed panels with cherub-head key-blocks, surmounted by small pediments, between the panels a carved Pelican "in her piety" in the attic, above the cornice is a round enriched panel with cherub-heads; side bays with enriched Corinthian columns supporting entablature and segmental pediments; between columns of each bay, two panels, lower carved and upper rectangular with carving and pediment above; above entablature of reredos an attic with three pediments, one over each bay; the pediment of the middle bay carried on carved brackets with festoons below and enclosing a cartouche; the pediments of the side bays have carved tympana; on the pediments are carved candlesticks. Royal Arms (Plate 16): Over doorway in N. wall of tower—Stuart, arms richly carved in wood and resting on carved shelf. Screen: between church and vestibule—panelled and with cornice and enriched frieze-panels, modern but incorporating old material. Seating: stalls made up of old and modern panelling; churchwardens' pews at W. end of church, with carved frieze-panels, and carved lion and unicorn not in situ. In vestibule, tower and body of church—several benches with legs. In vestry—low benches with twisted legs. Tables of Benefactors: In chancel—with enriched frame, repainted. In vestibule—with enriched framing carved with cherub-heads and palm-branches. Miscellanea: On S. wall—behind stalls, two wrought-iron hat-pegs with simple scroll-work.
Condition—Good.
(2) Parish Church of St. Edmund, Lombard Street, stands on the N. side of that thoroughfare and is a Renaissance building of the simple apartment type. The S. front and tower are faced with Portland stone, but the remaining walls are rendered in cement except a portion of the W. wall, which has a modern tile-facing. The church was destroyed in the Great Fire, 1666, and re-built by Sir Christopher Wren in 1670–79, at a cost of £5,207 11s. 0d. Some minor alterations have been made in modern times, including a restoration of the church and rebuilding of the roof, consequent on an air-raid in 1917.
Architectural Description—The plan is a slightly irregular oblong (60½ ft. long on E. and 59 ft. on W. by 40 ft. wide), with a rectangular projecting sanctuary at the N. and a tower built within the church at the S. end with vestibules on either side. The church is not orientated, the axis lying N. and S.
The N. Elevation has a large round-headed window at the end of the Sanctuary and there are similar but smaller windows in the side walls. Flanking the Sanctuary are two windows uniform with the latter and, below the western, a blocked square-headed doorway. The N., W. and E. walls are finished with plain parapets. The W. Elevation contains five round-headed windows with beaded edges. All are blocked except the upper part of the two northernmost. The jambs of the window are probably modern. This elevation is largely concealed by adjoining buildings. The E. Elevation includes five similar windows, but here the first and third are not blocked and have modern jambs. The S. Elevation forms a symmetrical design with the tower in the centre. The Tower (Plate 3) is three stages high, surmounted by a lantern and spire; it has rusticated angles and projects slightly to the S. The ground-stage has a square-headed doorway in the S. wall, with moulded architrave and a cornice above supported on consoles, resting on cherub-heads. The round-headed window over, in the second stage, has a cherub-head keystone and moulded architrave and is finished with a similar cornice, and above it is a main cornice and pediment, the cornice being continued across the whole front. The bell-chamber has a round-headed, two-light window in each face, with a transom at the spring of the arch and finished with an architrave and plain keystone. The window in the S. face is set in a square-headed recess occupying most of the wall-space. The tower is finished with a modillioned cornice and a panelled parapet with vases at the angles and a pineapple-ornament in the middle of each side. The timber-lantern is octagonal and lead-covered, with a segmental-headed keyed opening in each face. At each angle is a pilaster curved outwards at the top and supporting a continuous cornice. The short lead-covered spire above is also octagonal with slightly concave sides and an oval lunette in each face. It is surmounted by a moulded capping and vane. The vases formerly ornamenting the lantern and spire have been removed but the brackets, on which they stood, remain. The side bays of the S. front, on either side the tower, have each a round-headed window similar to that in the second tower-stage. Below each of them is a two-light square-headed window, with a moulded architrave. The wall rests on a moulded plinth, above which the outer angles are rusticated. The main cornice is surmounted by a parapet with pedestals at the E. and W. angles supporting carved stone vases. From these pedestals spring inverted curved parapets terminating against the sides of the tower, half-way up the bell-chamber stage.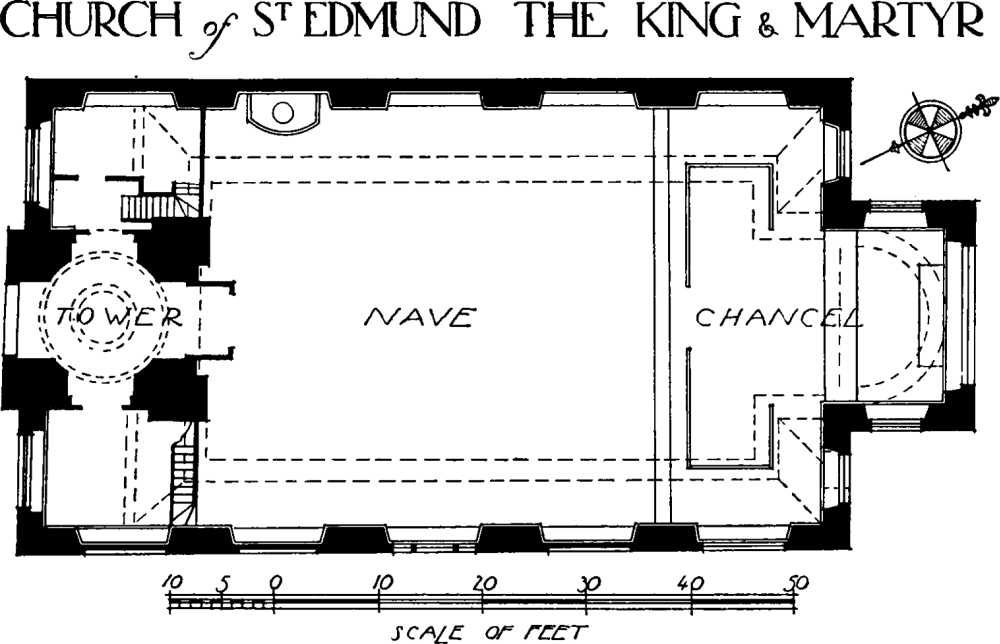 Interior—In the N. wall of the chancel is a square-headed doorway to the modern Vestry. The recesses of the five windows on each side of the church are carried down to the floor. The flat ceiling is coved at the sides, the coves springing from a moulded cornice with acanthus-enrichment. A second cornice and a bay-leaf band form a border to the flat central portion, which is pierced at the four corners by as many modern round openings with bay-leaf enrichment and by an opening in the centre. The ceiling of the Sanctuary is a flattened semi-dome, of plaster, springing from a cornice resting on pendentives, with corbels, in the northern angles. In the ground-stage of the tower a square-headed doorway, on the N., opens into the church and above it, in the second stage, is a round-headed arch at the gallery-level set in a square-headed recess. The side walls of the ground-stage are pierced by round arches to the vestibules, and in the E. wall of the stage above is a square-headed door to the gallery. The ground-stage is covered with a domed ceiling with a cornice and a moulded and panelled centre-piece.
Fittings—All of late 17th-century date unless otherwise described. Bells: one and sanctus, former by Anthony Bartlett, 1675. Book: Common Prayer of 1633, in case on stalls. Chest: In vestry— with carved front panels and top rail, mid 17th-century. Communion Table: with two legs each with three carved and inverted scrolls all carried on a moulded plinth with lions' claw-feet under, moulded and carved top rail with moulded pendants at angles. Communion Rails: with moulded upper and lower rails and turned and carved balusters of unusual design. Doors: to vestry and vestibule—three panelled doors; at S. end— modern door-case, incorporating richly carved panel with palms, scrolls and foliage. Font (Plate 11): white marble moulded bowl with acanthus and gadrooned enrichment, baluster-stem with acanthus-enrichment and moulded black marble base. Cover: of oak and of three stages, lowest stage octagonal with enriched cornice projecting at angles, with pendants under and swags on each face, middle stage of ogee form with cherub-heads, swags and enriched cornice supporting figures of apostles, conical top stage with carved finial, wrought-iron bracket for pulley. Enclosure to front with moulded and enriched rails and carved and twisted balusters. Galleries: on E. and W. of tower—panelled fronts upper panels with pierced carving, and enriched cornice; enclosed staircases, that on E. re-arranged. Glass: In vestry—in middle window, royal arms of Queen Anne after the Union. In W. window of tower—same arms (Plate 208) with initials A. R. and inscription "Set up in the memorable year of Union 1707." Lectern: made up of old panelling, partly carved and pierced, two carved scrolls and top ornamented with swags and carved cornice. Organ: formerly at W. end but now divided and placed at N. end of W. wall, each division with two towers of pipes with pierced carved work, standing on brackets with cherub-heads, middle panel of pipes with curved top and cherub-head below, and pierced upper and lower rails; made up with modern work. Panelling: round walls of church, tower, etc., panelled wainscoting, in four heights, with moulded capping; flanking doorways in N. wall of body of church, fluted Corinthian pilasters with enriched entablature, broken segmental pediment and urn; between door-head and cornice carved palm-branches, etc. Paving: In chancel—of black and white marble squares, set diagonally; similar paving round font, set square. Plate: includes two flagons of 1617, given in the same year; two patens of 1679 and two brass candlesticks probably of early 18th-century date. Pulpit (Plate 34): hexagonal, sides each with panel having enriched border and cartouche above with swags, cherub-heads at angles with festoons, enriched cornice and lower rail, moulded base with hexagonal stem; staircase with moulded rail and string, and balusters similar to communion-rail. Reredos (Plate 36): of five bays, middle bay flanked by fluted Corinthian pilasters supporting an enriched entablature and segmental pediment with carved crown, sceptres, etc., in the tympanum; between pilasters, two round-headed panels with the Decalogue, and carved cherub-heads in spandrels, above is a band with the letters I H S and palm-branches and on the frieze is a panel with the holy Dove; inner side bays panelled and with paintings of Moses and Aaron, by Etty, carved scrolls, swags, etc.; outer side bays with panels of the Lord's Prayer and Creed; main entablature continued over side bays and supporting two carved urns. Screen (Plate 42): at S. end of stalls and made up of old panelling including pierced and carved work, carved vases, etc. Seating: pews made up of old material cut down and altered; churchwardens' pews at W. end have pierced and carved frieze-panels, enriched capping and carved scrolls at ends. Quire-stalls made up of old panelling similar to that of screen. Miscellanea: In vestry—enriched framed panel of oak with swags and festoons; above, a carved cartouche. On N. face of tower-piers, six short square posts with enriched caps and bases, possibly standards of former communion-rails, also carved figures of Lion and Unicorn not in situ.
Condition—Good.
(3) Parish Church of St. Mary Woolnoth, on the corner between Lombard Street and King William Street, was entirely re-built between 1716 and 1727 from the designs of Nicholas Hawksmoor. It contains from the old church the following—
Fittings—Bells: three; 1st and 3rd by William Eldridge, 1670; 2nd by the same founder, 1672. Organ and Case: Organ originally by Bernard Schmidt, 1681, re-constructed and added to. Case with three towers of pipes with pierced carving at top and connected by curved cornices, with pierced frieze below and bands of carving at base. Plate (Plate 32): includes two flagons of 1587, richly chased and with inscriptions; two flagons of 1613, given by Charles Glascocke, one with shield-of-arms; cup of 1626, given by Thomas Willes, with shield-of-arms; cup of 1631, given by Paul Forre, with shield-of-arms; two patens of 1626 and 1631 respectively; a dish of 1518 with a middle boss, formerly enamelled, with a shield-of-arms, three hammers impaling a saltire engrailed and a chief charged with two pierced molets; dish of 1654, with the date 1655 and a spoon of 1684, with the date 1686. Miscellanea: On S. wall—remains of funeralachievement of Sir Martin Bowes including cartouche-of-arms, funeral-helm, gauntlets, spurs and wooden sword; at W. end of church, tabard and pennons of the Bowes arms.
(4) Parish Church of All Hallows Staining, on the S. side of Star Alley, Mark Lane, was pulled down in 1870 with the exception of the 15th-century W. tower. The walls are of rag-stone rubble with limestone dressings.
Architectural Description—The West Tower (12 ft. by 11½ ft.) is of three stages with an embattled parapet and N.W. stair-turret rising above it. The tower now stands isolated in a small churchyard. In the E. and S. walls of the ground-stage are moulded two-centred arches, of two orders, formerly opening into the N. aisle and nave; the responds have attached shafts with moulded capitals, but the bases are modern. In the W. wall is a restored window of two cinque-foiled lights with a quatrefoil in a two-centred head with a moulded label. The second stage has in the S. and W. walls a window of one cinque-foiled light in a square head, all restored externally. The bell-chamber has in each wall a much-restored window of two cinque-foiled lights in a square head with a moulded label over the N. and W. windows.
Fittings—Bell: a Flemish bell of 1458, formerly in this tower, is now preserved at the Grocers' Hall.
Condition—Fairly good.
(5) Parish Church of St. Dionis, re-built by Sir Christopher Wren after the Great Fire of 1666, was demolished in 1878. St. Dionis Hall, standing on the N. of the site of the church and on the W. of Lime Street, contains from the former church the following:—
Fittings—All of late 17th-century date when not otherwise described. Door-cases: two, against N. and S. walls, with fluted and engaged Corinthian columns at sides supporting an entablature and segmental pediment. Door: in E. doorway, panelled and apparently original. Panelling: round lower part of walls, formerly on church-walls, with moulded cornice or capping; round upper part of walls, probably old pewing, with pierced carved frieze. Royal Arms: on W. wall, wood carved, Stuart arms, repainted; at N. end, carved Lion and Unicorn holding shields. Seating: several stools, with turned legs. Table: with six baluster-legs. Miscellanea: Frame over N. fireplace, with eared architrave, segmental pediment and scrolled brackets.
In the Churchyard adjoining the Hall on E. are the following:—Monuments: Flat slabs, (1) to Richard Slany, 1678, Mary his wife, 1684, John and another son (?) John added later; (2) to Thomas Turgis, 16–0, and Mary, 1639, also a son William, 16–3, impaled achievement-of-arms; (3) to Henry Tulse, 1689, much defaced; (4) to Alice (Gore) wife of John Payne, 1704.
Other fittings from this church are now in St. Dionis Church, Fulham.
Secular
(6) Old Pewterers' Hall, now No. 15 Lime Street, standing on the N.W. of that thoroughfare, is of two storeys with attics and basement. The walls are of brick with stone dressings and the roofs are covered with slate and lead. The buildings were re-built in 1668–69 after having been destroyed in the Great Fire. They were leased for commercial purposes in 1861, since which date many alterations have been made and the exterior largely refaced.
The Hall, with a basement under and various apartments over it, stands on the N. of a small courtyard, entered from Lime Street and now covered in. Adjoining the hall on the N. is a small Parlour, now a counting-house, and E. of it is the Staircase.
The S. Elevation, fronting the courtyard, has five E. bays exposed. The wall has apparently been largely refaced and is finished with an entablature. In the second bay is the main entrance, approached by a short flight of steps; it is flanked by rusticated pilasters, with moulded plinths inscribed 1668 and acanthus-capitals bearing the date 1669; the semi-circular arch is also rusticated and has a carving of the Company's arms upon the keystone. The ground-floor windows are square-headed and have been modernised, as have the windows below lighting the basement. The five windows to the first floor have rubbed brick heads and keystones carved with an escutcheon and mask. The N. Elevation is only exposed at the W. end, where two original windows remain, at the first-floor level, with flush frames. To the E. of them is a timber-framed annexe, containing the staircase. The W. Elevation has one window lighting the hall and a pair at the first-floor level, all modernised. The attics have modernised dormer-windows.
Interior—The Hall (56 ft. by 26 ft.) is six bays long and has a flat plaster ceiling, coved at the sides and divided up into moulded, enriched and recessed panels; the bays have two and three panels in the width alternately. The walls are panelled to half the height of the windows and finished with an enriched entablature as capping, with rectangular panels at intervals. The Screen, at the W. end, is five bays in width divided by panelled Doric pilasters supporting an entablature; the two doorways are square-headed and plain and the screen bears the modern painted date 1668; the intermediate bays are panelled. The Parlour, now a counting-house, is an irregular pentagon on plan and has a rich plaster ceiling (Plate 210); in the centre rises a re-built octagonal lantern-light and round it are eight enriched panels, four circular and the rest bearing the crest of the company twice repeated, a figure of St. Catherine trampling on the Emperor in high relief and a figure of a man in long gown, said to represent William Smallwood. The doorway on the S. has a carved over-door finished with a cornice, and on the outer side a cornice and broken pediment. The walls are panelled and have a cornice carried round at the ceiling-level. The Staircase is without a well and has turned balusters, moulded string and hand-rail and square newels with half-balusters against them; these are repeated against the wall to the first flight; the staircase is carried up to the second floor only, the landing having a long balustraded rail. The Basement, now used as stores, has the floor above supported on turned wooden posts in two rows. The First Floor is cut up into four rooms, of which the westernmost is original with walls panelled to the ceiling. In the second room from the E., against the N. wall, is an original fireplace with a deeply moulded wooden architrave. The attic-staircase at the N.E. angle of the building has turned balusters, but only those to the upper part are original. The queen-post trusses of the roof are also original.
The modern premises of the company, which adjoin the old hall on the E., contain the following fittings from the old building: In the Committee Room—a sundial in stained glass, with the design of a spider and fly on a web, late 17th-century; panelled dado, same date. In the Court Room— panelling to walls, late 17th-century. A carved cartouche of the company's arms and another dated 1672, from the state barge, are also preserved.
Condition—Good.
(7) Houses, Nos. 17 and 18, on the S. side of Cullum Street, are of three storeys with attics; the walls are of brick. They were built, probably, late in the 17th century, but the front of No. 17 has been largely re-faced. The windows have flat heads, and there is a moulded band at the second-floor level. Inside the building, No. 18 has an original staircase with straight moulded strings, turned balusters and square newels with moulded caps.
Condition—Good.