Pages 37-44
An Inventory of the Historical Monuments in London, Volume 4, the City. Originally published by His Majesty's Stationery Office, London, 1929.
This free content was digitised by double rekeying and sponsored by English Heritage. All rights reserved.
9. CANDLEWICK WARD.
Candlewick Ward consists of the parish of St. Martin Orgar and parts of the parishes of St. Clement Eastcheap, St. Laurence Pountney, St. Leonard Eastcheap, St. Mary Abchurch and St. Michael Crooked Lane.
The principal monuments are the churches of St. Clement Eastcheap and St. Mary Abchurch.
Ecclesiastical
(1) Parish Church of St. Clement Eastcheap stands at the S. end and on the E. side of St. Clements Lane. The walls generally are of brick covered with cement, with dressings of Portland stone. The roofs are covered with asphalte. The vestry is of brick. The former church was destroyed in the Great Fire, the present building being erected on its site in 1683–87 from the designs of Sir Christopher Wren at the cost of £4362 3s. 4½d.; it was re-arranged in 1872, the W. and S. galleries being abolished and seating, etc., altered. In 1925 the roof and ceiling were replaced by a steel roof and a new ceiling, only the oval wreath of flowers, etc,. being re-set.
Among the fittings the pulpit and reredos, fontcover and fireplace are good examples of the period.
Architectural Description—The church is built in the Renaissance style and consists of a simple rectangular apartment with a tapering S. Aisle, E. Vestry and S.W. Tower. The walls are finished with a moulded cornice and plain parapet; the E. wall has rusticated quoins and, above the vestry, a central round-headed window, the lower part of which is now blocked and, on either side of the vestry, a smaller round-headed window which is a 19th-century replacement of the former two windows, one above the other, resembling those in the W. wall. Patches in the external cementdressing show the positions of the former windows. In the lower half of the E. wall of the S. aisle is a segmental-headed window. The N. wall has five blocked round-headed windows with a range of segmental-headed windows above, of which the first and fifth are blocked; below the westernmost window is a blocked doorway with square head, moulded architrave and cornice. The S. wall of the main building has at the E. end two blocked windows similar to those in the corresponding bay in the N. wall, and above the aisle three round-headed windows lighting the clearstorey. The S. wall of the aisle and tower are covered by modern buildings. The W. front of the main building has a projecting plinth and is of three bays; the middle bay projects slightly with rusticated quoins, and over it the main cornice is carried up in a triangular pediment; the central doorway is recessed and has a semi-circular head with moulded architrave, archivolt and imposts and a cherub-head keystone with a cartouche below; above the doorway is a moulded cornice forming the sill of a large round-headed window with moulded and eared architrave terminating in scrolls having a cartouche on the keystone; the side bays have each a plain round-headed window with a similar segmental-headed window above. The S.W. tower has rusticated quoins and is divided externally into three stages by stone bands, and is surmounted by a modillioned cornice and balustraded parapet with moulded base and capping and pedestals at the angles and in the middle of each side. The lowest stage has in the W. wall two windows similar to those in the side bays of the front of the main building adjoining, but the upper window is blocked; the second stage has in the W. wall a circular window with a moulded architrave, and the top stage or bell-chamber has in each wall a square-headed window of two lights with louvred openings and moulded architrave and cornice.
Interior—The body of the church (65¼ ft. by 40¼ ft.) has both the E. and the W. walls divided into three bays by Composite pilasters which stand on panelled plinths and support an architrave continued round the walls and stopped by the splays of the windows. The N. and S. walls are each in five similar bays, but the three middle bays on the S. side form an open colonnade divided from the S. aisle by two Composite columns standing on octagonal plinths. In the N. bay of the E. wall is a square-headed doorway leading into a modern lobby, and in the westernmost bay of the S. wall a doorway into the W. tower. In the S.W. angle of the aisle is a segmental-headed doorway opening into the circular stair-turret of the tower. The ceiling over the body of the church is a modern one modelled on the lines of the original ceiling; it is flat with coved sides groined over the clearstorey windows; the groins rise off small pedestals above the architrave coinciding with pilasters or columns below, and the junction between the cove and flat part of the ceiling is marked by a deep moulded band enclosing a rectangular space divided into five large panels; the central panel is elliptical and is surrounded by a richly modelled border of fruit, flowers, etc.; this border is the only feature re-set; the spandrels are of similar character. The two panels at either end are square with moulded borders. The ceiling over the S. aisle is flat, and the soffit over the colonnade is panelled and has one rose ornament in each bay. The vestry has three round-headed windows in the E. wall; in the S.W. angle is a fireplace.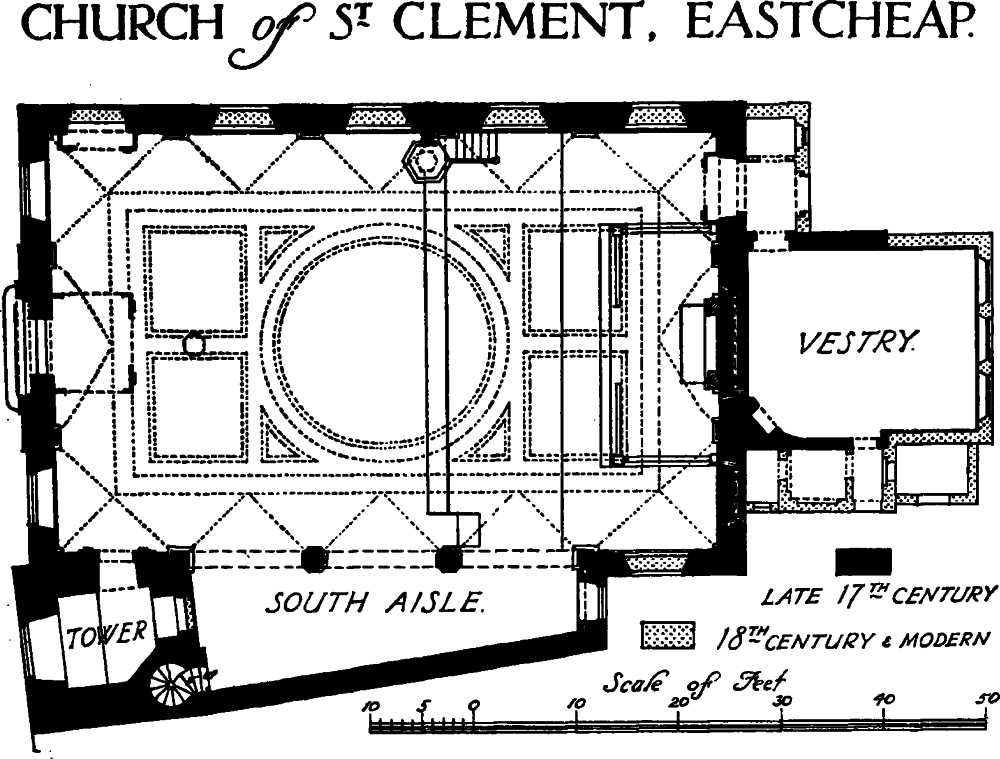 Fittings—All of late 17th or early 18th-century date unless otherwise stated. Benefactors' Tablets: two, on N. wall, one from St. Martin Orgar, each rectangular with carved frame, moulded base, cornice and pediment. Bread Shelves: on W. wall, with enriched edges, enclosed in casing flanked by pilasters, panelled, with carved festoons and surmounted by an entablature with a carved pulvinated frieze. Chairs (Plate 5): two, with carved backs and arms and shaped rails under seats. At W. end, two long benches with plain arms and back rails and turned legs with plain under framing. Chimney-piece: in vestry—with carved frieze-panel below carved and enriched shelf; overmantel has raised panel with carved bolectionmoulding and carved palm-leaves and swags over and festoons on either side. Clock: over W. lobby, with case flanked by carved and pierced consoles and surmounted by an enriched pediment. Communion Rails: of oak, with moulded plinth and heavy top rail on N. and S. returns, and a modern thin hand-rail of less height in the W. front, turned and carved balusters, and heavy angle-posts with egg-and-tongue mouldings and carved festoons planted on the outer faces. The whole has been re-set and altered. Communion Table: of oak, with carved top supported at angles by carved figures of cherubs standing upon square and enriched bases; new top placed over table. Credence Table: made up of old work with segmental-shaped shelf and front below carved with cherub-heads and swag; edge of shelf enriched with carved panel at back with moulded capping. Cupboard: in S. aisle, with two panelled doors made up of old pew-panels. Door-cases and Doors: at N. end of E. wall, to lobby between chancel and vestry, with flanking fluted Corinthian pilasters supporting enriched entablature with carved frieze and broken segmental pediment with carved cartouche and cherub-head; in middle of frieze, raised tablet carved with winged cherub-head and drapery; modern double doors to lobby. On N. wall at W. end, with panelled sides and fluted Corinthian pilasters on front supporting enriched entablature with frieze carved with palm-leaves and central tablet carved with winged cherub-head and drapery; doors in two leaves each with four raised panels. On S. wall, at W. end, opening into tower, similar to door-case opposite, but flush with wall and with two three-panelled doors. In W. lobby, with front similar to N. and S., door-cases with bolection-moulded architrave and openings, carved on E. face, and doors in two leaves each of four panels with upper panels with modern glazing and lower and topmost panels with raised mouldings; the side doors are modern; the soffit of the lobby is made up of panelling from the old pews. The W. door has a semi-circular head, and is in two leaves each with four raised panels. In S. aisle—in S.W. angle, to circular stair to tower —two-panelled door. Font and Cover: Font, of white and veined marble, octagonal; bowl, upper part gadrooned and fluted, underside carved with foliage; stem, baluster-shaped with gadrooned moulding at foot and with a Doric capital with enriched members and moulded base. Cover (Plate 13), of oak, octagonal flat board with enriched edge, surmounted by eight open brackets or consoles richly carved and with cherub-heads at top: within the consoles the figure of a dove; above the consoles an octagonal centre-post carrying a carved finial terminating in representations of flames. Lecterns: (1) made up of old work from pulpit staircase, etc., including balusters and part of a carved frieze-panel; (2) with four-sided sloping desk supported on turned post with a modern base. Monument: on E. wall, to Mary (Wessell) wife of John Cater, 1694–5, John his son (no date) and Ann his daughter, 1714, elliptical marble tablet surrounded by looped drapery and two cherub-heads with cartouche-of-arms above. Organ: formerly in W. gallery, now in middle bay of S. aisle, in two heights with lower part panelled and surmounted by carved frieze and moulding with semi-circular corbels at either end carved with acanthus leaves and supporting towers of pipes, flanking upper part, which are each finished with pierced and carved scroll-work with entablature of half-round plan above; the main elevation between the towers has, in the lower half, a large elliptical opening with pierced and carved spandrels and, in the upper half, a central tall narrow opening flanked by four smaller openings, the two lower of which are elliptical with carved spandrels; the upper openings are surmounted by pierced carving and a moulded architrave continued from the side towers and ramped upwards in inverted quadrants to a horizontal entablature over the middle opening; parts of the entablature are gilded; organ by Renatus Harris, re-built when removed to present position. Panelling: round walls of church to height of 7½ ft., two tiers with moulded capping to chancel and in three tiers with moulded capping round remainder of church, including plinths of columns; to vestry, in two tiers with moulded capping; above fireplace, raised and enriched panel (Plate 83) surmounted and flanked by carved swags and pendants. Plate: includes two flagons of 1627 and 1683 respectively, both inscribed and dated. Pulpit (Plate 78): of oak, hexagonal, with enriched base-mould, moulded capping and elliptical panels on sides inlaid with geometrical pattern and frames carved in high relief; at top of angles two carved cherub-heads with depending swags and festoons; coved underside carved in bold relief and supported on hexagonal column with panelled sides; sounding-board hexagonal; soffit with central sex-foiled panel surrounded by six heart-shaped panels and carved cornice slightly projected at angles and middle of each face, with upper members curved to form small segmental pediments with winged cherub-heads on top flanked by carved foliage and fruit; similar carving in tympanum, and above each angle small standing-figure of winged cherub; sounding-board supported by square wooden column against wall with panelled sides carved with festoons in high relief and carved capital; stairs, altered in 1872, now against wall, with carved string, moulded handrail, ornamented balusters and square newels. Reredos: of oak, originally in three bays, now separated and side bays placed against E. ends of N. and S. walls; middle bay in original position having a panelled plinth with moulded base and capping, and engaged fluted Corinthian columns supporting enriched entablature, which breaks forward over the columns, and segmental pediment recessed in middle and surmounted over columns by flaming vases; lower members of main cornice carried down in form of inverted segment and tympanum filled with carved dove with rays of glory flanked by two cherub-heads; between columns, long dadopanel carved with palm and scrolls, and above this two round-headed panels inscribed with the Decalogue, each surmounted by a square-headed frame carved in relief with grapes and wheat and having a moulded cornice and pediment above; side bays each similar to middle bay, but with triangular pediments and main panel between columns rectangular with carved mouldings, inscribed respectively with Creed and Lord's Prayer. Royal Arms: above the doorway to the tower, of the Stuarts, carved, coloured and gilded. Screens: at W. end of quire stalls, about 4 ft. high, of old work re-arranged, with high moulded plinth, raised panels and carved panelled frieze surmounted by carved and moulded cornice; square angle-posts carried higher and supported by carved consoles and finished with carved capping; in front of organist's seat, low screen of similar character. Seating: in nave, pews of old work cut down in height and re-arranged, with panelled ends having carved capping and seats with plain panelling and modern capping; the two front desks have each two carved frieze-panels and two similar panels unfilled. Churchwardens' pews, at W. end, with high backs panelled in three tiers and frieze of carved panels with enriched capping with scrolls at end. In S. aisle, on either side of organ, low pews with enriched capping to front and similar in detail to other pews; one front desk has a carved frieze-panel. Stalls: of old work re-arranged, with raised panels and fronts with pierced carving; fronts of reading-pews similar to adjoining screens. Backs of the N. and S. blocks are made up of the fronts of the former W. gallery, each with an oval between two rectangular panels having carved bolection-mouldings and capping. Miscellanea: Litany-desk: made up of old balusters similar to those in Communion rail.
Condition—Good.
(2) Parish Church of St. Mary Abchurch stands on the W. side of Abchurch Lane. The walls are of red brick with Portland-stone dressings and the roofs are covered with slates and lead. It is in the Renaissance style and was built from the designs of Sir Christopher Wren in 1681–87 at the cost of £4922 2s. 4½d., on the site of the former church which was destroyed in the Great Fire. Owing to the ravages of the death-watch beetle the main roof and the timbers above the dome were extensively renewed 1919–21. The Rector's Room adjoining the N. of the church was added in 1914.
The design of the dome over the body of the building is interesting, and among the fittings the pulpit and reredos are noteworthy.
Architectural Description—The church consists of a single square apartment with an internal dome covered by a hipped roof, a W. Organ-gallery with Baptistery and Vestry beneath, and a N.W. Tower surmounted by a timber-framed cupola and spire.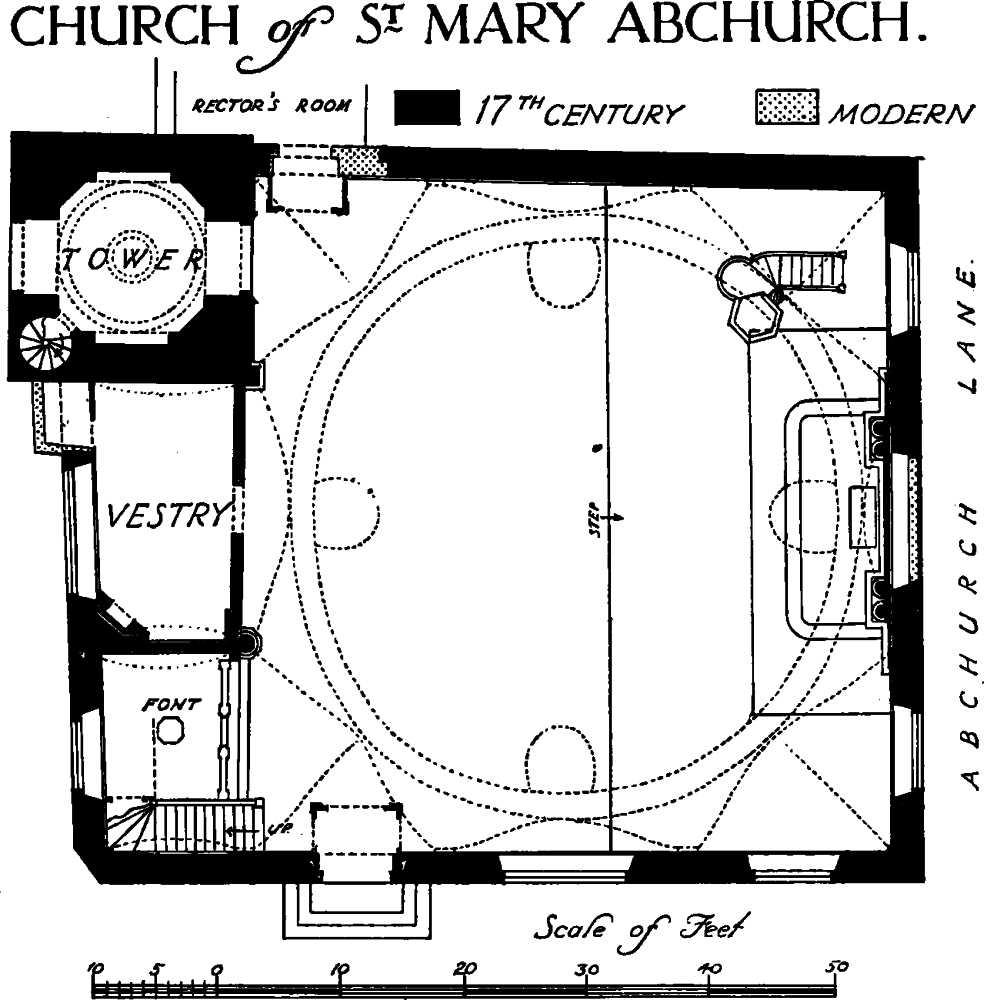 Elevations—The walls have a slighty projecting plinth with a plain stone base and plain stone band as a capping, and are finished with a projecting brick band surmounted by a plain parapet with plain stone coping at the angles over rusticated quoins. The E. elevation has a large blocked window with moulded sill, architraves and segmental head with carved scutcheon keystone; on either side is a smaller round-headed window with plain sill, moulded architrave and cherub-head keystone, above which is a circular window of similar detail. The N. wall is almost entirely concealed by modern offices, in the ground floor of which is the Rector's Room entered from the church by the N. doorway of the Nave. The S. wall is uniform with the E. elevation but the middle window is not blocked, and below the W. window is a round-headed doorway with eared architrave, cherub-head keystone and scrolled brackets supporting a moulded cornice. The W. wall has, in the middle and S. bays, windows uniform with the corresponding bays in the E. and S. walls, but the middle window has no keystone and is partly blocked by a modern window. The W. Tower (12 ft. square) is of four stages with rusticated stone quoins and stone bands dividing the stages; all the bands are plain except the lowest, which is moulded; the ground-stage has in the W. wall a doorway similar to that in the S. wall of the main building, and in the second stage is a round-headed window with moulded architrave and cherub-head key-block; the third stage has in the W. wall a circular window with moulded architrave, and in each wall of the fourth stage or bell-chamber is a round-headed louvred window with plain sill, moulded architrave and grotesque keystone; this stage is finished by a stone entablature with narrow architrave and moulded cornice, above which is the lead-covered cupola and spire. The cupola is of ogee section and is pierced by oval-shaped openings, two on the N. and S. sides and one on the E. and W. sides; the base to the spire has small diagonal buttresses to the angles, a round-headed opening in each face with plainkey-block and is finished with a moulded cornice; the spire is surmounted by a moulded capping, a ball and a small cross.
Interior (Plate 87)—The body of the church (65 ft. by 60 ft.) has plain plastered walls with plain splays to the windows and doorways. It is roofed by a dome of irregular elliptical plan rising from a cornice enriched with foliated consoles and square coffers with flowers; the dome is carried on eight more or less irregular round arches with pendentives springing from corbels and flat Corinthian capitals; the arches across the angles are groined back to the walls with half-pendentives rising from corbels of similar character except at the N.W. corner, which has a square pilaster with a Corinthian capital; the dome is lighted by four vertical oval windows facing the cardinal points; the two bays above the W. gallery have barrel-vaults with groining to the N. and S. springing from similar corbels. The three bays at the W. end of the body of the church are marked by a pilaster at the S.E. angle of the Tower and a round column, engaged below the gallery-level, marking the division between the Vestry and Baptistery. In the northernmost bay is a stone round-headed doorway opening into the Tower; it has a moulded and eared architrave with cherub-head keystone, above which is a moulded cornice supported by two foliated consoles. The lowest storey of the Tower has a round arch in each of its four walls, those to the N. and S. forming recesses; they have moulded imposts and architraves and a moulded cornice, above which is a circular dome with a circular bell-way in the crown having a moulded frame. In the S.W. angle is a doorway opening into the stair-turret.
Fittings—All of late 17th-century date unless otherwise described. Bell: one by Anthony Bartlett, 1675. Communion Table (Plate 43): of oak with two carved wide standards with cherub-heads at the top, on carved cross-rails with ball feet; the rails connected by a carved longitudinal middle rail on which are carved reversed consoles against the standards. Door-cases and Doors: to the S. entrance, a pair of four-panelled outer doors with raised panels; inside, a lobby with a round-headed doorway in its N. front having a carved archivolt and scrolled key-block; angles of lobby have fluted pilasters with moulded bases and Corinthian capitals supporting an entablature with a carved frieze and cornice coved in the middle over a scallop-shell; above, a segmental pediment with enriched cornice, the tympanum carved in relief with fruit, flowers, etc., and two cherubs; on top of the pediment, two urns with flames. Door of two leaves each having four panels with bolection-mouldings; moulded imposts carried across the doors and opening with them; the E. and W. sides of the lobby panelled, the W. being now made up into a modern door. N. doorway opening into the Rector's Room, with similar lobby (Plate 7) but without shell and ornament in the frieze; above the pediment a large metal figure of a pelican in her piety, on a representation of a wicker-work basket, all gilded, probably part of a lectern. In doorway into tower, door of two leaves with bolection-moulded and raised panels, now cut down so that the parts filling the tympanum of the arch are fixed; a narrow carved architrave, all round, within the stonework. In the panelled front enclosing the vestry under the Gallery, square-headed doorway with moulded architrave, above which are two carved corbels supporting broken entablature and segmental pediment; in tympanum between the broken entablature, an oval wreath of bayleaves enclosed by a moulded frame which breaks out into four square projections (the lowest forming a key-block to the architrave), and contains carved drapery; the top and side projections contain foliage, and under the lowest one is a cherub-head; the lower members of the cornice break forward over the frame. Font and Cover: Font, octagonal, of white marble with moulded rim to bowl, fluted and gadrooned underside, carved cherub-heads on alternate faces, octagonal stem partly fluted with Doric capital, on plain stone base. Cover (Plate 13), of oak with octagonal base, edges carved with acanthus leaves, supporting square tabernacle having a semi-circular niche with a shell-hood on each face flanked by panelled pilasters supporting moulded cornice and double ogee-shaped pediment; in front of each niche a detached figure of Evangelist; two of the symbols accompanying the figures missing; over all an ogee-shaped domical top with carved finial; the cover was raised and lowered by a screw working on a twisted central pole hanging from the ceiling; now out of order. Across the E. side of the Baptistery, two hand-rails with panelled posts carved with the foliage, etc., and twisted balusters. Galleries: over the middle and S. bays at W. end of church, of similar design; each main bay has a panelled front of three sub-bays, the side sub-bays having rectangular bolection-moulded frames; the middle sub-bays with three raised wreaths of carved foliage, with foliage or scroll-carvings in the spandrels between them and all flanked by side-wings of foliage; the side wreaths circular, the middle wreath rectangular with rounded ends, at each end of main bay is a carved panelled post; base of front faced with a moulded entablature, the cornice of which breaks forward under the end posts and under the four spandrels of the middle sub-bay; under the six projections are carved foliage-brackets; moulded capping to the front breaking forward above cherub-heads on the spandrels of the middle sub-bay. The northern main bay has a circular carved frame for a clock in the middle. The space below this bay is filled in by an oak screen forming a partition for the Vestry—all of plain raised panelling with a slight projection flanking the middle doorway having side brackets under the gallery-front carved as half-figures of angels. Monuments: On E. wall, S. bay, (1) to Sir Patience Ward, Lord Mayor in 1681, died 1696, and Elizabeth (Hobson) his wife, 1685; white marble monument (Plate 55) with weeping cherub on gadrooned shelf on either side of achievement-of-arms and flanked by carved projecting pilasters with winged cherub-heads below and continuous cornice above; over pilasters, pedestals with cartouches-of-arms and enriched flaming urns; in middle, shaped tapering pedestal with concave sides with foliage on side-faces and scalloped top surmounted by carved figure of Hope; below shelf, inscription-panel with carved palm-leaves. On S. wall (2) to Edward Sherwood, 1690–1, John, 1703, and Richard, 1703–4, his sons, Elizabeth Lordell his daughter, and John, 1703, and Sarah, 1700, children of John; white marble monument, on black marble background, with draped canopy held open by half-length figures of cherubs, flanked by twisted Corinthian columns supporting broken entablature and segmental pediment surmounted by urn; below recess, moulded and gadrooned shelf with shaped consoles under columns flanking framed inscription-tablet, beneath which is a moulded base and two winged cherub-heads; above shield, in recess under the canopy, cartouche-of-arms and cherub-heads and on outside of columns seated figures of angels on shaped consoles. Painting: on dome over body of church— composition in colour divided into two stages, the lower of architectural character with a continuous cornice having large consoles and four pairs of stone benches each with large scallop-shell recesses in a round-headed front, on either side of which is seated an allegorical female figure—the eight figures presumably representing Virtues including Charity suckling children, Hope with an anchor, Faith holding in left hand a flaming heart, and others reading books, holding palm-branches, etc.; around the four windows, enriched mouldings, as frames, flanked by festoons and with cherub-heads above; upper half with the Hebrew name of the Deity in the centre, in rays of glory surrounded by adoring cherubs and angels some with musical instruments; painting probably added in 1708. Panelling: round walls of church to height of 11 ft. in two tiers of raised panels with moulded capping, cut down below the Ward and Sherwood monuments; see also panelling under Gallery-front. Paving: in Baptistery, of black and white marble squares set diagonally. Plate: includes a small paten of 1567, a cup of 1581 (Antwerp mark), cup of 1628 given by Adam Denton 1628, paten of same date with arms of Denton, all silver-gilt, two silver flagons of 1679 with inscription and date, two large patens of 1684, silver-gilt inscribed, dish of 1684 inscribed and dated 1686, silver-gilt, two cups and patens of 1686, silver-gilt, inscribed and dated, and a seal-headed spoon of 1670, inscribed. Poor-boxes: two square boxes with rebated angles, carved top and bottom mouldings, carved lids with slots, on square posts with moulded angles and front pilasters with moulded caps and bases; round-headed panels at backs above boxes painted "Remember the Poor." Pulpit (Plate 79): hexagonal, of oak, with carved capping and moulded base, raised panel on each face with carved mouldings, carved cherub-head above with carved swags and festoons at sides; under-side of ogee section with moulded angle-ribs and supported on a central hexagonal post. Sounding-board, hexagonal with enriched entablature having projecting angles and cornice carried up in curved pediment over middle of each side, carved frieze and cherub-heads at angles; tympana of pediments carved with fruit and flowers except in S.W. face, which has a Dove in glory. Over each angle, carved vase with fruit-festoons; soffit panelled around outer edge; standard in form of square Ionic pier with panelled sides enriched with carving; carved swags in capital; staircase with moulded and partly carved string, moulded handrail, turned and twisted balusters; a round-ended landing or balcony at top to allow space for opening of pulpit door. Rainwater-pipes: of lead, on E. and W. walls. Reredos (Plate 87): of oak, on panelled plinth with moulded base and capping and divided into three bays by coupled and fluted Corinthian columns with pilasters behind them, all supporting entablature with pulvinated frieze carried up over columns in curved broken pediment; above columns, attic with moulded capping surmounted on each side by two flaming vases and carried up over middle bay in two inverted segments connected by horizontal capping surmounted by Royal cypher A.R. within Garter and flanked by winged cherub-heads; side bays above plinth, each with two panels with raised mouldings, lower plain, upper carved and surmounted by carved fruits and foliage; middle bay with four similar panels but two upper with round heads and painted with the Decalogue; in spandrel, carved pelican in her piety (the emblem of Corpus Christi, Cambridge) planted on, and above, elaborately carved scrolls and festoons of fruit and flowers with swags in high relief at the sides. Royal Arms: above modern organ-case in W. gallery, carved Stuart arms. Seating: two blocks of seats in the nave mostly modern, but the following are original:—two front desks, cut down, panelled, with friezes of pierced carving and carved and moulded capping; two westernmost seats—with high backs of three tiers of panelling and carved pierced friezes, carved capping, standards with bolection-moulded panels and pierced friezes; seats next E. of last—similar backs of less height, modern standards with original carved and pierced brackets on top against the higher backs; on either side of the middle aisle, resting on the standard of the westernmost pew, a small carved lion and unicorn each supporting a scrolled cartouche painted with the arms of London; against W. panelling under Galleryfront—two enclosed high pews with side doors, of similar character to other seats but the carved friezes unpierced; against the N. and S. walls, from the doorcases up to the E. wall, ranges of similar narrow long box-pews (Plate 37) with raised floors; four against N. wall and five against S. wall each with a door; panelled fronts with carved pierced friezes, and stepped up with the step in the paving, having a carved bracket against the heightened part. Staircase: to gallery, with moulded string and handrail, and turned and twisted balusters.
Condition—Good.
(3) Parish Church of St. Lawrence Pountney was destroyed in the Great Fire of 1666, and not re-built. The churchyard lies on the W. of Lawrence Pountney Lane.
Fitting—Monument: In churchyard—to Henry Strode, Sen., 1683, Eliza, his wife, 1686, Henry Strode, Jun., 1704, and Sarah Herring his sister, 1731, with shield-of-arms.
(4) Parish Church of St. Martin Orgar stood on the E. side of Martin's Lane. It has been destroyed except for the modern tower, of 1852, which contains the following—
Fitting—Bell: by John Hodson, 1671.
Secular
(5) House (No. 7), on the W. side of Martin's Lane, 80 yards S. of Cannon Street, is of three storeys with attics; the walls are of brick. It was built late in the 17th century, but has been remodelled in 18th-century and modern times. The E. front has brick bands between the storeys and there is one old lead rainwater-head and pipe. A small part of the back elevation stands free and has an original wooden eaves-cornice. Inside the building, the staircase from the second floor to the top is original and has turned balusters, moulded strings and square newels with moulded pendants. The back staircase is of c. 1700 and has turned balusters, moulded strings and square newels.
Condition—Good.
(6) House (No. 9), S. of (5), has been almost entirely re-built, but retains a late 17th-century staircase with turned balusters and moulded strings; the lower part is modern.
(7) Houses (Nos. 6, 7 and 8), on the W. side of Crooked Lane, 40 yards S. of Cannon Street, are of five storeys with cellars; the walls are of brick and the roofs are covered with slates. The houses were built probably late in the 17th century, but have been re-fronted and otherwise considerably altered in modern times. Two of the windows at the back of No. 7 are original and have solid frames.
Condition—Fairly good.