Pages 96-100
An Inventory of the Historical Monuments in London, Volume 4, the City. Originally published by His Majesty's Stationery Office, London, 1929.
This free content was digitised by double rekeying and sponsored by English Heritage. All rights reserved.
18. CRIPPLEGATE WARD WITHOUT.
Cripplegate Ward Without consists of the parishes of St. Giles Cripplegate and St. Bartholomew Moor Lane. The church of St. Giles Cripplegate is the only monument.
Ecclesiastical
Parish Church of St. Giles Cripplegate stands on the S. side and at the W. end of Fore Street. It is a mediæval building; the walls are of Kentish ragstone with limestone-dressings and some facing of Portland stone, the top stage of the W. tower is of brick, as is also the upper part of wall above the sacrarium-arch. The E. end of the chancel is, externally, and all the walls are, internally, rendered in cement. The roofs are covered with slate and lead. The lower part of the W. Tower probably dates from the 15th century, but the rest of the church was wholly or partly burnt down in 1545 and re-built immediately afterwards, though the irregularity of the plan suggests the retention of parts of the former church, including the E. end of the chancel. The top stage of the W. tower was added 1683–4 and a N. Porch with buildings adjoining it on either side was built 1660. The E. window was blocked and the present window inserted in 1704, when the church was reopened and the present reredos and pulpit were erected; the sacrarium-arch was erected in 1858–9. The church was extensively restored during the 19th century and the Vestry and Muniment Room are of that date; in 1904 the N. porch and adjoining buildings were pulled down.
The church has a special interest in being one of the few mediæval buildings which escaped the Great Fire of 1666 and as the burial-place of John Milton, John Foxe, Martin Frobisher and others.
Architectural Description—The exterior (Plate 50) of the church, except the tower, has been so completely restored that no original features are apparent. The Chancel and Nave (125½ ft. by 20½ ft. at the E. end and 26 ft. at the W. end) are undivided structurally (Plate 152) and are eight bays in length, of which the three easternmost are occupied by the chancel. The E. wall has a blocked pointed window of doubtful date and in the head is an 18th-century oval window. The chancel is said to have extended further E. and remains of it were found when the adjoining building was re-built; part of an original window, in the N. wall, was exposed at the same time. The easternmost bay projects beyond the aisles and has a modern arch across the entrance supporting a modern wall above; there are no openings in the side walls. The remaining seven bays are divided from the aisles by arcades with pointed arches of three moulded orders and piers of four engaged shafts separated by the mouldings of the middle order of the arches, which are continuous; the engaged shafts each have moulded capitals and bases; and the responds correspond to the piers, but the second pier of the N. arcade is slightly larger than the others; over each arch on the side towards the nave is a moulded label carried on carved and moulded corbels, all modern. The clearstorey is marked by a modern string-course and is divided into bays by modern wall-shafts with carved corbels and capitals; in each bay is a two-centred segmental-headed window of three lights with modern tracery.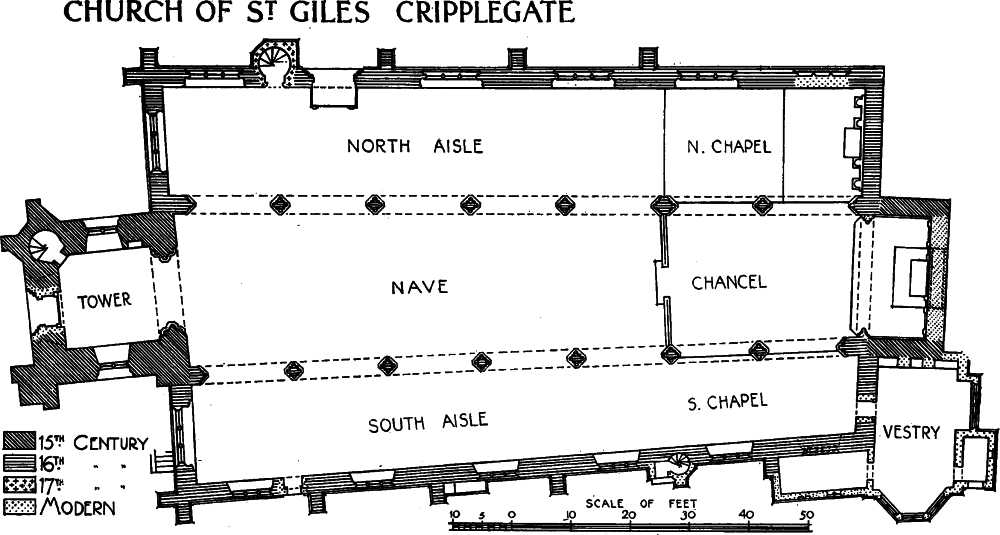 The North Chapel (33½ ft. by 18 ft.) has in the N. wall two restored windows each of three cinque-foiled lights with tracery in a two-centred head, but the easternmost has been blocked internally.
The South Chapel (31½ ft. by 13½ ft.) has in the E. wall a modern doorway to the vestry, and in the S. wall a modern circular window and further W. a window of three trefoiled lights with tracery in a two-centred head.
The North Aisle (84 ft. by 18 ft.) has three windows in the N. wall and one window in the W. wall, all restored and uniform with those in the N. chapel; the N. doorway is modern.
The South Aisle (81 ft. by 15½ ft.) has four windows in the S. wall and one in the W. wall, all uniform with the westernmost window in the S. wall of the S. chapel; the S. doorway is modern. At the E. end of the S. wall is a modern octagonal projecting turret marking the position of the old rood-turret.
The West Tower (16 ft. square) is four stages high with buttresses at the outer angles and is surmounted by a wooden lantern. The axis of the tower is deflected considerably to the S. from that of the rest of the church, probably indicating a re-setting-out of the main building after the destruction of the former church. The tower-arch is moulded and pointed with jambs having attached shafts with moulded capitals and bases. Above the modern W. doorway is a restored window of five transomed lights under a pointed head, and in the N. and S. walls are similar two-light windows; the ground-stage has a modern vault. The second stage has in the N., W. and S. walls a modern two-light transomed window, and the third stage has a similar window in each wall. The third stage is finished with a moulded brick cornice of the same date as the bell-chamber. The bell-chamber or fourth stage has a modern window in each face and has a brick cornice surmounted by a panelled brick parapet with an octagonal pinnacle at each angle, finished with a moulded stone capping and ogee-shaped top with slender spireshaped finials. The wooden lantern is in two stages and has a square base with a moulded cornice supporting a circular arcade with twelve round-headed openings having plain imposts and key-blocks, and is surmounted by a moulded cornice and covered by a concave-shaped roof finished with a ball and vane; in the lower part of each opening is a wooden balustrade and the four posts opposite the angles of the base are curved out to form buttresses. At the N.W. angle of the tower is a projecting turret containing a staircase entered from the inside on the ground-stage.
The Roofs of the N. and S. aisles are of low pitch with moulded tie-beams, wall-plates, central and side purlins of early 16th-century date, repaired and restored.
Fittings—Bookcase: made up of early 18th-century pierced and raised panels. Communion Rails: with modern rail and base and turned and twisted balusters, early 18th-century; similar rails across E. end of N. chapel. Clock: in S. aisle—on S. wall, with square framed opening on front of case flanked by attached Doric columns supporting cornice; lower part of case with palm-branches flanking two winged cherub-heads and upper part with swags, cherub-head and segmental pediment surmounted by gilt figure of Time, early 18th-century. Door-case and Doors: to N. lobby, with flanking fluted Corinthian pilasters on front supporting entablature with carved cherub-heads on frieze above pilasters and tablet flanked by carved scrolls in intervening space; bolection-moulded architrave round doors and, above, raised panel carved with palm-branches and leaves, apparently refixed upside-down; sides of casing panelled and doors in two leaves with raised panels and mouldings, two upper panels being glazed, early 18th-century, from St. Bartholemew Exchange. Font-cover: to modern font, with lower part modern and upper part of oak in form of small octagonal pavilion with fluted Corinthian columns at the angles supporting an entablature surmounted by a ribbed dome with the moulded ribs terminating in eight inverted consoles surmounted by gilt dove with spread wings; each side between columns with segmental niche on pedestal, with semi-circular and scalloped head and, between capitals, band carved with swags, possibly early 18th-century. Lectern: in N. chapel, modern but made up of old material with four turned and twisted balusters on high base and supporting enriched moulded top of entablature form, early 18th-century. Monuments and Floor-slabs: Monuments. In N. chapel—on N. wall (1) to Roger Mason, 1603, vintner, Jane his wife and their three sons and two daughters, cream and coloured marble tablet flanked by two panelled pilasters and incised with figures of man and woman in costume of the period kneeling at a prayer-desk with one girl behind woman; (2) of Thomas Busbie [1575], cooper, half-length painted figure of man in costume of the period with right hand resting on skull and left hand holding gloves, in semi-circular arched recess flanked by plain panelled pilasters supporting cornice surmounted by two ball-finials on pedestals and circular cartouche of strapwork with arms of the Coopers' Company; below, moulded shelf and tablet with rhyming inscription flanked by enriched brackets. In N. aisle—on N. wall (3) to Edmund Harrison, 1666, embroiderer to King James I, Charles I and Charles II, and Jane (Godfrey) his wife, marble tablet (Plate 27) with two panelled flanking pilasters carved with drapery with moulded scrolls at top and carved scrolls at sides, supporting entablature with raised central tablet having segmental pediment with cartouche-of-arms; below shelf, apron carved with two swags flanked by carved scrolls; (4) to Charles Langlie, 1602, ale-brewer, sunk marble panel (Plate 27) with semi-circular head enclosed within a tablet with dentilled cornice and with obelisks in low relief on either side; on panel, incised figure of man in costume of the period kneeling at desk, and in spandrels carved shield-of-arms of the City and Brewers' Company; (5) to Constance Whitney [1628], daughter of Sir Robert Whitney, black and white marble monument (Plate 24) with half-length figure of woman in shroud rising with outstretched hands from black marble coffin supported on shelf with panelled brackets; behind figure, panelled tablet flanked by plain pilasters with projecting brackets each supporting figure of draped cherub, one offering wreath, the other chaplet, and, above woman, winged cherub-head; over head of monument, entablature with broken double ogee-shaped pediment enclosing cartouche with lozenge-of-arms and, below coffin, inscription-panel within moulded frame with impaled lozengesof-arms beneath; (6) to Robert Cage, 1625, black and white marble tablet flanked by pilasters with moulded caps with projecting brackets at sides and moulded cornice above, supporting broken double ogee-shaped pediment enclosing a tablet carved as an oval-shaped cage with skull and cross-bones and above circular cartouche-of-arms; on either side of tablet small figure of cherub standing on semi-circular pedestal; (7) to Edward Harvist, 1610–11, brewer, "one of His Majesties Gunners," and Ann his wife, 1610, marble monument with ovolo-moulded shelf supporting figures of man and wife in costume of period kneeling at desk under semi-circular arched recess with panelled soffit and spandrels carved with cannon, etc., flanked by Corinthian columns supporting entablature surmounted by circular cartouche with shaped scroll-work enclosing shield-of-arms of the Brewers' Company; on W. wall (8) to Mary (Crompton) wife of Captain John Pery, 1676–7, small marble tablet with elongated and enriched scrolls at sides and broken segmental pediment above enclosing cartouche-of-arms; lower portion of monument broken and missing. In S. aisle—on S. wall (9) to Robert Glover, 1588, Somerset Herald, with panelled and enriched pilasters supporting cornice and circular cartouche of-arms, restored 1825; (10) to William Staple, 1650, plain marble tablet with segmental pediment with shield-of-arms in tympanum; (11) to Margaret Lucy, 1634, black and white marble tablet with apron and moulded shelf supporting flanking Doric columns surmounted by entablature, and broken segmental pediment with urn on pedestal; (12) to Richard Smith, 1675, Elizabeth his wife, 1664, and John, 1655, and Richard, 1653, his sons, black and white marble tablet with figures of man and woman in costume of the period kneeling in segmental-headed recess surmounted by projecting architraves and moulded cornice with broken segmental pediment enclosing pedestal with shield-of-arms; (13) to John Speed, 1629, Merchant Tailor, historian and maker of maps, and Susanna his wife, 1628, marble monument with half-length figure of man in civil costume of the period holding a book in right hand and left hand on skull in arched recess on scalloped corbel and flanked by two panels shaped as folding doors to fit recess; spandrels above recess shaped as brackets and surmounted by moulded cornice and broken pediment enclosing cartouche-of-arms; (14) to Matthew Palmer, 1605, Anne his wife, 1630, and Thomas his eldest son, 1631, marble monument with small figure of man wearing long robe of the period reclining on right elbow with book in left hand and, below, figure of woman in costume of period in similar attitude; at sides, Corinthian columns supporting entablature with cornice carried across as semi-circular arch with small tablet with apron and broken pediment in tympanum; in lower part of monument in shallow recess figures of four sons and one daughter kneeling at a desk with shelf below supported on brackets with shaped apron, cherub-heads and swags; (15) on W. wall to William Daie, 1603, vintner, marble tablet with shield-of-arms, set up in 1606, though body buried at St. Michael's Cornhill. Floor-slabs: Under W. tower (1) portion only, dated April 165–. In churchyard—against S. wall (2) to Jone, wife of Dr. John Wilson, 1624, erected 1674–5. Niches: In S. aisle—high up in S. wall, with moulded jambs and four-centred arch, possibly head of rood-loft doorway. In W. tower—in N. wall of ground-stage, plain square-headed recess. Organ: by Renatus Harris, 1704–5, case modern, but incorporating bolection-moulded panels of early 18th-century date. Panelling: In N. chapel—on N. wall, portions of early 18th-century work incorporated in modern panelling. Pavement: At W. end of both aisles—of black and white marble squares set diagonally, probably late 17th or early 18th-century. Plate: includes a mazer-bowl with silver-gilt rim round foot inscribed " John Bird mead this in Anno Domine 1568"; a horn beaker with silver-gilt rim on lip and base of 1573; a tazza-paten of 1586; an inscribed and dated beaker of 1591; a cup of 1597 with handle, inscribed and dated 1726; a beaker of 1602, inscribed and dated 1604; an inscribed beaker of 1608; two cups of 1612, both inscribed and dated; two cups of 1617, one with inscription; a badge or oval plaque with representation of Cripplegate in relief inscribed and dated 1693; and beadle's staff with head in form of Cripplegate and four small badges with the arms of Maddox, all c. 1710. Poor box: in nave— of oak, with moulded base and panelled post, supporting box with moulded cap and base and semi-circular front, early 18th-century. Pulpit: of oak, hexagonal with moulded and enriched base and capping, carved cherub-heads with festoons of fruit and flowers at the angles and raised square panel on each face, inlaid with geometrical patterns and surrounded by carved acanthus-leaf mouldings with carved palm-leaves, fruit, etc., above, all on hexagonal trumpet-shaped stem; stairs with moulded string and hand-rail and turned and twisted balusters, 1704, partly renewed. Reredos: of oak, divided into five unequal bays by fluted Corinthian pilasters with panelled base below and above, entablature with cornice carried over end bays in segmental pediments enclosing tympanum, each carved with three cherub-heads; middle and end bays each filled with modern painting with panel with enriched mouldings below, intermediate bays each narrower than the bays adjoining and panelled and on frieze over middle bay, tablet carved with I.H.S., and above, scrolls and gilt figure of a pelican ' in her piety,' 1704, but altered in last restoration. In N. chapel, removed from St. Bartholomew Exchange (Plate 137), of oak, divided into three bays by fluted Corinthian columns on panelled base with moulded capping and plinth and supporting enriched entablature projecting over columns and stopping against middle bay; middle bay carried higher than side bays with short pilasters over flanking columns with carved panels and supporting cornice and segmental pediment with panel and carved swags in tympanum; side bays surmounted by blocking course and carved scrolls abutting against pilasters to middle bay, and above side columns, small carved figures of angels; in lower part of central bay, long panel carved with scroll-work and, above, large panel with carved border and double semi-circular head with festoons at sides and carved drapery superimposed, with circular panel above, under semi-circular arch, springing from main cornice and with scroll key-block and carved cherub-heads in spandrels; side bays each with semi-circular-headed panel with enriched mouldings and filled with paintings of Moses and Aaron respectively, with carved cartouches and swags above and raised segmental-headed tablets below, carved with cherub-heads and swags in high relief, late 17th-century. At W. end of church—on either side of tower arch, two wooden tablets with Ten Commandments inscribed in carved frames with festoons at side and swags at top, said to have come from St. Bartholomew Exchange, late 17th-century. Tiles: In N. chapel—under communiontable, slip tiles with various patterns, 14th-century. Miscellanea: at W. end of church, fragments of dressed masonry including pieces of tracery, a Purbeck marble moulded capital to a window-shaft, c. 1300; a fragment of a stone shelf; and a marble threshold discovered during recent restorations, mediæval. Faldstool, made up of early 18th-century material with two turned balusters. In the churchyard, S.W. of the church, are the stones of the former gateway to the churchyard built in 1659 and pulled down in 1902–3. The arch is round, has carved emblems of mortality in the spandrels and is surmounted by a moulded cornice and segmental pediment with the following inscription in the tympanum, "Edward Dobson Iaan Clarke Isaac Bennett Thomas Conny Churchwardens 1660."
Condition—Good.