Pages 58-60
An Inventory of the Historical Monuments in Middlesex. Originally published by His Majesty's Stationery Office, London, 1937.
This free content was digitised by double rekeying and sponsored by English Heritage. All rights reserved.
23 HARLINGTON (B.d.)
(O.S. 6 in. (a)XV, S.W. (b)XX, N.W.)
Harlington is a parish and village 5 m. S.E. of Uxbridge. The church is the principal monument.
Ecclesiastical
b(1) Parish Church of St. Peter and St. Paul (Plate 4) stands near the middle of the parish. The walls are of flint rubble with some iron-stone conglomerate and the dressings are of Reigate stone; the roofs are tiled. The Nave was built about the middle of the 12th century. The Chancel was added or re-built c. 1340 and the West Tower is a late 15th-century addition; the South Porch was added early in the 16th century. The tower was restored in 1867 and the church in 1880 when the North Aisle was added.
The S. doorway is a good example of 12th-century work and among the fittings the Easter Sepulchre and the font are noteworthy.
Architectural Description—The Chancel (22¼ ft. by 15½ ft.) has an E. window, all modern except the 14th-century splays and rear-arch and two head-stops re-set on the outside; in the gable is a small trefoiled opening. In the N. wall are two partly restored 14th-century windows each of three trefoiled ogee lights with tracery in a two-centred head with a moulded label and headstops; the second window is not visible internally and below it is a modern opening to the organ-chamber. In the S. wall are two similar windows, the western partly restored. The chancel-arch is modern.
The Nave (44¾ ft. by 20 ft.) has a modern N. arcade. In the S. wall are two windows, the eastern of late 14th-century date, partly restored and of two cinque-foiled lights with a quatrefoil in a two-centred head with a modern label; the western window is a single round-headed light of the 12th century enlarged in the 16th century. The partly restored 12th-century S. doorway (Plates 134, 6) has a round arch of four orders with a label enriched with linked roundels; the innermost order is plain and continued down the jambs; the second order has cheveron-ornament and the third an enriched roll and beak-head ornament in the form of lions' heads; both these orders spring from restored shafts with old foliated or scalloped capitals and enriched abaci; the outermost order has embattled ornament continued on the jambs below the enriched impost and flanked by outer enriched shafts below the label.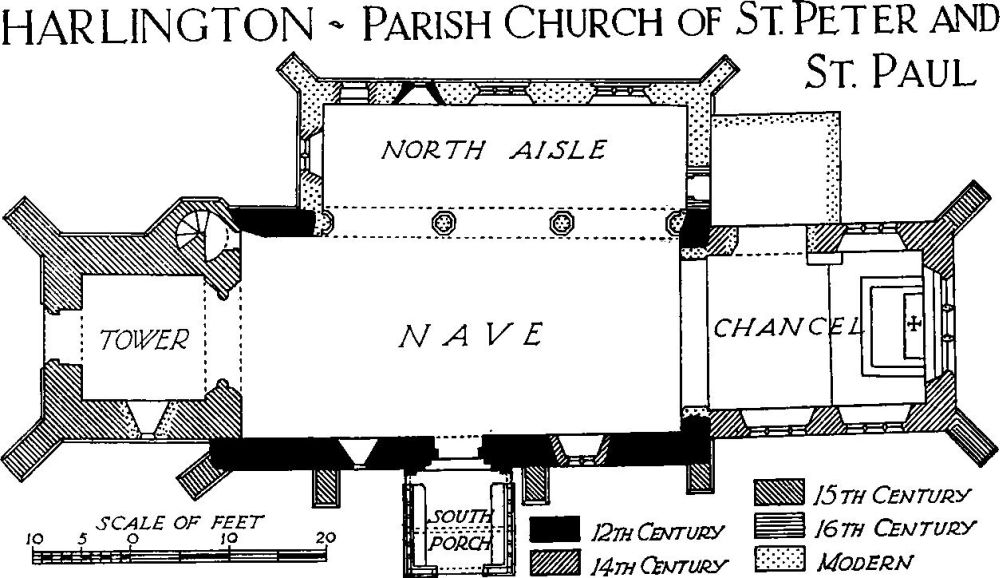 The North Aisle is modern but incorporates some re-set old features; in the E. wall is an early 16th-century doorway with hollow-chamfered jambs and four-centred arch; in the N. wall is a much restored and enlarged 12th-century window of one round-headed light and a 14th-century doorway with chamfered jambs and segmental-pointed arch; in the W. wall is a window similar to the S.E. window in the nave.
The West Tower (12½ ft. square) is of late 15th-century date and of two stages and three storeys with an embattled parapet and a N.E. turret rising above it. The two-centred tower-arch is of two moulded orders, the outer continuous and the inner springing from attached shafts with moulded capitals and bases. In the S. wall is a modern window. The W. doorway, restored in cement, has moulded jambs and two-centred arch in a square head with a label and traceried spandrels enclosing shields; the W. window, also restored in cement, is of three cinque-foiled lights with vertical tracery in a two-centred head. The second storey has a small restored light in the S. and W. walls. The bell-chamber has, in each wall, a restored window of two pointed lights in a square head with a label.
The South Porch (Plate 7) is a reconstructed early 16th-century timber structure on modern dwarf brick walls; it is of two bays and the outer entrance has moulded posts and four-centred arch in a square head with pierced spandrels; flanking it on each side are two open lights with four-centred heads. Each bay of the sides has three similar lights. The three roof-trusses were of queen-post type with collar-beams but the innermost truss has been cut away; the middle truss has braces with foiled spandrels enclosing shields.
The Roof of the chancel is of trussed-rafter type and probably of the 14th century with some modern repair. The roof of the nave is of similar type and date, with three tie-beams.
Fittings—Bracket: In nave—on S. wall, of oak (Plate 20) semi-octagonal, with foliage and moulded abacus, 14th-century. Brasses: In chancel—on N. wall, (1) of John Monemouthe, rector, [1419], half-effigy of priest (Plate 8) in mass-vestments and inscription, indent at E. end of nave; against S. wall, (2) to Gregory Lovell, 1545 and Anne (Bellyngham) his wife, figures of man in armour with head on helm and of wife in close cap, etc., two shields-of-arms, (a) Bellingham quartering Burnes-head, (b) Lovell quartering Cornwall (?) the whole impaling (a), a third shield now in Easter sepulchre, indents of daughter, two plates and two other shields; palimpsest on figures, parts of 15th-century figure of woman and, on inscription, another inscription to George Barlee, of the order of St. John of Jerusalem, 1513. Easter Sepulchre: See Monument (1). Font (Plate 9): of Purbeck marble, square bowl with series of round-headed panels on each face, stem of one central and four attached round shafts with defaced capitals and bases on square plinth, late 12th-century. Monuments: In chancel—against N. wall, (1) combined monument and Easter sepulchre (Plate 141), consisting of a low plinth with a canopied recess above enclosing a smaller recess; plinth modern but formerly incorporating the slab and brass of Gregory Lovell, 1545; large recess with moulded and shafted jambs and four-centred arch in a square head with foliated spandrels, frieze of quatrefoils with running vine-ornament above and cornice with cresting of alternate fleurs-de-lis and initials Ihs; smaller recess with moulded jambs and four-centred arch in a square head; flanking it and below, sinkings for three brass plates, one sinking with one of the shields of the Lovell brass, as (b) above, first half of the 16th century; on S. wall, (2) black and white marble tablet erected by Robert Cooper, rector, 1712, to commemorate the benefactions of Lady Letitia Pointz c. 1610 and John, Lord Ossulstone, 1691. In nave— on S. wall, (3) to Sir John Bennett, Lord Ossulstone, 1686 (recte 1694–5) and Elizabeth (Cranfield) and Bridget (Howe) his wives, black and white marble wall-monument (Plate 133) with cherub-heads, swags, gadrooned capping, busts of man and two wives and cartouche-of-arms. In churchyard—S. of chancel, (4) to John East, 166., headstone. Painting: In chancel —on E. splay of S.E. window, faint traces of painting with remains of black-letter inscription, late mediæval. Plate: includes a cup and cover-paten and a flagon all of 1672, paten with shield-of-arms of Bennet, Lord Ossulstone. Recess: In chancel—in S. wall, with chamfered jambs and segmental-pointed head, probably 14th-century tomb-recess, jambs restored.
Condition—Good.
Secular
b(2) Barn at Church Farm, opposite the church, is a timber-framed and weather-boarded structure of the 16th or 17th century. It is of five bays with a roof of queen-post type.
Condition—Good.
a(3) Dawley Manor Farm, house and barns, 200 yards N.N.E. of the church. The House is of two storeys, partly timber-framed and partly of brick; the roofs are tiled. It was built early in the 16th century and the E. wing was extended in the 17th century. Inside the building are some exposed ceiling-beams and in the upper storey the original framing is exposed; it has curved braces to the tie-beams and curved wind-braces. In the E. wing is an original window with four diamond-shaped mullions. The Barns, to the S. and S.E. of the house, are timber-framed and have roofs of queen-post type; they are probably of late 16th-century date.
A homestead moat, formerly existing on the opposite side of the road, has now been filled in.
Condition—Good.
b(4) Dower House, 970 yards S. of the church, is of two storeys, partly timber-framed and partly of brick; the roofs are tiled. The N. half of the main block was built in the 16th century; the S. part was added or re-built late in the same century when the back wing was added; this wing was extended in the 18th century. Two chimney-stacks are of late 16th-century brick. Inside the building there is a late 16th-century moulded ceiling-beam. The original part has a contemporary roof, with queen-post trusses and curved wind-braces. There are also four 16th-century doors of moulded battens.
Condition—Good.