Pages 78-80
An Inventory of the Historical Monuments in Middlesex. Originally published by His Majesty's Stationery Office, London, 1937.
This free content was digitised by double rekeying and sponsored by English Heritage. All rights reserved.
32 HORNSEY (D.b.)
(O.S. 6 in. aXII, N.W. bXII, S.W.)
Hornsey is a borough and civil parish, including part of Highgate, adjoining the county of London on the N. Cromwell House is the principal monument.
Ecclesiastical
a(1) Parish Church of St. Mary, on the N.E. side of the parish, was demolished, with the exception of the tower, in 1927. The W. tower was built c. 1500 but the top part is modern. The walls are of ragstone rubble and brick with freestone dressings.
Architectural Description—The West Tower (13½ ft. square) is of three external stages (Plate 2) and four storeys. The two-centred tower-arch is of two moulded orders, the outer continuous and the inner springing from attached shafts with moulded capitals and bases; above the arch are marks of the former nave-roof. In the S. wall is a similar arch formerly opening into the S. aisle; externally it has been replaced by modern stonework. In the N. wall is a fireplace with hollow-chamfered jambs and four-centred head. In the W. wall is a partly restored window of three cinque-foiled lights with vertical tracery in a two-centred head with a moulded label; above it are two panels each containing an angel holding a shield, (a) formerly Thomas Savage, bishop of London (1496–1501) and archbishop of York but now defaced, (b) William Warham, bishop of London (1502–3). The upper half of the second stage and the whole of the top stage are modern.
Fittings—All, unless otherwise described, in the new church, to the E. of the old building. Brasses: In chancel—on E. wall, (1) of John Skevington, c. 1520, with figure of swaddled infant; (2) to Richard Ruggenale and Isabel and Alice his wives, c. 1420, inscription only. On wall next tower-arch, (3) to Thomas Priestley the elder, 1613 and Thomas Priestly the younger, 1615, inscription only, palimpsest on back, parts of figures, c. 1600. Chest: In vestry—of iron, bound with straps, two staples and engraved lock-plate inside, 16th or 17th-century. Coffin Plate: In N.E. porch—of Roger Draper, 1656. Font (Plate 11), now in St. George's church Priory Road—octagonal bowl with moulded rim and under edge with pateræ, sides panelled and cusped and enclosing alternately a rose and a shield; shield on S. side with fret and that on the E. side with traces of a device, stem with angle-shafts and panels with trefoiled heads, 16th-century. Monuments and Floor-slabs. Monuments: In N.E. porch —(1) of Francis Musters, 1680, marble wall-monument (Plate 13) with kneeling figure, cherubs supporting crown above, cornice, broken pediment and cartouche-of-arms. In nave—on N. wall, (2) to Richard Candish, erected by Margaret, Countess of Cumberland, 1601, obelisk and pedestal with crest and achievement-of-arms. In N.W. porch—(3) to Robert Harington, incumbent, 1610, black and white marble tablet with achievement-of-arms; (4) to Thomas Lant, B.D., incumbent, 1688, tablet with achievement-of-arms. In churchyard—S. of old nave, (5) to William Smith, 1673–4, headstone; S. of old tower, (6) to Judeth Suley, 1712, headstone. Floor-slabs: In tower—(1) to George Rey, incised slab (Plate 144) with figures of man in civil costume and two wives, simple triple canopy of Renaissance character, marginal inscription and two shields with T-crosses, late 16th-century. In churchyard—E. of modern church, (2) to Jane (Basset) wife of Sir John Musters, 1691, with lozenge-of-arms; (3) to Francis Musters, 1680, with shield-of-arms; on site of old nave, (4) to . . . (Trelawny) wife of Sir Francis Basset, 1682, with achievement-of-arms; (5) to John Barnes, junior, 1675, with achievement-of-arms. Plate: includes two flagons of 1641, given by Lady Musters, cup of 1694 and stand-paten of the same date and a plate of 1700 given by William Thatcher.
Condition—Of tower, good.
b(2) Chapel of Cholmeley's School, at the junction of North Road and Southwood Lane and 2 m. W.S.W. of the parish church, was re-built in the 19th century. In the crypt and churchyard are the following:—
Fittings—Floor-slabs: In crypt—(1) to Elizabeth (Hobart), wife of John Lisle, 1655–6, with shield-of-arms. In churchyard—W. of chapel, (2) to . . . daughter of Sir Henry Hobart Bart., 1632; (3) to Nicholas Burnwell, [1670]; (4) to Katherine, wife of Richard Chambers, with shield-of-arms, probably late 17th-century; (5) to Basill Nicolls, 164[8], Thomas, his son, 1706 and others later, with three defaced shields-of-arms; (6) to S.S., 1700. A monument from this chapel is now in the church of St. Pancras in the Fields. (See London, ii, p. 88.)
Secular
b(3) Cromwell House, on the N.E. side of Highgate Hill 70 yards N.W. of Cromwell Avenue, is of three storeys; the walls are of brick and the roofs are slate-covered. It seems to have been built c. 1630 by a member of the Sprignell family. Late in the 17th and early in the 18th century, when in possession of the family of Costa, additions were made on the N.E. and S.E. sides. In 1865 a fire destroyed the upper part of the house, after which the first-floor ceilings were renewed on the lines of the fragments of the old work.
The house is a good example of its period and the carved oak staircase is highly remarkable.
The S.W. Front (Plate 150) is symmetrically designed and of two storeys with basement and attics; there are bold cornices at the floor-levels, the upper one surmounted by a parapet; the windows have eared architraves of brick, those in the middle bay having pulvinated friezes below the main cornices and the others plain friezes; the sashes are later or modern; the middle bay projects slightly and has rusticated angles; the doorway is probably of the 18th century and has a round arch set in rusticated masonry with Doric side-columns supporting an entablature; the window above has scrolled supports at the sides of the architrave; the attic storey has a range of modern dormers. The back is of three storeys with a moulded band at the first and a cornice at the second-floor level; these are broken by the staircase windows; the staircase is carried up above the main wall and is finished with an 18th-century wood cornice; one window on the second floor has a solid frame and casements and below one of the staircase-windows is an 18th-century stone panel with swags, etc. The doorway has an 18th-century hood on brackets. The N. wing has an 18th-century doorway with Doric pilasters and entablature.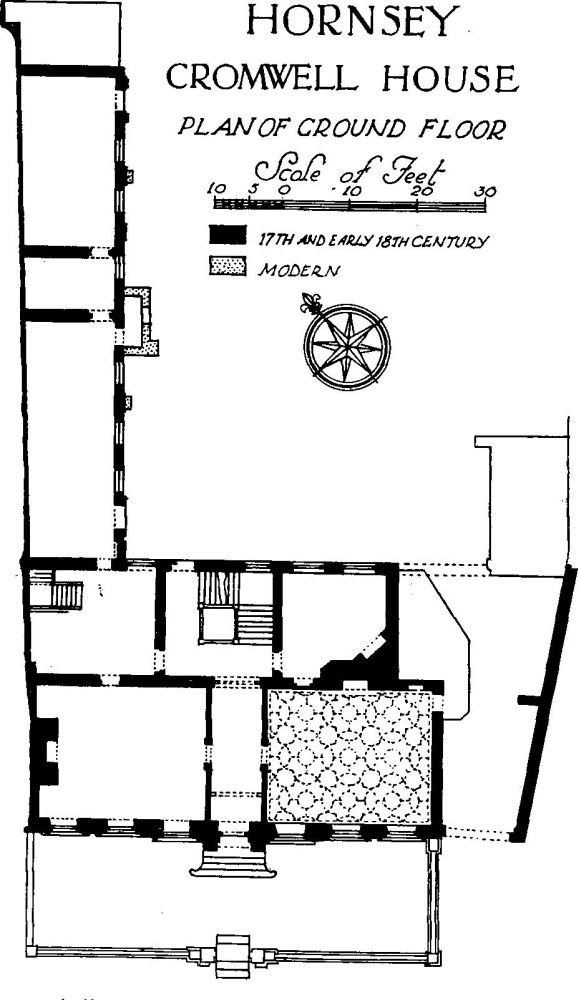 Interior—The S. room on the ground-floor has an original plaster ceiling divided into geometrical panels by moulded ribs; the walls are lined with original panelling finished with an entablature; the frieze is divided into bays by small pedestals and has strapwork ornament; the fireplace (Plate 56) has a moulded surround and an entablature with trophies of arms and a scrolled central panel on the frieze; the overmantel is flanked by Ionic pilasters with cherub-heads below and cartouches painted with later arms above. In a cupboard in this room is an original window now blocked; it has a solid frame and transom. The E. or Matron's room is lined with original panelling finished with a cornice; the fireplace is flanked by enriched pilasters supporting the bracketed shelf; the overmantel has similar but taller pilasters, with re-set or modern panelling between them. The Staircase (Plate 151) is original and of well-type with moulded hand-rails and strings and elaborate pierced strapwork panels in place of balusters; most of these have carved trophies of arms in addition; the square newels have enriched pendants and are surmounted by tall carved pedestals with Ionic capitals; on these pedestals is a series of carved standing figures (Plate 154) of soldiers representing (a) man playing a fife (b) man with musket, (c) drummer, (d) targetteer, (e) officer of pikemen, (f) officer of musketeers, (g) pikeman, (h) targetteer and (i) musketeer. Seven doorways (Plate 152) on the staircase are original, the four lower ones have eared architraves with enriched Ionic pilasters below the ears, frieze with central panel or cartouche, cornice and broken pediment with a central pedestal; the doors are panelled and the upper panels are eared. The three doorways on the top floor have eared architraves. Two rooms on the first floor have modern restorations of the original plaster ceilings. One of these (Plate 149) has trabeations with guilloche ornament, strapwork and an achievement-of-arms of Sprignell; the other has an elaborately enriched design (Plate 149) of geometrical character with rosettes, fleurs-de-lis, conventional flowers, etc. A room at the back has an original modelled plaster frieze of amorini and vases. In the basement is an original doorway with a moulded frame. In the early 18th-century wing is a marble fireplace with the da Costa monogram on the key-stone.
The area in front has an early 18th-century gate with rusticated piers finished with moulded cappings and ball-terminals; the gates themselves are of wood ramped at the top and having the upper panels filled with pierced carving.
Condition—Good.
b(4) Lyndale House, a few yards W.N.W. of (3) was largely re-built c. 1730. It retains however a late 17th-century plaster ceiling with an oval wreath of bay-leaves and four spandrel-panels each enclosing a cherub-head. There is also a panelled door of the same period.
Condition—Good.
b(5) House (Plate 34), Nos. 128 and 130 Highgate Hill, 160 yards W.N.W. of (3), is of three storeys with cellars and attics; the walls are of brick and the roofs are tiled. It was built late in the 17th century but was partly refitted in the 18th century. The front has sash-windows with flush frames, a moulded cornice at the second-floor level and a heavy modillioned eaves-cornice. The back has brick bands between the storeys and a simpler modillioned eaves-cornice. Some of the windows retain their solid frames with mullion and transom. Inside the building most of the fittings are of the 18th century. The upper part of the staircase (Plate 37) in No. 130 is original and has heavy turned balusters, close strings and square newels with ball-terminals.
Condition—Good.
b(6) House, No. 2 High Street, immediately adjoining (5) on the W. is of three storeys with cellars and attics; the walls are of plastered brick and the roofs are tiled. It was built early in the 18th century. The back has a moulded eaves-cornice and an original panelled door. Inside the building, most of the panelling seems to be of mid 18th-century date. There are some original doors in the attics and a fireplace with an eared architrave and a cornice. The staircase is original and has twisted balusters, close moulded strings and square newels.
Condition—Good.
b(7) House, No. 10 High Street 20 yards W.N.W. of (6), is of two storeys with cellars and attics; the walls are of brick and the roofs are tiled. It was built probably early in the 18th century but has been altered later in the same century. The front is plastered but the back retains its wooden eaves-cornice. Inside the building some of the rooms are lined with 18th-century panelling. The original staircase (Plate 38) has twisted balusters and close moulded strings.
Condition—Good.
a(8) Eagle Cottage, 100 yards N. of the old church tower, is of two storeys with attics; the walls are of brick and the roofs are tiled. The N. part of the house was built probably early in the 18th century and the S. part is a rather later addition. Inside the building is a certain amount of refixed early 17th-century panelling.
Condition—Good.