Pages 96-98
An Inventory of the Historical Monuments in Middlesex. Originally published by His Majesty's Stationery Office, London, 1937.
This free content was digitised by double rekeying and sponsored by English Heritage. All rights reserved.
39 NORTHOLT (B.c.)
(O.S. 6 in. (a)XV, N.W. (b)XV, N.E.)
Northolt is a parish 5 m. E. of Uxbridge. The Church is the principal monument.
Ecclesiastical
b(1) Parish Church of St. Mary (Plate 1) stands towards the E. side of the parish. The walls of the chancel are of brick; those of the nave are of flint and ironstone rubble, cement-rendered; the dress ings are of Reigate and other freestone; the roofs are tiled. The Nave was re-built and perhaps widened towards the S. c. 1300. The Chancel was re-built probably early in the 16th century and the bell-turret is of the same century. Buttresses were added c. 1700 and later in the 18th century. The South Porch was re-built and the church was restored in the 19th century.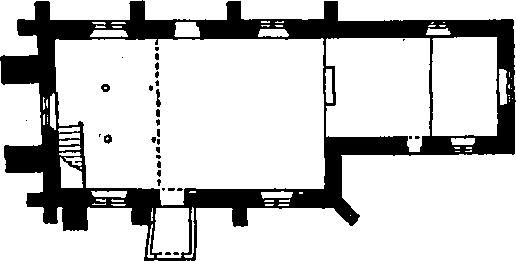 Architectural Description—The Chancel (28½ ft. by 16¼ ft.) was re-built early in the 16th century. The E. window, the windows in the side walls and the S. doorway are all modern but in each case the splays and rear-arch may be old; at the W. end of the N. and S. walls is the blocked opening of a former window. There is no chancel-arch.
The Nave (44 ft. by 24¾ ft.) has, in the N. wall, two windows, the eastern of mid 14th-century date and of two cinque-foiled lights with a quatrefoil in a two-centred head with a moulded label; the western window is of c. 1300 and is of two trefoiled lights with a sex-foiled circle in a two-centred head; the internal splays and mullion are shafted and the shafts have foliated capitals and moulded bases; the blocked 14th-century N. doorway has jambs and two-centred arch of two moulded orders with a defaced label. In the S. wall are two windows similar to the corresponding windows in the N. wall; the 14th-century S. doorway, now cement-rendered, has jambs and two-centred arch of one rounded and one moulded order. In the W. wall is a window similar to the western windows in the side walls and retaining a grotesque stop to the N. of the rear-arch.
The Roof of the chancel is probably of early 16th-century date and is of three bays with two king-post trusses; the octagonal king-posts have curved struts to the central purlin; the tie-beams and plates are chamfered; at the W. end is a third tie-beam supporting a plaster partition. The roof of the nave is of similar type and date and is of three bays with a narrow bay at the W. end below the bell-turret; the tie-beam supporting it is carried on two octagonal posts; the bell-turret itself is square and finished with a low broach-spire.
Fittings—Bells: three and sanctus; 1st by William Whitmore, 1656; 2nd by W. Land, 1617; 3rd by Thomas Bartlet, 1624; sanctus by Thomas Bartlet, 1626. Brasses: In chancel—(1) of Susan, wife of John Gyfforde, 1560, figures of man in armour and wife, groups of nine sons and three daughters, indents of four shields, palimpsest on male figure parts of armed figure c. 1480, on female figure part of an armed figure and two pieces of a lady, on group of sons two pieces of 15th-century inscriptions; on group of daughters, group of kneeling sons c. 1480; on E. wall, (2) of Isaiah Bures M.A., vicar, 1610, kneeling figure in gown, achievement-of-arms above, set in marble tablet, monument erected by his wife Catherine. In nave— (3) of Henry Rowdell, 1452, figure of man in armour with livery collar, feet on lion, indent of one shield. Communion Table: In nave—legs in form of Doric columns, two arches at each end and arcade of similar arches on a longitudinal central stretcher, early 17th-century. Font (Plate 12): octagonal bowl with moulded lower edge, sides with panels as follows, (a) octofoiled with shield-of-arms probably of Sir Nicholas Brember, Lord Mayor, (b) cinquefoil-headed panel, (c) sex-foiled with double rose, (d) as (b), (e) quatre-foiled with four leaves, (f) sex-foiled, (g) window tracery, (h) quatre-foiled with four leaves, mid to late 14th-century. Cover, of oak, with central post and four shaped brackets, inscription on post M.H., I.H., C.W., 1624. Gallery: In nave—at W. end, front of three bays flanked by pilasters and each bay with three fielded panels, moulded capping and base, front supported on two Doric columns, gallery approached by staircase with turned balusters, moulded strings and handrail, said to have been erected in 1703. Monuments and Floor-slab. Monuments: In churchyard—S.E. of porch, (1) to Elizabeth, wife of William King, 1663 or 8, head and foot-stones; S.W. of porch, (2) to John Robinson, 1706–7, headstone; S. of chancel, (3) to William Odell, 1712, and Elizabeth his wife, 1712–3, head and foot-stones; (4) to William Cob, 1700, headstone; on E. wall of chancel, (5) to George Probert, 1676–7, tablet with cartouche-of-arms. Floor-slab: In chancel—to Thomas Arundell, 1697, Thomas his son, 1706, and another later. Panelling: In nave—on W. end of N. wall, dado of re-used panelling from pews, upper panels enriched and finished with dentilled capping, one panel inscribed "William Rowse and Mathew Hart churchwardens, ano. dom. 1629." Picture: In chancel—on N. wall, oil painting of the Adoration of the Magi, probably 18th-century copy. Piscina: In nave—in S. wall, recess with moulded jambs and cinque-foiled arch in a square head, broken shelf and broken round drain, 15th-century. Plate: includes a cup and paten of 1702. Royal Arms: On E. wall of nave, Stuart arms of painted and carved wood, late 17th-century. Stoup: In nave—E. of S. doorway, recess with trefoiled head and broken bowl, c. 1300.
Condition—Fairly good, some stonework decayed.
Secular
b(2) Homestead Moat, immediately N.E. of the church.
a(3) Down Barns, house and moat nearly 1½ m. W. of the church. The House is of two storeys with attics; the walls are of brick and the roofs are tiled. It was re-built late in the 17th or early in the 18th century but incorporates a massive chimney-stack of earlier date on the W. side. The N. front has remains of an eaves-cornice. Inside the building is some early 17th-century panelling and the upper part of the staircase has early 18th-century turned balusters.
The Moat lies to the W. of the house.
Condition—Good.
a(4) Pigeon House at Islip Manor, 560 yards N.W. of the church, has now been reduced to the N.W. wall and the return of the N.E. wall. It was built probably in the 17th century and was a brick structure, set over-sailing at the top. There is a central doorway in the N.W. wall.
Condition—Ruined.
Monuments (5–8)
The following monuments, unless otherwise described, are of late 17th or early 18th-century date and of two storeys with attics. The walls are of brick and the roofs are tiled. Some of the buildings have exposed ceiling-beams. Monuments (7) and (8) have now been demolished.
Condition—Good or fairly good.
a(5) Iliots Green, house 440 yards N.W. of the church, has an original staircase with moulded strings and rails; the balusters are missing.
b(6) Moat Farm, house and barn 460 yards N. of the church. The House has a symmetrically designed front with a coved eaves-cornice; the panelled front door is original and has strap-hinges. Inside the building the S. room is lined with original panelling with a moulded cornice. Some of the fire-places and doors are also original. The Barn, E. of the house, is a 17th-century timber-framed structure of four bays.
b(7) Court Farm, house and barns 230 yards N.E. of the church. The House has a symmetrically designed front. Inside the building, the original staircase has turned balusters and square newels; there are several original doors. The Barns, S. of the house, are 17th-century timber-framed structures, each of four bays.
a(8) Medlar Farm, house about 1 m. S.W. of the church, was built probably early in the 17th century; it has later additions at the back and the front has been refaced. Re-set in one of the additions is an original window of four lights with moulded frame and mullions.