Pages 111-113
An Inventory of the Historical Monuments in the County of Northamptonshire, Volume 1, Archaeological Sites in North-East Northamptonshire. Originally published by Her Majesty's Stationery Office, London, 1975.
This free content was digitised by double rekeying and sponsored by English Heritage. All rights reserved.
55 WOODFORD
(OS 1:10000 a SP 97 NW, b SP 97 NE)
The parish, covering 880 hectares, lies between the R. Nene and Cranford Brook, on land rising S.W. from 100 ft. to 280 ft. above OD. The higher S.W. part is on Boulder Clay, but along the valley sides bands of clays, limestones and sands outcrop.
Prehistoric and Roman
b(1) Enclosures (SP 95617725), N.W. of the village, above the valley of Cranford Brook, on Cornbrash at 210 ft. above OD. Air photographs show, rather indistinctly, two or three ovoid enclosures (BNFAS, 6 (1971), 19).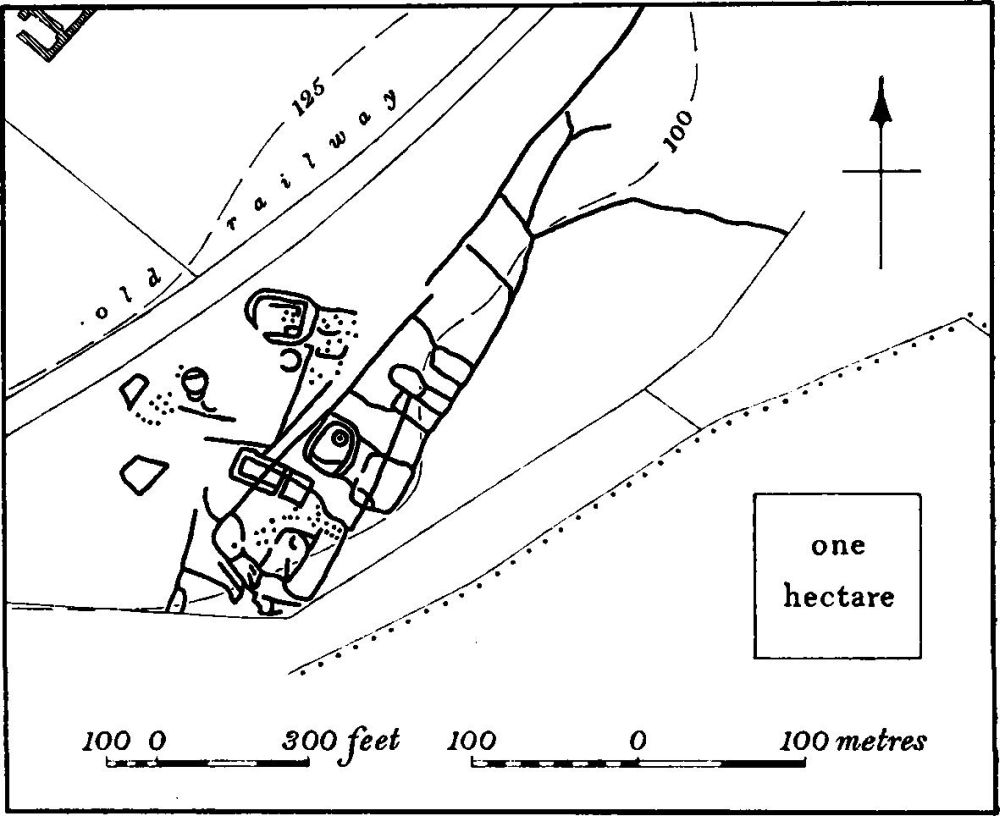 b(2–4) Round barrows (centred SP 96107600; Plate 1) known as the Three Hills, on the edge of the valley of the R. Nene, on rising ground. They are situated on Boulder Clay at 220 ft. above OD and in a line orientated N.N.W.-S.S.E. Each barrow touches its neighbour and there are no traces of surrounding ditches. On a map of the parish of 1731 (NRO) the barrows are shown lying within an unploughed strip within the common Three Hills Field.
b(2) Barrow (SP 96109603), the northern of the Three Hills. It was probably once circular but has been cut by modern ploughing on the E. and W., and the N. side has also been damaged. It is now 20 m. across from N.-S., 17 m. from E.-W., and 2 m. high with a flat top 7 m. wide.
b(3) Barrow (SP 96107600), immediately S.S.E. of (2). Diam. 20 m.; damaged by modern ploughing on E. Height 2 m. but much altered by old pits which have been dug into its top and W. side.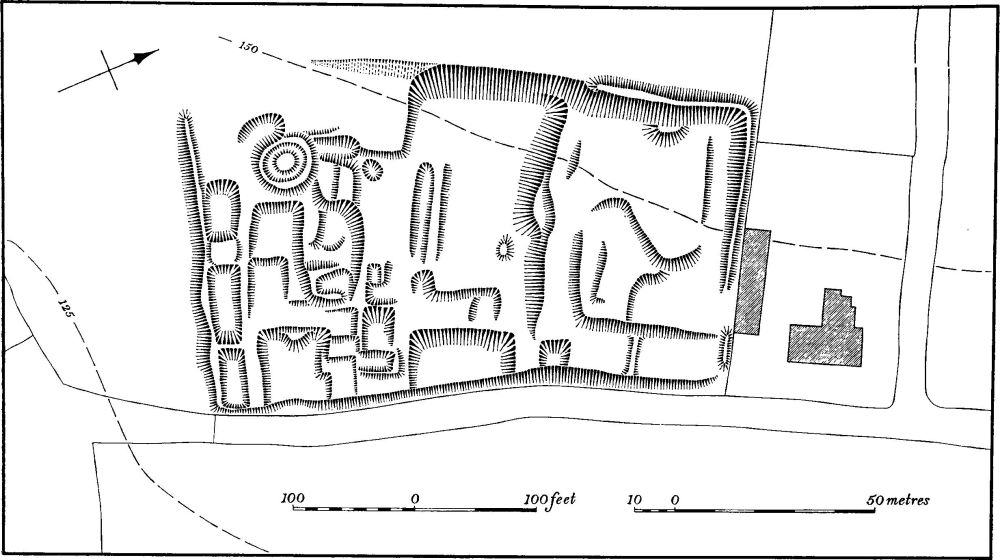 b(4) Barrow (SP 96107598), immediately S.S.E. of (3). Diam. 24 m., height 2 m. but very mutilated by fox-holes and other pits. It is cut into by modern ploughing on the E.
b(5) Settlement (centred SP 98687710; Fig. 117; Plate 4), S.E. of Woodford Grange, on River Gravel at 100 ft. above OD, close to the R. Nene. Air photographs show a complexity of crop-marks comprising enclosures and ditches and including at least four circular hut sites and a considerable number of pits. A little further N.E. is a large Roman site (6) with which it may be connected. (CUAP, ZE87–90, ZJ89–91)
b(6) Roman building (SP 98857738), 250 m. N.E. of (5) in a similar position. A quantity of building debris including tesserae, glass, painted wall-plaster and roof tiles, associated with Nene Valley-type pottery and some samian, has been found over an area of about 50 m. by 50 m. (BNFAS, 4 (1970), 45). A gold coin found in 'Thrapston Field' probably came from here (J. Bridges, Hist. of Northants., II (1791), 269).
b(7) Roman building (SP 97557546), in the S.E. of the parish, close to the R. Nene, on River Gravel at 110 ft. above OD. The site is first recorded in the early 18th century when two coins, tesserae, 'oddly engraven Tiles' and a 'Roman Urn' were discovered during ploughing (J. Morton, Nat. Hist. of Northants., (1712), 529; J. Bridges, Hist. of Northants., II (1791), 269; VCH Northants., I (1902), 194). In 1937 fragments of flue tiles were found (NM) and in the late 1940s part of an 'urn' was discovered (OS Record Cards). In 1969 ploughing revealed large pieces of building stone, some of which was dressed, tesserae, a fragment of brick, glass and part of a quern-stone, all from a small area of raised ground. In the surrounding area some Roman pottery, including samian, roof tiles, and oyster shells were noted. (BNFAS, 4 (1970), 14)
b(8) Roman building (SP 96207615) lies N.W. of the Three Hills Barrows (2–4) on sand and clay at 220 ft. above OD. Limestone building-rubble, roof tiles and Roman pottery were found here in 1964 (OS Record Cards) and similar discoveries have been made subsequently (BNFAS, 4 (1970), 45; 5 (1971), 27). Small quantities of Roman pottery have been recorded over an area of about 4 hectares.
For Roman Road 570, see p. 116.
Medieval and Later
(9) Anglo-Saxon burial (?) (unlocated, existence doubtful). A Saxon cremation-burial is listed by Meaney (Gazetteer (1964), 197) as from Woodford. However, the only evidence for it is a sketch of an urn in J. Coles' MS of the early 19th century, ('History of Ecton' in Northampton Reference Library). The urn is not mentioned in the text and appears to be for decorative purposes only, but it is certainly of Pagan Saxon form (OS Record Cards).
b(10) Settlement remains (SP 96807660; Fig. 118) formerly part of Woodford village, lie S.W. of the church and immediately W. of the rectory, on limestone at 140 ft. above OD. The site was already abandoned in 1731 (map in NRO) when it was all within a single field called Bateson's Close.
The remains occupy a rectangular piece of land bounded on the E. by an existing lane and on the N., S. and W. by a bank and scarp up to 2 m. high. Along the edge of the lane at the N. end are four sub-rectangular sunken hollows, probably former house sites, with slight remains of closes behind them. At the S. end is a complex area which comprises at least 12 rectangular building-platforms, cut into the hillside and arranged in a roughly rectangular pattern. To the W. of them is a circular feature, bounded by a low bank 0.5 m. in height, which encloses a low mound, now much damaged. The purpose and date of this feature are unknown.
b(11) Remains of house and garden (SP 97237696; Fig. 119; Plate 21), at the extreme N.E. end of Woodford village, alongside an old hollow-way or road leading to Thrapston, on the top of and on the steep slopes of the river valley, with extensive views across the Nene. The remains are those of a site of a house and a garden, apparently built by the St. John family which bought the main manor in 1621 and owned it until the early 19th century. The house may have been demolished when the present Woodford House was erected by the successor of the St. Johns in 1813–26 (VCH Northants., III (1930), 256; N. Pevsner, Northamptonshire, (1961), 467). The house and gardens are shown complete on a map of Woodford dated 1731 (NRO). The main features are two large rectangular terraces cut back into the natural hillside. Above, on the hill top, is a large area of irregular low earthworks, much disturbed, which is the site of the original house, with a large open courtyard on the N.W. opening out on to the old road.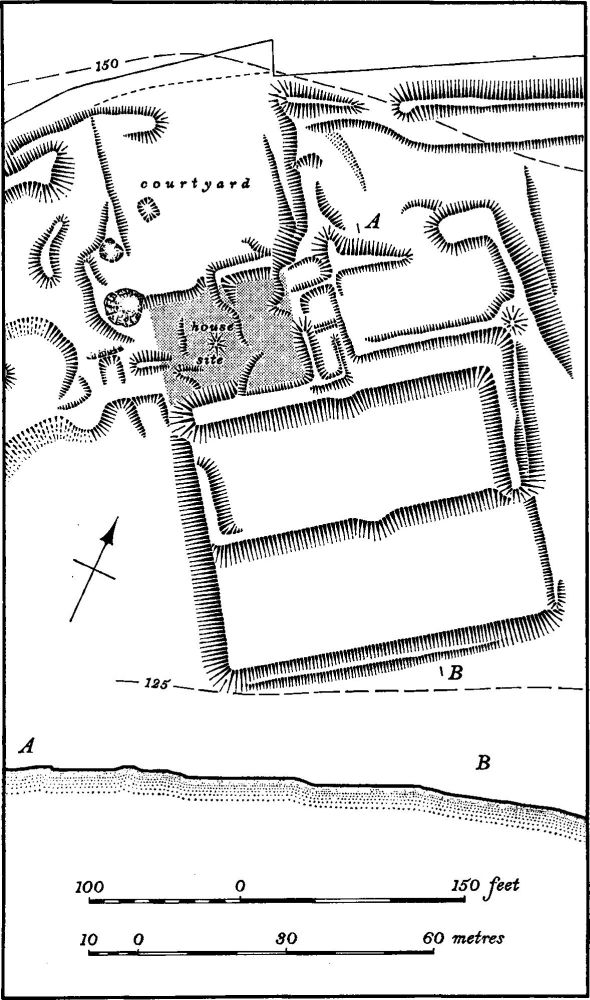 To the S. of the site and beside the old road are other earthworks (not shown on Fig. 119), including well-marked buildingplatforms and closes, which are the remains of former houses.
(12) Cultivation remains. The common fields of the parish were enclosed by an Act of Parliament of 1763. On a map of the parish in 1731 (NRO) three large open fields are shown. Ridge-and-furrow of these fields survives on the ground or can be traced on air photographs mainly to the W. and S.W. of the village within the former Wold and Three Hills Fields. It is arranged in end-on and interlocked furlongs often of reversed-S form, and can be correlated exactly with the furlongs and strips shown on the 1731 map. (RAF VAP CPE/UK 1925, 1248–54, 4338–43; 1994, 2422–9)