Pages 114-115
An Inventory of the Historical Monuments in the County of Northamptonshire, Volume 1, Archaeological Sites in North-East Northamptonshire. Originally published by Her Majesty's Stationery Office, London, 1975.
This free content was digitised by double rekeying and sponsored by English Heritage. All rights reserved.
57 YARWELL
(OS 1:10000 a TL 09 NW, b TL 09 NE)
The parish, covering some 760 hectares, lies E. of the R. Nene, between 40 ft. and 230 ft. above OD. The greater part lies on limestone and marls, except in the extreme W. where the higher ground is covered by Boulder Clay. The intensive occupation of Yarwell during the Roman period is particularly noteworthy.
Prehistoric and Roman
b(1) Double ring ditch (?) (TL 07229721), in the S.E. of the parish, 150 m. W. of Yarwell Mill, on limestone at 90 ft. above OD. It is not clearly visible on the air photographs which are available but its outer ditch can be seen as a crop-mark, 30 m. in diam. with an inner ditch 25 m. in diam. (air photographs in NMR).
b(2) Ditches (TL 05509846; Fig. 120), immediately S. of Sulehay Cottages, on limestone at 150 ft. above OD. Air photographs show a set of ditches of no coherent form. The S. extension has been quarried away. (CUAP, ZF52)
b(3) Roman building (TL 06699790; Fig. 121), immediately W. of the village, on limestone at 100 ft. above OD. Air photographs show a rectangular pattern of ditches in the field centred on a Roman building revealed by excavation. This was dug by Oundle School in 1953 but no report was published. Photographs taken during excavation, however, exist (copies in NMR), and from these it is clear that a building of considerable size, and divided into a number of rooms, was found only 20 cm. below the ground surface. No tessellated or tiled floors were uncovered but pottery of the 2nd and 3rd centuries and a fine capital (Plate 24) were discovered. No other details are known. From the field immediately to the W. a complete Roman pot and some Iron Age sherds have been found during quarrying (BNFAS, 4 (1970), 15; CUAP, ZF51).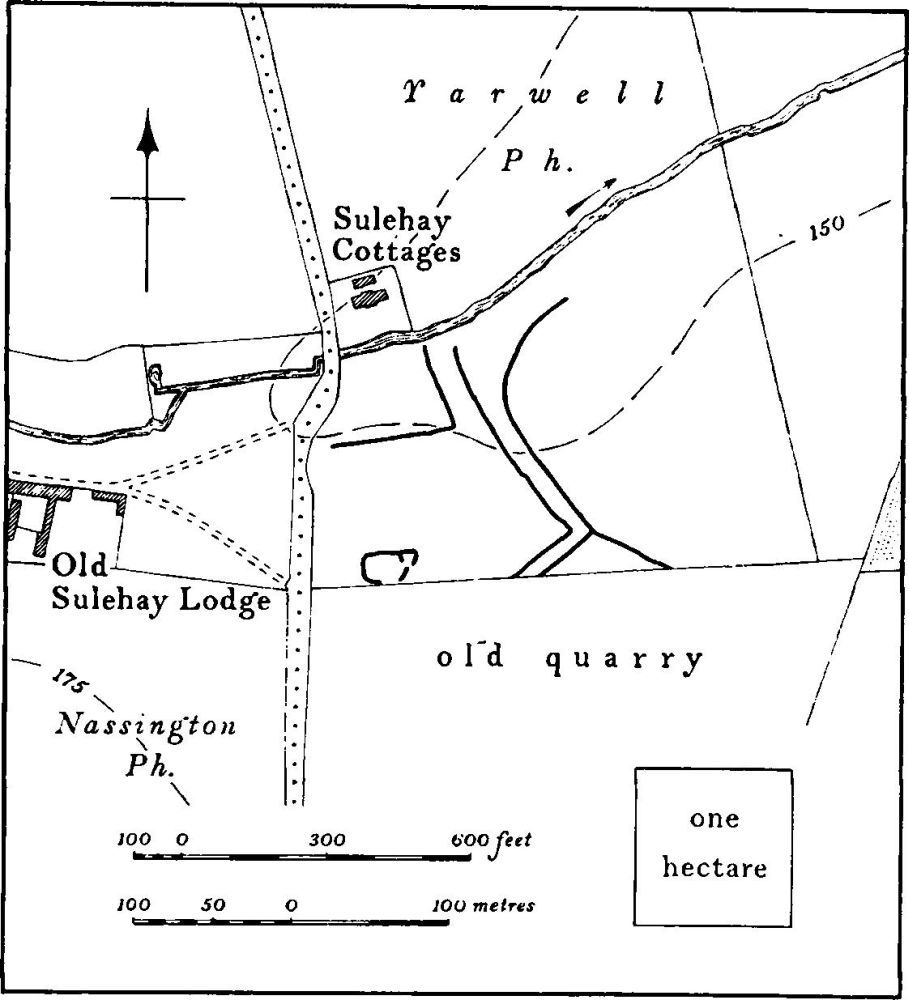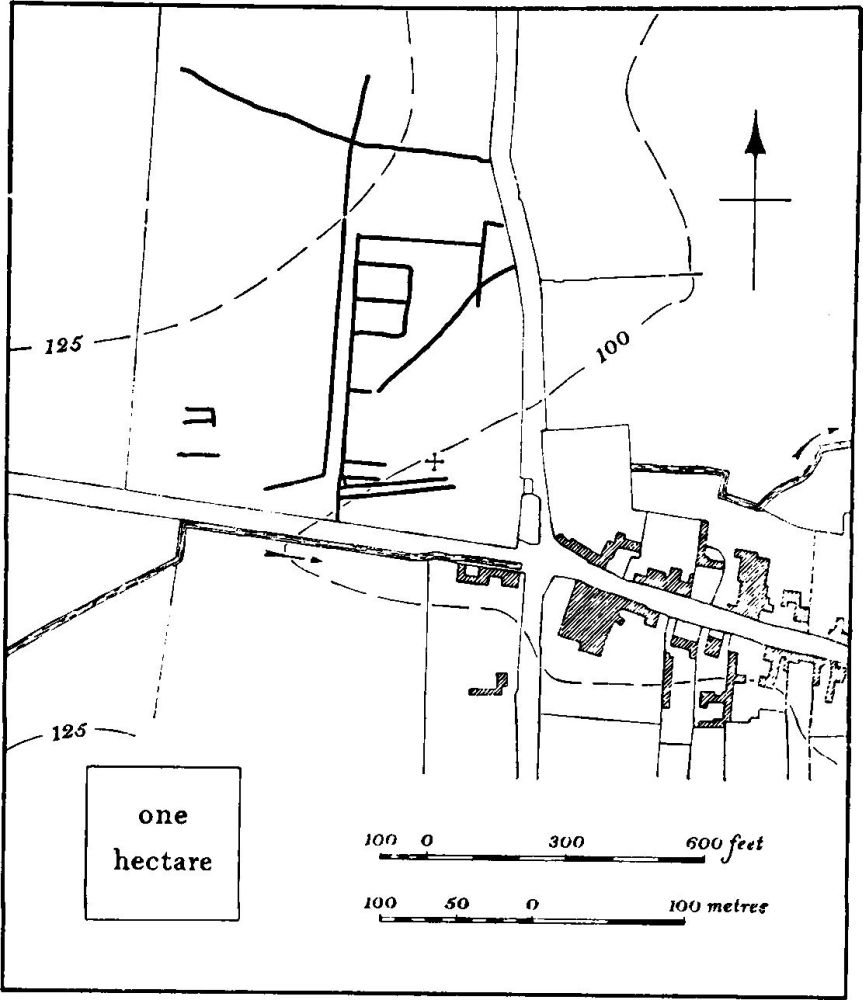 b(4) Roman settlement (?) (TL 07229768) may lie immediately E. of the village, on limestone at 60 ft. above OD, close to the R. Nene. Artis' map of the area around Durobrivae shows a group of Roman buildings here (E. T. Artis, Durobrivae (1828), pl. I). Moreover, Roman pottery in considerable quantities has been found all over the E. side of the village and in the surrounding fields (local information). Two keys, one iron and the other bronze, have been found S.E. of the village at TL 07309730 and much Roman pottery is recorded from along the edge of the river at TL 07719716 (OS Record Cards).
b(5) Roman building (TL 06189914), 1 km. N.W. of the village, close to the Roman road (571) on limestone at 175 ft. above OD. It was found in 1934 during quarrying operations. A large building, with stone-paved floors was discovered together with a small pillared hypocaust and quantities of 'late Roman pottery'. No other details. Destroyed by quarrying (OS Record Cards).
b(6) Roman burials (TL 07419755) a little S.E. of (4) and in a similar position. Roman pottery associated with seven burials is recorded from this area (OS Record Cards).
b(7) Roman burial and ditch (about TL 058980) lay W. of the village on limestone at 145 ft. above OD. During quarrying operations, a ditch containing Roman pottery was noticed in the working face, and a cremation burial, perhaps a child, in a small stone-lined cist, is also recorded. Associated with the burial were fragments of Roman pottery, a bronze necklet, a bronze bracelet and 25 glass beads. (BNFAS, 7 (1972), 38)
b(8) Iron-working sites (?) (centred TL 065986) are recorded from in and N. of Old Sulehay Forest, in the N. of the parish, on limestone between 100 ft. and 150 ft. above OD. Artis' map of the area around Durobrivae shows twelve iron-working sites within the wood and two more to the N. (E. T. Artis, Durobrivae (1828), pl. I). The N. part of the wood where eight of the sites are shown, has been cleared and quarried. The remainder of the wood is dotted with many pits and hollows; some are recent and others, apparently dating from the medieval period, are stone quarries. No finds have been made.
Medieval and Later
(9) Cultivation remains. The common fields were enclosed by an Act of Parliament of 1777 (map of 1778 in NRO) but nothing is known of the field arrangements before that date. Ridge-and-furrow of these fields can be traced on air photographs only in the area S. and E. of the village where it takes the form of relatively short end-on furlongs. (RAF VAP CPE/UK 1891, 1040–1, 4131–6; 1925, 4110–4)
Undated
b(10) Bank (TL 06789866–06499877), within and S.E. of Old Sulehay Forest. It is generally straight but with minor bends which do not alter its main N.W.-S.E. alignment. It is up to 1 m. high and 5 m.-6 m. wide with side ditches 0.5 m. deep and 4 m. wide. At its S.E. end it runs into modern arable and although now destroyed there, air photographs (in NMR) show that it did not extend across the Yarwell-Wansford road. This land, recently cleared of trees, was formerly part of the wood; in the middle of the wood the bank crosses the central ride whose side banks lie over it. At its N.W. end, the bank decreases in height and fades out. The date and purpose of the bank is unknown. It is earlier than the 'ride' which is probably 19th-century. It may be associated with stone-quarrying.