Pages 12-16
An Inventory of the Historical Monuments in the County of Northamptonshire, Volume 1, Archaeological Sites in North-East Northamptonshire. Originally published by Her Majesty's Stationery Office, London, 1975.
This free content was digitised by double rekeying and sponsored by English Heritage. All rights reserved.
6 BARNWELL
(OS 1:10000 a TL 08 NW, b TL 08 NE, c TL 08 SW, d TL 08 SE)
The parish covering 1350 hectares consists of a generally rectangular area with projections in the N.W. and S.E. corners, lying to the E. of the R. Nene. The W. part, mainly on limestone, is occupied by the valley of the N.-flowing Barnwell Brook, within which the village lies at about 100 ft. above OD. To the E., the land rises gradually to a level Boulder Clay covered upland standing at 225 ft. to 250 ft. above OD.
Five Roman settlements, all on the Boulder Clay plateau, are recorded. The present village was formerly two separate settlements each with its own church, and apparently with its own common field system. The most important site is that of a house and gardens (9), probably of 17th-century date.
Prehistoric and Roman
A bronze spearhead was found in the 18th century near Barnwell Castle (Gent's Mag., 68 (1798), 9). Roman coins of the 2nd to 4th centuries have been found at Barnwell St. Andrew (VCH Northants., I (1902), 216).
a (1) Enclosures (TL 04068672 and 04158677; Fig. 24) lie S.E. of Barnwell Mill Farm on limestone, sand and marl at 100 ft. above OD. Air photographs show a rectangular enclosure with a well-marked pit within it, and an additional enclosure attached to its N.W. side. There are traces of a further enclosure to the S.E. and another, larger and more irregular, to the N.E. No entrances are visible. (CUAP, ZF20)
d (2) Roman settlement (TL 074848) lies close to the N. parish boundary, on Boulder Clay at 230 ft. above OD. Roman pottery, mainly 3rd and 4th-century Nene Valley wares, bones, oyster shells and large pieces of limestone rubble have been found scattered over an area 50 sq. m. (BNFAS, 2 (1967), 7; 5 (1971), 6)
d (3) Roman settlement (TL 074836), near the E. of the parish on Boulder Clay at 235 ft. above OD. Roman pottery, mainly of late 3rd and early 4th-century date, bricks, tiles, limestone masonry and one mid 4th-century coin have been found. (OS Record Cards; BNFAS, 3 (1969), 6; 5 (1971), 6)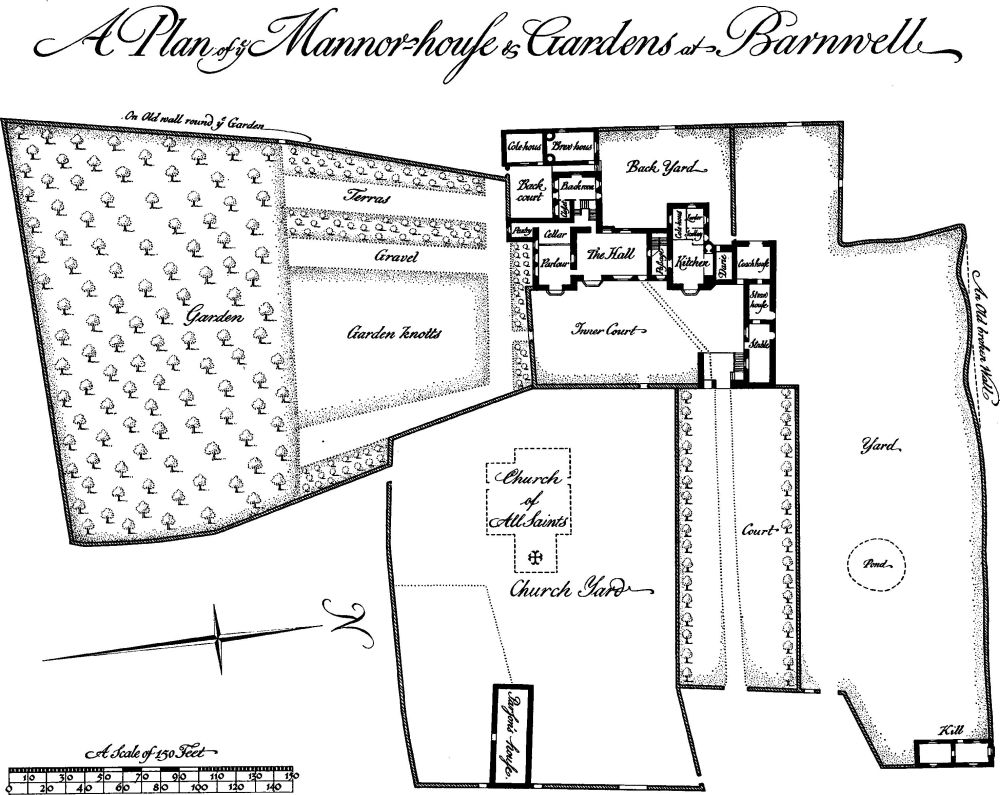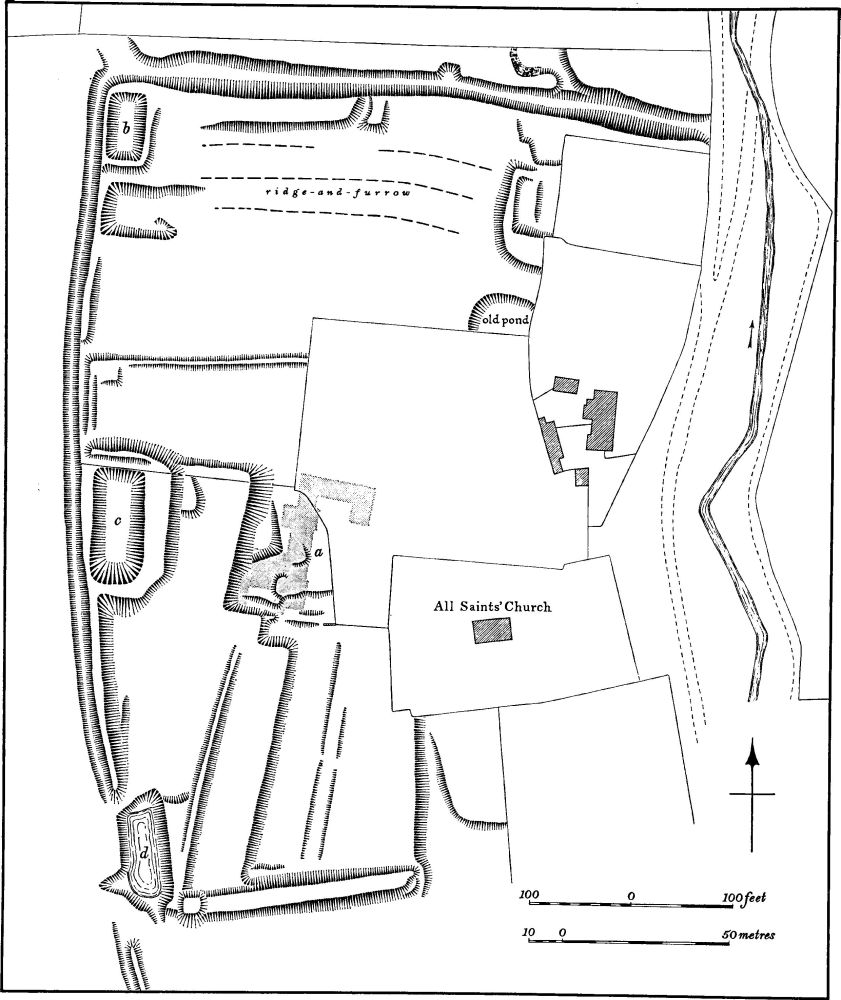 Excavations on this site in late 1973 revealed part of the stone foundations of a building dated to the 3rd-4th centuries, which overlaid earlier timber buildings. The stone structure had evidence for a hypocaust, painted wall-plaster and Collyweston tiles. It lay against a large pit, filled with 2nd-century material which had apparently been dug to provide clay for locally produced tiles (inf. J. A. Hadman).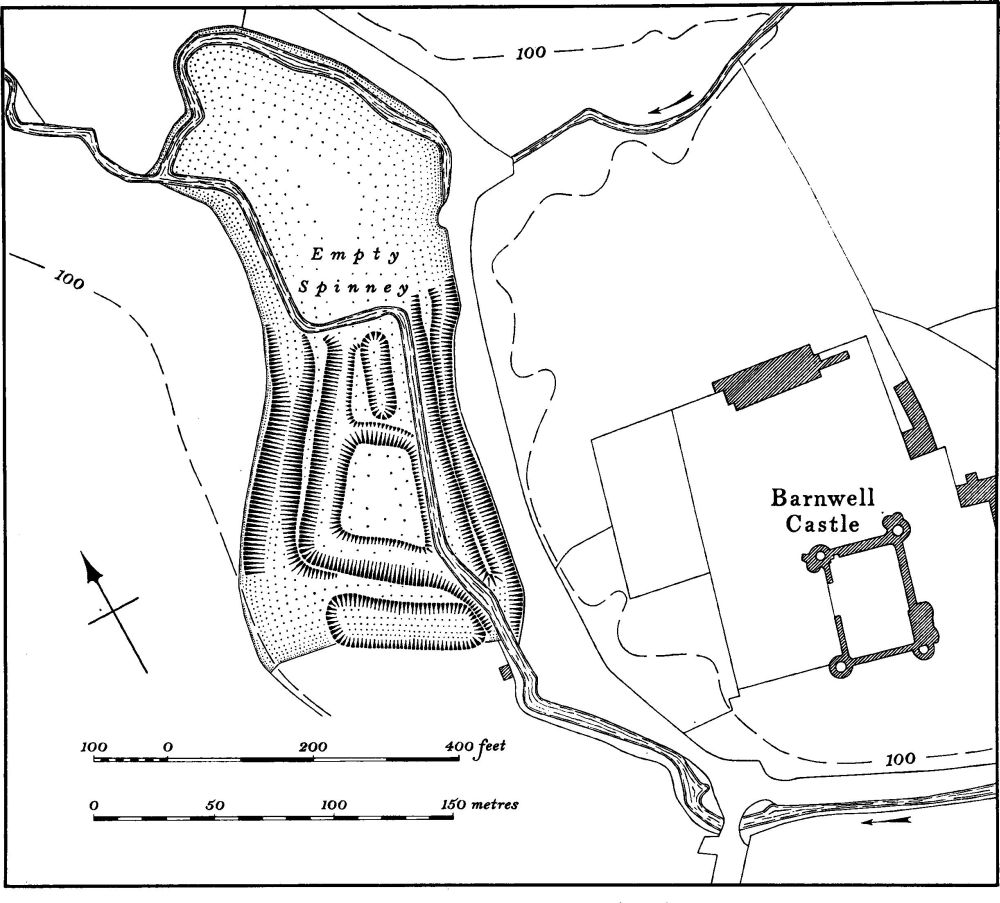 d(4) Roman settlement (TL 073817), on Barnwell Wold, on Boulder Clay at 230 ft. above OD, in the S.E. of the parish. Roman pottery, mainly of 3rd-century date, mortaria, part of a coin and limestone rubble have been found. (BNFAS, 5 (1971), 6; inf. J. A. Hadman)
d(5) Roman settlement (TL 065824), near South Lodge on Boulder Clay at 240 ft. above OD. Extensive scatters of Roman pottery as well as limestone rubble have been found. (inf. J. A. Hadman)
For Roman Road 570, see p. 116.
Medieval and Later
a(6) Settlement remains (?) (TL 038876) which could possibly be the lost hamlet of Crowthorpe, lie in the extreme N.W. of the parish near the bridge across the Nene, at 70 ft. above O.D. A number of indeterminate ditches containing early 12th and 13th-century pottery have been found which were said to be the remains of destroyed dwellings (BNFAS, 3 (1969), 26). The site is an unlikely one for a settlement, although there are records from the 12th century of the lost Crowthorpe in the vicinity. (PN Northants., 214; VCH Northants., III (1930), 72 and 85; DMVRG, Ann. Rep., (1960), II)
cd(7) Settlement remains (TL 050848–049840), formerly part of the villages of Barnwell St. Andrew and Barnwell All Saints, lie behind the existing houses on both sides of the main N.-S. village street. A large number of house sites, between the older houses, have been built over in recent years, but some of the ends of the older closes and building platforms still exist beyond the modern gardens. For example, at TL 049846, there are considerable earthworks of old closes and building sites, and at TL 049843, there are remains of former houses.
d(8) Moat (?) (TL 05218421) lies to the E. of Friars Close Farm in Barnwell All Saints, on limestone at 110 ft. above OD. The site consists of a small square island, 16 m. across, rising steeply to a small summit only 4 m. wide, which is completely surrounded by a water-filled ditch, 2 m. deep and 10 m. wide. It would seem too small for a homestead moat and its general appearance suggests that it is of relatively recent date.
c(9) Site of manor house and gardens (TL 04828438; Figs. 25 and 26, Plate 21) lies immediately W. of All Saints' church, on mainly level land at 120 ft. above OD. Little is known of its history, but to judge from a plan of 1716 the house was of late medieval date and was the manor house of Barnwell All Saints (NRO, photo. copy). The manor passed in 1548 to the Montagu family. It is known to have been tenanted in the early 18th century by Mrs. Elizabeth Creed who was a member of that family (VCH Northants., III (1930), 173–4).
The existing remains of the gardens agree closely with the early 18th-century plan. The site of the house now lies partly in a modern allotment and no trace of the building remains, but medieval and later pottery have been found. However, the indeterminate low earthworks which lie N.W. of the church ('a' on Fig. 26) are the only survivals of the outbuildings around the 'Back Court' and part of the Hall. To the S. the main garden still remains as it was in 1716. The 'Old Wall' on the W. now shows as a low bank only 0.25 m. high, the 'Terras' as a scarp 0.5 m. high and the 'Gravel' as a slight depression which becomes a low ridge to the N. There are no traces of the 'Garden knottes' but the wall on the E. is another low scarp. This part of the garden is closed on the S. by a large flat-topped bank or terrace, 1.5 m. high, with a low rectangular mound at its W. end. It is perhaps the site of an arbour or summer-house, but it is not shown on the map of 1716. The wooded garden or orchard further S. no longer exists.
These garden remains form only a part of a large area of earthworks which are bounded on the W. by a low bank and ditch and on the N. by a deeply cut hollow-way, perhaps on the line of an earlier ditch. There are three rectangular ponds, or former ponds, along the W. side ('b' 'c' and 'd' on Fig. 26), and the interior has other slight platforms and banks as well as a small area of ridge-and-furrow. An old pond near the N.E. corner is probably that marked on the 1716 plan. These earthworks are presumably the farmyard or home close of the medieval manor house, into which a formal garden was incorporated in the 17th century.
a(10) Earthworks (TL 047853; Fig. 27) of unknown purpose but of the medieval period or later, lie slightly N.W. of Barnwell Castle in the bottom of the valley at 100 ft. above OD. They consist of a number of ditches up to 2 m. deep surrounding an island and may have originated as a moat. The name Empty Spinney, given to the adjacent copse has been tentatively identified with 'Le Hympehaye' of 1285 meaning 'an enclosure made of saplings or shoots' (PN Northants., 210).
(11) Cultivation remains. The common fields of the parish of Barnwell All Saints are said to have been enclosed in the 17th century (VCH Northants., III (1930), 173). Certainly by 1716, all the common fields of both the former parishes were enclosed (NRO, map of Barnwell, 1716). Ridge-and-furrow, apparently of these fields, can be traced on air photographs over much of the parish, mainly in interlocked furlongs of C and reversed-S form.
In addition, in the extreme S.E. end of the parish on Barnwell Wold, there are the remains of other ridge-and-furrow in and around the existing woods. As this area was probably common pasture in medieval times, the ridge-and-furrow is likely to be the result of temporary ploughing either in that period or perhaps in the 16th or 17th centuries. 'Le Wold Field' is recorded c. 1230 (PN Northants., 179). (RAF VAP CPE/UK 2109, 3409–21; 541/143, 3202–04, 4201–04; 541/602, 3053–5, 6067– 70, 4052–6, 4031)