Pages 19-20
An Inventory of the Historical Monuments in the County of Northamptonshire, Volume 1, Archaeological Sites in North-East Northamptonshire. Originally published by Her Majesty's Stationery Office, London, 1975.
This free content was digitised by double rekeying and sponsored by English Heritage. All rights reserved.
8 BLATHER WYCKE
(OS 1:10000 a SP 99 NE, b SP 99 SE)
The parish, lying in the former medieval Rockingham Forest, covers an irregular area of 600 hectares, between 230 ft. and 150 ft. above OD. The flatter S.E. part is largely covered by Boulder Clay, but in the N.E., Willow Brook has cut deeply into the underlying limestones and marls.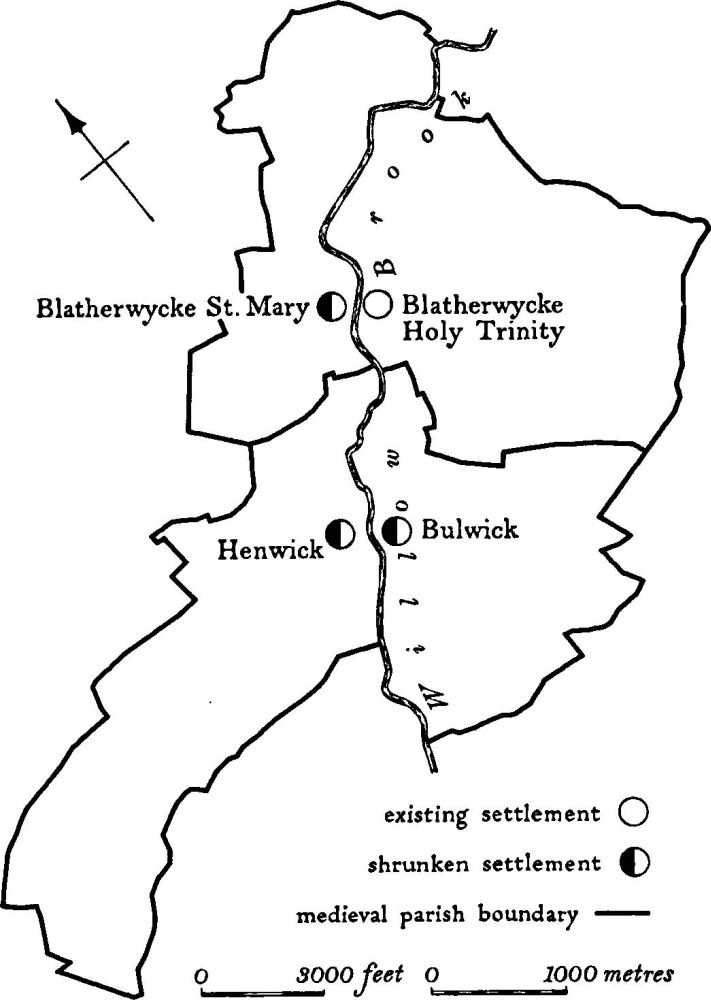 The village lies on both sides of Willow Brook, here ponded into a large ornamental lake for the nowdemolished Blatherwycke Hall. It is possible that the two former parishes of Holy Trinity and St. Mary Magdalene, united in 1448, were centred on separate medieval settlements on either side of the brook (Fig. 30). The discovery of burials within the well-preserved remains of former houses W. of the brook (3), supports this contention.
Prehistoric and Roman
a(1) Linear ditches (SP 979959–983957 and 982962–982955) lie E. of the village on limestone and clay at about 250 ft. above OD. Air photographs show two long linear ditches crossing almost at right angles (at SP 983957). (Air photographs in NMR)
(2) Burials (unlocated) found in the 19th century. Two stone coffins, one containing part, from the knees upwards, of a female skeleton, the other containing the lower legs, and an 'urn', were discovered. The coffins survive in the garden of the Rectory (SP 971995) and the urn, now in pieces, is shown in a drawing (NM, Dryden MS). There is also another record of a 'Roman urn' being found in the parish, which may be the same one as above. A bronze coin of Nero was also found in the village in about 1930. (Whellan, Dir., 703; BNFAS, 4 (1970), 57; OS Record Cards)
Medieval and Later
a(3) Settlement remains (SP 96939581 and 97129576; Fig. 31; Plate 16) formerly part of Blatherwycke village, lie on both sides of the present main street on land sloping S.W. to the Willow Brook.
N.W. of the village a well-marked hollow-way extends from the modern road into an area of scarps and banks which form a generally rectangular plan. These include a number of building platforms and house sites, some with rubble wall footings. On the N. side of the hollow-way (at SP 96959587), holes for electricity pylons revealed a number of human inhumation burials (local information). These burials may indicate the site of the lost church of St. Mary Magdalene the parish of which was united with that of the present church in 1448. N.E. of the village a group of less well defined scarps and banks includes another hollow-way.
(4) Cultivation remains. The date of enclosure of the common fields of the parish is not known. It had certainly taken place by 1847 (NRO, Tithe Map) and probably occurred long before. Ridge-and-furrow of these fields can be seen on the ground, or traced on air photographs, over the whole of Blatherwycke Park, as well as in the modern fields to the W. of Park Farm (SP 968961) and N. and N.W. of Cadge Wood (SP 972953–972942). It is arranged in end-on and interlocked furlongs. (RAF VAP CPE/UK 1891, 2220–2; 1925, 1125–36, 3130– 35; 2109, 4103–6)
b(5) Dam (SP 98659375) lies in the extreme S. of the parish, S. of Bushey Wood, across the valley of a small E.-flowing stream. Its date is unknown but it may be as late as 18th or 19th-century. It consists of a long bank, 120 m. in length, 13 m. wide and up to 2.5 m. high. It formerly ponded back a small lake about 1.25 hectares in area. (OS 25 in. map, 2nd ed. (1900), Northants. XII 7; RAF VAP CPE/UK 2109, 4104–5)