Pages 33-35
An Inventory of the Historical Monuments in the County of Northamptonshire, Volume 1, Archaeological Sites in North-East Northamptonshire. Originally published by Her Majesty's Stationery Office, London, 1975.
This free content was digitised by double rekeying and sponsored by English Heritage. All rights reserved.
15 DEENE
(OS 1:10000 a SP 99 SW, b SP 99 SE)
The parish of only 650 hectares occupies a long strip of land orientated roughly E.-W., the E. half being of bulbous plan. Along its spine is a long E.-W. ridge of high land covered with Boulder Clay, between 300 ft. and 350 ft. above OD. To the N. the land falls away to Kirby Brook which is the N. boundary of the parish, where limestones, marls and clays outcrop on the valley side. To the S. of the ridge is the valley of Deene Brook with similar geology. Both streams flow E. to meet Willow Brook which forms much of the E. boundary.
Deenethorpe parish, to the E., formerly belonged to Deene; the W. part of Deene parish appears to have been associated with the now deserted village of Kirby (2) of which well-preserved remains still exist S. of Kirby Hall (Fig. 42).
Roman
a(1) Settlement (?) (SP 937933), on the S. side of a narrow valley at 300 ft. above OD on limestone. Roman pottery and iron slag have been found here (BNFAS, 4 (1970), 60). The site is probably part of the large area of Roman occupation to the N. (Bulwick (1)). A small bronze figure of Minerva, now lost, was found in the parish in the 19th century and may possibly be from this site (BNFAS, 4 (1970), 60).
Medieval and Later
a(2) Deserted village of Kirby (SP 928925; Figs. 43 and 44; Plates 12 and 13), on the S. side of a narrow valley, on limestone and Boulder Clay at about 300 ft. above OD. All its visible remains lie in the parish of Deene, although Kirby Hall itself stands on the N. side of the valley in Gretton parish, and documentary evidence indicates that the village also extended into Gretton. The remains of the village within Gretton parish have been entirely removed by ironstone mining. The greater part of the site is in good condition, but the extremities are being encroached on by modern ploughing which has destroyed a number of house sites.
The village may have originated as the daughter-hamlet of Deene and was perhaps, as its name suggests, taken over by Scandinavian settlers. It was always small: in 1086 only six people are recorded under Kirby in Domesday Book (VCH Northants., I (1902), 356). Although mentioned in the 1316 Nomina Villarum, the village is not listed in the later-medieval taxation returns and was probably included under Deene. In 1495 Sir Robert Lytton enclosed 80 acres of land and converted it to pasture; he also destroyed one house, but there were still ten able-bodied men in the village in 1539 (K. J. Allison et al., The Deserted Villages of Northants. (1966), 41–2; M. W. Beresford, The Lost Villages of England (1954), 370). In 1570 Kirby Hall was begun for Humphrey Stafford on the site of, and incorporating, the old manor house. In 1584 and 1587 two maps (now in NRO; Plate 13) were made of the area for Sir Christopher Hatton who bought Kirby in 1585 and show that much of the village still remained, including the church just S.W. of the Hall. There were six houses near the church, another further W. (all in Gretton parish), and four or five other houses to the S. (in Deene parish). A single house lay at the N. end of the main street. No other houses are depicted elsewhere along this street. By about 1720 all these houses had disappeared, although their previous existence was known (J. Bridges, Hist. of Northants., II (1791), 315). Certainly the church, and probably houses around it, must have been removed either before or in 1685–6 when the great formal garden W. of the Hall was laid out on their sites by Sir Christopher Hatton III. The other houses also may have been removed then as part of the general emparking beyond the gardens (G. H. Chettle, Kirby Hall, 2nd ed. (1947)).
The remains consist of a broad hollow-way, running up the hillside from the stream which forms the boundary of the gardens of Kirby Hall. For most of its length it is bounded by the remains of buildings and yards defined by well-marked limestone rubble walls up to 1 m. high. In some of the building sites, internal walls can be identified and in at least one place the layout of a complete farmstead with house, yard and outbuildings, survives ('a' on Fig. 44 and Fig. 43). The hollow-way is blocked at one point ('b' on Fig. 44) by a later bank and ditch which can be traced to the N.E. and where it overlies ridge-and-furrow; it coincides approximately with the boundaries of the paddock named Wood Close on the 1584 and 1587 maps. At its S.E. end the hollow-way opens out to form a wide funnel-entrance close to the modern road.
Nothing remains of the church and house sites in Gretton parish probably because of the 17th-century garden construction and emparking and recent ironstone workings. Air photographs show slight traces of former banks and ditches S. of the Kirby Brook, on either side of the present drive to Kirby Hall (SP 92489237); these may be the sites of houses shown hereabouts on the 16th-century maps. (RAF VAP F21 58/RAF/2219, 0027–9)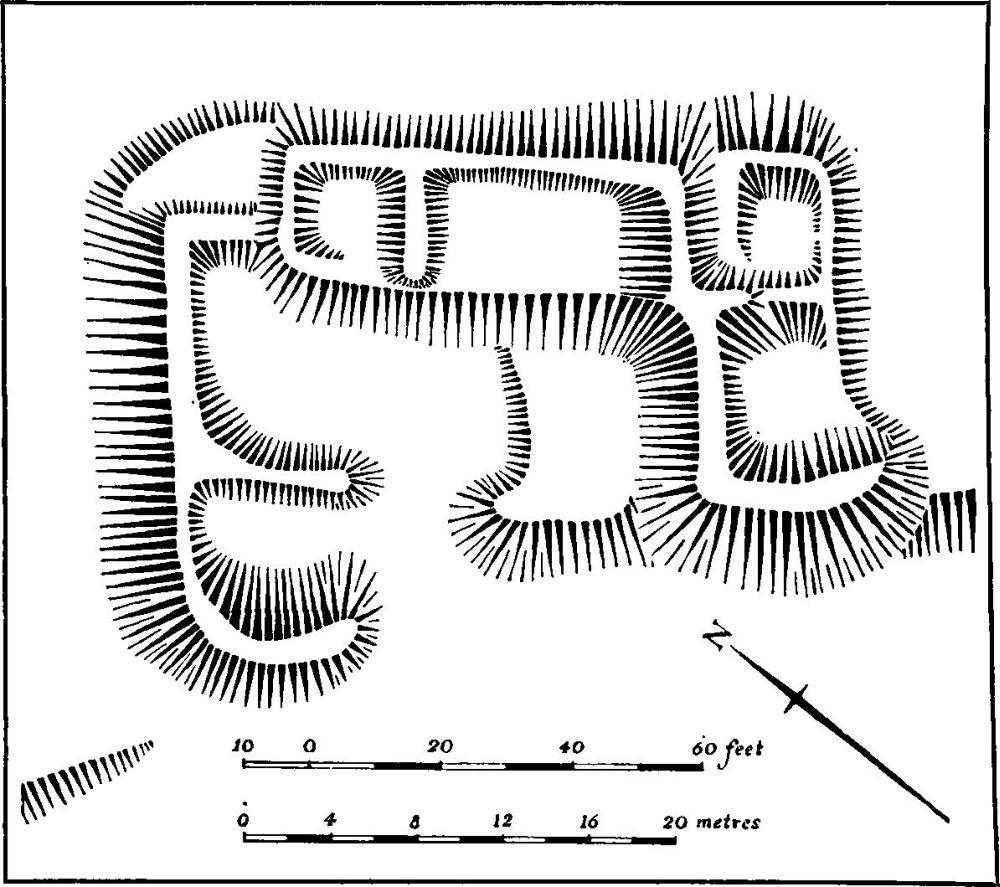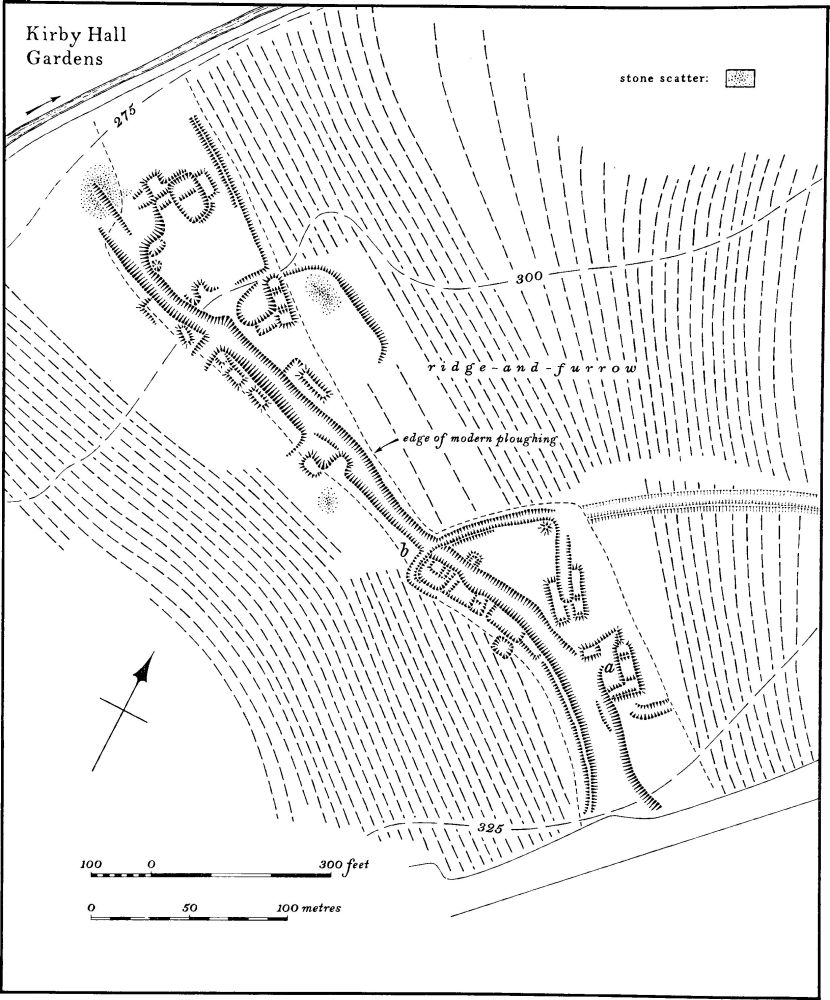 b(3) Settlement Remains (SP 95189282; Fig. 45), formerly part of Deene village, immediately N. of St. Peter's Church at the E. end of the village, and near the recently demolished Rectory. Within a small paddock of just over 1 hectare are a number of low scarps and banks, some of which are probably former building-platforms. The site was already deserted by the early 17th century (NRO, various 17th-century maps of Deene Park and parish).
a(4) Site of 17th-century Hunting Lodge (?) (SP 94359182), on high ground on the S. side of Deene Park. Air photographs (RAF VAP F21/RAF/2319, 0007–9) show a square crop mark, 30 m. across, defined by a parchmark suggesting stone foundations. This appears to coincide with a two-storeyed building called High Standing, shown on a map of Deene Park dated 1630 (NRO).
(5) Cultivation Remains. The date of enclosure of the common fields of Deene is not known. Maps of c. 1632 and 1635 (NRO) may have been made following some enclosure but this is not certain. At that time an area called East Field, N.E. of the church at SP 953933, was apparently still unenclosed, while immediately to the W. lay a block of fields called New Closes (SP 948933). W. again was a large North Field (SP 941930) divided into a number of small rectangular fields which may have been newly enclosed. The maps show that there were no other common fields within the parish. Certainly by the mid 18th century the old East Field had disappeared (NRO, map of Deene, c. 1720–40). Ridge-and-furrow remains on the ground, or can be traced on air photographs, over large areas of the parish, almost all in the form of end-on or interlocked furlongs of common field types. It is particularly extensive in Deene Park, and can also be traced in the area of the early 17th-century East Field and New Closes.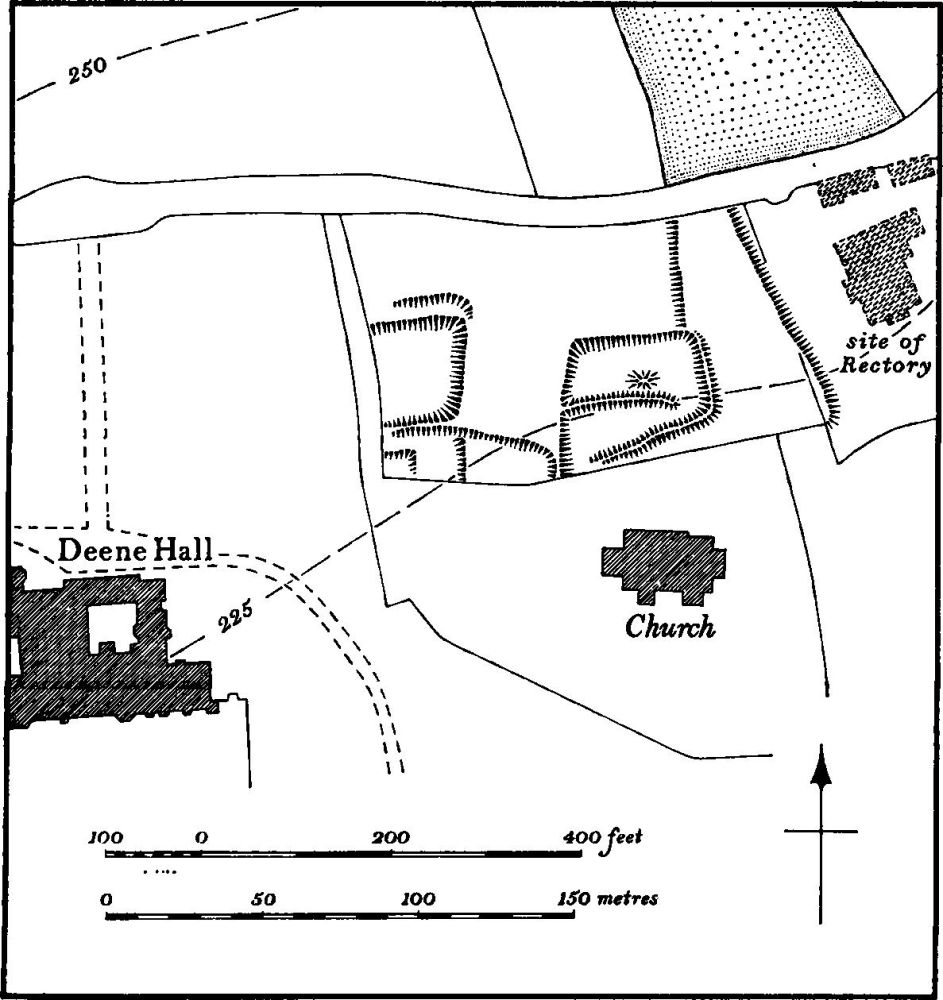 A long narrow strip of land in the extreme W. of the parish between Kirby Lane and the parish boundary (SP 917920– 933929) includes not only the remains of the deserted village of Kirby (2) but also large blocks of ridge-and-furrow arranged in long reversed-S furlongs running down the valley side. This was part of the land of Kirby village where common fields had already been partly enclosed in 1495 (see (2)). Between 1584 and 1587 (NRO, maps; Plate 13), the remaining open fields surrounding the Hall were enclosed by exchange between Sir Christopher Hatton and Thomas Brudenell of Deene. (RAF VAP CPE/UK 1925, 1136–44; 2109, 4108–10, 4249–52; F21/58/RAF/2319, 0007–11, 0044–52)