Pages 35-36
An Inventory of the Historical Monuments in the County of Northamptonshire, Volume 1, Archaeological Sites in North-East Northamptonshire. Originally published by Her Majesty's Stationery Office, London, 1975.
This free content was digitised by double rekeying and sponsored by English Heritage. All rights reserved.
17 DENFORD
(OS 1:10000 a SP 97 NE, b TL 07 NW)
The parish, covering just over 700 hectares, lies between the R. Nene, which forms its western side, and the old Huntingdonshire boundary. It is a roughly rectangular area rising gradually from the river at 100 ft. above OD to a maximum of 250 ft. above OD in the W. Except in the E. where limestones and sands are exposed, most of the parish is on Boulder Clay.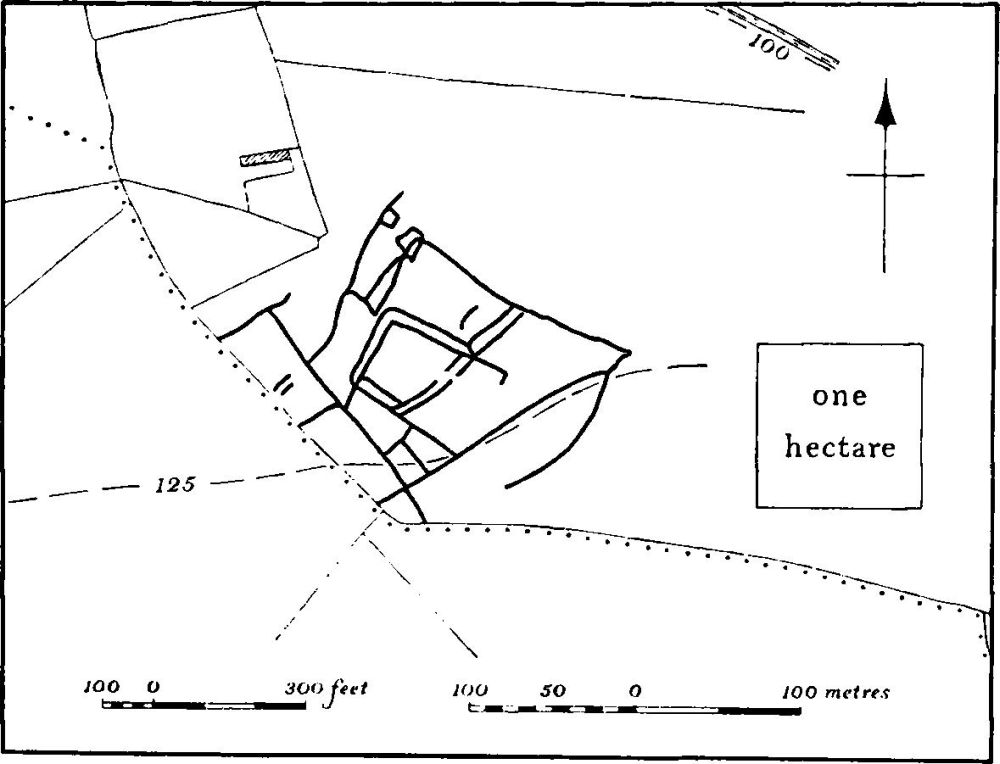 Prehistoric and Roman
a(1) Settlement (SP 981763; Fig. 46), in the W. of the parish, on the edge of the flood-plain of the R. Nene, on sand at 125 ft. above OD. Air photographs show a compact series of rectangular enclosures and ditches surrounded by an apparently double-ditched enclosure with a well-marked entrance on the S.E. side (CUAP, ZE91).
a(2) Settlement (?) (SP 988763), 400 m. E. of (1) and in a similar position. Air photographs indicate a number of very indistinct crop-marks which include ditches and at least one small enclosure (air photographs in NMR).
a(3) Ring Ditches (?) (SP 996762), S.E. of the village on Boulder Clay at just over 200 ft. above OD. Three circular crop-marks, in an E.-W. line, are said to have been photographed from the air (BNFAS, 6 (1971), 8).
For alleged Roman Road 570, see p. 116.
Medieval and Later
a(4) Windmill Mound (SP 99197626), on crest of S. side of the Nene valley at 180 ft. above OD. It consists of a circular mound, 15 m. in diam. and just over 1 m. high, surrounded by a shallow ditch 3 m.-4 m. wide. The flat top, 6 m. across, has a large hole 0.5 m. deep in its centre. The surrounding ridge-and-furrow respects the mound. Its date is unknown.
b(5) Enclosure (TL 02127652), in the extreme E. of the parish, N.W. of Top Lodge on Boulder Clay at 210 ft. above OD. Although now damaged by ploughing, it originally consisted of a rectangular ditched enclosure, 40 m. by 20 m., orientated N.N. E.-S.S.W. The ditch was 10 m. wide and up to 1.5 m. deep. There was no entrance. The interior was uneven, possibly as the result of quarrying, and the whole enclosure was respected by the surrounding ridge-and-furrow. (RAF VAP CPE/UK 1925, 4335–6)
(6) Cultivation Remains. The common fields of the parish were finally enclosed by an Act of Parliament of 1765 (VCH Northants., III (1930), 192) but there had already been earlier enclosure. Ridge-and-furrow of these fields remains on the ground, or can be traced on air photographs, over much of the parish. It is arranged in interlocked and end-on furlongs, mostly of reversed-S shape. Even where ridge-and-furrow can no longer be traced, long low ridges, formerly headlands, still exist indicating former arable (e.g. TL 016758 and 020756). (RAF VAP CPE/UK 1925, 4335–7; 1994, 2419–22)