Pages 83-85
An Inventory of the Historical Monuments in the County of Northamptonshire, Volume 1, Archaeological Sites in North-East Northamptonshire. Originally published by Her Majesty's Stationery Office, London, 1975.
This free content was digitised by double rekeying and sponsored by English Heritage. All rights reserved.
41 RINGSTEAD
(OS 1:10000 a SP 97 NE, b SP 97 SE, c TL 07 NW, d TL 07 SW)
The parish, the shape of which suggests that it was once part of a larger Raunds parish, covers just over 800 hectares of land, rising E. from the R. Nene at 120 ft. above OD, to a maximum of 255 ft. above OD. Except close to the river, where, on the lower ground, limestones and clays are exposed, the greater part of the parish is on Boulder Clay.
A number of Roman sites and other prehistoric remains, visible only on air photographs, are known from the W. part of the parish, mainly on the lighter soils. There are also the mutilated fragments of the deserted hamlet of Mill Cotton (8).
Prehistoric and Roman
b(1) Ring ditch (SP 99507380), in the S.E. corner of the parish on Boulder Clay at 240 ft. above OD. Diam. 30 m., with a central pit. (BNFAS, 6 (1971), 16, Ringstead (1); air photographs in NMR)
b(2) Ditched trackway (?) (SP 98167403), S.W. of the village on limestone at 210 ft. above OD. Air photographs show indistinct marks of two parallel ditches, traceable for about 90 m. and orientated N.N.E.-S.S.W. (BNFAS, 6 (1971), 16, Ringstead (2); 7 (1972), 56; air photographs in NMR)
b(3) Linear ditches (SP 974742), S.E. of Cotton Farm, on sand at 170 ft. above OD. Air photographs show a complex of intersecting linear ditches, forming no coherent plan. (Air photographs in NMR)
b(4) Iron Age settlement and Roman villa (SP 97687482), across the line of Station Road near its junction with the road from Great Addington, on River Gravel at 125 ft. above OD. During gravel-working in 1971 part of a complex of buildings was discovered and excavated. It consisted of a corridor with at least five rooms along one side, and adjacent to it, a circular stone building 10 m. in diam., with a tessellated floor. This was apparently a replacement of an earlier timber structure. There were also several pits filled with building material, including painted wall-plaster and tesserae. Pottery of the 1st-3rd centuries and 3rd-century coins were discovered as well as sherds of late Iron Age type. The building certainly extended across the road junction to the E. and S. A little to the W. the remains of three or four inhumation burials, skeletons of a horse and a dog, as well as stones and shallow ditches, were found. The latter contained both Roman and Iron Age pottery. To the N. of the buildings, top-soil stripping revealed two parallel ditches orientated E.-W. and 12 m. apart, traceable for only about 50 m. (BNFAS, 7 (1972), 32; inf. D. A. Jackson).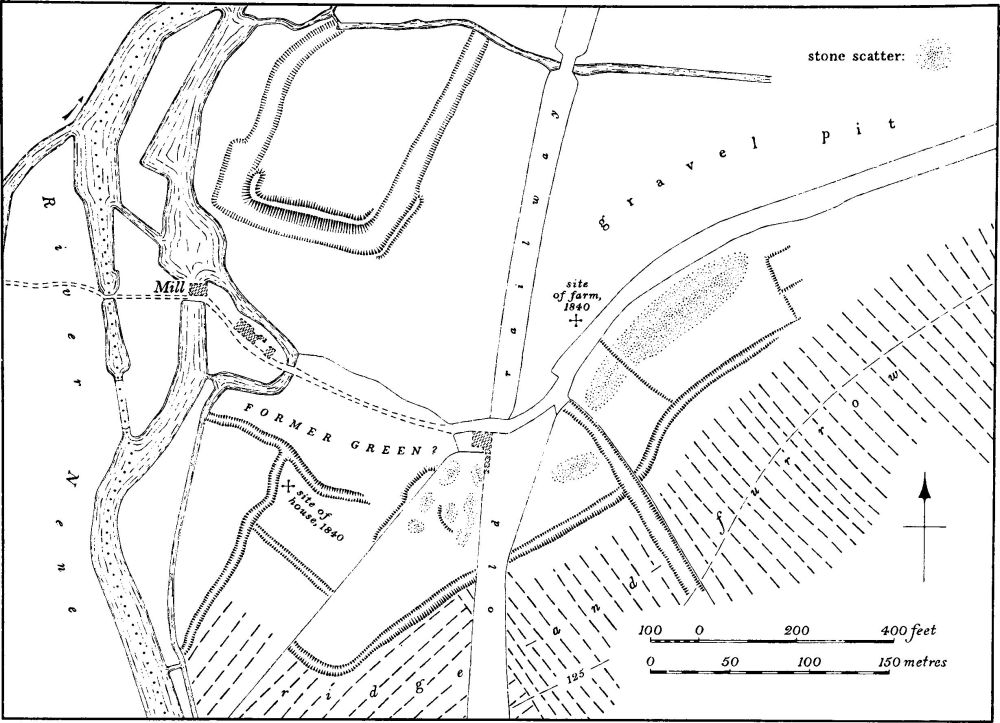 b(5) Roman settlement (SP 97807333), immediately E. of the deserted village of Mallows Cotton (Raunds (19)), on limestone at about 150 ft. above OD. 'Some pieces of Roman money' were ploughed up here before 1720 (J. Bridges, Hist. of Northants., II (1791), 190) and more recently Roman pottery, tiles and other building materials have been found (inf. D. A. Jackson). Further Roman material has been found to the S. within Raunds parish (SP 97857303) and is probably part of the same site.
b(6) Roman settlement (around SP 970744), on the site of the deserted settlement of Mill Cotton (8). A large quantity of Roman pottery has been noted in recent times and there is an old tradition of Roman finds in the area (J. Bridges, Hist. of Northants., II (1791), 190).
b(7) Iron Age and Roman settlement (SP 98977419), S. of the village on Boulder Clay at 220 ft. above OD. Roman pottery and pieces of kiln-bars were found in a number of pits and/or ditches cut by a pipe trench (BNFAS, 2 (1967), 18). At the same site, Iron Age ditches and pits are said to have been found, but the location given is probably incorrect. (Beds. Arch. J., 7 (1972), 15, Ringstead 3)
For the reputed Roman Road 570, see p. 116.
Medieval and Later
b(8) Deserted settlement of Mill Cotton (SP 969744; Figs. 92 and 93) lies in the W. of the parish alongside the R. Nene on River Gravel at 110 ft. above OD. The remains comprise the site of the northernmost of three medieval settlements, each known as Cotton, which lay alongside the R. Nene (see Raunds (19) and (20) for Mallows and West Cotton). Nothing is known of the population or period of desertion of Mill Cotton. It is variously recorded as Mill, Parva, or Little Cotton in documents, and its existence can be traced as early as the 12th century. Bridges recorded that the village had been largely abandoned by the early 18th century (J. Bridges, Hist. of Northants., II (1791), 190), and certainly by 1840 nothing but the mill, mill house, one farm and a cottage remained (Tithe Map and Enclosure Map, 1840, NRO). The remains of the village are now very fragmentary as a result of disturbance by the railway, gravel-digging and modern ploughing.
Judging from the Tithe Map of 1840, the original settlement was centred on a roughly rectangular 'green' lying between the mill house and the present railway crossing. Its boundary can be traced as a modern hedge on the N. side and a shallow ditch on the S. The sites of the mill and mill house, both abandoned in this century, can still be seen. There are no remains of house platforms on either the N. or S. of the presumed 'green', but certainly one house stood on the S. side in 1840. To the E. of the 'green' a low scarp may represent a buildingplatform and immediately to the E., in the modern arable, are dense spreads of limestone rubble and cobbles, associated with medieval pottery. E. of the railway, the hollowed bridleway to the S.E., destroyed in 1971, separated two further areas of arable land each containing patches of cobbles and rubble; these areas were also once bounded to the S.E. by a low bank, 0.5 m. high, and are largely ploughed away. To the N. the site of the farm, still in existence in 1840, has been destroyed by gravelworking; it had already been abandoned by the late 19th century. N. of the 'green', and completely destroyed by 1964, was a rectangular enclosure bounded by shallow ditches with an internal bank on the S. side (shown on OS map). Air photographs taken before destruction indicate that the internal bank also extended along the E. and W. sides (RAF VAP CPE/UK 1925, 1255; VCH Northants., IV (1937), 41–2; K. J. Allison et al., The Deserted Villages of Northants., (1966), 38).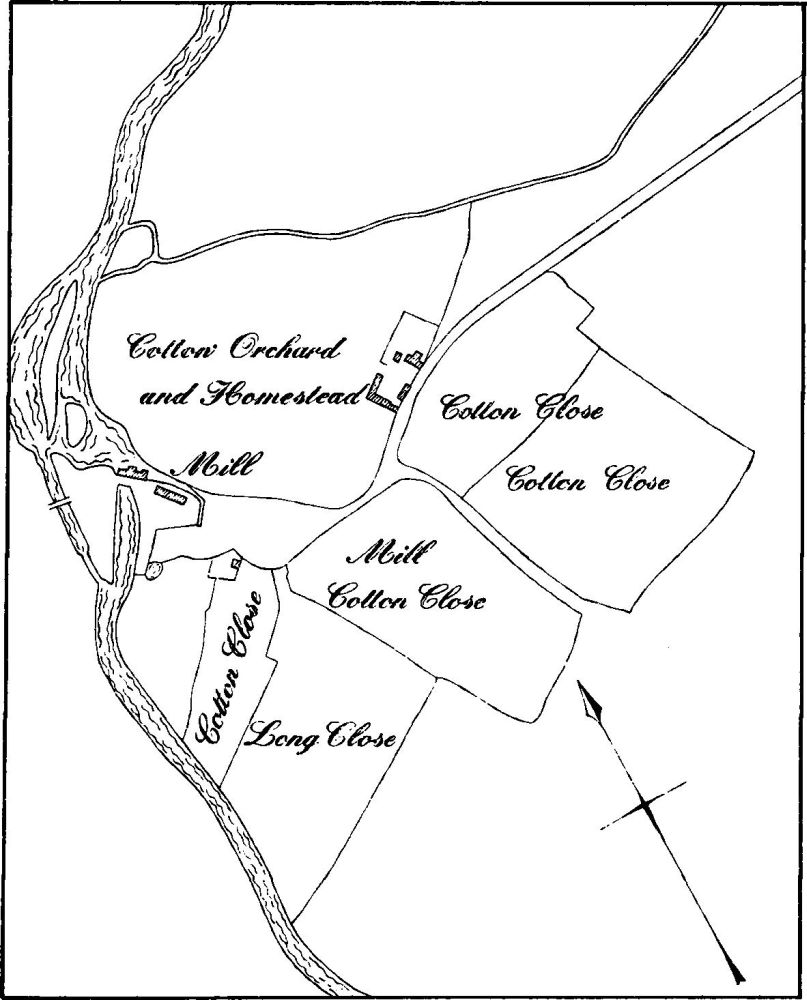 (9) Cultivation remains. The common fields of the parish were enclosed by an Act of Parliament of 1839 (NRO, Enclosure Map). Immediately before that date there were four open fields, Denford, Middle, Raunds and Bound Fields. Ridge-and-furrow survives on the ground, or can be traced on air photographs, within all these fields. In the extreme N. W. of the parish (SP 975765) is a large area of ridge-and-furrow arranged in interlocked reversed-S furlongs formerly in Denford Field. S.W. of the village there is also ridge-and-furrow S. of Station Road (SP 976746) while to the S. of the village is other ridge-and-furrow arranged in end-on furlongs (SP 995743) as well as a number of low ridges up to 550 m. long and 30 m. wide, which were former headlands between furlongs (SP 982740, 981737 and 995742). These all lay in the former Middle Field. E. of the village in the former Bound Field, is more ridge-and-furrow in end-on furlongs, the headlands of which still survive (SP 995753). Ridge-and-furrow, lying within fields which were old enclosures in 1839, can be traced immediately S. of the village (SP 989748) and around the now-deserted settlements of Mill Cotton (8) (SP 969742) and Mallows Cotton (Raunds (19)), (SP 975735). (RAF VAP CPE/UK 1925, 1253–9)