Pages 144-145
An Inventory of the Historical Monuments in the County of Northamptonshire, Volume 2, Archaeological Sites in Central Northamptonshire. Originally published by Her Majesty's Stationery Office, London, 1979.
This free content was digitised by double rekeying and sponsored by English Heritage. All rights reserved.
56 SYWELL
(OS 1:10000 a SP 87 SW, b SP 86 NW)
The parish is roughly rectangular and occupies about 875 hectares N.E. of Northampton, on land sloping generally S. between 107 m. and 137 m. above OD. The higher, N. part of the parish is completely covered by Boulder Clay, but in the S. the down-cutting of a number of S.-flowing streams has exposed areas of Northampton Sand, with Upper Lias Clay in the valley bottoms.
Prehistoric and Roman
b(1) Ring Ditches and Enclosures (SP 827674; Fig. 129), S.E. of Sywell Airfield, on Northampton Sand at 110 m. above OD. Air photographs (in NMR; CUAP, ZW 40, AZU 17) show two ring ditches and several indistinct small enclosures. A curving linear ditch lies to the S. Various other ditches and enclosures lay further N. but have now been destroyed by industrial buildings (BNFAS, 1 (1966), 20; 6 (1971), 17, Sywell (1)).
b(2) Enclosures (SP 827670; Fig. 129), 250 m. S. of (1) in a similar situation. Air photographs (CUAP, ZW 40, AZU 17) show traces of some incomplete enclosures.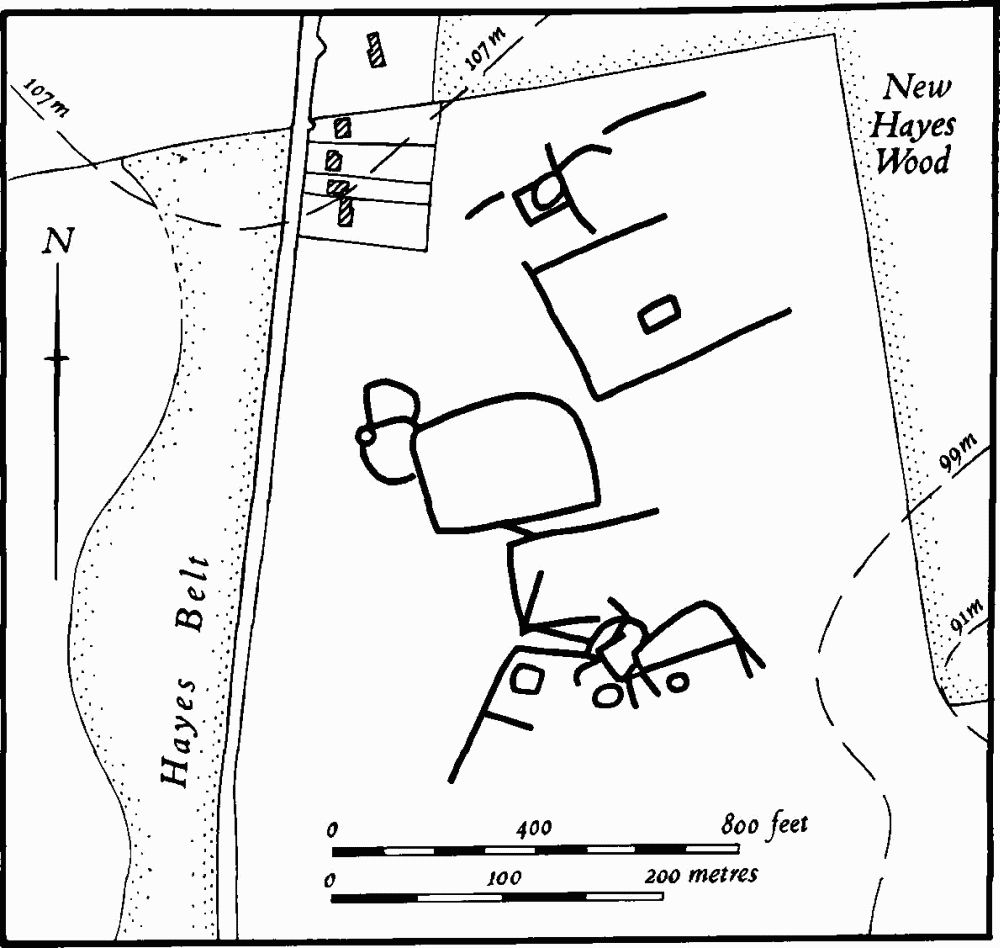 b(3) Linear Ditches and Enclosures (SP 820655; partly on Fig. 49), in the S. of the parish, on clay and sand at 103 m. above OD. This appears to be an extension of the North Ecton Complex (see Ecton (5–12)). Air photographs (in NMR) show indistinct cropmarks of a linear ditch with a number of circular and sub-rectangular enclosures along it.
b(4) Enclosures (SP 821660; Fig. 128), W. of New Hayes Wood, on sand and clay at 100 m. above OD. Air photographs (in NMR) show a series of large sub-rectangular enclosures and ditches, some of which contain, or interlock with, smaller ones of circular or irregular shape (BNFAS, 4 (1970), 32; 6 (1971), 17, Sywell (2)).
b(5) Ring Ditch (SP 82956598), on Northampton Sand at 91 m. above OD. An air photograph (not seen by RCHM) is said to show a ring ditch about 45 m. in diam. (BNFAS, 6 (1971), 17, Sywell (3)).
b(6) Linear Ditches (SP 81636900–81706938), 300 m. E. of Teacaddy Farm, on Boulder Clay at 130 m. above OD. Air photographs (RAF VAP F21 540/RAF/ 1312, 0241–2) show two parallel and slightly curved ditches 40 m. apart and traceable for 400 m. At their N. end they appear to be overlain by ridge-and-furrow.
Medieval and Later
b(7) Settlement Remains (centred SP 821673), formerly part of Sywell, lie in and around the village. A map of 1792 (NRO) shows that the present arrangement of streets existed but that two other lanes W. and S.W. of the village were also in use. One was a curved lane which ran from the present junction of the Holcot Road with the Overstone Road, down the valley bottom, and then turned E. immediately N. of the church on to the green. This can still be traced in the churchyard as a hollow-way 30 m. wide and up to 1 m. deep, and also against the field hedge at the end of Holcot Road where there are two separate hollow-ways. However no trace of any road exists between these points. The other lane, S.W. of Sywell House in 1792, cannot be traced.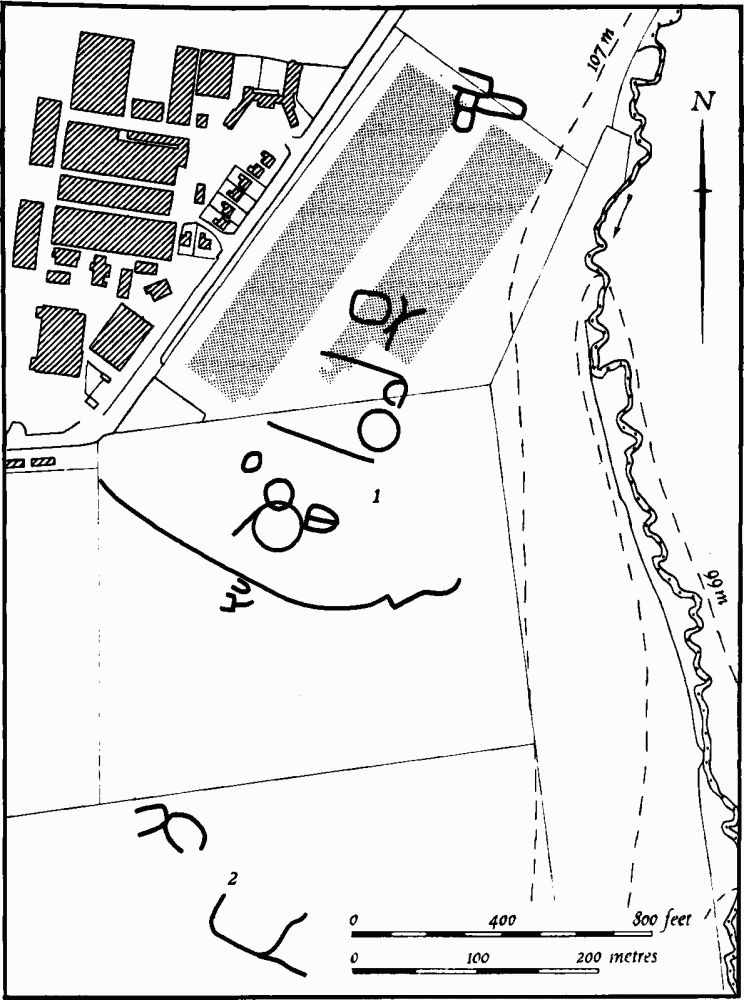 N. of the village, just within the boundary of Sywell Aerodrome (SP 822674), medieval pottery and animal bones as well as worked flints have been found, associated with scatters of stone. These have been interpreted as the sites of houses which may have been removed in the late 16th century (Northants. Archaeol., 9 (1974), 85).
At the E. end of the village, S. of Home Farm (SP 824670) is a hollow-way, 30 m. across and up to 2 m. deep, extending southwards for 260 m. roughly parallel to the existing Mears Ashby Road. On the E. side of it, at its N. end, are at least three rectangular embanked closes. The whole area has been damaged by later quarrying. The site was devoid of all buildings in 1792 when it was called Marrats Close (CUAP, AZU 17).
b(8) Deer Park (?) (SP 821674) perhaps lay somewhere N. of the village in the medieval period, although it is not apparently documented. In the angle between the Holcot and Wellingborough Roads is a large, rectangular pond known as Park Pond, and on an Estate Map of c. 1700 (not seen by RCHM) the land around it is called The Park. Along the side of Holcot Road is a large bank up to 2 m. high at its S. end with the remains of a stone wall along it. The bank can be traced to the N. for 400 m. but is only 1.5 m. high, after which it is no longer visible. To the E., along the N. side of Wellingborough Road, a scarp 2.5 m. high extends for a distance of some 200 m. This bank and scarp may be a park boundary, though traces of medieval occupation, perhaps part of Sywell village lie E. of the Pond (see (7); Northants. Archaeol., 9 (1974), 85).
b(9) Windmill Mound (?) (about SP 827667), S.E. of the village on the E. side of the road to Mears Ashby. In 1899 a low mound, 35 m. in diam. and 1 m. high, much reduced and spread by ploughing, was excavated in this area. A large clay-lined depression 8 m. across was discovered in the mound with another layer of clay above. Charcoal, iron bolts, unspecified pottery, part of a knife, animal bones and a 'Nuremburg token of the 14th century' were recovered. The excavators assumed that the site was that of a windmill. The field in which it lies was known as Windmill Bush in 1792 (Map in NRO; Ann. Rept. Northants. Exploration Society, (1900), 6–7, copy in Northampton Central Library).
(10) Cultivation Remains. The date of enclosure of the common fields of the parish is not known, but it had taken place before 1792 (Map in NRO) and perhaps as early as the late 16th century (Northants. Archaeol., 9 (1974), 85). Very little ridgeand-furrow remains, except for fragments around the reservoir in the S. which formerly continued down the slopes of a small valley, and a larger area in the N. of the parish where ridge-and-furrow is traceable on the ground or from air photographs. Here it is arranged in end-on furlongs except for one block N.W. of Sywell Grange (at SP 819688), and another block further N.E. (at SP 823698). There are also two headlands in this part of the parish, up to 300m. long and 10 m. wide, which run N.E. from SP 812689 and 813686 (RAF VAP F21 543/RAF/943, 0087–92; CPE/UK/1925, 1362–8, 4230–5; 3G/TUD/UK/118, 6227–30; F22 540/RAF/ 1312, 0240–4; F21 540/RAF/1312, 0240–4; CPE/UK/ 2546, 3035–7).