Pages 14-16
An Inventory of the Historical Monuments in the County of Northamptonshire, Volume 3, Archaeological Sites in North-West Northamptonshire. Originally published by Her Majesty's Stationery Office, London, 1981.
This free content was digitised by double rekeying and sponsored by English Heritage. All rights reserved.
6 BOUGHTON
(OS 1: 10000 a SP 76 NW, b SP 76 NE, c SP 76 SW, d SP 76 SE)
The present parish only covers about 500 hectares having lost some land in the S. to Northampton. It consists of a roughly rectangular area mainly on Northampton Sand between 85 m. and 115 m. above OD. except along the streams which form the boundary on the W. and N. where the underlying Upper Lias Clay is exposed and in the extreme S.W. where on ground rising to just over 120 m. there are areas of limestone.
Some prehistoric and Roman material is recorded from the parish but much has probably been lost as a result of ironstone quarrying in the N.W.
Though Boughton itself appears always to have been a centre of settlement in medieval and later times the existence of the now deserted Boughton Green (7), with the parish church and evidence of a medieval fair there, indicates either a second or even an earlier centre of medieval settlement.
Prehistoric and Roman
A Neolithic axe of whitish flint was found in the parish before 1904 (NM). Worked flints, including arrowheads, have also been discovered (e.g. SP 764655; BNFAS, 5 (1971), 35). A leaf-shaped arrowhead came from SP 75276569 (OS Record Cards) and a barbed-and-tanged example from SP 75086480 (BNFAS, 4 (1970), 2). Two quernstones, upper and lower, of local stone and probably of Iron Age date, were found during ironstone-working near SP 739668. The area is now reclaimed and ploughed (OS Record Cards). A feature recorded as a ring ditch (SP 74656520; BNFAS. 6 (1971), 3) is part of a Second World War anti-aircraft battery.
a(1) Enclosure (?) (SP 745662), N.E. of Boughton Grange on Northampton Sand at 93 m. above OD. Air photographs (not seen by RCHM) are said to show the cropmarks of an enclosure but it may simply be the result of frost fracture (BNFAS, 5 (1971), 39).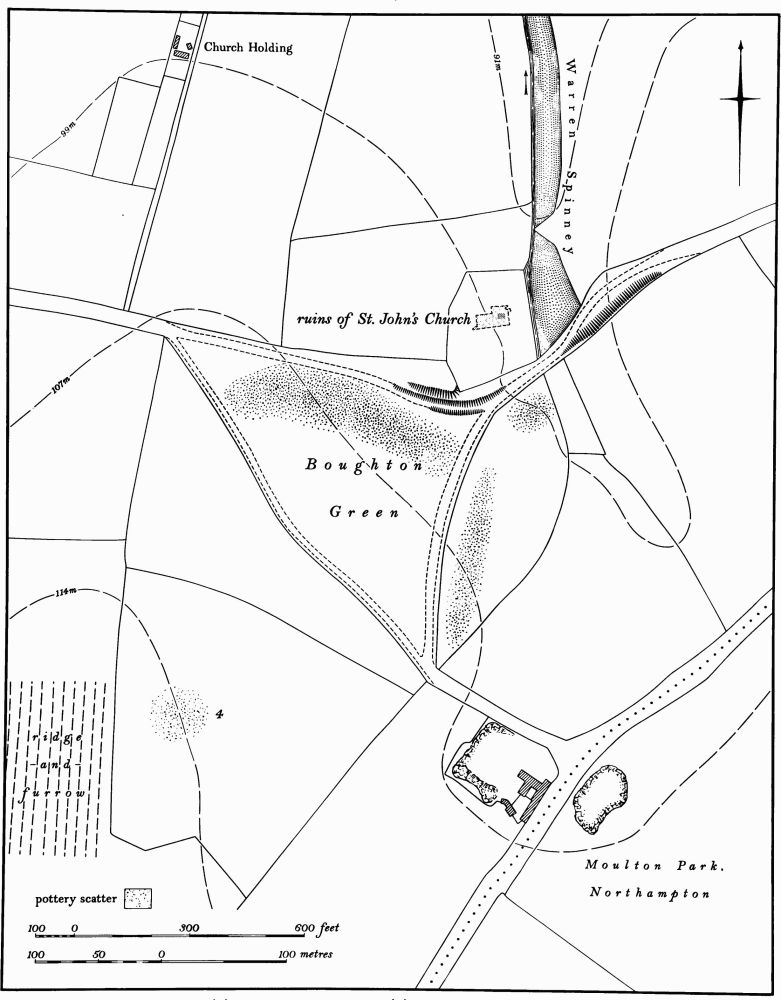 a(2) Barrow, pits and ditches (centred SP 74756585), E. and S.E. of Boughton Grange on Northampton Sand at 106 m. above OD. The mound, which stands on the N. edge of the field, is tree covered, and an attempted excavation shortly before 1968 was not completed because of the roots. The mound is 2.2 m. high and 15 m. in diam. and no ditch is visible. Two pits or ditches were found in the face of the ironstone quarry in the same field in 1973. From one of these came a sherd of a Neolithic or Bronze Age vessel with a pronounced shoulder-ridge and finger-nail decoration on the collar (SP 74746569). Several worked flints have been found in the same field (OS Record Cards; Northants. Archaeol., 9 (1974), 83; air photographs in NMR).
b(3) Roman Settlement (?) (SP 765667), in the extreme N.E. of the parish on Northampton Sand at 100 m. above OD. Several sherds of Roman coarse wares were found on spoil heaps at a disused quarry (BNFAS, 5 (1971), 22, described as from Moulton). Air photographs (in NMR) show some very indistinct cropmarks in the general area. These include part of an irregular enclosure intersected by linear ditches, as well as other possible ditches or enclosures, all covering six hectares.
b(4) Roman Settlement (?)(centred SP 763655; Fig. 24), lies in and around the deserted medieval settlement of Boughton Green (7), on Northampton Sand at 105 m. above OD. Roman pottery, found in 1969, is recorded from immediately S. of the green (SP 762653; BNFAS, 4 (1970), 16). More, including Nene Valley type wares, was discovered on the green itself in 1976 (RCHM) and a coin of Faustina was found in 1977 (NM Records).
a(5) Roman settlement and well (SP 745657), S. of Boughton Grange, on Northampton Sand at 105 m. above OD. A well, Roman pottery and 'leather' are said to have been discovered in this area in 1936 (OS Record Cards). The site has been quarried away.
Medieval and Later
b(6) Saxon Burial (around SP 753658), within the village, on Northampton Sand at 100 m. above OD. An inhumation burial was found in Boughton in 1917 but there is no detailed information about the find (OS Record Cards; Meaney, Gazetteer, 187).
b(7) Deserted Settlement of Boughton Green (SP 763655; Fig. 24), lies 800 m. E. of the present village on the W. side of a small valley on Northampton Sand between 98 m. and 108 m. above OD. The triangular green and the isolated church of St. John the Baptist suggest that there was a settlement here, but its history is ill documented. The site was deserted by the early 16th century, for then it was said that the parish church of St. John the Baptist was 'distant iii pts of a myle from ye towne or any house' (Whellan, Dir., 227). In the early 18th century Bridges (Hist. of Northants., I (1791), 411) described the church, then in ruins. The site was still completely deserted in the early 19th century (OS 1st ed. 1 in. map (1834)). A well-known medieval fair was held on the green from the middle of the 14th century onwards (VCH Northants., IV (1937), 77).
The site consists of the former triangular green, covering about 3 hectares, now under permanent arable. No buildings remain except in the N.E. corner where the ruined church stands in its walled churchyard. All the land to the E., W. and S. of the green is now arable, but that to the N. is pasture. Along the E. of the green a scatter of stone and pottery of 12th to 18th-century date has been noted recently, and from the S. further unspecified medieval pottery is recorded (SP 762653; BNFAS, 4 (1970), 16). On the green itself four 17th-century coins and a Nuremburg token, large quantities of medieval and post-medieval pottery, post-medieval glass and clay pipes have been found as well as Roman material (see (4) above; BNFAS, 5 (1971), 35). Before it was ploughed the green is said to have had an 'undulating surface caused partly by extensive quarrying' (VCH, op. cit.) and also to have had a turf-cut maze on it (8).
b(8) Maze (around SP 763655), lay somewhere on Boughton Green (7) but has been destroyed. It was a turf-cut maze known as the Shepherds Race, Maze or Labyrinth, and was already said to be neglected in 1849 though apparently still discernible in 1946 (Wetton, Guide to Northampton, (1849), 96; G.E. Stephenson, Guide to Boughton (c. 1946); Ass. Arch. Soc. Reps., 4 (1857–8), 260; W. H. Matthews, Mazes and Labyrinths (1922), 75–6).
b(9) Medieval Pottery (SP 757663), E. of Butchers Spinney on Northampton Sand at 80 m. above OD. Sherds of early medieval pottery including St. Neots ware were found during field-walking in 1970 (BNFAS, 5 (1971), 30).
b(10) Medieval pottery (SP 759659), E. of the village on Northampton Sand at 100 m. above OD. Medieval pottery was found during field-walking in 1969 (BNFAS, 4 (1970), 16).
(11) Cultivation remains. The common fields of the parish were enclosed by Act of Parliament of 1756 (VCH Northants., IV (1937), 77). Very little ridge-and-furrow survives on the ground or can be traced on air photographs, probably because of the light sandy soils combined with modern cultivation. A curving block of reversed-S ridge-and-furrow is visible S.E. of the village (SP 754654) and another to the S.W. (SP 749655; RAF VAP CPE/UK/1994, 2244–50, 4248–55).